August 4, 2009
[This monthly newsletter is sent to members of BookCrossing.com. See the
bottom
of this newsletter for simple removal instructions.]
---
One thing you can't do with an E-Book

Returning from our annual family pilgrimage to a media-free trip to Nebraska last week, I discovered a huge upside to not converting to digital media. Here is my story.
For six years, I've been half owner in a 1968 Mooney m20f that I share with the owner of aviationacres.com.
We left Antelope County Airport enroute for Sandpoint via Sheridan, Wyoming. Watching the huge clouds with mountain obscuration to the northwest and, after discussing developing conditions in Sandpoint, I made the decision to divert to Hailey, Idaho, to spend the evening with Heather's parents and leave in the morning.
"Hailey Tower, this is Mooney three four one zero November....22 to the southeast descending through eight thousand five hundred inbound with Charlie." It was shortly after this that a small but noticeable vibration began in the front of the plane. First gauge to show abnormality was the cylinder head temp which dropped. This caused me to try and lean the mixture even though the EGT at that point was fine. The mixture which then didn't respond to either enriching or leaning shortly pegged left dead. At this point I was losing power but still maintaining oil pressure.
"Hailey Tower, this is Mooney three four one zero November, I need priority landing clearance I am having severe engine problems. 15 to the south."

"Mooney three four one zero November are you declaring an emergency?"

"Haily Tower, Mooney three four one zero November having difficulty maintaining altitude and is losing power, we have a major problem."

"How many souls on board? How much fuel?"

"Hailey tower, three souls on board and one dog (actually we are pretty sure she has a soul too, but didn't' want to get into that discussion just then) and approximately 38 gallons of fuel."

And then, in quick succession: "Seat belts brace and Heather you crack the door and wedge something in case there is impact the door will crinkle but won't trap us in the plane." "Hailey Tower I need a visual on the landing gear." "Negative... you are too far out." "Three four one zero November affirmative we see landing gear down." The vibration was approaching that of a can of house paint in the shaker at Merwin's Hardware.

I knew we had made the runway so I shut everything down, instructed Heather to crack the door and place an object in the door. She had been totally enthralled with The Shack by William Young and grabbed it and a shoe to do the job. We did a deadstick landing, braked quickly, took the first taxiway to the right, and yelled everyone OUT OUT OUT. Talus being the last.

Met by Hailey's finest fire department and ARFF unit, it was a happy ending with the crippled plane sitting there in a pile of its own oil which would later be thought to be caused by a sheared connecting rod bolt.

Not the typical Newsletter content, and hopefully the last of its type, but I think we all underestimate the value in actually holding a solid, tangible, real book. I am glad this book was there for us in a most unique way.

This issue is dedicated to Bumma, who passed away June 28. She was featured in our last newsletter. Bumma was 87 and active in BookCrossing to the very end. Heather and I met her at the 2007 Convention, and she won our hearts. Here's to you Bumma!

In celebration of a life well lived,

Bruce Pedersen
BookCrossing Co-founder/CEO
---
Goodbye Lytteltonwitch; Welcome Lytteltonwitch!

The world's going topsy-turvy, for sure. Since December of 2002, almost the start of BookCrossing, lytteltonwitch has released over 8,000 books from her home down under in New Zealand. (No doubt it's all her books that have kept the world spinning at a slight tilt.) Prepare for a gravitational shift, because lytteltonwitch is headed to the United Kingdom for an extended stay. "I always said when I was first diagnosed with cancer that when I get my 5 year clearance that you won't see me for the dust. My specialist has given me my medical discharge at 4 years and 9 months. It was very helpful that the bank was asking for optional redundancy which meant that I could leave work with redundancy money. Thanks to a grandfather who was born in London I have an Ancestry Visa which entitles me to work for up to 5 years in the UK. I will be based in Nailsworth in Gloucestershire ...then who knows where I will be." There are two farewell parties planned, and undoubtedly numerous welcome parties when she reaches her destination. Safe travels, lytteltonwitch. New Zealand's loss is Britain's gain.
Photograph courtesy of libertine101
---
BookCrossing on the Fourth Plinth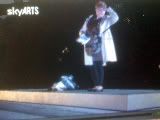 If you're wandering through Trafalgar Square in London these days, you're sure to see more than Lord Nelson. Take a look at the Fourth Plinth, where every day, from July 6 to October 14, twenty-four hours a day, a different person will make the plinth (a spot normally reserved for statues of Kings and Generals) their own. And, thanks to arturogrande, BookCrossing definitely has a place on the plinth! Arturogrande was chosen at random, from over 26,700 to participate in sculptor Antony Gormley's One and Other project. "And as a long-standing BookCrosser, I thought it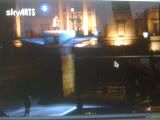 would be a good chance to wild release some books — by throwing them from the plinth to whoever happens to be passing by at the time! Unforunately, my slot is between 1 and 2 in the morning on Tuesday, July 21, so I'm not expecting a big audience. But if you are in London and around at that time, please come along and support me. I am a 40 year old woman from Leicestershire in the East Midlands. I am an avid reader and at the moment, I have a lot of time to do that as I was made redundant at the end of March and have been looking for a new job ever since. I'm very excited to be part of the One and Other project and thought it would be a good opportunity to spread the BookCrossing word. Is it art? I don't know. But I know for sure that it will be a lot of fun!"
---
Gently Used Books for A Good Smile

BookCrossers tend to put their books where their hearts, or smiles are. Member pritzkit recently let us know about Kids Smiles, an organization in Philadelphia that provides children aged 2-16 in under-served communities with preventive and restorative dental care and innovative oral health education programs. They treat over 34,000 kids each year. Each child who completes the "dental detective" educational curriculum receives a book as a reward. If you have any gently used books that you'd be willing to donate to this fabulous program, you can send them to Kids Smiles, 3751 Island Avenue, Philadelphia, PA 19153, Attn: Book Drive-V. Waitsman. If you'd like more information about Kids Smiles, feel free to contact Lauren Tucker (ltuckerkidsmiles AT gmail dot com)with the subject line "Book Drive-V. Waitsman" or you can PM pritzkit.
If you are collecting books for a charity or cause, try posting in the Community Bulletin Board forum to give others the opportunity to participate.
---
WHY I HATE THE INTERNET BUT LOVE BOOKCROSSING

by klingonlover
I see BookCrossing as a website that does the opposite of what most websites do. Most websites take away from the written word; literature becomes blog entries, established authors become screen names, and vivid descriptions of emotion are replaced with emoticons. ...
[read it all at http://www.bookcrossing.com/articles/3180]
---
VIENNA IN YELLOW
Annual German-language BookCrossing Meetup
by verenka
More than 80 BookCrossers came to Vienna for a weekend in May to spread the word about BookCrossing. We had all the now traditional ingredients for a German Meetup: a scavenger hunt, a Geocaching tour, pretty awesome Goodie Bags, a Monday morning brunch and of course, a release walk....
[read it all at http://www.bookcrossing.com/articles/3182]
---
FROM CROSS, TO BOOK CROSSED
Turning a traveller's day around by introducing BookCrossing
by Phoenixshanghai
She was tired. It had been a 37-hour train journey across China on a hard seat as she had been unable to book a sleeper berth. She was hot; Shanghai has been 30 degrees plus and humid all week. Her room in our hostel would not be ready for her for another hour. We did not have any Diet Coke left and could not finish her laundry until tomorrow. She was not happy....
[read it all at http://www.bookcrossing.com/articles/3185]
---
THE ADVENTURE OF A LIFETIME!
Books have feelings too...let them enjoy life
by Zoe Furnivall (zoejayne)
It started off like any other day. Little did I know this was the beginning of the biggest adventure of my life. ...
[read it all at http://www.bookcrossing.com/articles/3189]
---
BOOKCROSSING - ONE YEAR ON
BookCrossing in the City of Gold
by mrbaggins1
It all started by accident, or rather due to serendipity, this karma of books....
[read it all at http://www.bookcrossing.com/articles/3190]
---
AUTHOR HELPS KEEP A BOOKRING ALIVE!
Lost bookring revived with autographed copy offered up from the author herself!
by BethanieKay
I always knew that BookCrossers were wonderful, generous people – but I learned that the same can be said about the authors of the books that we read!...
[read it all at http://www.bookcrossing.com/articles/3194]
---
CALL FOR WRITERS

Want to write for BookCrossing? If your article is accepted, you could see it featured here in the next newsletter. What topics do we need? Anything about books, reading, or BookCrossing — tutorials, release and catch stories, well-traveled book stories, funny BookCrossing experience stories — you get the idea. Write it up, then submit it here:

http://www.bookcrossing.com/articles/submit




---
Top 10 Countries All-Time
| | |
| --- | --- |
| USA | 312,937 (39%) |
| UNITED KINGDOM | 86,035 (11%) |
| GERMANY | 54,289 (7%) |
| CANADA | 46,604 (6%) |
| SPAIN | 38,301 (5%) |
| AUSTRALIA | 34,010 (4%) |
| ITALY | 23,668 (3%) |
| FRANCE | 16,835 (2%) |
| NETHERLANDS | 16,648 (2%) |
| PORTUGAL | 11,390 (1%) |
Top 10 Countries Last Week
| | |
| --- | --- |
| PAPUA NEW GUINEA | 1,047 (28%) |
| USA | 482 (13%) |
| UNITED KINGDOM | 251 (7%) |
| GERMANY | 197 (5%) |
| CANADA | 194 (5%) |
| AUSTRALIA | 78 (2%) |
| NETHERLANDS | 68 (2%) |
| SPAIN | 57 (2%) |
| PORTUGAL | 36 (1%) |
| CHINA | 33 (1%) |
---
Wild books released by our members are being caught all over the world, every day! Our site watch forum is where members post news of great wild book catches. Here are some of the best from the last few days...

"the first time I've received a gift when paying for parking"
http://www.bookcrossing.com/---/6938184
by melydia
Michael Palin travels the world and finds a new enthusiastic member
http://www.bookcrossing.com/---/5484473
by newk
This release made the Portsmouth NH Facebook page:
http://bookcrossing.com/---/6856800
Got a new member, too! Here's the Facebook entry:
http://www.facebook.com/photo.php?---
I released several books in Portsmouth yesterday (taking advantage of the [finally!] nice weather to take a little jaunt around the seaside:
http://www.bookcrossing.com/---/7021625
http://www.bookcrossing.com/---/7085081
http://www.bookcrossing.com/---/7203421
by GoryDetails
After 5 years Goddess Athena performed a miracle!!!
http://bookcrossing.com/---/1401251
by aris1
Holocaust book finds perfect reader
http://bookcrossing.com/---/7262929
I love it when a book finds such an appropriate reader.
by ifyouknew
A cool take on BookCrossing
http://www.bookcrossing.com/---/7161441
by CountofMonte
I love it when the older ones check in!
Here's one from over 4 years ago:
http://bookcrossing.com/---/1609451
And here I thought for sure those Harlequins would have seen the inside of a dumpster (or compost heap) by now. They aren't known for their quality in construction or content. ;) I wonder where it's been for 4 years and how it got 2087 kilometers (approx. 1297 miles) away. Woohoo.
by LazyDaisy0413
Bremen Supermarket Bookmob
Today, June 27, five BookCrossers from Bremen, Germany, released loads of books in a supermarket- not your average, common supermarket, but one that is well known all over Bremen for its opening hours (24 hours- NOT common in Germany) and its wide range of products (lots of organic and fair trade stuff).
I had already done some releases there from time to time- the owner noticed and wrote about it in his blog (yes, he regularly writes a supermarket blog), explaining what BookCrossing is about and appreciating books being released in his shop, he seemed quite surprised and amused. So a few of us decided to release some more books (and maybe have an OBCZ there one day)... I don't know exactly how many books were released, I brought along some 30...
Goethe, Fontane, Poe...
Doris Lessing was placed with the dairy products, Oscar Wilde next to the salt, Somerset Maugham on top of frozen peas: -). ..
Some themed releases too: http://www.bookcrossing.com/---/7229115, http://www.bookcrossing.com/---/7213977...
The supermarket owner noticed pretty soon what was going on. .. and took a few photos of themed releases... http://8884-Die-Riesen-Bookcrossing-Welle.html
(translation: "Somebody meant really well today: quite a few Bookcrossing-books have been distributed in the shop today. We found a lot of them- and apart from those few we want to read, we let them remain where we found them. Indeed somebody was very creative today, I would like to give some examples. I think those photos don't require any further explanantion.")

by ApoloniaX
From Norway to India, via Egypt!
http://www.bookcrossing.com/---/4977398
by Haugtussa
I'm glad for this finder
http://www.bookcrossing.com/---/5748493
Glad they picked up the book, glad they journalled, and glad they 'got it'!
by Bascula
---
All of our newsletters, including this one, are archived on the web at http://www.bookcrossing.com/newsletterarchive.
---
This newsletter is sent only to members of BookCrossing.com. If you would prefer to not receive this newsletter in the future, you can change your newsletter preference anytime by visiting: http://www.bookcrossing.com/newsletterpref/.