June 21, 2009
[This monthly newsletter is sent to members of BookCrossing.com. See the
bottom
of this newsletter for simple removal instructions.]
---
Big news from Sandpoint! BookCrossing's gone horizontal! No, I don't mean flat on our backs (although, the recession has taken its toll), I'm talking labels. We now have new horizontal labels in the Supply Store that truly celebrate the spirit of BookCrossing. These horizontal bookplates will make you want to stand up and scream, "RUN FREEEEE BALLYCUMBER! RUUUNNNNN! GOOOOOO!" (but please don't do this -- I found out the hard way -- it won't go over well, particularly in an office environment ;-)

We work hard to find artists who are able to encapsulate the meaning of BookCrossing. Vince Cusomato, the designer of our very first horizontal bookplate label, did a great job. Please check out the new labels by clicking here. You'll see our little BallyCumber running free through the African savannah while some BookCrosser observes Bally through binoculars from afar; this bookplate reminds us of how, when a book is released, we set it free on an adventure into the unknown. Will wild boars tear apart the pages? Probably not. But a voracious reader might.

Run wild,

Bruce Pedersen
BookCrossing Co-founder/CEO

PS: To help our BookCrossers beat the recession, we're also launching our affordable "Lite" labels--printed in black and white for a penny-pinching cost-effective alternative to Artist Bookplates. Grab both a Lite Label Kit and a pack of the new horizontal bookplates for just under $20.




---
A Whole New Angle on BookCrossing: Horizontal Bookplates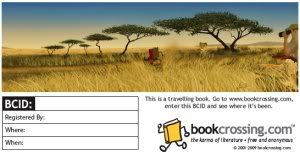 When we received our newest labels by artist Vince Cusomato, we couldn't stop smiling. Things are changing over here at BookCrossing and we think these labels are the perfect way to start the process. Our first ever horizontal label pictures BallyCumber running through the African Savannah, truly "in the wild". Artist Vince Cusomate captured the spirit of our favorite running book and the excitement of releasing and tracking a book in the wild. Our new labels are available with our Lite Kits — complete with a pack of 25 black and white Lite Econo Labels and a pack of 25 Officially Official Stickers packaged in a 5x7 Reusable BookCrossing Envelope for only $9.95. Vince Cusomato is a Montana-based computer graphics artist. Find out more about him here. And just because you asked, our horizontal plates all include a separate line for date registered and location.
---
Announcing BookCrossing Lite Econo Labels!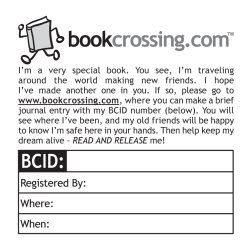 Attention penny and euro pinchers (or everyone trying to save a little money): BookCrossing is excited to announce the launch of our new and affordable BookCrossing Lite Labels. Get more bang for your buck with these simple, inexpensive, and awesome labels. Sometimes, it is black and white, which is what these labels are. What can we say? You can always color them in with crayons. We created these little (3 x 3 inches or 7.62 x 7.62 cm) guys for our faithful mass releasers trying to save a few bucks while helping to spread the BookCrossing word! These labels permanently affix to the inside cover of a book and have the same text you find on our bookplates; just without the frills. Make releasing simple and easy by slapping on one of these inexpensive labels. Even better, these labels are available in bulk quantities, too. If you're serious about BookCrossing and serious about saving money, these are the labels for you.
---
Be a Part of the BookCrossing Book

Got any stories about your BookCrossing experiences that you would like to share? Or photographs that illustrate your BC adventures?. Maybe your highest, deepest, most daring release, for example. Your story or photograph(s) might be of interest to fellow BookCrossers, or might be just the ticket to inspire a non-BookCrosser to join. You might have the epitome of examples that would explain why BookCrossing is so special to so many. Our plan is, if we get enough suitable submissions, to produce a book which can promote BookCrossing; a book that would share your stories and photos with the world. Of particular interest are photographs that illustrate the international spread of BookCrossing. Photographs of labels, release bags, BC notices and so forth in all languages are especially encouraged. We invite you to contribute to our search for the best pictures and stories that help show what BookCrossing is. Flip through your BookCrossing photo albums and send us up to 3 digital pictures that best define what BookCrossing is for you. If you're not a photobug, write up your favorite BookCrossing tales, BC community testimonies, catch and release experiences or any other BookCrossing memory in 200 words or less. To submit your entry, visit the BC Book page or the BCBook Bookshelf for details. There is also a forum thread under announcements. We'll select from the pictures and anecdotes submitted and create our very own book that is a celebration of BookCrossing. Be a part of the BC Book!
---
2009 BookCrossing Patches Now in Supply Store


They're here! The 2009 BookCrossing Patch is now in stock. What began as a labor of love by Thanksmom, in honor of the very first BookCrossing Anniversary Convention in St Louis, Missouri, USA, has continued under her guidance for 5 years now. This year's patch is again a cheery yellow and features a chapter of travelling books meeting and greeting each other, showing that travelling books do indeed make people friends. Thanksmom creates these patches as a gift to BookCrossing. Once again, quantities are limited, so grab one while you can. Once they're gone, they're gone.
---
KARMA AND COINCIDENCE MEET

by jillbe
I received a journal entry one morning and thought, "Yippee! how I love BookCrossing!". Especially great was the book seems to have landed in New Zealand, but who took it with them and when?? Then,
[read it all at http://www.bookcrossing.com/articles/3162]
---
YPRL JOINS WITH CONNEX TO SET BOOKS FREE
Yarra Plenty Regional Library sets 500 books free as part of Library and Information Week
by YPLibrary
BOOKS SEEK READERS. Must be train travellers.
Adventure assured.

...

[read it all at http://www.bookcrossing.com/articles/3167]
---
BOOKCROSSING BUG BITES AGAIN!
Two members from different countries meet via book in 3rd country
by chubsiewhubsie
I made a quick plan to escape Ohio for a trip to Niagara Falls, Ontario, Canada. I then knew I should start a Challenge in the forums. At this link, you will find the Easy As Pie Road Trip Challenge. ...
[read it all at http://www.bookcrossing.com/articles/3168]
---
ONGOING MASTER THESIS ON BC
A Norwegian Student Digs Deeper into the Reading Taste of BCers
by Marit Lentes (MushuMarit)
I am doing a Masters Degree in Literary Publishing at the University of Oslo and am now hoping to examine one of the biggest second hand book recyclers on the planet - BookCrossing! I am studying the
[read it all at http://www.bookcrossing.com/articles/3173]
---
BOOKCROSSING BIRTHDAY BASH
BC in DC celebrates in the capital of the USA
by melydia
Since none of the members of BC in DC could attend the Anniversary Convention in Christchurch, New Zealand, we decided to have our own little party to celebrate BookCrossing's eighth birthday....
[read it all at http://www.bookcrossing.com/articles/3176]
---
WRITING THE FINAL CHAPTER
Memories of a Life Still Lived
by bookczuk
Editor's Note: The CoFounders of BookCrossing saw an article written by bookczuk, which appeared in a Charleston newspaper. Heather and Bruce asked her if she would adapt it for the BookCrossing Newsletter. The adaptation appears below....
[read it all at http://www.bookcrossing.com/articles/3181]
---
CALL FOR WRITERS

Want to write for BookCrossing? If your article is accepted, you could see it featured here in the next newsletter. What topics do we need? Anything about books, reading, or BookCrossing — tutorials, release and catch stories, well-traveled book stories, funny BookCrossing experience stories — you get the idea. Write it up, then submit it here:

http://www.bookcrossing.com/articles/submit




---
Top 10 Countries All-Time
| | |
| --- | --- |
| USA | 310,235 (40%) |
| UNITED KINGDOM | 84,741 (11%) |
| GERMANY | 53,261 (7%) |
| CANADA | 46,055 (6%) |
| SPAIN | 38,004 (5%) |
| AUSTRALIA | 33,635 (4%) |
| ITALY | 23,461 (3%) |
| FRANCE | 16,665 (2%) |
| NETHERLANDS | 16,323 (2%) |
| PORTUGAL | 11,231 (1%) |
Top 10 Countries Last Week
| | |
| --- | --- |
| USA | 360 (23%) |
| GERMANY | 183 (12%) |
| UNITED KINGDOM | 178 (11%) |
| CANADA | 66 (4%) |
| NETHERLANDS | 45 (3%) |
| ITALY | 38 (2%) |
| SPAIN | 37 (2%) |
| BRAZIL | 29 (2%) |
| AUSTRALIA | 29 (2%) |
| FRANCE | 28 (2%) |
---
Wild books released by our members are being caught all over the world, every day! Our site watch forum is where members post news of great wild book catches. Here are some of the best from the last few days...

NH to WA - by way of Costa Rica: some great JEs on this one!
http://bookcrossing.com/---/3166233
I seldom get JEs that make me all sniffly, but that last one did; "I held onto the book because I knew one day I would be a teacher and I wanted to share it with my class..."- and so it was! I loved seeing the many (and varied!) comments from the students, and was no end thrilled to hear from the book again.
by GoryDetails
Funny JE, AF with sense of humor
http://www.bookcrossing.com/---/6971518
by LeishaCamden
staff disappointed book can't play...
a quirky journal entry from the people at goape
http://www.bookcrossing.com/---/6152239
by KiwiinEngland
Free entertainment...
in times of financial disaster!
I'm happy to see this cheerful journal entry:
http://www.bookcrossing.com/---/7214012
by Moem
Book on marriage finds bride-to-be
I just LOVE seeing books wind up in exactly the right hands.
http://www.bookcrossing.com/---/4177699
by Firegirl
The curious case of the haunting book!
I feel as if a certain book has been haunting me, it has puzzled me but it keeps finding me again and again. Was I to good to it? Does it miss my gentle touch? Or is it just malevolent? Is it trying to upset me?
This story starts almost a year ago, in the hills of beautiful Slovenia, during my holiday. To my great joy and utter suprise I find my first (and only) real wild book. I was extatic, over the moon. Little did I know it would haunt me to the day I write this. I brought the book home with me to find it a good place. I thought that the team-building days with our first year pupils where a perfect occasion. I left the book at the place where we stayed the night, along with a few other books to keep each other company. After the teambuilding days, school started again as normal. Until, one day, I see the principal trotting around with the dreaded book in his hands. How did it get there? None of the pupils could have taken it, because I was the one that had closed up. All pupils had gone. And the place where we stayed was more than 100 km away from here.
The principal found bookcrossing such a neat idea that he went into a classroom and left the book to travel there. All is well, I thought.
Months passed, winter became spring and spring is now gradually turning into summer. This weekend the school has opened its doors to parents and prospecting pupils. All teacher were there to help, as was I. I was holding down the fort at the art exhibition, when suddenly a parent turns around to face me. At first I thought it was a mirage of sorts, it was a nice warm day and I had been standing there for many hours on end. But a second glance showed me that she was most definately holding the book. The book that came back to haunt me! Now for a second time it has been released inside the school, waiting there for me to pick it up and take it home. But I refuse! The bond must be severed. It must make its own way into the world.
And now I find myself looking over my shoulder, expecting that evil book to rear its ugly head round every corner. Where will it pop up next time?
Note: True story, although maybe slightly exagerated! ;D
by Moriquen
Six Years Ten Months-A record for me
Is this a site record? And a nice journal entry as well.
http://www.bookcrossing.com/---/157998
by Sonora
BC: a great service to the public!
I just got this fun wild catch and thought I'd share it: http://www.bookcrossing.com/---/7131270
by Guinneth
Chocolat is well loved and well travelled
http://www.bookcrossing.com/---/7057493
Charleston to Chicago and then on to Montepulciano, Italy!

by bookczuk
A BC book helps to avoid unnecessary rows
Nice catch for paapira http://bookcrossing.com/---/4763520
And if you wanna see what the book looked like after CatharinaL tuned its covers, check out her blog http://catharinal.livejournal.com/---/

by Tarna
Four new members, from one little wild release
I don't like to brag, bug... This has got to be my **BEST** wild release ever. It just got its fourth new member in the "wilds" of Sydney's inner west.
http://www.bookcrossing.com/---/6811117
by tqd
Bookcrossing is like meeting the tooth fairy!!
two wild release catches from this book released by a person who was travelling to the Christchurch convention.
http://bookcrossing.com/---/7093218
by KiwiinEngland
---
All of our newsletters, including this one, are archived on the web at http://www.bookcrossing.com/newsletterarchive.
---
This newsletter is sent only to members of BookCrossing.com. If you would prefer to not receive this newsletter in the future, you can change your newsletter preference anytime by visiting: http://www.bookcrossing.com/newsletterpref/.