January 10, 2009
[This monthly newsletter is sent to members of BookCrossing.com. See the
bottom
of this newsletter for simple removal instructions.]
---
Slow in the Snow in Idaho

Happy New Year from Sandpoint and welcome to a new year of BookCrossing! This year we celebrate BookCrossing's 8th anniversary (which is considered "long in the tooth" in Internet years -- but remember "Yesterday's 8 is today's 2").
There are many things simmering in the cooker and we look forward to your feedback as we prepare to push them out the door in the first half of this year. The iPhone application, among others, will need testers and feedback. If you have an iPhone and would like to volunteer for iPhone application testing, please send an email to iphonevolunteer AT bookcrossing.com. (We probably won't be able to include every i-Phone volunteer in the pilot group, but we will try to get as many as possible to help out.)
Thank you for your support, and happy 'Crossing!
Bruce Pedersen
BookCrossing Co-founder
---
Have Your Book and Mail It, Too: Introducing the BookCrossing Reusable Book Envelope

Coming to the Supply Store any day now: the Reusable Book Envelope that BookCrossers have been asking for for over 3 years! After months of R&D, price and material shopping, home-made sample test bags, postal meetings and duct tape, plastic and staple crafts on the office floor, we feel that we have the product just about right. These new BookCrossing reusable mail envelopes are the perfect answer to facilitate Bookrings and rays as they are strong (made of Tyvek®) and boldly branded with Ballycumber. The bags are secured with a 3/4" velcro seal and post office approved, but if you feel the need to see if the seal has been broken in transit, simply add a Bally sticker to the top for an extra security measure. Now you can be Earth-friendly while sending your books around the world in style. Sold in the Supply Store in 2 sizes (or grab the "Mixed bag" which has a few of each). Be sure to get yours and be the first to send your tomes travelling first class.
---
BookCrossing's The Reader Challenge and Contest

It's a given that BookCrossers love books, and love to set them free. And loads of BookCrossers love to answer the call of a BookCrossing Release Challenge, where books are released around a theme, event, book or whim of whomever is organizing the challenge. So what better than a challenge centered on reading? Why, a challenge centered on the award-winning book The Reader by Bernhard Schlink, and the recently released (and sure to win awards) movie The Reader, based on the book, of course! And a contest connected with the movie, too!
BookCrossing, in partnership with The Weinstein Company and Vintage Books (Random House) invites all BookCrossers to participate in this challenge and in the contest. Release as many books as you can that are themed around The Reader between January 1 and the 2009 Oscar Awards Ceremony (which take place in Los Angeles, California) on February 22. The more books you release, the better your chances to win one of the fabulous prizes that will be offered. Points will be awarded for each release, and extra points given for specific criteria, such as releasing a copy of the actual book or including a photo of your release. Any way you can make your release "themed" is fine: a play on the words in the the title, something about reading, book-to-movie tie-ins, May-December romances, Germany, WWII, lawyers, books on the list of 1001 Books You Must Read Before You Die (The Reader is Number 116 on the list) — anything goes as long as you can justify your choice and reasons for calling a particular release "themed". There will also be at least one wild card winner for those who want to participate, but may not have tons of books to scatter in the wild for the challenge. In order for a release to count, it has to be posted in the thread in the Release Challenge forum during the dates of the challenge and has to include a reference to The Reader movie (which opens January in the U.S.) in the journal entry. We'll even supply the journal entry for you to use. Full details are available in our Release Challenges forum. Specifics can be found here.
To enter our The Reader contest, simply go see the movie, save your ticket stub, write your BookCrossing screen name* on the stub and send it to us at BookCrossing*. We will draw the winning names on February 22. The winner will be notified by BookCrossing Private Message. We've got some pretty fabulous prizes lined up, so what are you waiting for? Both the challenge and the contest are open to ALL BookCrossers, regardless of location. Join our The Reader challenge and see The Reader movie now! Two separate contests, two great chances to win! Prize packages for both contests include signed copies of The Reader or of books mentioned in the actual story, signed screenplay of the movie, soundtrack CDs, BookCrossing wings, and other prizes.
But wait! There's more! We're introducing a new forum called The Reader: Movie and Book for you to chat about The Reader, both book and movie, and will be giving away copies of the book as well (details to be posted in the forum.)
*Must be a BookCrossing member to be eligible. Only valid BookCrossing screen names are accepted. Entries must be postmarked by February 22, 2009 and sent to BookCrossing: The Reader Contest at 323 Pine Street, Sandpoint, ID 83864.
---
The Lost Book: Interactive Reading

Now here's a cool twist to reading: The Lost Book, a collaborative adventure in storytelling. It is an online animated series with a difference: the story will be written by you, me and everyone who wants to get involved. The first episode (jam-packed with clues) will be posted on January 30, 2009 and where the story goes after that is up to all of us – it's a collaborative adventure!
The Lost Book is part of The Lost World Read 2009, a reading campaign that celebrates Sir Arthur Conan Doyle's 150th birthday and Charles Darwin's bicentenary. It's bringing people across the UK (and elsewhere) together to read a classic adventure tale of a lost plateau, discovery and dinosaurs — The Lost World.
BookCrossing is a big part of The Lost Book. From January 2009 onwards there will be release challenges, wild releases and bookrays linked to The Lost World. There'll even be some exclusive bookplates to download. If you'd like to get involved with The Lost Book, head over to the website at www.thelostbook.net or to the member article (or both!) and start exploring.
---
New Netherlands BookCrosser Gets Enthusiastic Welcome

BookCrossing in the Netherlands is growing strong. Though the country is small in size, there is an extremely active BookCrossing community. Recently, our Dutch members welcomed the 15,000th BookCrossing member in the Netherlands! Gruenerriese who joined on January 6, was notified of being number 15,000 and will be showered with books and gifts by other Dutch members. Korenwolf correctly predicted the day that the special number was reached, and will also be receiving prizes. Gruenerriese has responded with enthusiasm, and now sports a message on her bookshelf that proudly proclaims "I am that lucky 15000th dutch member!" Welcome Gruenerriese, and welcome to all other new members.
---
Contacted Us and Haven't Heard Back? Please Try Again!

While it's often fun to find out the fabulous value of Great Grandmother's gravy boat or that the old painting that's been up in the attic for decades is really a Rembrandt, not all antiques are a good thing. We found out the hard way, unfortunately when our "ancient" software for our Contact Us page and our original mail server failed. It was doubly hard, because it meant we weren't able to receive messages from you regarding your concerns and kudos, nor could you receive any responses to the issues that were still open. We're still working on a fix, but have rigged up a work-around in the meantime to enable you to contact us. So, if you wrote to us any time this month, and have gone more than 72 hours without a response, please re-send your comments via the Contact & Support link found at the bottom of every page. We will make sure your message gets to the proper destination and answered as quickly as possible. Thank you for your patience.
---
ABOUT BOOKS AND MEMORIES
Thoughts of an avid reader
by Lukutoukka
I have never been good with diaries. However, I have noticed that I don't actually need them. When I think about books I have read, I can remember where and when I have been reading them, and what kind of day it was almost as well as I would, if I had documented it in a diary. ...
[read it all at http://www.bookcrossing.com/articles/3082]
---
CATCH ME IF YOU CAN
A Poem By Wayne Visser
by Wayne Visser (merlinafrica)
I've been released into the wild
Just like a wide-eyed, wondrous child
And though I travel far from home
I know I'll seldom be alone

I'm making friends along the way

[read it all at http://www.bookcrossing.com/articles/3083]
---
YOUNG ADULT LIBRARY
Volunteering to build a classroom library
by needywriter
I am a pre-service teacher at the University of Connecticut and am in the process of building a library of Young Adult books, audiobooks and resources. This library is designed to encourage disadvantaged students access to books that they can read, question, journal and share without having to purchase the book. BookCrossing is the medium by which each student will journal their opinions and share it with each other and with the BookCrossing community. I couldn't build this, however, without you. I am so grateful to all those wonderful BookCrossers who have made my collection of books and audiobooks for the Young Adult Library possible and enjoyable. You are too wonderful!...
[read it all at http://www.bookcrossing.com/articles/3085]
---
JILL'S DIARY #2: ROAD TRIP TO AUDUBON, PA
The next tale of a GPS unit and her BookCrosser
by KateKintail
Starting destination: Northern Virginia (with a short stop scheduled in Maryland)
Final Destination: Audubon, Pennsylvania ...
[read it all at http://www.bookcrossing.com/articles/3086]
---
GET A LIFE, BUY A BOOK!
A Book A Day Keeps The Blues Away
by chubsiewhubsie
There is a quote from Christopher Morley that goes, "When you sell a man a book, you don't sell him 12 ounces of paper and ink and glue - you sell him a whole new life." That might be well and true but BookCrossing goes one step further!...
[read it all at http://www.bookcrossing.com/articles/3092]
---
MY LAST RELEASE IN PITTSBURG
but hopefully not my last release ever
by Cordelia Sykes (Modmouse)
On December 19, I will be graduating from Pittsburg State University in Pittsburg, KS, where I had transferred in from Santa Fe, NM three years ago. As a parting gift, I will be releasing a copy of Norman Vincent Peale's The Power of Positive Thinking. This will be my last release in Pittsburg before I move to St. Louis....
[read it all at http://www.bookcrossing.com/articles/3096]
---
LYZZYBEE'S OBCZ MANIA
... or how I manage to pass along so many books...
by LyzzyBee
My newest Official BookCrossing Zone just hit the 1,000 book mark and I thought I'd use the opportunity to encourage people to set up or run an OBCZ. And celebrate their differences and similarities. See, I have three!...
[read it all at http://www.bookcrossing.com/articles/3097]
---
CLOSE ENCOUNTERS OF THE BOOKCROSSING KIND
My First Bookcrossing Meeting
by Melanie Wardlow (novelwriter1)
I had never been to the BookCrossing meetings that were held locally in my area. The most recent meeting was posted on one of the forum boards here at www.bookcrossing.com so I decided to post a reply that I would be interested....
[read it all at http://www.bookcrossing.com/articles/3098]
---
A REAL BOOK PHANTOM!
How a phantom has fun with BookCrossing
by Boekenspookje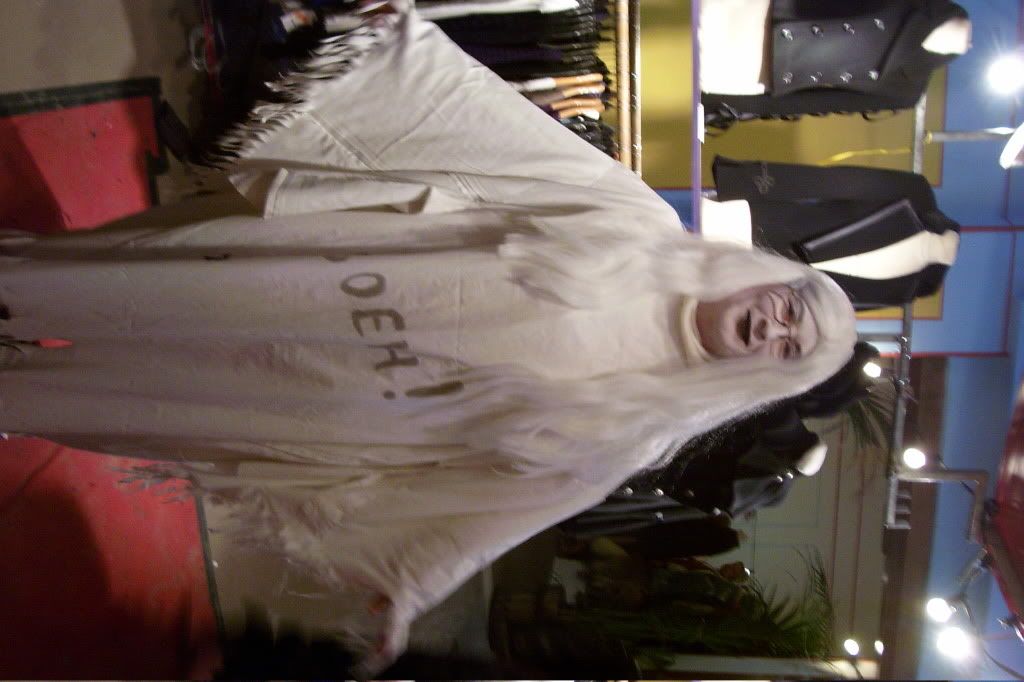 With a screen name such as Boekenspookje (Bookphantom) and a craze for fantasy, it had to come of. This year I planned to visit the Midwinterfair in the Archeon (http://www.archeon.nl) to leave here and there my books behind as a real "bookphantom". It became clear that it was not as easy as it looked to fabricate a ghostly costume from 2 sheets, which would still be large enough to go over two thick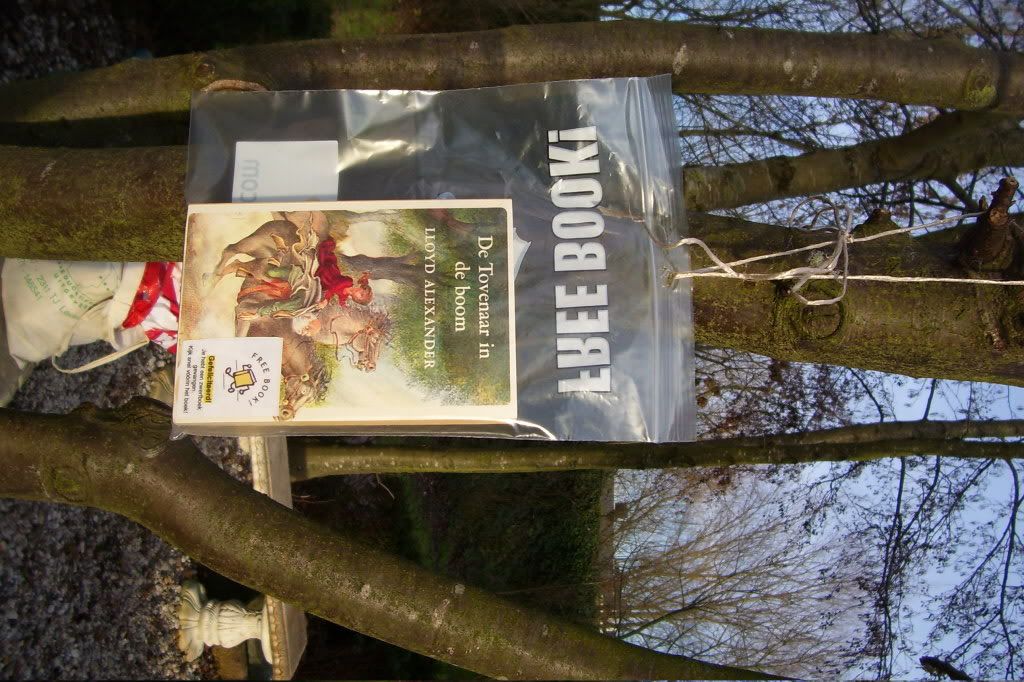 pullovers and one coat. At the party store I bought a white carnival wig, white make up and a black lipstick, and as finishing touch (so that there could be no misunderstanding concerning what I presented) the word "Boeh!" (Boo)in large characters on the front. During the Midwinterfair the Archeon is populated for two days by all kinds of fantastic characters: witches, monsters, trolls and this time therefore also by...a (book)phantom. I had to go with public transportations and waited to dress up till I was on the parking place, because I wasn't as brave as Myranya yet, who had gone as a forest nymph with the train to Zeist. ...
[read it all at http://www.bookcrossing.com/articles/3101]
---
THE LOST BOOK
Interactive Reading and BookCrossing Fun
by TheLostBook
Hello! We'd like to tell you about The Lost Book. It's an animated web series with lots of BookCrossing....
[read it all at http://www.bookcrossing.com/articles/3105]
---
CALL FOR WRITERS

Want to write for BookCrossing? If your article is accepted, you could see it featured here in the next newsletter. What topics do we need? Anything about books, reading, or BookCrossing — tutorials, release and catch stories, well-traveled book stories, funny BookCrossing experience stories — you get the idea. Write it up, then submit it here:

http://www.bookcrossing.com/articles/submit




---
Top 10 Countries All-Time
| | |
| --- | --- |
| USA | 299,531 (41%) |
| UNITED KINGDOM | 79,648 (11%) |
| GERMANY | 49,560 (7%) |
| CANADA | 44,459 (6%) |
| SPAIN | 36,371 (5%) |
| AUSTRALIA | 32,070 (4%) |
| ITALY | 22,447 (3%) |
| FRANCE | 15,793 (2%) |
| NETHERLANDS | 15,019 (2%) |
| PORTUGAL | 10,586 (1%) |
Top 10 Countries Last Week
| | |
| --- | --- |
| USA | 721 (32%) |
| UNITED KINGDOM | 223 (10%) |
| SWEDEN | 156 (7%) |
| GERMANY | 138 (6%) |
| AUSTRALIA | 88 (4%) |
| CANADA | 87 (4%) |
| MEXICO | 75 (3%) |
| NETHERLANDS | 57 (3%) |
| ITALY | 51 (2%) |
| SPAIN | 51 (2%) |
---
Wild books released by our members are being caught all over the world, every day! Our site watch forum is where members post news of great wild book catches. Here are some of the best from the last few days...

2 year old release goes to prison, then Frankenstein's castle
I released this book, "The Memoirs of Elizabeth Frankenstein", at a Dublin Bookcrossing monthly meeting almost two years ago. We usually leave books that no other BCer claims on a shelf in the pub lounge, which is what happened with this book. Now, 2 years later, it turns out this book somehow made its way to Ireland's biggest prison, where a guard took it, became a BC member, then did a themed release at Frankenstein's Castle in Germany:
http://www.bookcrossing.com/---/2027980
by PenguinSilja
Wowza...went to register a book tonight, flipped it open...and
it was already registered on BookCrossing, with a lovely handwrittten note inside: http://www.bookcrossing.com/---/releasedone
I had no idea it was a BookCrossing book when I bought it at the St. Vincent's thrift store today.
The really neat thing- this BookCrosser is from a small city about 6 or so hours north of me, and has registered 7 books so far, but only released one...this one! It was left at the OBCZ in my local public library, and somehow in the 2 months since then made it's way over to the St. Vinny's store. It's in lovely condition.
by KarenBC
"I came upon it while my husband was peeing."
I love this entry. She joined, too!
http://www.bookcrossing.com/---/6737370
by LazyDaisy0413
Wow, what a JE!
http://www.bookcrossing.com/---/6786067
by LeishaCamden
Second generation catch???
I'm not sure how excited to be- could be the AF registering after finishing reading? or a second generation catch.
Either way, I'm really pleased the book is being more widely read, and was thrilled to get another note about it!
http://www.bookcrossing.com/---/6572314
by bookseekerAT
Coincidental journey of a book
I released this book at a Sydney hospital while visiting a friend who comes from a regional city (Dubbo) over 400 kms away. Amazingly, the book has ended up travelling to Dubbo, totally independently of my hospitalised friend!
http://www.bookcrossing.com/---/6631154
by bookseekerAT
Successful Boxing Day release
A new member and hopefully an active one too...book will be going on a holiday too
http://www.bookcrossing.com/---/5428585
by Jive-Monster
Book journaled after 1 1/2 years on OBCZ shelf!
I couldn't be more pleased as I was beginning to wonder if this book would ever get to take a trip!
http://bookcrossing.com/---/5182787
by Jare
This one has been wandering for 6 years!

http://www.bookcrossing.com/---/409942
by bookseekerAT
A delightful Christmas catch
http://bookcrossing.com/---/6751292
by meganh
"It could be a bomb"
My first bomb scare. I'm so proud.
http://www.bookcrossing.com/---/6728203

by londonmet
Finder buys books after finding one
http://www.bookcrossing.com/---/6590712
So much for Bookcrossing hurting book sales... :)
by erinacea
Enthusiastic finder
This was my book, and so glad to see its ended up in the hands of someone who is so enthusiastic about BC!
http://www.bookcrossing.com/---/2056241
by momrisner
---
All of our newsletters, including this one, are archived on the web at http://www.bookcrossing.com/newsletterarchive.
---
This newsletter is sent only to members of BookCrossing.com. If you would prefer to not receive this newsletter in the future, you can change your newsletter preference anytime by visiting: http://www.bookcrossing.com/newsletterpref/.