July 25, 2008
[This monthly newsletter is sent to members of BookCrossing.com. See the
bottom
of this newsletter for simple removal instructions.]
---
BookCrossing turns another page
Hello BookCrossers,


First of all, we are extremely appreciative of each and every one of your thoughtful and articulate posts in the forums over the last week. This is your community and we are proud to serve it, and continue to help move it forward. Occasionally those forward steps are accompanied by a few backward ones. We hope you interpret our quick recognition of the error in our methodology and prompt adjustment of the recent Members Plus changes as proof of how much we value you. Rest assured that our motives for the changes were pure, and we always have your and the site's best interests in mind. Unfortunately, we will probably always struggle with the age-old concern of how we can continue to grow this wonderful site that brings people and books together in totally unique ways, while continuing to make as much of it as possible free and accessible to the world. We applaud your feedback and continue to mine and integrate it into the next phase of BookCrossing.

That said, we would like to continue moving forward and will be communicating and introducing some short-term and intermediate steps over the next few weeks. These will take us in the direction we all want to go based on your input and feedback.

One change we are announcing today is a transition in the site's leadership role from Scott Sorochak to me. While Scott has helped us over the last 18 months, we have his support in making this change as we guide BookCrossing into the future. While many may speculate that Scott is being "fired" because of the handling of last week's changes, I can assure you that nothing is further from the truth. Scott and I have been working on his exit plan for quite awhile, and it was his decision, totally unrelated to the goings-on at the site. Scott needs to spend more time with his family, and the amount of travel and time he has invested in the last 18 months has proven invaluable to us while being hard on his family. We cannot thank him enough for what he has done for the site and our community, and in turn, we support his desire to spend more time with his family. We know we are a part of that, as Scott is, after all, a BookCrosser! We wish Scott the best of luck in his new endeavors. He will still be involved, but in a different capacity, bringing guidance and support in his areas of expertise.

In the end, in my opinion, life is all about the people you meet, the relationships you build and sustain, and the positive change you make in the world. One of the foundational potentials that continues to inspire me with BookCrossing is the ability to do all of these on a large scale. I have had the great pleasure of meeting many, many BookCrossers on several continents over the past 8 years. You are an incredible group: interesting, diverse, articulate, creative, funny, spirited and above all passionate about BookCrossing. We sincerely appreciate every one of you. We value your input and value you as team members. Help be a part of building BookCrossing 2.0 -- we will do our best to earn your faith and trust. I am looking forward to an extremely fun ride for the rest of '08 and beyond.

Respectfully,

Bruce Pedersen
Co-Founder
www.bookcrossing.com

---
Pssst! Free Shipping at the Supply Store! Pass it on!

It's the middle of summer in Sandpoint, Idaho, where our Supply Store is. Whether it's summer where you are or not, you can still take advantage of our Summer Free Shipping on all orders over $30 (USD). Not only that, but we've lowered the cost of Members Plus for a Year to $29.95!! (Do the math — that makes it under $3 a month for wings and things for a year.) This offer is good all summer, until our supply store manager recovers from sunstroke and regains her senses. Click on over to the Supply Store and fill your basket with loads of BC exclusives like our earth-friendly journals made of recycled materials, 2008 patches, clearance items and more! Or, if you're not feeling like shopping at the moment, you can still make a donation or send a BookCrossing gift certificate to a friend. All purchases at the Store help support the site, so every penny (sou, franc, euro, etc.) is well-spent and much appreciated. Don't forget, too, that every purchase over $30 USD gets you Members Plus for a month, as well, so you get quadruple benefits: Free shipping, great products, Members Plus and the knowledge that you've helped support BookCrossing. Hurry to the store now, before our Store Manager gets out of the heat!
---
Come to the Announcements Forum for the Latest BookCrossing News

Wondering what's up on BookCrossing? Want to know what's new in the store or what new features are available? Curious if something you noticed is a trend, a bug or a change? Our BookCrossing Support Team, Store Manager, Management Team and Newsletter editors post "Need to Know NOW" information regarding site features and functions in the Announcements Forum. (Clever of them to call it Announcements, isn't it?) If you've got a question that isn't addressed by something in the Announcements forum, feel free to write in to Support (via the Contact & Support link found on the bottom of every page) or ask in the Advanced Questions forum. One of our members or someone on our Support Team will try and help you out. Based on recent member feedback, we will be restructuring the Announcements Forum to help delineate Site Announcements from General Announcements. Be sure to watch the Announcement Forum for further updates! (While starting a thread in that forum is currently limited to Members Plus folks, any member can respond to any thread in Announcements.)
---
All Dressed up and No Place to Go? Try These BookCrossing Events

June is a busy month in the BookCrossing world, it seems. Once the Italians finished their 7th Italian BC National Meeting in Genova (May 31-June 2) it was time for folks to unpack their bags, do their laundry and pack again for either the Annual Dutch BookCrossing Beach Meeting / Convention 2008 on the beach near Castricum, the Netherlands (June 22) or Hamburg 2008, in Hamburg Germany. (Don't know if any BookCrossers could attend two or even all three of these events, but wouldn't they be lucky to do so?) We're eagerly awaiting word back from attendees. (Consider that a HUGE hint for folks to submit a member article about the gatherings or to at least post links in the forum for pictures. We love to see your pretty faces.) If you're wondering how to find out about events near you, check our Conventions and Meetings forum, where you can also find links to the pictures from the Italian Meeting. You can also click over to our information link on the Community tab, cleverly labeled Conventions, for a listing of upcoming events. If you are planning a Convention or UnConvention or some sort of major BookCrossing meeting or gathering, and your event is not listed, feel free to post in the forum and to send us the information via the Contact & Support link found on the bottom of every page. Please try and get the information to us well in advance. (If the event is less than 30 days from the time you send the information, we cannot guarantee it will be listed.)
P.S. And even thought it wasn't a June event, we didn't forget about the Australian Convention in Brisbane, July 4-6. Our newsletter for June was on vacation. Luckily, folks kept us updated in the forums about all the happenings. Thank you! Onwards to more events!
---
You know you're an activist and talk about BookCrossing too much when...

We found this little anecdote in the Activists Only forum (where we let you define what an activist is.) Thanks solittletime for bringing a smile to many a face when this was read.
I had been reading and must have dozed off. The phone rang. It was my vet. Panic set in. My thoughts were swirling around. The vet?? The vet?? Why was the vet calling me? Was one of the cats sick? Did they call her themselves? Why didn't they tell me if there was a problem and they weren't feeling well? Or did the vet re-check that blood work and decide my diabetic cat was getting too much insulin? Did I have to lower the dose again? Wait a minute, that blood was taken weeks ago, why would they be re-checking it now? And then the vet says, I brought some books in for you and I'll leave them at the front desk for you to pick up and BookCross...
So today I stopped by the veterinary hospital and there was a nice little stack of 8 books for me. The cats are fine. And life is good.
---
Announcing 26th Limited Edition Bookplates: Reader's Dream and More New Store Items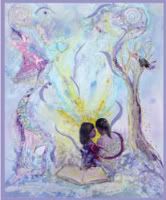 There are great new items in our BookCrossing Supply Store this month. For starters, there's a true reader's dream — our 26th Limited Edition Bookplate, Reader's Dream by artist Christine Oster, a tribute to the creative imagination of childhood reading, for the child in us all. We also now have our famous Slim Stamps in French, German, Italian and Dutch, as well as the original English. There are the new Earth-friendly BookCrossing Journals, introduced last month, Ballycumber Briefcases (in hunter green or black) and our fabulous BookCrossing Totes are now available in royal blue, as well as the original yellow, red and black. And this year's BookCrossing Patch, again designed by ThanksMom, is now in stock, while supplies last. Finally, be sure to check out our Polo shirts, available in black or sky blue. You're sure to find something to please you in the store. Plus, every purchase goes directly to helping improve the site. As always, thank you for your support. (And if you're in the mood for a bargain, check out our new Clearance Items for special deals, while they last.)
---
New Beginnings and BookCrossing: Abbynormal92243 Raises the Book Giving Bar

Long time BookCrosser Abbynormal92243 has more accomplishments than releasing over 5,750 books in the wild. She recently graduated from San Diego State University in Calexico, California with a Bachelor of Arts in English and was named "Outstanding Student of the Year". She used the opportunity to share a piece of her own personal history, which she has described as "my own private hell", and how books and the sharing of books to individuals in need helped her overcome and grow strong through a tough ordeal. You can read the speech she gave at her commencement in May here or here in our Release Challenge Forum where it's not too late to join with Abbynormal92243 in a challenge to release 2000+ books to celebrate the occasion. And in the school of BookCrossing, that's magna cum laude material.
---
Creativity Corner: Reinventing the Release Bag

Three cheers for our creative BookCrossers in the Netherlands! When faced with the task of decorating a booth at a recent cultural festival, they definitely raised the flag on creativity. All it took was a little ingenuity, some colored paper, and our fantastic BookCrossing Release Bags (available exclusively through the BookCrossing Supply Store) and voila! A bright and Bally-ful string of flags! For a few more pictures of the decorations, click here and to see the booth and BookCrossers Moem, who came up with the idea, Betje, Frakke-Per, and Iez, click here. (Pictures taken by -Nika- and used by permission.)
---
REDOING THE CHARLESTON: BALLY AT THE BEACH
Charleston BookCrossers invite you to the 2008 UnConvention, American Style
by CharlestonBCers
Midpoint between the 2008 Anniversary Convention which was in London and the 2009 Anniversary Convention in New Zealand, the Charleston BookCrossers would like to welcome any and all who wish to gather in, to an impromptu get-together here in South Carolina. Since there is no official or semi-official North American Convention this year, we're taking a page (ha!) from the UnConventions of the UK and and are welcoming one and all to a state-side Unconvention: Charleston style: Redoing the Charleston. Redoing the Charleston (or Bally at the Beach, if you prefer.) ...
[read it all at http://www.bookcrossing.com/articles/3020]
---
(Italian)


FESTA RIONALE: JUNE 7, 2008
Corner Festival: June 7, 2008
by calcedonio

Il tempo non promette niente di buono ma la voglia di fare era tale da superare ogni avversità. Attacco il mio bel badge creato alcuni giorni fa per darmi un aria più professionale e prendo la locandina dove in primo piano campeggia la scritta "libri gratis" ed i due siti di riferimento per il BookCrossing....

[read it all at http://www.bookcrossing.com/articles/3019]
---
A BOOK THING ROAD TRIP
The DC BookCrossers invade Baltimore
by ResQgeek
How do BookCrossers prepare for a big book release event? Where do all the books come from? If you are a BookCrosser in the Washington, DC area, the answer, apparently, is the Book Thing of Baltimore, Inc....
[read it all at http://www.bookcrossing.com/articles/2977]
---
A CIRCULATING BOOK GATHERS NO MOSS
Tuned books meet an audience in Tampere, Finland
by CatharinaL
A country already ranking high in relative BookCrosser density, Finland is ever active to find unique ways to promote everybody's favorite pastime....
[read it all at http://www.bookcrossing.com/articles/3004]
---
SYMPATHETIC SHOPPING CENTRE!
Large UK Shopping Centre embraces BookCrossing!
by house-elfdobby
Crispy crumbles! What a result!...
[read it all at http://www.bookcrossing.com/articles/3018]
---
LONDON'S YOUNG VOICES CELEBRATE A YEAR OF READING
Visual and written collection of young people's work in a colourful, professional, inspirational book!
by Linklaters and The Learning Trust (WordsUnite)
Ten-thousand copies of a book celebrating the work of Hackney's young people hit the London borough in July 2008. Our Voice: Words from Hackney is a colourful and professional piece of work by global law-firm Linklaters and The Learning Trust to acknowledge the success of the Words Unite campaign in the past year. The book, which supports the National Year of Reading 2008, will be launched at the Words Unite Conference on 1 July, 2008 in Mile End....
[read it all at http://www.bookcrossing.com/articles/3021]
---
A GLOSSARY OF NEW FEATURES, PART I
Book Releases and Profile Changes, for starters
by Ballycumber
Lots of cool new features are now available for BookCrossers of every genre. Check these out! (MP = features available only for Members Plus subscribers.) We have kept the basic abilities to register, journal and release books, and other basic site navigation free. Members Plus, which is currently on sale for $29.95, is our unique program that allows enhanced access to extended site features....
[read it all at http://www.bookcrossing.com/articles/3038]
---
CALL FOR WRITERS

Want to write for BookCrossing? If your article is accepted, you could see it featured here in the next newsletter. What topics do we need? Anything about books, reading, or BookCrossing — tutorials, release and catch stories, well-traveled book stories, funny BookCrossing experience stories — you get the idea. Write it up, then submit it here:

http://www.bookcrossing.com/articles/submit




---
Top 10 Countries All-Time
| | |
| --- | --- |
| USA | 287,271 (41%) |
| UNITED KINGDOM | 73,415 (11%) |
| GERMANY | 46,152 (7%) |
| CANADA | 42,809 (6%) |
| SPAIN | 34,849 (5%) |
| AUSTRALIA | 30,409 (4%) |
| ITALY | 21,292 (3%) |
| FRANCE | 14,940 (2%) |
| NETHERLANDS | 13,644 (2%) |
| PORTUGAL | 10,050 (1%) |
Top 10 Countries Last Week
| | |
| --- | --- |
| USA | 598 (31%) |
| UNITED KINGDOM | 265 (14%) |
| GERMANY | 162 (8%) |
| CANADA | 99 (5%) |
| NETHERLANDS | 74 (4%) |
| SPAIN | 67 (3%) |
| AUSTRALIA | 61 (3%) |
| FRANCE | 45 (2%) |
| ITALY | 38 (2%) |
| FINLAND | 36 (2%) |
---
Wild books released by our members are being caught all over the world, every day! Our site watch forum is where members post news of great wild book catches. Here are some of the best from the last few days...

An excited jogger found this book! (It pays off to workout...)
http://www.bookcrossing.com/---/6349093
by Haugtussa
"If it was a snake, it would have bit him"
Another quick JE for me.. :)
http://bookcrossing.com/---/6126142
by Jare
My favorite journal entry ever!!!-and a member!
Just in time for my 6th BC-versary, the best journal entry I've ever received!!! I am so tickled by this one. It took 5 years and 95 days (is that a record?), and travelled about 120 miles, but it's a great catch!!
"Initially I was appalled at the website on the pages of the book, then I realized books are meant to be read, relished for their content and then shared. Not to be held for their value as 'collectible'. Value only comes in being touched in the moment and sharing that touch with others, all else is false.
As I was reading it, I saw the main character Jessica in my recluse neightbor behind me. I have just finished the last line at 10:45am with a glass of wine, which is a 1st in my 56 years of life, wine in the morning? My beautiful aging neighbor has led the life that could be compared to Jessica in America's jet set and now distresses over living out her final days in a rural town of 81 people who have no clue that she has led a most coveted cosmopolitan life that no-one here could possibly imagine. I am not going to give her a synopsis, just hand it to her and tell her how much I enjoyed it as I return some of her favorite movie DVD's to her. I believe in my soul that it will give her the courage to return to the life she adores. Amazing women must complete their destiny, I hope she will, this book reminds me to continue my journey to 'make a difference' Thank you for your insite to share good books around the world."
She write as AF, but I have hopes that either she, or her neighbor, will join. Edited to add that I checked new members, and she has joined, although she didn't use me as a reference. But, that's fine. I'm not a stats person anyway.;-)
http://bookcrossing.com/---/600964
by TexasWren
Magically transported from Texas to Pennsylvania!
http://bookcrossing.com/---/5424683
by melydia
8-year-old delighted with find
http://www.bookcrossing.com/---/4997119
by Spiegel
"Uniting people in an unusual way"
http://www.bookcrossing.com/---/6237073
Receiving this JE cheered me up tremendously.
by klaradyn
Quick catch and great journal
http://www.bookcrossing.com/---/5976184
by uppity
So pleased with this catch!
I had hung around at the release spot and seen this book being picked up by two young men who seemed very interested in it and started to read it straight away. I didn't think a biography of Princess Diana would appeal to young men, but the book has obviously found someone who has really connected with the idea of Bookcrossing. Yay!!
http://bookcrossing.com/---/5887109
by Scarlett17
5 years 11 months catch for 4libros
http://bookcrossing.com/---/129813
Nearly as I can figure the finder had to have caught it all those years ago and waited this long to journal. I was in the Mystic back in 2002 and I don't think it's played at the Art Loft since.
by Peregrin
I got a lovely catch and a new member from one of my cemetery releases:
http://bookcrossing.com/---/5293163
I love it when a plan comes together!
by GoryDetails
"Apparently someone in Finland dropped it in a mailbox or something"
http://bookcrossing.com/---/4050811
Found at the airport among the incoming mail! Brought a new member!
by Sobergirl
Caught in the carrots
V pleased with this catch!
http://bookcrossing.com/---/6122157
by MrsJennings
Great catch for lifeisajrny! Dr-Faustus' JE is priceless.
"... My only hope was that the universe recognized the principles of finders-keepers and entrusted me as the book's rightful owner. ..."
http://bookcrossing.com/---/6185401

by grubsneerg
---
All of our newsletters, including this one, are archived on the web at http://www.bookcrossing.com/newsletterarchive.
---
This newsletter is sent only to members of BookCrossing.com. If you would prefer to not receive this newsletter in the future, you can change your newsletter preference anytime by visiting: http://www.bookcrossing.com/newsletterpref/.