May 5, 2008
[This monthly newsletter is sent to members of BookCrossing.com. See the
bottom
of this newsletter for simple removal instructions.]
---
Creativity Corner: Into The Night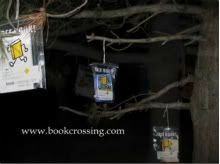 Canadian BookCrosser lithrath made a wonderful video of a mass release she did in Toronto's Flagstaff Park. Click on over to YouTube and watch the action. (Well, okay, some of it is pitch black, but lithrath tells us what she's doing.) Now, we're waiting to hear how many books were caught and journalled!
If you have made a BookCrossing video and want to have it included on our Video Clips page, let us know! Send a link to us via the Contact & Support link found at the bottom of every page on the site (be sure to choose the fourth option "This is just FYI — no need to reply to me") and we'll do our best to get your link posted.
---
Read and Recycle, Read and Tote, Read and Wear: New Store Products for the Many Needs of BookCrossers


Our Earth Day gift to you was a brand new, much requested product: a BookCrossing journal made from 100% recycled materials! The cardboard cover has Ballycumber and our URL debossed on the front and the universal recycling symbol debossed on the back. Inside you'll find 100 sheets of unlined recycled paper (bound with metal binder rings) with the recycling symbol printed on each page. It's totally great, and totally Earth friendly. Read, release, repeat and write. Available exclusively in our BookCrossing Supply Store. Be sure and check out the store for other new products, including a beautiful blue version of our famous Ballycumber tote bag, our oh-so-roomy BookCrossing Polo Shirts in black and sky blue and our so-new-we-don't-have-a-picture-yet expandable briefcase.
---
Been Wishing for A BC WishList? Some wishes do come true!

Wishing for a special book is nothing new to readers, and tons of BookCrossers have used "Cliff's Wish List" which Cliff1976 set up many years ago to keep track of their wished-for books. Cliff's Wish List was also a handy place to track down the wishes of others. But times have changed, and Cliff, who has done a fantastic job with the wish list site, has finally gotten his own wish answered: wish list functionality has been integrated into BookCrossing. It is BookCrossing's good fortune that he turned the site over to us. Matt and his merry band of IT geeks have been testing it out in Alpha. At the London Convention today, Matt threw the magic switch and sent the BookCrossing Wish List to Beta.
Beta users can now check out the new feature. It is on Beta only for now, and comments/suggestions regarding the testing of the new feature can be made in our Beta Site Testing forum. To be a Beta user, you only need to be part of the Members Plus team.
The Wish List can be found in the new User Quick Menu which is located with the home link in the upper right corner of the site (only Beta for now.) Links can be found on your bookshelf next to the status of your books as well as buttons to add books on any book page, journal entry or search result. All wish lists that were formerly housed on Cliff's site have been imported to BookCrossing.
So thanks Cliff, Scott, Matt, and all the others who helped make this wish come true. May all your wishes be crossed.
---
Otakuu and FutureCat's Most Excellent Adventure

New Zealand BookCrossers FutureCat and otakuu are in the midst of a World BookCrossing Tour. They left New Zealand in April, headed to the BookCrossing 7th Anniversary Convention in London. Their goal is to see as many BookCrossers as they journey "there and back again" to help promote the 2009 Anniversary Convention in Christchurch, New Zealand. You can follow their adventures both in the forum and in the blog BookCrosser Exchange: World Tour 2008. (For more information on BookCrosser Exchange, which helped fund this trip, see the BCX website.) Safe journey, ladies! You have charmed all you have met and made us realize that we cross friendships, hearts and minds, as well as books, through BookCrossing. Pictured left to right: FutureCat, lytteltonwitch, otakuu. Photo courtesy of mrsdanvers.
---
The 2010 Anniversary Convention will be held in....

You can all stop biting your fingernails now. The votes have been cast and counted. (Over 1000 BookCrossers participated in our first ever online convention-location-voting. Wow!) We can now tell you who won the bid for the 2010 Anniversary Convention! (Drum roll...)

But first, who were the candidates again? There were three: Amsterdam, Boston and Washington, DC. Each of them had a great spokesperson. Presentations were done in London at the 2008 Convention by Moem, Tobysrus and Skyring (the in loco parentis representative for the "BC in DC" group.) It was really hard to decide which of these wonderful cities to vote for, especially after seeing the fabulous online presentations or hearing reports back from folks attending the Convention in London.

But the outcome was pretty clear: mark your calendars for April 2010 in Amsterdam! Congratulations to the Dutch organizing team: boekenxnl, chris147, fotomiep, Joanazinha, Luielezer, Moem, Phoenix-Flight, Rubberchicken. Keep your eyes on the Convention Info page for updates. They've already got a nice website going with plans and loads of information.
Editor's Note: Just to help keep the calendar straight: the 2009 Anniversary Convention will be in New Zealand. In lieu of a 2008 North American Convention, the Charleston BookCrossers have thrown open their shores for an impromptu Redoing the Charleston: Bally at the Beach in October 2008. The 2009 North American festivities will be in Kansas City and the Boston Group is eager to host the 2010 North American Gathering. Other regional gatherings/conventions and megameets are being planned worldwide as well. See our Convention Info page for more details as we know them.
---
Just the FAQs - But Please Be Careful


We just want to remind you that while BookCrossing applauds wild releases, we need our members to be careful where and how they release those books. To quote directly from our FAQs in response to the question "Where should I release books? Are there places where I should not release books?"
We encourage you to use common sense when releasing books. In other words, don't leave them where they might be considered a security risk, and don't leave adult material where a child could easily find it. Be careful about releasing books where books are sold — we don't want anyone to find one of our books and be accused of shoplifting! We want everyone to learn about BookCrossing, and always come away with a favorable opinion of us.

There are a few places where we do recommend you definitely do not release a book. We ask our members never to leave a BookCrossing book somewhere where it could cause a concern for security (such as in an airport or other high security areas, or places with posted warnings about unattended objects.) Some shop owners, particularly places that sell books, prefer that books not be left in their establishments. (Which only makes sense, as it could be confusing to customers.) And it's best not to leave books inside a library, unless it is as a donation or at a take-a-book-leave-a-book type shelf. Just be aware, and use common sense.
We encourage our members to be creative, but to show courtesy, common sense and to obey the law with regards to where they wild release a book. If you are at all uncertain, try asking permission of the management where you are considering releasing a book. A little education about BookCrossing goes a long way. We also encourage you to occasionally pop over and review our frequently asked questions. The link to the FAQ page appears on the bottom of every page on the site. You might be surprised as to what you might learn there!
---
England, Greece and Spain Over-- Onwards to More!

It's been a busy time in Many Places these past few weeks. BookCrossers found themselves surrounded by other BookCrossers, laughter, and, oh yes, books, as they gathered together in England, Crete and Spain. Plus there have been many local events (such as Reading Loves Reading and the BC in DC participation at The Day of the Book Festival in Kensington, Maryland.) We wish we had a travel budget to send a "reporter" to all these events (hint hint, Scott — maybe it can be a line item in the next budget?) but it's just not possible. We rely on you to let us know news and notes from your part of the world. Send us a line via the Contact & Support link found at the bottom of every page on the site (be sure to choose the fourth option "This is just FYI — no need to reply to me") and we'll do our best to get your news reported in the Newsletter. Even better, though, would be if you'd just go ahead and write the article for us and submit it as a member article. And don't forget the pictures! We love to see your smiling faces and clever releases.
---
MBC in Saint-Malo, France June 21

French BookCrossers are happy to announce that the 14th MBC (Mega BookCrossing) will take place in Saint-Malo (Brittany), on Saturday, 21 June! BookCrossers will meet and release their books in the great setting of the "Intra-Muros", overlooking the sea.
It was 5 years ago that the first MBC (Mega BookCrossing) was organised in France, in Paris. Since then, French BookCrossers and their friends from neighbouring countries have been meeting regularly all over France (Lyon, Strasbourg, Lille, Toulouse, Nice, etc), releasing hundreds of books at a time, and having fun meeting each other. We will be happy to welcome you on the "Côte d'Emeraude". Why not make it a weekend trip? Get-togethers and meals will also be organised. For more information, please look here. See you soon in Saint-Malo!
---
(Italian)


BOOKCROSSING A SCUOLA
Il piacere di leggere
by windnini

Il piacere di leggere. Un gusto sottile che si snoda attraverso sentieri liberi e diversi fra di loro. I bambini hanno bisogno di scoprirlo e provarlo, ma per questo devono percorrere spesso strade irte di regole, paletti, rigidi decaloghi....

[read it all at http://www.bookcrossing.com/articles/2962]
---
BOOKS GO WILD
BookCrossing and Bird Watching
by Sarah Bower (wildbooks08)
BOOKS GO WILD
BookCrossing and Bird Watching
Visitors to the UK's Royal Society for the Protection of Birds reserves in Norfolk might find a little extra in the bird hides from the end of April th
[read it all at http://www.bookcrossing.com/articles/2978]
---
IT'S BEEN A YEAR ALREADY?
A BookCrosser's reflection on her one year bookiversery
by Cordelia Sykes (Modmouse)
As of today, April 7, 2008, I will have been with BookCrossing for a year....
[read it all at http://www.bookcrossing.com/articles/2981]
---
(Italian)


1500 LIBRI LIBERATI IN MILANO AL SALONE INTERNAZIONALE DEL MOBILE (SETTIMANA DEL DESIGN) 2008!
1500 books released in Milan at International Salone del Mobile (Design Week) 2008!
by kriptonite (liberliber)

In occasione del 47° Salone internazionale del Mobile - settimana del Design, che si terrà a Milano dal 16 al 21 aprile, kriptonite ( http://www.kriptonite.com) sta registrando e libererà in quei giorni più di 1500 libri sulla sua vera libreria 'krossing' - ecco quella virtuale: http://www.bookcrossing.com/mybookshelf/kriptonite e vi invita a partecipare alla liberazione e bere un bicchiere di vino :) nello showroom di piazza xxv aprile 7. L'inaugurazione è il 16 aprile alle h 19.30 con aperitivo. Apertura dalle 10.00 alle 21.00 fino al 21 aprile, aperitivo tutti i giorni alle 19.30....

[read it all at http://www.bookcrossing.com/articles/2982]
---
A DONATION CLOSE TO A BOOKCROSSER'S HEART
Library box for refugees in Uganda
by Airam67 & editor team of Finnish BookCrossers (Airam67)
You have probably heard of the new type of Christmas and anniversary presents, such as buying a goat for a farmer family in Africa or school supplies for girls in Asia. The Finnish BookCrossers found a way to donate some good in the form of books: the Finnish Refugee Council collects funds for a so-called library box project in Uganda. The library box project is part of the Finnish Refugee Council's literacy project....
[read it all at http://www.bookcrossing.com/articles/2984]
---
A (PRIVATE) LIBRARY OF BALLYCUMBERS
My dream of registering my whole Permanent Collection
by anathema-device
Why would someone who owns a thousand books or more want to go to the trouble of registering each and every one on BookCrossing?...
[read it all at http://www.bookcrossing.com/articles/2986]
---
(Dutch)


NOOIT EEN JOURNAL ENTRY, MAAR WEL GEVANGEN
Over losgelaten boeken die wel degelijk hun doel bereiken: gelezen worden!
by Anyrock

Regelmatig lees ik op het forum over newbies die teleurgesteld zijn dat het zo lang duurt voor een losgelaten boek gemeld wordt. Veel boeken worden nooit gemeld. En niet alleen newbies hebben deze ervaring; iedere bookcrosser kent het gevoel dat je bekruipt als je niets hoort van losgelaten boeken: Weggegooid? Opgeruimd? ...

[read it all at http://www.bookcrossing.com/articles/2987]
---
GIVING AWAY BOOKS IN KENSINGTON, MARYLAND
BC in DC celebrates the International Day of the Book
by ResQgeek
How many books can a group of seriously motivated BookCrossers give away in five hours? The BC in DC crowd (otherwise known as the BookCrossers of the Washington, DC area) decided to use the Intern
[read it all at http://www.bookcrossing.com/articles/3003]
---
CALL FOR WRITERS

Want to write for BookCrossing? If your article is accepted, you could see it featured here in the next newsletter. What topics do we need? Anything about books, reading, or BookCrossing — tutorials, release and catch stories, well-traveled book stories, funny BookCrossing experience stories — you get the idea. Write it up, then submit it here:

http://www.bookcrossing.com/articles/submit




---
Top 10 Countries All-Time
| | |
| --- | --- |
| USA | 280,725 (42%) |
| UNITED KINGDOM | 70,716 (11%) |
| GERMANY | 44,544 (7%) |
| CANADA | 41,982 (6%) |
| SPAIN | 34,098 (5%) |
| AUSTRALIA | 29,579 (4%) |
| ITALY | 20,727 (3%) |
| FRANCE | 14,533 (2%) |
| NETHERLANDS | 12,915 (2%) |
| PORTUGAL | 9,798 (1%) |
Top 10 Countries Last Week
| | |
| --- | --- |
| USA | 533 (25%) |
| UNITED KINGDOM | 204 (9%) |
| SPAIN | 143 (7%) |
| GERMANY | 127 (6%) |
| AUSTRALIA | 90 (4%) |
| JAPAN(日本) | 89 (4%) |
| CANADA | 71 (3%) |
| ITALY | 61 (3%) |
| NETHERLANDS | 43 (2%) |
| FRANCE | 40 (2%) |
---
Wild books released by our members are being caught all over the world, every day! Our site watch forum is where members post news of great wild book catches. Here are some of the best from the last few days...

"Thanks anonymous booklover..."
I have to say, this free paper box has been quite a good spot to release books in. They all get taken quickly, and about half of what I've set free there has called home by the finder. This is my latest, and probably most favorite catch from there so far:
http://bookcrossing.com/---/5855272
by nimrodiel
4.5 years later and a new member!
http://www.bookcrossing.com/---/339940
Still hope for some of the ancient releases.
by LarkOnapost
This book made one womans day by letting her forget her troubles...
I just stumbled on this journal entry and thought it was so nice that the book made someone's day alot easier. ..
http://www.bookcrossing.com/---/
by nud
As a lifelong reader I thought, "what a great idea!"
and I picked it up and took it home.
http://bookcrossing.com/---/5816736
by solittletime
Wonderful international catch encouraging a whole class
A wonderful catch of a book registered by a New Zealand bookcrosser living in Ireland who released the book in Ita;ly and it was found by a German school group who will release the book again in Austria:
http://bookcrossing.com/---/5949531
by PenguinSilja
A book checks in for the first time after almost 2 1/2 years!
http://bookcrossing.com/---/3042671
makes you wonder where it's been all this time...the box where it was released empties and refills regularly so i know it's been gone for a good long time
by tempestsans
Book found by just the right person
http://bookcrossing.com/---/6020306
As I was running out of the house, I picked up the first labeled book I could find. I almost forgot to release it!
This is one of the bright spots from an otherwise emotionally-draining weekend.
by KrazyKatLaydee
BC in DC gave away * 1,226 books * in Kensington MD 27 April 2008!!!
We are going to post our catches and keep our statistics in this thread. We had fabulous fun. I'll have the total number of books "available" at the festival soon and as soon as all of the BookCrossers that took home books report in with the totals that they took home we'll be able to see just exactly how many we gave away!!!
And the promised numbers are 2,348 books were taken to the event and were available for people to take.
The BookCrossers that attended the event took home with them 1,122 books. Of course, the distributuion is quite uneven since I took over 900 and only came home with 95 because of an upcoming move. We can always re-distribute later if any are having trouble finding places to wild release. And we plan to do something spectacular at the National Book Festival in September.
That means that 1,226 books are in the hands of the people that attended the festival. The catches are starting to come in and I am working on tabulating those numbers. It will be interesting to see how many new members and catches we get out of this endeavor.
Here is the thread that this is a continuation from over in Conventions and Meetings!
/We-gave-away-over-1000-books!!!!
by crrcookie
"a great comfort and distraction..."
http://www.bookcrossing.com/---/6012842
On her/ his way to hospital the finder picks up a book which helps pass the time during recuperation.
I love this journal entry.
by Grorser
This one tops them all
Only a little book, only one out the many I released along the way to the Convention, but this catch will have me singing happily to myself for a long time to come.
http://bookcrossing.com/---/6033981
by Skyring
Woo hoo! An appearance after 3 years of no contact.....
http://bookcrossing.com/---/2508050
When I released it originally, it was a beautiful sunny day in the Boston Public Gardens and the park was full of people. A day sort of like today!
by tobysrus
After five years a journal entry
I imagine Luv2read57 was happy to see that her book has checked in. I wonder
what its been doing for 5 years.
http://bookcrossing.com/---/616429
by Lizabeth86
4 years later - my book checks in!
Wonder where it has been all this time?!
http://bookcrossing.com/---/1626693
by Anne-Elliott
The coolest JE I've ever received and I had to share it
http://bookcrossing.com/---/5243668
It comes in as an AF, but it sounds like a BCer. Either way, only getting a member from this book would make it any better. :D
by macewoman
---
All of our newsletters, including this one, are archived on the web at http://www.bookcrossing.com/newsletterarchive.
---
This newsletter is sent only to members of BookCrossing.com. If you would prefer to not receive this newsletter in the future, you can change your newsletter preference anytime by visiting: http://www.bookcrossing.com/newsletterpref/.