March 17, 2008
[This occasional newsletter is sent to members of BookCrossing.com. See the
bottom
of this newsletter for simple removal instructions.]
---
AuthorCrossing wants YOU!


Ever feel you have a book in you that's longing to be written? The time could be now, with AuthorCrossing, BookCrossing's self-publishing partner. Since its launch a few weeks back, over 100 BookCrossers in more than 15 countries have started the process to publish their book through AuthorCrossing — it's a simple yet comprehensive self-publishing solution for authors of all shapes, sizes and talents. Whether your book is in progress, finished, or just an idea, click on over and see what AuthorCrossing can do for you. Keep watching, because soon BookCrossing will be featuring our member authors at AuthorCrossing on our site. Plus, we'll make it easy for you to explore and purchase books written by fellow BookCrossers. So don't wait! Get your book published now, with AuthorCrossing, where authors come first.
---
These Books Were Made for TravelLing


You may have noticed we're making an effort to incorporate more languages into the site. As redsoxbookguy mentioned in a forum thread, "Internationalization remains a top priority". Plans are still afoot to integrate various languages into the site. In the U.S. where BookCrossing was born, the noun which describes the act of going from one place to another can be spelled with one "l" or two, with "traveling" being the more common. The two-l spelling of travelling is also correct but much less commonly used. About two or three years ago, we began trying to use the "travelling" spelling in the Newsletter, and have continued to do so despite the rather regular notes we get from well meaning members who think we've made a spelling mistake. Now, our Supply Store is taking the plunge and moving toward using the more international spelling of the word. It may puzzle some Americans, and some may even think we've made a typo, but we haven't — even though spell-check still identifies travelling as spelled wrong, we know it's fine, and have dictionaries, language experts, thousands of BookCrossers and even Wikipedia on our side. We hope our members in Australia, Canada, New Zealand, South Africa, UK & Ireland, India, Pakistan and Singapore, as well as other members worldwide are happy we're travelling in their English now! Be sure to keep your eyes open for the change over in spelling in our Supply Store products.
We are in the process of converting all our labels to reflect the more international spelling of travelling rather than the one "l" spelling. All our limited edition bookplates through #27 still have the single "l" spelling, as do the back stock of our other labels. If in doubt, please contact us and we'll double check which spelling is on the label you are purchasing. Thank you.
---
Hola! Announcing the 5th Spanish National Convention, The Emcuentro, May 1-4 2008

Preparations for the 5th Spanish National Convention "The Emcuentro"* are now underway. May 1-4, Madrid will become the Spanish capital city of books and reading. The event coincides with the celebrations for the 200th Anniversary of the beginning of the Napoleonic Wars (the Independence War). More than 60 BookCrossers from all corners of Spain are planning to be here, and, of course, anyone else wishing to travel to Madrid is welcome to join in the fun. The program includes a mass release, literary walks, and more. For more information, please visit the Spanish Mirror or the Emcuentro bookshelf.
*Sticking with the tradition to give the convention a name in the language of the region where it is to be held, the organizing committee, (which does not have a regional language of their own), decided to call this "encuentro" (meeting) "the eMcuentro" with a capital M for Madrid.
---
Featuring New Features: Release Note Update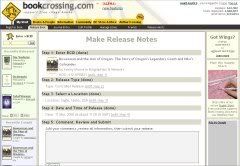 As we continue to update the site and create new features, we thought we'd highlight some of them here in the Newsletter. Our inaugural effort focuses on an upcoming (and really cool) feature for all BookCrossers and a feature just put in place for Members Plus folks.
We've heard from all over that people like being able to see how books have travelled on the map. The only problem was that controlled releases could not be captured and depicted, because there were no coordinates listed for them. Our IT team has been hard at work on a new release system and soon you'll be able to map your controlled releases as well. Think of it: all those rings, rays and boxes can be mapped as they move from Nevada to the Netherlands to New Zealand. Our new release page will allow you to choose which type of release you wish to make. Wild releases will work exactly the same (only the page will load faster) and the new Controlled Release option will take you through to the city level for your release. You'll put your specifics in the release notes, and the release will be mapped to the city level with no release alert generated to folks in that city. (You can still use the old method of making a journal entry only to release the book, but there would be no mapping feature available for that method.) Watch for this feature to appear for beta testing soon!
Available now for Members Plus members is the option to create your own "default" note for journal entries and release notes. If you are one of the many folks who use the same introductory note for your books or the same release alert, this feature is a real plus. The feature is available while your Members Plus status remains active. When your wings fade away, your options will revert to the standard "default" notes (blank for regular first-journal entries on newly registered books or wild releases and to "A pre-numbered label was used to register this book. No additional comment provided." for pre-numbered labels. When you renew Members Plus, your personal notes will be restored.
---
ISO a Site for the 2010 Convention

Enthusiastic, fun-loving, Convention seeking interesting place for short-term relationship. Must have at least a few active BookCrossers willing to arrange a program, select venues, host events, and welcome visitors from all over the world. No experience necessary.
We are now looking for folks who are interested in hosting the 2010 BookCrossing Anniversary Convention. Several locations have already indicated an interest, but there's always room for more. If you are interested in having your city considered as a contender, please check out this article by JennyO who is coordinating the site selection voting this year. (If you're worried that you can't be at the convention this year to represent your location, have no fear. Two of the past convention hosts were unable to make personal presentations, but still were selected.) Voting will be at the London convention in April and the BookCrossing team is looking for ways to open up voting to all membership, not just convention attendees. We'll keep you posted!
---
Looking to London - Convention 2008

T-minus 1 month to the 7th BookCrossing Anniversary Convention in London England! There's still time to register — the cost is £60 per person and will not rise before the Convention, which is April 18 — 20. Folks from around the globe will be gathering for 3 glorious days of BookCrossing activities, author talks, informal get-togethers and, of course, plenty of opportunities to explore one of the most fabulous cities in the world. So if you've ever hankered to release a book at Harrods, pined to leave one at Picadilly Circus, or have a calling to leave a book at Kew Gardens, don't miss your chance! For more information, see the Convention website or pop into the forums where you'll find lots of threads on accommodations, room sharing, and activities. The BookCrossing Supply Store will have a small outpost set up at the convention as well. Help us determine what stock to bring over by putting your requests in this thread in the Conventions and Meetings forum. Thank you!
---
Announcing Our 25th Edition BookCrossing Bookplate: Bookwyrm

The mysticism and magic of dragons grace our 25th edition BookCrossing Bookplate, Bookwyrm, by Australian artist, bibliophile and BookCrosser, Tallulah Cunningham. "Western dragons are usually flame-breathing and Eastern dragons are rain gods – neither particularly forgiving on paper. Yet I have always associated dragons with books" says Cunningham. "Their longevity and reputed wisdom is similar to that which is potential in a book. The darker side of the coin is possessiveness – books naturally form collections, like sheep join flocks, and we can be greedy for acquisition of them." Set your senses free and share your hoard of books and a wealth of words with the world — let Bookwyrm lure other readers to BookCrossing. Available now at the Supply Store. Be sure to look for other new products added in the Supply Store as well. For those of you attending the Anniversary Convention in London, the BookCrossing Supply Store will have a small outpost set up at the convention as well. Help us determine what stock to bring over by putting your requests in this thread in the Conventions and Meetings forum. Thank you!
---
INDULGE YOURSELF!
The delights of bibliostalgia
by Jalna
Like most BookCrossers, I am an avid reader, but I have a particular passion that I call bibliostalgia....
[read it all at http://www.bookcrossing.com/articles/2951]
---
WHERE DO WE GO FROM HERE?
London, New Zealand, and Conventions to Come
by JennyO
London, London, London ... it's all I can talk about these days. Yes, I'm getting ready to attend this year's Anniversary Convention, and yes, I'm driving everyone here crazy with my excitement. This will be my third convention, and I'm sure it won't be my last. Why? Because they're so much fun. I get to meet BookCrossers from all over the world, I get to paw through piles and piles of books, I get to tour interesting cities, and I get to hear interesting speakers. What's not to like?...
[read it all at http://www.bookcrossing.com/articles/2953]
---
THE BOOKRING DIRECTORY
Because you know you want to join more rings!
by lottiotta
Hello! I'm Lottiotta and I'd like to tell you about a new project that I'll be working on for the foreseeable future. It's a pretty simple concept, but I think that the more people who know about it, the better. ...
[read it all at http://www.bookcrossing.com/articles/2939]
---
THE SPIRIT STRIKES AGAIN
A book finds the right reader in a troubled boy
by gwenwifar
Now that I have started collecting children's books, I never fail to look for them every time I stop at a yard sale or thrift store. I'm not too picky. If it appears to be in fairly good condition, has good illustrations, and the cover, title or author appeal to me, I grab it. Later, I screen them and give away whatever isn't worth keeping. About a month ago, I came across a book called "Don't Eat the Teacher". Though it would have been a keeper under normal circumstances, I decided to give it to a certain classroom library and the result is… well… magic....
[read it all at http://www.bookcrossing.com/articles/2854]
---
1 - 600 IN SHANGHAI
Shanghai BookCrossers release 600th book
by Effie Pow (lolaboots)
It's January 2008, and I just received an email about a milestone for Shanghai BookCrossers. The 600th book had been released at Figaro Coffee in Shanghai, the meeting point for Shanghai BookCrossers. ...
[read it all at http://www.bookcrossing.com/articles/2928]
---
(Dutch)


BOOKCROSSING IN SECOND LIFE DOOR BIBLIOTHEEK ROTTERDAM
met ritanila's Digikringen
by Rita Niland (ritanila)

Bookcrossing in Second Life door Bibliotheek Rotterdam...

[read it all at http://www.bookcrossing.com/articles/2879]
---
HI THERE, NEW HERE?
Welcome to BookCrossing, are you wondering how to request a book?
by Moem
This article is for new members, who have just joined the site and are wondering how to 'request' or 'reserve' a BookCrossing book. If that's you, then hello, and welcome again!...
[read it all at http://www.bookcrossing.com/articles/2958]
---
CALL FOR WRITERS

Want to write for BookCrossing? If your article is accepted, you could see it featured here in the next newsletter. What topics do we need? Anything about books, reading, or BookCrossing — tutorials, release and catch stories, well-traveled book stories, funny BookCrossing experience stories — you get the idea. Write it up, then submit it here:

http://www.bookcrossing.com/articles/submit




---
Top 10 Countries All-Time
| | |
| --- | --- |
| USA | 274,729 (42%) |
| UNITED KINGDOM | 68,673 (11%) |
| GERMANY | 43,432 (7%) |
| CANADA | 41,196 (6%) |
| SPAIN | 33,197 (5%) |
| AUSTRALIA | 28,931 (4%) |
| ITALY | 20,165 (3%) |
| FRANCE | 14,120 (2%) |
| NETHERLANDS | 12,521 (2%) |
| PORTUGAL | 9,578 (1%) |
Top 10 Countries Last Week
| | |
| --- | --- |
| USA | 1,300 (42%) |
| UNITED KINGDOM | 283 (9%) |
| GERMANY | 186 (6%) |
| CANADA | 174 (6%) |
| TURKEY | 108 (4%) |
| ITALY | 80 (3%) |
| AUSTRALIA | 66 (2%) |
| NETHERLANDS | 64 (2%) |
| FRANCE | 62 (2%) |
| SPAIN | 58 (2%) |
---
Wild books released by our members are being caught all over the world, every day! Our site watch forum is where members post news of great wild book catches. Here are some of the best from the last few days...

"My husband went to Africa and all I got was this book"
http://bookcrossing.com/---/5490505
Wow, this JE entry (with photos!) really brightened up my day. Thanks, Antof9!
by klaradyn
DoveiLibri's Book turns up in Thailand 3 years later!
It's a seasoned traveler going from Florida, Washington, Alaska, and now Thailand:
http://www.bookcrossing.com/---/2243360
by elle311
Got a catch from June, 2006 and a new 9 yr old member.
http://bookcrossing.com/---/4110504
The book had obviously been caught before, since the catcher got it from a friend.
by solittletime
Isn't this book just having a nice time.
http://www.bookcrossing.com/---/5609146
by LarkOnapost
Three catches already from my holiday in Scotland!
http://www.bookcrossing.com/---/
http://www.bookcrossing.com/---/
http://www.bookcrossing.com/---/5814397

by Sobergirl
The Cat who travelled to Oz -
has reported back, after more than four years: http://bookcrossing.com/---/1060408
by mojosmom
A fantastic Ikea catch
http://bookcrossing.com/---/5691041
I released this book this morning and the J.E. is fantastic.
by boekenxnl
Lost Bookring Re-Appears 3&1/2 Years Later!
Check out this Journal Entry on cartref's "Orchard on Fire" bookring:
http://bookcrossing.com/---/1506795
It was lost in the mail from Australia to Canada about 3&1/2 years ago, and has just been journalled by an Anonymous Finder in Slovenia! You have to wonder what travels it took to get there. It may even be going to Brazil next ~ these moments of grace are one of the things I love about BookCrossing: )
by Lobodyke
Almost five years later...
http://www.bookcrossing.com/---/539525
"I was just scouring over the books at the Goodwill when I noticed a BookCrossing sticker taped to it."
by jblueafterglow
I just got a doozy of a catch!!
This one went to someplace I'd never heard of! Next time, the book stays home and I get to travel!
http://bookcrossing.com/---/5547266
I googled and found pictures of the atoll.
http://bookcrossing.com/---/5547266
by siriradha
5 Years!!!
This came in this morning, and they joined!!!
http://bookcrossing.com/---/641273
by TexasWren
So how did it get from Scotland to Brazil?
I got this journal entry last week and was so excited. The book was released so long ago that I never expected to hear from it again. *Beams*
http://www.bookcrossing.com/---/4224582
by LittleSuz
---
All of our newsletters, including this one, are archived on the web at http://www.bookcrossing.com/newsletterarchive.
---
This newsletter is sent only to members of BookCrossing.com. If you would prefer to not receive this newsletter in the future, you can change your newsletter preference anytime by visiting: http://www.bookcrossing.com/newsletterpref/.