January 10, 2008
[This occasional newsletter is sent to members of BookCrossing.com. See the
bottom
of this newsletter for simple removal instructions.]
---
CEO's Corner: Welcoming 2008

We've been extremely busy here at BookCrossing. We've reviewed all your product, feature and website recommendations and found our inspiration in your suggestions. Our plan is to crank out as many of these new ideas as possible early in the year. Here's a sneak preview of BookCrossing coming attractions: for starters, you'll soon find a fresh new look and easier website navigation on the site. We're adding many new member-requested products to our online store and are working with additional worldwide support and BookCrossing mirror sites to help provide resources in more languages. There'll even be something for all you Facebook-social network junkies and a new calendar feature for your in-person book gatherings. Fans of Cliff's Wish List will find a little something for them, and if you're an author (or author-wannabe), soon you won't ever need to leave BookCrossing.com for any of your bookish needs. Stay tuned for upcoming announcements and get ready to experience a new and improved BookCrossing with the things you love and a whole lot more!

Here's to a happy, healthy and exciting 2008!

Scott
"Redsoxbookguy"

---
April in London: BookCrossing Convention 2008

There's still time to catch the Early Bird rate for this year's BookCrossing Anniversary Convention in London. The Convention dates are April 18-20. Convention planners have been busy with the arrangements for a fantastic weekend of BookCrossing activities and adventures. Check out the Convention website www.bcconvention2008.org for full details. It's got loads of information and news about events, how to register, where to stay, folks planning to be there and more. There's lots of room for lots of BookCrossers — right now there are scads of UK folks signed up, with Germany and the U.S. coming in second. Come on all you French BookCrossers — it's just over the Channel for you! And how about folks elsewhere in Europe and the rest of the world? Let's make this a real international gathering! Be sure to check it out, mark the dates, April 18-20, on your calendar, and join the fun!
---
Pick Products for the Supply Store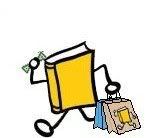 The Supply Store Manager has been wracking her brains for ways to get the products you want in the store. Plans are afoot to set up ways for you to submit your ideas and designs, plus ways to allow the entire membership to indicate which product suggestions are crowd-pleasers. In the meantime, we'll periodically ask for your input on product ideas through surveys, focus groups and occasional forum questions. In past surveys you've told us what you'd like to see. We've taken that information and now are looking for some more input. If you're ready to have your say on a handful of products we're thinking of offering in the near future, click on over to Survey Monkey and complete our Store Product Survey. You have until January 21 to tell us what you think on these specific products. If your brain is brimming with other suggestions, hang on to them. We'll be soliciting new product ideas again in the near future, or you can post new ideas in the Feature Requests Forum. Once again, thank you for your support.
---
Set your Sights on Our New Site Look!

It won't be long before BookCrossing will be unveiling a whole new look! We're moving fully into year 2k8 with a brand new, user friendly look. It will make BookCrossing even easier to use, especially for first-time visitors and new members. Plus the new view will look more uniform on most any size monitor. You'll still be able to find all the features on our old side bar, as well as new features that will be coming to the site. (Let's hear a hearty "Woo Hoo!") The new look will be available for Beta users to test shortly at our Beta site and give feedback at our Beta Site Testing Forum before it goes live to the main site. If you're not yet a Beta user and want to get in on the fun, all it takes is wings to access the Beta site.
---
Bookplate 23, Al Centro della Propria Ragnatela, Now Available


Al centro della propria ragnatela loosely translates as "At the center of the spider web" and is also the name of our 23rd Limited edition Bookplate. Italian artist and BookCrosser Roberta Ragona tells us she feels "Reading... is a moment of loneliness, something between you and your book. In fact, it is something that connects you with other readers. Readers, and BookCrossers more than other book lovers, are united with each other by spider webs made of books." BookCrossing is honored to reproduce this passionate acrylics and pastels composition as a high quality bookplate. It is available exclusively at our Supply Store. Virginia Wolfe saw fiction as a "spider's web, attached ever so slightly perhaps, but still attached to life at all four corners. Often the attachment is scarcely perceptible." We see this spider's web as wonderful and hope you will, too.
P.S. Our editor apologizes for the small image to the shown here. Click on the image for a larger version or visit the Supply Store for a larger image as well. Happy New Year!
---
Members Talk Back to the New York Times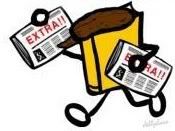 Little did Michelle Slatalla realize that when her article Love That Book? Then Set it Free was published in the New York times, BookCrossers worldwide would step forward to offer her ideas on how to increase her catch rate for wild releases. Not only is there a thread in the Announcements forum letting people know about the article, but there is another one in Release Techniques that was set up to share the "wealth of ideas to help this newbie BookCrosser improve the rate of the number of her wild releases that are picked up." Why not pop over to the forum and tell your favorite tip or tale of releases caught? (And thanks to those BookCrossers who started the threads or passed the word along in other BookCrossing forums and groups.)
---
BookCrossing Featured in Museum Exhibit: Ex Libris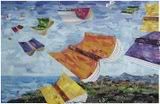 Visitors to the State Library of Queensland (Australia) currently can see a wonderful exhibit entitled Ex Libris. "When books and personal libraries were rare and considered status symbols, the bookplate evolved as a creative and beautiful way of identifying the owner of a book. Ex libris, meaning 'from the library of ', is an exhibition of bookplates from the State Library's collection." BookCrossing bookplates are featured in the exhibit. How very serendipitous that our newest Limited Edition bookplate is by Australian artist Denise Sutherland. For more information on the exhibit, visit the museum website. (And if you have a hankering for our Butterfly Books bookplate (pictured left), visit the Supply Store.)
---
2008 Greek BookCrossing Convention: The Mazoksi

Mark your calendars to attend the third Greek BookCrossing Convention The Mazoksi, which will take place in the beautiful city of Chania May 1-4, 2008. For more information, visit the convention website, or the threads in Conventions and Meetings and the Announcements forum. And if you can't make the Convention, you can always send along donations of books and prizes in your stead. Contact workaholicgr for more information.
---
I LOVE MY BOOKRING!

by theauthor
After many years and many attempts, I finally finished writing my first book this past summer. I wanted to share it with everyone and started giving away copies to anyone who showed even a spark of interest. The thrill I felt each time a new person opened my book was indescribable. Eventually though, I ran out of friends. Where could I find more people to read my work? And how could I get people from all over to share the book so I wouldn't go broke buying copies? BookCrossing!...
[read it all at http://www.bookcrossing.com/articles/2841]
---
MY FIRST CAUGHT RELEASE
... at least the first one I know of so far
by Modmouse
One of my registered books has finally been caught!...
[read it all at http://www.bookcrossing.com/articles/2844]
---
ONE BOOKCROSSER'S GUIDE TO SUCCESSFUL CATCHES
An 8-step guide to increased odds of releases being caught
by Jozii
Have you ever set a book free that never got journaled as caught? Are you worried that your releases are just going to get ignored or even trashed? There's no way to ensure that a released book is ever caught, but there are ways to increase the odds significantly....
[read it all at http://www.bookcrossing.com/articles/2860]
---
A GIFT THAT ENDURES
Christmas with BookCrossing
by Karen M Adrian (needywriter)
Christmas is the season for giving, and I was preparing for Christmas 2007, I wondered what I could give my family that would not expire, would not be unappreciated, would last longer than the season, and could be given to others as well....
[read it all at http://www.bookcrossing.com/articles/2875]
---
REVISITING SSMS
Revamped, Revised and Ready for YOU!!
by BCNewsletter
Thanks to dedicated BookCrossers, SSMs are back in action! Though there was a brief resurrection a year or so ago, the volunteers who manned the project were unable to continue. Plus there was that whole Sunday Sunset bit, and also the confusion as to where the SSMs fit in relationship with the Release Challenge Forum. ...
[read it all at http://www.bookcrossing.com/articles/2903]
---
I AM A BOOKISH LASS
A Few Thoughts on Reading
by Amy Romanczuk (bookczuk)
I've been thinking all day about about books and reading. A friend of mine was wondering if the gift of books from her sweetheart at Christmas implied she didn't read enough or she didn't read the right stuff. (He gave her To The Lighthouse, by Virginia Wolfe for Christmas as she is terrified to start it.) And I've often heard people despair that they read slowly, feeling that only those who devour books at a rapid pace and in huge quantities count as readers. Then there is book snobbery. Someone may read a tremendous amount, but it's only from the best seller list. All their favorite authors have first names like Danielle, or Nicholas or are about lawyers trying to make good. I can hear the scoffing now; such books would not be read by a "real" reader and are not "serious" reading. So what makes someone a reader, a true book lover?...
[read it all at http://www.bookcrossing.com/articles/2908]
---
CALL FOR WRITERS

Want to write for BookCrossing? If your article is accepted, you could see it featured here in the next newsletter. What topics do we need? Anything about books, reading, or BookCrossing — tutorials, release and catch stories, well-traveled book stories, funny BookCrossing experience stories — you get the idea. Write it up, then submit it here:

http://www.bookcrossing.com/articles/submit




---
Top 10 Countries All-Time
| | |
| --- | --- |
| USA | 264,947 (42%) |
| UNITED KINGDOM | 66,183 (11%) |
| GERMANY | 41,968 (7%) |
| CANADA | 40,141 (6%) |
| SPAIN | 32,212 (5%) |
| AUSTRALIA | 28,090 (4%) |
| ITALY | 19,534 (3%) |
| FRANCE | 13,694 (2%) |
| NETHERLANDS | 11,902 (2%) |
| PORTUGAL | 9,104 (1%) |
Top 10 Countries Last Week
| | |
| --- | --- |
| USA | 981 (37%) |
| AUSTRALIA | 244 (9%) |
| UNITED KINGDOM | 234 (9%) |
| GERMANY | 141 (5%) |
| CANADA | 111 (4%) |
| PORTUGAL | 78 (3%) |
| SPAIN | 54 (2%) |
| NETHERLANDS | 49 (2%) |
| FRANCE | 46 (2%) |
| ITALY | 41 (2%) |
---
Wild books released by our members are being caught all over the world, every day! Our site watch forum is where members post news of great wild book catches. Here are some of the best from the last few days...

my release going to Thailand!
http://www.bookcrossing.com/---/5645177
by newk
This must be the best JE I've got for any of my books
http://www.bookcrossing.com/---/4925788
by Tuttasb
From Sweden to Greece to France to London..
I got this JE today, and it really reflects the spirit of Bookcrossing!! It made my day :D
http://bookcrossing.com/---/5038844
by francisco963
Incredible coincidence for AF
http://www.bookcrossing.com/---/5737248
by LeishaCamden
I had 5 catches in one day
I had the same person catch five of my wild releases today! Can't figure out how to link to them. Not showing up on my bookshelf stats.
by paperbackqueen
very upbeat find -- with a magical Brazilian touch
http://bookcrossing.com/---/5714922
by gnissorckoob
The book that was the 500th I registered & 500th that I released is Caught! \o/
http://bookcrossing.com/---/5511249
Since it is in Dutch I will try to explain, and translate the journal entry made by the finder.
'Crusade in Jeans', which this is a Dutch copy of, it my favorite children's book. In celebration of reaching my 500th registry and 500th release, I bought a brand-new copy and made sure it was the 500th in both categories. I even created a special Ballycumber Logo to go with the release note! I then released it at an open-air museum, where they have made a replica of both a prehistoric and a Medieval village.
That museum is one of my favorite places in the world, and it was released during one of my favorite events, the annual Medieval Fun Fair. I have released quite a few book at this village over the past year, and my catchrate there is around an amazing 50%
For 3 months, I heard nothing, and I feared it had been lost. But this morning I was delighted to find a journal entry, from a new member!
The journal entry reads:
"What a wonderful book, found in a wonderful place! As so many others I presume, who find their first book, I thought this book was lost. But that turned out to be a wrong assumption, I was allowed to take it home with me and read it!
I found the book in the Prehistoric/Medieval village in Eindhoven when I visited the Medieval Fun Fair with my family. After more then 15 years, I have now re-read it, and it is still a marvellous book. The descriptions of every-day Medieval life are so fascinating.
Now the task is up to me to find another such magnificent place to re-release the book and let it travel on...
A good place would of course be a church. I'm not sure it's already that old, but still!"
(the last sentence doesn't seem to make sense perhaps, I'm not sure what the finder meant by the sentence in Dutch, which made it harder to translate)
I'm thrilled, this was a very special release for me, and the first, perhaps the only time I bought a brand new book, just to release it!
What a wonderful early Christmas present :)
Four and a half years later...
I love to see these long lost books checking in. Nice catch for crapelle- may it tempt them to bookcrossing activity again.
http://www.bookcrossing.com/---/639816
by Rivercassini
Virginia to Ireland to Brazil to Germany!
"Earth" travels around the earth...
http://bookcrossing.com/---/1366917
by ResQgeek
What I don't like about Shakespeare and Co
is that it is so terribly crammed inside. You cannot stand in front of a shelf and look at the books without having to shift every 30 seconds to let someone pass.
by Tamsine
One of those weird catches...
... where you REALLY wish you could have seen what went on in between.
I released this book a little over a year ago in a park in London, on the way to visit my uncle in hospital. It now turns up on its way from Australia to Switzerland. What _has_ it been up to?
http://bookcrossing.com/---/3928353
by PDB11
two years later . A catch and a new member. The best Xmas gift!
http://www.bookcrossing.com/---/3509361
by varykino
Creative release comes home to roost after 4 years...and finder joins!
I am very happy about this one!
http://bookcrossing.com/---/851097
by siriradha
More Bookcrossing karma
Once again, a book appeared just when it was needed: http://www.bookcrossing.com/---/5382103
by jumpingin
Another case of the karma of literature in action...3 years later!
http://www.bookcrossing.com/---/1384715
by elle311
---
All of our newsletters, including this one, are archived on the web at http://www.bookcrossing.com/newsletterarchive.
---
This newsletter is sent only to members of BookCrossing.com. If you would prefer to not receive this newsletter in the future, you can change your newsletter preference anytime by visiting: http://www.bookcrossing.com/newsletterpref/.