November 06, 2007
[This occasional newsletter is sent to members of BookCrossing.com. See the
bottom
of this newsletter for simple removal instructions.]
---
Catch the BookCrossing Train with Our Newest Book Plate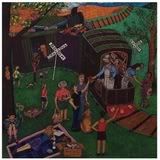 Our newest label, BookCrossing Train Stop , from Janice Marie Phelps, is bursting with warmth and color. The design is reminiscent of a simpler, less complicated time. This fits with the lifestyle of the artist who now hails from from Lancaster, Ohio. "Seven years ago I moved from a cosmopolitan/tourist mecca to a small town and I have loved the friendliness of neighbors and the sense of community. It is a place where people sit on their front porches and know each other's names. This sense of community is also found in BookCrossing. It's a 21st-century community with a 20th-century feel. Ideas, opinions and entertainment are shared at no cost; BookCrossing combines the most significant learning tool of our generation, the Internet, with, perhaps, the most prized possession of the last few centuries, the book. So, in BookCrossing Train Stop I wanted to show how wonderful it is when free books arrive on a summer's day, and people of several ages and backgrounds gather to receive the mystery and fun found within the pages of a book someone else cared enough to "read and release." This lovely label is now available for you, exclusively in our Supply Store. For a larger view of the label, click here and click here, then scroll down, to order at the Supply Store.
---
A Present For YOU! Free Shipping Returns for a Limited Time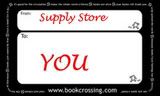 Our Supply Store Manager is feeling somewhat generous as the end of the year approaches and decided to give an early present to all the BookCrossing community: thirty-three days of Free Shipping on all Supply Store purchases greater than $10 (USD)! This offer will begin November 12 and extends through December 15, 2007; just in time to help you with all your holiday shopping. Be sure to check out some of our new items, including our newest limited edition book plate BookCrossing Train Stop, and some of the package deals. Make sure to toss a pack of our exclusive mailing labels into your order. They are a fantabulous way to dress up every mailed package whether it's a holiday treat or a bookring headed to the next reader. Try wrapping a present in one of our backpacks or lunch boxes, or even tying our leather key fobs in to a package as a decoration (they're great stocking stuffers, too!) We're hoping our new International T-Shirts will be in the store soon, so you can take advantage of free shipping on a fun shirt. Make your list and check it twice, for both your own wishes and for gift ideas for others. Remember, our store is open for BookCrossers and folks not yet members as well. Happy shopping!
---
The Wide World of BookCrossing

Last newsletter we asked you to pick an image from those submitted by our talented members, which you would best like to see on our next T-Shirt. We were going for something that expressed the world scope and international appeal of BookCrossing; something that best epitomizes how the love of setting books free knows no boundaries. The designs* were all great, and though the votes were close, one image emerged as a clear favorite. The design (pictured to the left) was submitted by saine,
a very talented BookCrosser from Australia, who will receive a gift certificate to our Supply Store, wings, and of course, a T-Shirt bearing the design. (For a larger version of the design, click here.) Our two runners up are both from The Netherlands: mamagaai (design top right)and Moem (design bottom right). (Interestingly, each submitted several designs and the fourth and fifth favorite designs were also by these talented BookCrossers.) They each will receive wings in thanks from us, and you can look for their designs to appear in other products down the line. So a HUGE thank you to the BookCrossers from over 45 countries who took the time to vote. You're all winners in our book! Look for the shirts to be coming to the Supply Store soon!

*All the designs may be seen here.
---
BookCrossing Spain Celebrates its 4th National Meeting in Barcelona

All eyes were on Barcelona, November 1-4, for some wonderful BookCrossing activities. During these four days, Barcelona hosted the IV BookCrossing National Meeting which has been named as "La Trobadeta". Over 60 BookCrossers from different parts of Spain and elsewhere were expected to gather together for the event.
The program included several activities that made Barcelona the Spanish hot spot for books and reading. A mass release of books took place on Saturday November 3, in Passeig de Gracia/Av. Diagonal. Approximately 800 books were expected to be released. The participants at the IV Bookcrossing National Meeting also hsd the opportunity to explore Barcelona by doing some literary walks which took them all over this beautiful and historic city.
Past Spanish BookCrossing National Meetings have been hosted in Zaragoza, Santander and Sevilla. We're sure this year's event was as successful as it has been in the past. Next year's location will be chosen soon. For more information, click here.
---
BallyCumber and the Chocolate Factory: Simply Litericious

You're engrossed in something smooth, tasty, enticing, rich, dark, frothy, satisfying and simply, utterly scrumptious. Is it good chocolate or a good book? Both!
If you made it to the Texas Book Festival in Austin November 3-4 and stopped by the Ghirardelli Chocolate tent and you'd likely have gotten several treats at once. BookCrossing's own Heather and Bruce Pedersen were there to welcome you, fill you in on all the upcoming great news from BookCrossing and make sure you got some Ghirardelli taste treats. At Ghirardelli, they've been crafting fine chocolates for the past 150 years; chocolates that cater to all literary tastes and provide "moments of timeless pleasure" — just like BookCrossing! So if you're ready to escape for a few hours in that novel you've been dying to read, indulge with Ghirardelli chocolate. It's the perfect complement to your favorite page-turner.
If the heart of Texas was just too far for you to travel, maybe the beaches of Miami are calling instead. If so, be sure to stop in at the 23rd Miami Book Fair International, a fabulous festival of books, authors and the literary community held downtown over eight incredible days: Nov. 4- 11. Find the Ghirardelli Booth and you'll find BookCrossing, as well. Our CEO is hoping to get to this festival to visit with locals as well. Come for the books, stay for the fun.
---
Smile at a Newbie -- We've Hit a Milestone!

Site watchers savvy enough to keep an eye out on the figures in the upper right corner of each BookCrossing page may have noted a milestone has just been reached: there are now over 600,000 people in the world who are members of BookCrossing. We thought about telling you the name of the newbie who joined and made it so, but we were worried that the approximately 10,000 people who might descend on them with congratulatory messages, hearty welcomes and offers of RABCKs might just make them wonder what in the world they'd gotten into. We'll give them wings and a note from the CEO, and if they're cool with it, release their name, but in the meantime, how about we make November the official Welcome a Newbie month? Head on over to the Introduce Yourself Forum and let those new folks know how glad we are they've joined. And if they're from your neck of the woods, invite them to your local BookCrossers' bash, gathering, meeting or whatever you're planning this month. 600,000 BookCrossers! What a way to grow!
---
BookCrossing and Wordstock Festival Together in Portland, Oregon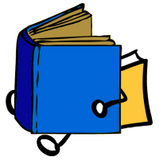 If you haven't yet heard about Wordstock, a convention of 25,000 bibliophiles in its third year at the Portland Convention Center, then we're thrilled to tell you about it! If you're available November 10 and 11, please join BookCrossing at the fair! The cost is only $5 to attend and that includes access to nine different stages of authors, writers, publishers, workshops and activities. BookCrossing is a sponsor. Stop by Booth 818 and you'll find dedicated staff, volunteers and maybe even our CEO himself, Scott Sorochak, who is hoping to be able to drop in. We'll set it up to allow newbies to register and learn about the movement, and old hands to stop by and chat about books. Of course, we'd like to release a pile of books at the same time. (Really, what better place could there be than a book fair?!) So bring your releases to add to the stack and let's turn that Trade Show into a BookCrossing Zone! We'll have our latest bookplate labels, a pile of bookmarks and other goodies to give away. Please plan to attend Wordstock III and introduce yourselves! And we're hoping you'll leave a great trail of BookCrossing books all around the Convention Center and surrounds. Imagine the thrill of finding out about BookCrossing by finding a book in the wild at Wordstock! If you're interested in volunteering, please contact mana at bookcrossing dot com for more information on how you can make this event a success. We need you!
P.S. Like our new image of Ballycumber taking a break from running and reading instead? So do we, and we'll be using it as an image for announcing some of the upcoming bookish events from here on out.
---
(German)


MASSEN-RELEASE BEIM TAG DER SACHSEN
Reichenbach verbindet Regionen – BookCrossing verbindet Leser
by DieWuschel, oraetlabora (DieWuschel)

Vom 07. – 09.09.2007 fand in Reichenbach/Vogtland das das größte sächsische Volksfest statt: Der Tag der Sachsen. Eine gute Gelegenheit, die etwa 295.000 Besucher mit Lesestoff zu überraschen. ...

[read it all at http://www.bookcrossing.com/articles/2780]
---
WOW SOMEONE LEFT A BOOK! WHOSE IS IT?
I Have To Find Out Who Left Their Book Here
by Michelle Fischer (01rsmf01)
I was going to dinner on a Saturday night. I was walking up to Hoggy's with my three year old son holding my hand. I noticed a book sitting there by itself. I love books and would hate it if I forgot one of mine somewhere. As I got closer, I saw the title The Complete Book of Practical Proverbs & Wacky Wit. I picked up the book and looked to see if there was a name in the book. I saw the label on it that read "I'm a free book! Take me home with you. Look inside and find out why." There was another book there but I did not want to be greedy and take both of the free books. I thought, "Wow! A mystery!" I couldn't wait to be seated so I could find out why this was a free book. This had to be fate because I love books and cherish them. My boyfriend and friends saw me sit down with the book and they said that they did not remember me leaving the house with a book. I said that it was on the bench outside and it was free. The mystery as to why is inside the book. ...
[read it all at http://www.bookcrossing.com/articles/2784]
---
BERLIN-KÖPENICK: 130 CAPTAINS STORM THE TOWN HALL
"The Captain of Köpenick" released in original historical setting at Berlin-Brandenburg-Convention
by Sao-Diego12548, erinacea (Sao-Diego12548)
On October 16, 1906, a captain of the imperial army, accompanied by a number of soldiers, marched into the town hall of Köpenick, arrested the mayor and his secretary, and confiscated 4000 Mark - all on the order of the German Emperor, or so he claimed. In fact, the emperor had never ordered any such thing, and the so-called "captain" turned out to be an unemployed shoemaker and ex-prison inmate by the name of Wilhelm Voigt. But how could he possibly manage to convince not only the mayor but the rest of the council of his genuine authority? Why, with the help of his uniform, of course!...
[read it all at http://www.bookcrossing.com/articles/2791]
---
(German)


BERLIN-KÖPENICK: 130 HAUPTMÄNNER ERSTÜRMEN DAS RATHAUS
"Der Hauptmann von Köpenick" beim Berlin-Brandenburg-Treffen am
by Sao-Diego12548, erinacea (Sao-Diego12548)

Als wir darüber nachdachten, wie wir das erste Berlin-Brandenburg-weite Bookcrossing-Treffen in Köpenick zu etwas Besonderem machen könnten, kamen wir schnell auf eine Idee: Wir releasen 100 Exemplare von Carl Zuckmayers "Hauptmann von Köpenick" (oder auch andere Bücher über Hauptmann Voigt und seinen großen Coup) in und um das Köpenicker Rathaus. Die "Hauptmänner" (wie sie jetzt unter Bookcrossern liebevoll genannt werden) wurden aus ganz Deutschland für diese Aktion nach Berlin geschickt. Und auch wir Berliner sammelten natürlich fleißig. In nur wenigen Wochen erstürmte der Hauptmann die TOP 3 der beiden Online-Buchverkäufe. Bald hatten wir unser Ziel nicht nur erreicht, sondern sogar überschritten: sage und schreibe 130 Hauptmänner kamen nach Berlin gereist!!...

[read it all at http://www.bookcrossing.com/articles/2792]
---
FOR THE LOVE OF BOOKS...

by nicksJC
I love reading and writing. The English language to me is so beautiful how we can paint pictures, describe emotions, and journey into the realm of fantasy with mere words. Don't get me wrong. I of all people understand the importance of words in today's society, simple communication being just one of them, but to be able to use words to construct a sentence that flows with emotion and feeling out of the gabble we use as everyday language is a great talent. I admire those authors who can trap you in a book, taking your imagination to places it's never ventured before and leaving you gasping for breath at the end, wishing that there was more. ...
[read it all at http://www.bookcrossing.com/articles/2803]
---
5 YEARS OF BOOKCROSSING

by Vincenza Wall (cestmoi)
Hello. My name is Enza and I'm a BookCrosser. I've been a BookCrosser for 5 years - as of today! I've never tried to stop being a BookCrosser and I don't know why anyone would even try. I was hooked from the first time I came to the site to journal a book given to me by a co-worker. The experience was heady, I ran around the house gathering books to register and when I had registered them all...I needed more and more. Used book stores, charity shops and garage sales were not safe places for me. I could no longer go out alone without coming back with books. I hid them from my family and friends...I only shared my habit with other BookCrossers, only they understood....
[read it all at http://www.bookcrossing.com/articles/2804]
---
MY 4,000TH RELEASE!

by LyzzyBee
Well - I just released my 4,000th BC book!...
[read it all at http://www.bookcrossing.com/articles/2814]
---
STEPHEN KING 60TH BIRTHDAY RELEASE CHALLENGE RESULTS
Stephen King honoured with 1,224 books released by 128 BookCrossers!
by Wyando
I called for releasing books of Stephen King on September 21, 2007 - King's 60th Birthday.
First of all: a big thank you goes to all participants of this challenge with amazing results - the best since I started organizing this yearly challenge! ...
[read it all at http://www.bookcrossing.com/articles/2826]
---
I HAVE A MBCZ!
Maybe you would like to make a Mobile BookCrossing Zone too!
by crrcookie
So what is a MBCZ (Mobile BookCrossing Zone)? Mine is a wagon that I can dispense books out of as wild releases at events. It also is great for hauling large quantities of books from book sales to my car and also provides transportation for my son who would otherwise need a stroller....
[read it all at http://www.bookcrossing.com/articles/2827]
---
CALL FOR WRITERS

Want to write for BookCrossing? If your article is accepted, you could see it featured here in the next newsletter. What topics do we need? Anything about books, reading, or BookCrossing — tutorials, release and catch stories, well-traveled book stories, funny BookCrossing experience stories — you get the idea. Write it up, then submit it here:

http://www.bookcrossing.com/articles/submit




---
Top 10 Countries All-Time
| | |
| --- | --- |
| USA | 256,090 (42%) |
| UNITED KINGDOM | 64,508 (11%) |
| GERMANY | 40,820 (7%) |
| CANADA | 39,278 (6%) |
| SPAIN | 31,600 (5%) |
| AUSTRALIA | 27,277 (5%) |
| ITALY | 19,095 (3%) |
| FRANCE | 13,375 (2%) |
| NETHERLANDS | 11,431 (2%) |
| PORTUGAL | 8,084 (1%) |
Top 10 Countries Last Week
| | |
| --- | --- |
| USA | 719 (34%) |
| UNITED KINGDOM | 231 (11%) |
| N/A | 165 (8%) |
| GERMANY | 150 (7%) |
| CANADA | 111 (5%) |
| SPAIN | 93 (4%) |
| AUSTRALIA | 75 (4%) |
| NETHERLANDS | 68 (3%) |
| ITALY | 49 (2%) |
| FRANCE | 44 (2%) |
---
Wild books released by our members are being caught all over the world, every day! Our site watch forum is where members post news of great wild book catches. Here are some of the best from the last few days...

It looks like this book has traveled to China!
http://www.bookcrossing.com/---/4646785
I wonder if they can find the ingredients there....
by Bascula
More bookcrossing karma
Who would have thought!
http://www.bookcrossing.com/---/
by itpdx
Five years!
http://www.bookcrossing.com/---/268719
And one month and nine days, to be precise. :)
Congratulations to prairemint for (finally!) getting a catch. And welcome to skwarepeg1022!
(I love hanging out in the "recently caught" sidebar...)
by tqd
Another Panera Bread catch and a new member!
Woo hoo!
http://www.bookcrossing.com/---/5442724
by tobysrus
Wedding Catch
Just spotted a book, "Born to Wed", released in honour of the recent marriage of BookCrossers Rarsberry and Vivarichie, caught by a railway worker in Dunedin.
http://www.bookcrossing.com/---/5469963
by Skyring
From Wales to Troy (Turkey) to New Zealand!
http://bookcrossing.com/---/2170525
by FancyHorse
Well-traveled book --- and a new member
If you check her profile, you'll see she's thrilled by the BC concept. Yay!
I wonder where the book was from the time it was left on a cafe table in Houston until it was found 3 weeks later. Another BC mystery.
http://bookcrossing.com/---/834526
by watchcat
Three years, two months later!
I always wondered if this book got caught from the Coke machine!
http://bookcrossing.com/---/1860202
by siriradha
4 years 3 months later
it turns up at a car boot sale. http://www.bookcrossing.com/---/424892 (My third 4+ years release and catch)
by swan-scot
Breast Cancer Awareness month = a release and catch in a Mammogram Unit

http://www.bookcrossing.com/---/5461717
Hoping all your catches are positive and all your mammograms are negative.
by inkognitoh
Four years later, book left in Italy appears in Hawaii!
If only it could talk and tell us more about the past four years, eh?
http://www.bookcrossing.com/---/635644
by Firegirl
A simple book bringing joy over several years
One of those journal posts that brings a warm inner glow and positive reinforcement to the bookcrossing ideals
http://www.bookcrossing.com/---/1851083
by newk
THIS is why we do this
I left this book as part of the 52 Weeks/ 52 Towns challenge. Although I didn't go to this elementary school, it's not too far from my high school. I've released a few books in this town before, but I think they've all been outside the same restaurant and I haven't had any catches there. I've been carrying this book around in my car, looking for the right time and spot, and apparently this was it. Vangie also sent me a pm, telling me to read her journal. I'm going to pm her back.
http://www.bookcrossing.com/---/4984303
(This journal should keep me floating on cloud 9 for several months :)
by MaryZee
Nearly four years
I think this is the longest I've had between release and catch. This was my first SSM book, Christmas 2003
http://bookcrossing.com/---/1170358

by PDB11
---
All of our newsletters, including this one, are archived on the web at http://www.bookcrossing.com/newsletterarchive.
---
This newsletter is sent only to members of BookCrossing.com. If you would prefer to not receive this newsletter in the future, you can change your newsletter preference anytime by visiting: http://www.bookcrossing.com/newsletterpref/.