November 25, 2006
[This occasional newsletter is sent to members of BookCrossing.com. See the
bottom
of this newsletter for simple removal instructions.]
---
Transita Books and BookCrossing Present If You Love Books, Set One Free

Here's a really lovely partnership: BookCrossing and Transita Publishing. On December 9, in Oxford, UK, Transita Books and BookCrossing present "If You Love Books, Set One Free". There'll be author readings, special offers on books and the a great opportunity to increase your TBR piles ("To Be Read and To Be Released!) For every 2 books you buy, in the special "Buy Two, Set One Free!" offer, you will be given one more, for BookCrossing releasing purposes! Read more about it in this forum thread.
---
Claim Your Spot at the Convention


And they're off! Registrations for the New Zealand Convention in wonderful Wellington and the North American/Anniversary Convention in charming Charleston are officially open. Be sure to take advantage of early bird discounts by registering now. (Don't wait too long as space may become limited as the actual date approaches.) These are both lovely locations chock full of wonderful things to do and see, so don't miss your chance! Pop on over to the Conventions and Meetings Forum for the latest in news, such as where to stay in Wellington, or pre-convention options for Charleston. There also is a blog for the Charleston Convention here. Save your spot today! Photo credits to nonBCer, but recent visitor to New Zealand, Aggie Sullivan and to bookczuk.
---
BookAmnesty 2006: Revive Stalled Rings, Forgotten Rays and Overdue Exchanges!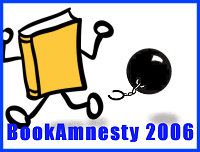 On many a shelf and book pile are books that, when discovered, make BookCrossers cringe in agony and moan in despair. No, it's not an H.P. Lovecraft wanna-be gone bad; it's a forgotten bookring book. You know — the one that was sent to you back before the boss dumped the extra project on you, final exams, the birth of your baby/nephew/granddaughter, Aunt Mabel's surgery, or whatever it was that distracted you from reading it immediately and passing it along to the next person on the list. Or maybe it's one you received but never journaled. Or you could have even found it in a charity shop, its journey there lost to time. But still, every time you look at it, you feel awful, because you know that there is a list of folks who are patiently waiting for it, and there is a bookring organizer despairing because their book, sent out in good faith, has gone astray. As a matter of fact, you suspect that the ulcer you were recently diagnosed with has its direct cause in that slim volume. You want to send the darn thing off, but it's just too embarrassing to write for that address again. What's a beleagured BookCrosser to do?
We declare that the remaining days of 2006 are BookAmnesty Days. In the spirit of the season, we ask that you take a deep breath, contact the intended recipient of the book, acquire the address, stick the book in an envelope and mail it on! Be brave! And should you get a request for your addy for a book that's been in limbo, no finger pointing allowed — it may not be the last person who had the book who stalled the ring. Play nice, now. Let's get those rings and rays moving again. Wouldn't it be a great way to start the new year? (A special thanks to Moem for our Amnesty Logo.)
P.S. If you're really too embarrassed to send a PM to ask for someone's address, and have a really good reason why you can't do it (or at least a really amusing one) contact our volunteers in Support. They can try sending an address request for you, but the rest is all up to you.
---
Been to Ballycumber?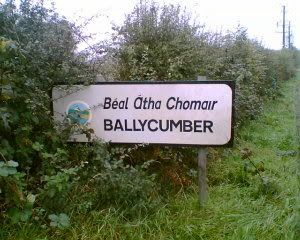 Folks everywhere are familiar with Ballycumber, our favorite yellow running book logo. The name was bestowed in April 2005, and was taken from the term coined by author Douglas Adams, who defined Ballycumber (n) as "one of the six half-read books lying somewhere in your bed." Several members pointed out after the naming that Ballycumber is also a spot on this green earth, tucked away on the Emerald Isle. To our knowledge, Ballycumber the running book had yet to meet Ballycumber the town, until just recently, when our man in Ireland, SirRoy, made a pilgrimage to the place and
came back with the photos to prove it. Not only that, but there's a wild released book on a journey in Ballycumber!
---
Calling All Convention Organizers (for 2007 and even 2008)

We need your help in getting the convention information up to date on the site convention info page. (You know — that handy dandy link on the left side bar which you get to by clicking on community.) Please help us out by sending the following information:
Name of the event (i.e., UnConvention 2007, Australian BookCrossing Convention or whatever) as you would like it listed
Date (even an approximate is okay if it's one of the 2008 dates)
Where it is being held
Website or information thread in the forum
BookCrossers to contact for further info
any special note you might need mentioned
Take a look at the page now to see what others have listed in the past, if you're unsure of what you'd like listed. You can send it via our Contact Us link (and be sure to select the fourth option which says This is just FYI- no need to reply to me) or via the private message system to the Newsletter (usually the PM option is off for the Newsletter, but it will be on for the rest of November as we collect this info.) If we do not receive this information, your convention or Mega Meetup might not make it on the page for a while. Thank you.
---
BookCrossing WebRing Has a New Home

Word recently reached the forty WebMasters who had their BookCrossing sites linked in a WebRing that changes were in the wind. Long time RingMaster, yvi-1, who has done a fantabulous job on this and many other projects to help BookCrossing, was no longer able to maintain the ring. Luckily, azimuth graciously volunteered to host the ring so that it could continue. So, point your browsers to the new home for the BookCrossing WebRing. It's a marvelous collection of many of the sites maintained by our members that serve as a resource and supplement to the site. Thanks to all, and wings to our RingMasters, past and present.
---
In The News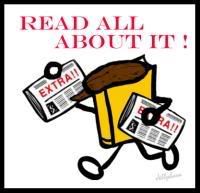 BookCrossing once again stopped the presses:
---
BOOKCROSSING-CITY-FEVER!

by Wyando
BookCrossing-City-Fever!...
[read it all at http://www.bookcrossing.com/articles/2481]
---
BOOKCROSSING UPDATE
From B13 Magazine, November 2006:
by (transcribed for B13 Magazine) (BCNewsletter)
Editor's note: The following text was sent in by member LyzzyBee. It was transcribed from B13 Magazine, a the local magazine for the Moseley district of Birmingham. As LyzzyBee says, "It's not online or anything so I'm having to just send you the text typed out — but it was such a nice, positive article and used so many different voices from the Birmingham BookCrossing community!" Thanks for the news tip LyzzyBee!...
[read it all at http://www.bookcrossing.com/articles/2511]
---
UNDERCOVER 'CROSSING
Watching those Finders from the shadows
by Holly (kz4ufo)
If you have ever heard, "Hey, you forgot your book!" moments after an attempted wild release, chances are you have changed your release tactics since then. I certainly have....
[read it all at http://www.bookcrossing.com/articles/2459]
---
"BOOKCROSSING" BECOMES A GRAPHIC NOVEL

by -Virgilio-
Publisher Tunuč is going to release a graphic novel by two young Italian authors: Luana Vergari (aka lunavergari), who wrote the script, and Mauro Cao, who made the graphics.
Bookcrossing is the story of a book, "Life", and of the chase for it: everyone would like to have it, but nobody seems to know the events it tells; it is the story of more or less ordinary men and women, who convey in this book their own perspective of the world. The practice of BookCrossing is used here as a narrative device to report emotions, crossing lives, recurring stories.
[read it all at http://www.bookcrossing.com/articles/2510]
---
NIEUWS UIT NEDERLAND
8000ste lid binnengehaald door speciale release.
by Moem
De Nederlandse Bookcrossers hebben zojuist de achtduizendste Bookcrosser in Nederland verwelkomd! Het is Ricky-from-Ede uit, je raadt het al, Ede. Het boek dat ze vond is een kinderboek, genaamd Verhalen van de Zwarte Kraai http://www.bookcrossing.com/journal/4159301, losgelaten door dutch-flybabe ter gelegenheid van Dierendag. Veel Nederlandse Bookcrossers hebben op die bijzondere dag boeken losgelaten met een dierenthema of een dier op de omslag of in de titel, en veel blij verraste vinders waarderen het speciale etiket http://klabru.nl/plaatjes/Bookcrossinglabels/leesbeesten3.jpg dat daarbij gebruikt is, dus er komen momenteel extra veel nieuwe leden bij. Ricky-from-Ede heeft haar weg naar het Nederlandstalige forum al gevonden, en vertelde ons hoe spannend ze het vond om het boek te vinden in een winkelwagentje, en dat haar dochter van tien al begonnen is het te lezen. http://www.bookcrossing.com/forum/15/3876015 Welkom, Ricky-from-Ede, en gefeliciteerd met deze mijlpaal, Nederlandse Bookcrossers!...
[read it all at http://www.bookcrossing.com/articles/2461]
---
700 LIBRI FOR BC-ITALY..
..look, they turned into 1700!!
by lizzyblack
It's early afternoon of a cold autum's Saturday, when I take my car and drive to Como; while driving I think over this whole thing: it only started less than 2 ˝ months ago, an Italian magazine gave to BookCrossing-Italy 700 books, and the BC-Italy staff decided to release them, all together, in different cities. Well, you will probably read in astonshment that, in this short time, we gathered, registered and labelled many more books, and then, just to take sum of what we did, we found out that the books were 1700. 1700 books are to be released today, nov.11. ...
[read it all at http://www.bookcrossing.com/articles/2506]
---
SPEED READING IN BIRMINGHAM
Is this the world's fastest bookring?
by CaterinaAnna
Heaven-Ali pulled the book from her bag and hugged it to her chest, lovingly caressing the back cover. ...
[read it all at http://www.bookcrossing.com/articles/2442]
---
A NEW WAY OF RELEASING
And Coming at One with Nature
by C.Middleton (cambridgelass)
It was a sunny day out so my family and I decided to take a walk through our local country park....
[read it all at http://www.bookcrossing.com/articles/2451]
---
CALL FOR WRITERS

Want to write for BookCrossing? If your article is accepted, you could see it featured here in the next newsletter. What topics do we need? Anything about books, reading, or BookCrossing — tutorials, release and catch stories, well-traveled book stories, funny BookCrossing experience stories — you get the idea. Write it up, then submit it here:

http://www.bookcrossing.com/articles/submit




---
Top 10 Countries All-Time
| | |
| --- | --- |
| USA | 223,190 (43%) |
| UNITED KINGDOM | 51,852 (10%) |
| CANADA | 34,932 (7%) |
| GERMANY | 34,425 (7%) |
| SPAIN | 25,729 (5%) |
| AUSTRALIA | 23,264 (5%) |
| ITALY | 16,589 (3%) |
| FRANCE | 11,241 (2%) |
| NETHERLANDS | 8,383 (2%) |
| PORTUGAL | 7,025 (1%) |
Top 10 Countries Last Week
| | |
| --- | --- |
| USA | 336 (26%) |
| UNITED KINGDOM | 152 (12%) |
| GERMANY | 95 (7%) |
| AUSTRALIA | 81 (6%) |
| ITALY | 76 (6%) |
| CANADA | 56 (4%) |
| NETHERLANDS | 47 (4%) |
| FRANCE | 40 (3%) |
| SPAIN | 40 (3%) |
| AUSTRIA | 39 (3%) |
---
Wild books released by our members are being caught all over the world, every day! Our site watch forum is where members post news of great wild book catches. Here are some of the best from the last few days...

"Not my kind of book . . . I enjoyed it!"
I released some books whilst on holiday in Majorca in August and one of them just got journaled!
I saw it get caught and when it didn't get journaled straight away I thought it never would but thought at least its found a home. But this is great!
And the lady joined as well! Yay! :-)
http://bookcrossing.com/---/J_6791845
How cool is that! Woo Hoo! :-)
by QuantumAyla
Four years later, a catch for kawpheenut:
http://www.bookcrossing.com/---/307088
Where, oh where was it in the meantime? [And isn't it great that those long-ago releases sometimes do check in?]
by GoryDetails
Another 3-year-old wild release gets journaled!
http://www.bookcrossing.com/---/1081204
Congratulations, lovemylife!
(hmphf! The finder wasn't as enthusiastic about Belva Plain as I would've been.)
by Megi53
BBC Shropshire - Shrewsbury Release Walk - catches
Post your catches to this thread- I got two so far! :)
A new member too!
http://bookcrossing.com/---/4088035
This one was forced upon someone TheBigKnit met in the ladies toilets...;)
http://bookcrossing.com/---/4098379
by Molyneux
"I really don't know how this book ended up in my house" - another 3+ year catch!
Here's another one of those missing books, finally checking in after more than 3 1/2 years. Congrats to Ateehee!
http://www.bookcrossing.com/---/473061
by MaryZee
This Catch Is Exactly What I Love About BC!!!!!
http://bookcrossing.com/---/1748587
Its been 18 months in coming....but definitely worth the wait!!!!! :o)
by caffcaff
BC book helps people identify unkown birds at zoo!
Due to renovations, there are a number of exhibits at our zoo (particularly birds) that do not have signs up telling us what they are.... my release helped someone out in that area: )
http://bookcrossing.com/---/3994149
by Jare
Left behind when the renters moved out? (after two years)
http://bookcrossing.com/---/2135274
by k-j-h
From London to Texas in 72 hours!
http://www.bookcrossing.com/---/

by varykino
Book checks in after 14 months of waiting for kids to be old enough to enjoy it!
I really enjoyed this catch and JE. It seems the 14 month wait was brought about by waiting for the kids to be old enough to enjoy it. What a lovely thought.
http://bookcrossing.com/---/3196819
by Rivercassini
AF found book just at the right time in her/his life. A great catch!
http://www.bookcrossing.com/---/4036178
by classicfox
I released 200 books yesterday
at our local book fair, and have already gotten 1 very nice catch, with a new member.
http://bookcrossing.com/---/3939068
by MaryZee
---
SSM 40: Wing It!

Sunday, December 17 is the anniversary of the Wright Brothers inaugural flight in 1903. Lobodyke (who flies for a month on us in thanks for the idea) came up with the perfect suggestion for us to wing out of 2006 and fly towards 2007: an SSM celebrating items related to flight, such as the obvious airplanes, but also helicopters, birds, hang-gliding, paper airplanes (origami?), even dandelions and sycamores (because they have seeds which are disbursed by "flight"). Or perhaps you prefer flights of fancy or even that seasonal flight of reindeer? Choose your method to become airborne, either in release location or title of book, and wing it! (If you do feel the only place for you to release is at an airport, please do so in a method that does not start security bells clanging and the kind transit authorities to have to call a lockdown of a terminal.) If you need a hint to help you know what to do for the SSM, click here. Be sure to stop by the SSM Forum to report your flights!
---
All of our newsletters, including this one, are archived on the web at http://www.bookcrossing.com/newsletterarchive.
---
This newsletter is sent only to members of BookCrossing.com. If you would prefer to not receive this newsletter in the future, you can change your newsletter preference anytime by visiting: http://www.bookcrossing.com/newsletterpref/.