September 30, 2005
[This occasional newsletter is sent to members of BookCrossing.com. See the
bottom
of this newsletter for simple removal instructions.]
---
Merci! Gracias! Thanks and Woo Hoo!

Many, many thanks to the bunches of BookCrossers who have sent in ideas for future SSMs. We've got a list started and will be bringing SSMs your way every month or so. Remember, if you ever have a brainstorm for a product, suggestion, link to an article that mentions BookCrossing, possible SSM theme or just want to say hi and don't really need a reply from us, you can use the contact us link. (choose the fourth option which says "This is just FYI — no need to reply to me").
---
Come Visit the BookCrossing Supply Store

If you haven't been in a while, or even if you've been a recent visitor, come on over to the Supply Store. You can get your free copy of Somebodies and Nobodies (as mentioned here in our last newsletter), pick up a tee shirt or two (the 2005 Convention tees are on sale!), grab some wonderful release supplies, or just indulge your inner BookCrosser with some of the fantabulous goodies that are there. BookCrossing is free for you to use, but expensive for us to operate. Please consider helping our efforts by supporting the Supply Store. Click here to find out other ways you can help support BookCrossing.
---
Alli's Got a Brand New Home

Alli is on the move from the beach to Southwest USA. Reno and all the folks at BookCrossing Central send a huge thank you to kwybarra for her contribution to BookCrossing through the eBay purchase of Alli On the Beach, the fabulous artwork by Patrick Yesh, which was used for our 9th Edition BookCrossing Book Plate.
---
Can't Make the New Zealand Convention? Your Books Can!

Just a reminder to all that if you're longing for travel to New Zealand but can't afford the ticket, your books are always welcome to come to the 2006 New Zealand Convention, in Dunedin, February 17-19, 2006. The New Zealand group has rolled out the welcome mat to anything other BookCrossers around the world care to send. Says rarsberry, "We aren't fussy over what you send us, it can be used in any part of our convention, such as prizes, to go into our goody bags or to be used some other way. Books are great, registered or not, it's up to you. Bookmarks, postcards from your country or place of living, stickers, sweets or anything else you wish to send us." If you are in the USA or nearby, you can send a book or two to Antof9, who is organising an m-bag or two to send by mid-November. You can read about it here, or contact rarsberry or boreal directly. For more Convention info, click here
---
In The News

Okay — so we're a little late picking up on this one — Beermatting on BookCrossing! We like it. Beermatting is defined as "the art of brainstorming ideas over a few beers." ...something those of us old enough to legally hit the pubs can appreciate. Check out their website for more beer-storms (scroll down to Business Idea 32).
Seeking something kind of different to do the weekend of October 1? Check out this idea: Flash Mob at Independent Booksellers in the USA. Sounds like something an avid reader might want to try.... (and it doesn't have to be in the USA)
Keep your eyes open for BookCrossing hitting the stratosphere with World Space Week. You've still got time to launch a book or two out into orbit!
---
1200 BOOKS
. . . and now the fun begins!
by Windward
It all started when my Mom got Influenza, and while captive and bored in the Doctor's waiting room, she spied a book with a sticker on the front… ...
[read it all at http://www.bookcrossing.com/articles/1989]
---
JUSTE EN FACE
a French classic thanks to an American BookCrosser!
by bilbi
There are some books that you can't read as soon as you'd like to because your Mount TBR is so huge at a certain moment. And once they're read, you wonder how you could have kept them stuck for so long. ...
[read it all at http://www.bookcrossing.com/articles/1991]
---
BOOKCROSSING BEARS!
If you went to Zürich this summer, you were in for a big surprise!
by Helen Palmer (nice-cup-of-tea)
If you were in Zürich this summer, you were in for a teddy surprise! Zürich was visited by over 600 teddies in the Teddy Summer 2005 project. We had single bears, bears with children, bears in national costume, cuddly bears, spiky bears, bears who spoke, bears behind glass, bears who moved location and bears who were just plain bizarre! Sadly, the bears have just left their summer homes, and Zürich looks paler without its ursine companions....
[read it all at http://www.bookcrossing.com/articles/1992]
---
BALLYCUMBER'S CLANDESTINE ACTIVITIES
Where Ballycumber's absence from his mascot duties on several occasions is revealed!
by Semioticghost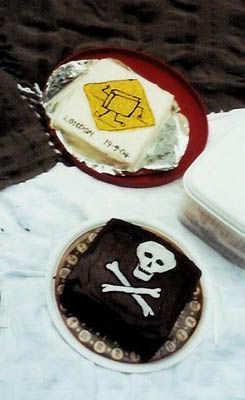 When I first noticed him, I did not think much of it - after all, Ballycumber should be able to take a day off his busy duties as BC mascot to do whatever he likes. He was hanging out with a Skull & Crossbones at the Inaugural London Renegades Treasure Hunt, but on this occasion he could be forgiven for that - it was International Talk Like A Pirate Day, after all. In any case I (and at least 30 other witnesses) saw him gallivanting across a cake, pleased as punch; he was submitting graciously to oohs and aahhs from both sexes before things got downright graphic. I won't go there, as this Newsletter undoubtedly goes to a U-rated audience, but you can rest assured that much carroty goodness and yoghurty icing ensued. The Make's Caker, BookCrosser Herschelian, assured me that Ballycumber had volunteered for his position and that she complied with his pleading on this occasion despite concerns about what the site would do without its mascot for most of a day. But this was not the end of it.
...
[read it all at http://www.bookcrossing.com/articles/1996]
---
THE ITALIAN JOB
"Culture is hanging out!"
by lizzyblack
Well, let's start by saying that this gorgeous idea comes from the industrious mind of Testuggine, one of the most active Italian BookCrossers. So, here we are! Testuggine comes up with this idea for the 7th Italian BC day, and calls it "Culture is hanging out!". All that was needed was just grab some laundry lines, clothes-pegs, see – through plastic bags, and find a place to put up our temporary lines to... hang the books on them!!! Testuggine didn't need to worry about people joining in, because everybody did, with gusto!...
[read it all at http://www.bookcrossing.com/articles/1998]
---
CALL FOR WRITERS

Want to write for BookCrossing? If your article is accepted, you could see it featured here in the next newsletter. What topics do we need? Anything about books, reading, or BookCrossing — tutorials, release and catch stories, well-traveled book stories, funny BookCrossing experience stories — you get the idea. Write it up, then submit it here:

http://www.bookcrossing.com/articles/submit




---
Top 10 Countries All-Time
| | |
| --- | --- |
| USA | 185,972 (46%) |
| UNITED KINGDOM | 37,226 (9%) |
| CANADA | 29,145 (7%) |
| GERMANY | 26,220 (6%) |
| SPAIN | 18,799 (5%) |
| AUSTRALIA | 18,153 (4%) |
| ITALY | 13,452 (3%) |
| FRANCE | 7,019 (2%) |
| PORTUGAL | 5,761 (1%) |
| NETHERLANDS | 5,575 (1%) |
Top 10 Countries Last Week
| | |
| --- | --- |
| USA | 1,317 (43%) |
| UNITED KINGDOM | 391 (13%) |
| CANADA | 257 (8%) |
| SWITZERLAND | 154 (5%) |
| GERMANY | 136 (4%) |
| AUSTRALIA | 88 (3%) |
| FRANCE | 67 (2%) |
| NETHERLANDS | 65 (2%) |
| SPAIN | 63 (2%) |
| TURKEY | 52 (2%) |
---
Wild books released by our members are being caught all over the world, every day! Our site watch forum is where members post news of great wild book catches. Here are some of the best from the last few days...

At least they had fun :)
http://www.bookcrossing.com/---/
by Mastulela
Guess what?!
Someone logged one of my books!
The-Earth-Giant-Melvin--Burgess
And I was giving up hope that anyone would ever log!
They also became a member!
YESSSSS!!!!
by kiwi123
Someone delivered my book to their door.
http://bookcrossing.com/---/1187136
by LarkOnapost
Nice catch and new member for gr8tdanerescue
http://www.bookcrossing.com/---/3033550
by GoryDetails
I had given up hope! Finally journalled in China!
http://bookcrossing.com/---/1600543
by Matty
Another nice anonymous poster!
I thought this was really lovely, I've been so lucky this month! Ah, and I see they've registered so I'll drop them a pm recommending that they don't release it at the airport and thanking them for their post. I'm very glad I released that book now, I was never going to get around to reading it.

http://bookcrossing.com/---/2764634
Book Title: I Know This Much Is True (Oprah's Book Club)
Author: Wally Lamb
_______________________________________________
Monday, September 26, 2005
I was walking through Manchester city centre on sunny September morning.
Saw the book propped up against a statue. People seems to be consciously
avoiding it, so I sat down and picked it up. I've never heard of
bookcrossing.com before, but was pleasantly surprised by the concept. It's
strange to think this book started its journey in Viriginia, and now it's io
in my flat in rainy Manchester. I'm only 57 pages in, but it seems like a
good read, and I'm looking forward to finishing it. What will I do with
the book when I'm done? I don't know yet. I don't think I want to set it
free in Manchester, so I'll probably wait until I go and see my parents on
the South Coaast and then I'll let it go, or maybe I'll set it free the
next time I'm at the airport, I'd really like the book to travel to as many
countries as it can. I'm looking forward to setting it down adn then
retreating to a quiet corner and watch how people interact with it, and who
finally picks it up.
CAUGHT IN MANCHESTER ENGLAND
By AnonymousFinder from n/a, n/a n/a
Book Rating: 8 out of 10

by jmcbeth
4 releases caught in one day! UPDATE: 5 more today! That's 9 in 2 days!
I released a bunch of books at 'Word on the Street' today and several a few days ago at 'Turk's on the Drive' which is my OBCZ. 1 was caught at Turk's and 3 at 'Word on the Street'! What's really cool is that one of the books caught today was by a Bookcrosser from Australia and another one by a person travelling from Quebec who has registered after finding it :D This is so much fun
http://bookcrossing.com/---/book_-Dune-Messiah-Frank-Herbert
this one is a local Bookcrosser
The-Reader-Bernhard-Schlink,-Carol-Brown-Janeway
this one is the traveller from Quebec- nice journal entry and she said she "couldn't get a library card here"!
http://bookcrossing.com/---/book_-The-First-Time-Joy-Fielding
this one is an Australian Bookcrosser- she must be on vacation: )
Santa-Evita-TOMAS-ELOY-MARTINEZ
this one is a local Bookcrosser
I had a great time. I met Joy Kogawa's daughter and her husband and children who were extremely nice and listened to Joy Kogawa who gave an excellent talk about her book 'Obasan' and the sequel 'Emily Kato'. I was thrilled to listen to her, she is wonderful. I also bought a couple of books and met with some Bookcrossers for coffee and some of us released books which is always fun. I bought a 'Word on the Street' t-shirt (last years so it was only $5 LOL) and totally had fun! Can't wait for next year!
UPDATE: These 2 came in today! Caught at 'Word on the Street'
Hot-Six-:-A-Stephanie-Plum-Novel - Janet-Evanovich
a local from Surry B.C., (a suburb of Vancouver) and a new member!
Walhachin:-Catastrophie-or-Camelot?...
another local Bookcrosser! She actually appreciates this book which has little appeal to most people!
Fruits-of-the-Earth-Frederick-Philip-Grove
On-Your-Own-Again-KEITH-ANDERSON,-ROY-MACSKIMMING
A recently new Bookcrosser, caught these two at 'Word on the Street'!
Then the same person went to Turk's on the Drive OBCZ and picked this one up the day after the festival!
Message-in-a-Bottle-Nicholas-Sparks

by PaperbackPal
Vacation catch (Italy)
Getting-Rid-Of-Bradley-Jennifer-Crusie
and a new member too!
by narfinmagic
A timely festival catch!
http://bookcrossing.com/---/2138774
I released that book at last year's Garden Festival and am planning this year's release now! ;)
kz4ufo
by kz4ufo
My first triple jumper
Two new members and some great journal entries. :-D
http://bookcrossing.com/---/2812058
WormyOne
by WormyOne
Perfect place for the "Prince of Tides"???
Okay, I thought this was funny, but my husband doesn't have the appropriate sense of humor to enjoy this release with me (I tried), so I thought I would share it here.
http://www.bookcrossing.com/---/
by guinaveve
A holdiay of its own.
We had a weekend break at Noosa and left a few books around, this one has checked in with a new bookcrosser who gets it.
http://bookcrossing.com/---/2929539
by MadamMuck
Inspiring someone to come back to reading!!!
http://bookcrossing.com/---/2192956
by Matty
2nd book I ever released got journaled in less than 24 hr
Just blowing my own horn here. I have just joined up three days ago, and have just released two books so far. The second one has already been caught and a comment left. From what I can see, this is much better luck than usual.
http://www.bookcrossing.com/---/3279951
---
All of our newsletters, including this one, are archived on the web at http://www.bookcrossing.com/newsletterarchive.
---
This newsletter is sent only to members of BookCrossing.com. If you would prefer to not receive this newsletter in the future, you can change your newsletter preference anytime by visiting: http://www.bookcrossing.com/newsletterpref/.