Kathy McCartney
visit this artists online gallery.
At the age of three Kathy McCartney's family had the good fortune to live in the town of Kaneohe, Oahu, Hawaii. Her first childhood memories were of the breathtaking white beaches and warm turquoise colored waters. Growing up in this vibrant, tropical setting captured this young girl's heart and imagination. The McCartney family did leave the Hawaiian Islands long ago; however memories of Hawaii never left the young artist's thoughts and today continue to be her source of inspiration.
Kathy started drawing at the age of 5. She would draw people from her imagination or copy their likeness from photographs using pencil and charcoal. She entered art contests and won awards. As an adult she experimented with water color and acrylic paints, then she discovered oil painting and this became her medium of choice. Kathy supported herself and her son working full-time as an administrative assistant for a high tech company. Between work and raising her child she would look for free moments to teach herself oil painting and techniques. Today, an accomplished artist, she has turned her art dream into a career and teaches beginning oil painting classes to children and adults part-time.
The beauty of the tropics and the history of Hawaii and its people are a strong influence on Ms. McCartney's creations. The painting "Aloha!" was made especially for Bookcrossing.com. Hawaii is a unique paradise in the middle of the Pacific Ocean and the Hawaiian island of Oahu is known as the Gathering Place. Bookcrossing is also the Gathering Place for book lovers across the globe. "Aloha" in Hawaiian means hello, goodbye, with affection and love. "Aloha!" an image of a young Hawaiian woman who welcomes with love a new book, reading through the creative thoughts of another, and then aloha and goodbye, releasing this gift back to the Universe to share freely with others is the "Aloha Spirit" in motion.
Ms. McCartney believes in living your dreams and encourages this process with everyone she meets. In the year 2002 she pursued another dream and purchased an ocean view condo in Kihei, Maui, Hawaii. Year 2005 she started a small vacation rental business offering several beautiful properties on Maui, Oahu, and the Big Island. Her Maui home is a place to escape and gather artistic inspiration. Ms. McCartney's art is on display and for sale at the Haleakala Trading Company in Kihei, Maui, Hawaii. She is currently working on her first illustrated children's book about Hawaii. The book should be complete year 2009. You may contact the artist direct for more information on this project or to view her tropical style paintings at www.mccartneyfineart.com. If you need to escape, recharge your batteries and seek artistic inspiration, the artist's Maui island home is available as a vacation rental and retreat, for more information and beautiful pictures visit www.mauivision.com.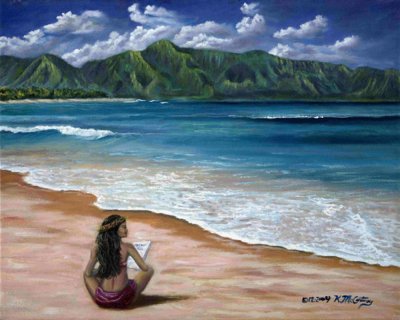 Aloha!
16" x 20" Oil on Canvas