On a free books MISSion
Op stap in een boekenrok / Going for a walk in a book-skirt
by
Boekenspookje
August 23, 2011
---
Naast BookCrossing heb ik nog een hobby: Fantasy. Ik vind het bijvoorbeeld heerlijk om naar evenementen als de ElfFantasy Fair of het Castlefest te gaan. Ik spaar van tevoren een heleboel fantasy-boeken om daar te releasen en natuurlijk moet ik dan toepasselijk gekleed gaan. Zo heb ik al boeken uitgedeeld als boekenspook, als boek en als klimop-vrouwtje. Deze keer was ik van plan naar de Midzomerfair in het Archeon te gaan in een 'boekenrok'.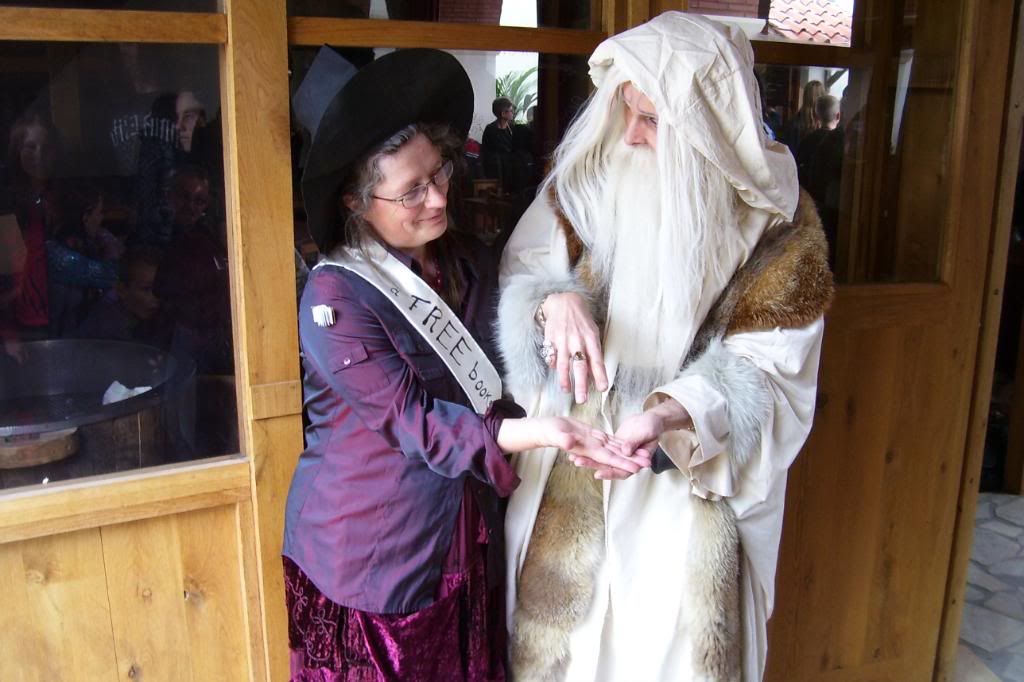 Voor € 2,50 op de plaatselijke rommelmarkt een mooie wijde rok gekocht en voor een paar euro op de markt een bijpassende lap stof gehaald. Van die lap kon ik zakken naaien op mijn rok, groot en stevig genoeg om in elke zak een boek te stoppen. Als finishing touch een mooi stuk witte kunstzijde vermaakt tot een heuse sjerp. Op de voorkant schreef ik de tekst "a free books MISSion!" en aan de achterzijde: "Don't MISS your books!".
Sommige heren hadden er wat moeite mee, maar ik verzekerde hen dat ik niet kwaad zou worden als ze 'in mijn rok zouden graaien'. Bij elkaar heb ik zo 31 boeken aan een nieuwe eigenaar geholpen.
Wel jammer dat ik tot nu toe maar 2 meldingen heb gehad, maar ik heb er veel lol aan beleefd. Leuk genoeg om het een volgende keer weer te willen proberen, maar dan wil ik er ook nog een mantel bij maken, zodat ik nog meer boeken 'op zak' kan hebben. En uiteraard ben ik alweer boeken aan het sparen, want het moeten natuurlijk wel 'fantasy'-boeken zijn.
Beside BookCrossing I have another hobby: Fantasy. For example, I love to go to happenings like the Elf Fantasy Fair or the Castlefest. In advance I collect a lot of fantasy books to be released there and of course I have to be properly dressed for the occasion. That way I have spread books being a book-ghost, a book and as an ivy-lady. This time I planned going to the MidSummer Fair in the Archeon, dressed in a book-skirt.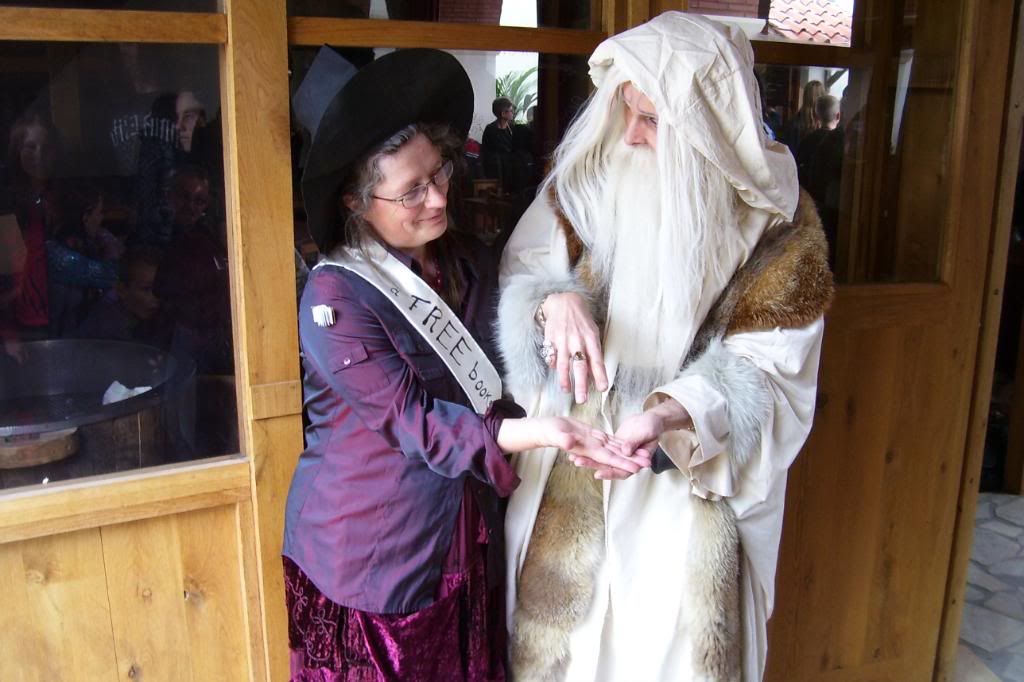 For € 2.50 I bought a nice, wide skirt on the local flea market, and for a couple of Euros I got a matching piece of cloth on the market. From that piece I sewed pockets on my skirt, big and sturdy enough to put a book in every pocket. As finishing touch I took a nice piece of white rayon and made a real sash. On the front I wrote: "a free books MISSion" and on the back "Don't MISS your books!".
Some gentlemen were a little reluctant, but I ensured them I wouldn't be crossed with them if they would 'grab in my skirt'. On the whole I succeeded to hand out 31 books to their new owners.
It's a little bit disappointing though that until now only two of the books are journalled, but still it was a lot of fun. At least funny enough to try it another time, but than I would like to make a cloak to it, so I can carry even more books on me. And naturally I am saving books already, because they surely have to be 'fantasy'-books.