What We Learned at Word on the Street
Increasing Wild Find JE's
by
Bookgirrl
December 1, 2010
---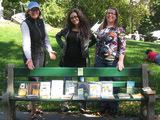 Canadian Bookcrossers love "Word on the Street" - our national Book, Magazine & Literary festival, held each year on the last Sunday in September. The 250+ exhibitors include writing, publishing and literacy workshops, author readings and signings and lots of attractions for children. From Random House and Penguin to small poetry/graphic magazine publishers – everyone is there. Over 200,000 people of all ages attend. A Bookcrossers's dream!
The "word" went out via email, Facebook and Forums to rendezvous at noon for a meetup/book release at the Toronto WOTS. In attendance: Miss Efficiency (organizer of the 2006 Bookcrossing Convention), Jessibud, Bookgirrl, iNomad, Geishabird, Pinkoeria and Pooker3 – visiting from Winnipeg. At previous WOTS, we had released a book here and a book there but this time, we left about 50 books on two park benches in the centre of the park. Then, we walked a short distance away and observed as people stopped, perused….and snapped up books. All of them! Most of us have had Journal Entries. Personally, within two days, I had two people join up from 3 Wild Find entries.
So, what did we learn at Word on the Street?
For anyone who Wild Releases, especially those who have been discouraged with low Journal Entry rates……try releasing several books in one place at a festival, fête, or other event like this and see what happens!