And Now a Word From Mental Floss
Where Knowledge Junkies Get Their Fix
by
Ballycumber
March 16, 2010
---
The good people at BookCrossing have given us 250 words to tell you about our t-shirts. We could go the hard-sell route, but you see the shirts. If you want one, or want to see more, you'll head over to mentalfloss.com.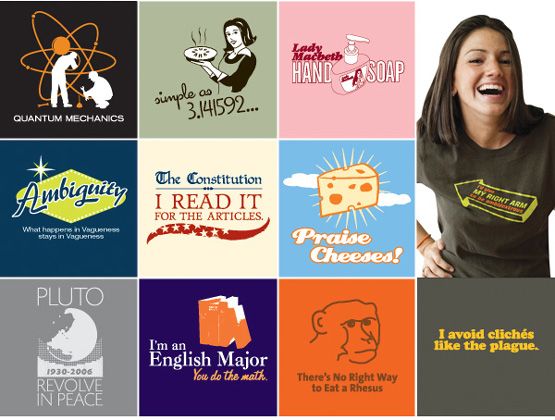 After this sentence, we'll have 200 words left. We'd like to spend them on ten fun facts:


On the 2001 New Zealand census, 53,000 people listed their religion as "Jedi."


Duncan Hines was a real person. He was a popular restaurant critic who also wrote a book of hotel recommendations.


The Vatican Bank is the world's only bank that allows ATM users to perform transactions in Latin.


Uncle Sam was based on Samuel Wilson, who worked as a meat inspector during the War of 1812.


Michael Jackson's 1988 autobiography Moonwalk was edited by Jacqueline Kennedy Onassis.


When Salman Rushdie first tried to break into advertising, he was given a copy test by the agency J. Walter Thompson. He failed.


Carly Simon's dad is the "Simon" of Simon and Schuster. He co-founded the company.


"Jay" used to be slang for "foolish person." So when a pedestrian ignored street signs, he was referred to as a "jaywalker."


The string on boxes of animal crackers was originally placed there so the container could be hung from a Christmas tree.


Snuffleupagus has a first name -- Aloysius.

Want to learn more? Pick up the latest issue of
mental_floss magazine
, visit
mentalfloss.com
, or follow us on
Twitter
. Oh, and don't forget to check out those
t-shirts
!