BookCrossing Birthday Bash
BC in DC celebrates in the capital of the USA
by
Melydia
June 18, 2009
---
Since none of the members of
BC in DC
could attend the Anniversary Convention in Christchurch, New Zealand, we decided to have our own little party to celebrate BookCrossing's eighth birthday.
The day started early, as I was meeting up with crrcookie and lilgrovers at the Anacostia Metro station at 7:45 AM to ride in together. We were due for breakfast at 8:30, and were only a few minutes late (after releasing a few books along the way, of course). At
Au Bon Pain
, we met up with BCinDCers KateKintail and nat4lee, as well as elle311, who was visiting us from Suffolk, Virginia.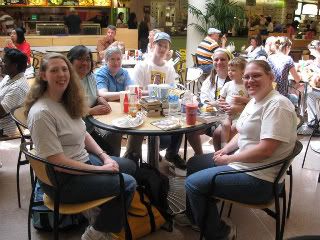 After breakfast we trekked to the Library of Congress for a tour, and were joined by FURBALL at that point. The LoC contains the largest book collection in the world, but most of the tour was spent craning our necks at all the gorgeous artwork and sculptures which cover the place from floor to ceiling.
The next thing on our agenda was lunch at the Reagan Building. We took a route through the east side of National Mall for the first part of our themed release walk. The only rule was that whatever you released, it must be a themed release. This led to some real creativity. Among the many books we released, I marked my very first water release:
Ritual Bath
by Faye Kellerman in a fountain. In addition to the individual wild releases, several of us were also taking part in the Garden Challenge (plant titles), the Color Challenge (purple), the By The Numbers Challenge (four), the Month Challenge (April), and the Releasing in Hono(u)r of BookCrossers Challenge. Whew!
It took us an hour and a half to travel from the LoC to the Reagan Building because we kept stopping to place books, snap pictures, or run across the street for the perfect themed release. Along the way we met a few people who were quite curious about BookCrossing. (Here's hoping they become members.) By the time we finally got to the Reagan Building we were all tired and hungry. After a bit of difficulty getting the wagon through security, where we had to empty out the entire contents onto the conveyor belt before proceeding through the metal detectors, we clustered around a table for a much-appreciated midday meal (and smoothies). During lunch, we exchanged more books and laughs, and KateKintail revealed she had presents for us: little bottles of Magic Catch Dust. I'm not sure our
wild catches
have increased significantly since getting it, but every little bit helps!
FURBALL and elle311 had to depart after lunch, so we grabbed their remaining books to release and set off for release walk part 2. This time we covered the west side of the National Mall, including the White House, Hirshhorn Sculpture Garden, and Washington Monument. We eventually started running out of themed release ideas, and by the time we reached the L'Enfant Metro Station, books were being tossed left and right, with our last books released at Anacostia Metro Station on our way out the door.
KateKintail, nat4lee, and I then joined crrcookie and lilgrovers at their house nearby for a live webchat with the Anniversary Convention in New Zealand, courtesy of BookCrosser WhiteRaven13. Through careful maneuvering, we each were able to get on a separate computer to chat. BCinDCer ResQgeek, who couldn't make it to the Birthday Bash, joined us online as well. During this chat we learned that BC in DC had won the site bid for the 2011 Anniversary Convention. Needless to say, we were all very excited, and spent much of the rest of the evening discussing convention plans while eating a delicious pasta dinner prepared by crrcookie.
Around 8:00 PM, we all piled back into our respective cars and Metro Stations to head home. Quite the long day, but so much fun!
Photo Info: Top photo, from left to right: KateKintail, elle311, FURBALL, nat4lee, crrcookie, lilgrovers, melydia (photo courtesy of KateKintail.) Lower photo, lilgrovers in the Mobile BCZ (photo courtesy of crrcookie).