The Lost Book Launches Episode Two
With Plenty of BookCrossing Help
by
TheLostBook
March 5, 2009
---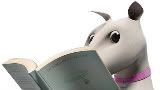 The Lost Book
is an animated series with a difference: the story is written by you, me and everyone who wants to get involved. Episode two will launch online on Friday March 6, written by visitors to the website during February 2009. Where the story goes next is up to all of us - it's a collaborative adventure!
You'll spot more than a few BookCrossers in the credits of The Lost Book - from
libertine101
who invented a secret society of bibliophiles, to
KiwiinEngland
who came up with the perfect name for a character.
BookCrossers have also been getting involved by doing what they do best: BookCrossing! Participants in our Bookray release challenge will be releasing copies of Arthur Conan Doyle's
The Lost World
around the globe. Dozens of BookCrossers are taking part in themed bookrays: reading about dinosaurs, Darwin and detectives. Copies of
The Lost World
are winging their way to Christchurch for the 2009 Convention, and are waiting in Edinburgh for the BCUK 2009 Unconvention.
Author China Mieville has joined in – he's autographed a copy of his book
Un Lun Dun
especially for a bookray. The dedication is "To all the Book-crossers out there!"
If you'd like to get involved with The Lost Book, head over to
www.thelostbook.net
now. You can help write the web series by putting forward your ideas or voting on others' suggestions. You can enter the weekly
microstory competition
and write a story using characters created by our guest writer Jasper Fforde. If you're a teacher, you can download
resource packs
for an animation or soundtrack composition workshop (and then enter the Scottish Chamber Orchestra's soundtrack competition). You can go behind the scenes in our
"making of..."
blog.
And, you can BookCross! Join one of our Bookrays or release challenges and help spread the fun!