Mass Release in the Rubber City
BookCrossing makes its mark at the first Akron Reading Festival
by
SheGeek
October 26, 2005
---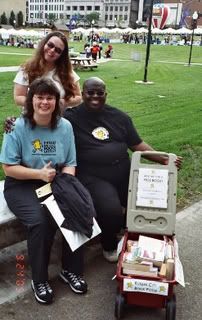 On Saturday, September 24, 2005, the first annual
Akron Reading Festival
was held in downtown Akron, OH. It was a celebration of literacy featuring talks with authors, workshops, children's activities, and more. And it was a great opportunity for a group of BookCrossers, dubbed the Rubber City Book Posse, to get together for a mass release.
The appeal for books went out on the forums a couple of months beforehand, resulting in a total of over 100 books being donated to the cause from BookCrossers around the world. Added to that were books from the shelves of TinkEsq, Bluesman, gothamgal, SillySilhouette, and talon2claw.
Though our group was small, we were hard to miss in our official BookCrossing t-shirts and two wagons full of books with "free books" signs plastered all over them! Still, a lot of people seemed unwilling to believe that we were just giving the books away without a catch. It was nice to be able to explain the bookcrossing concept to people.
And we included write-ups in many of the books to explain how BookCrossing worked. There were even a few people who had heard of it, though they knew it as "that thing where you leave books lying around."
Within a few hours we managed to release over 150 books to attendees of the festival, from toddlers to grandmothers. Based on the usual percentage of wild releases journaled, we know that we might never hear from the majority of the books for a long time, if ever. But at least we know that the books went to people who will actually read them and, perhaps, pass them on.
To date, we have had three official catches and two of those have resulted in new members joining the site. Being able to pass on a large amount of books in such a short time made this mass release a success. Hopefully the Rubber City Book Posse will have a bigger and better one next year!
---
Top picture: BookCrossers SillySilhouette, gothamgal, and Bluesman. Bottom picture answers the age old question of what happens "If you give a mouse a book" instead of a cookie!