Climbing twice the height of Everest to release books
Or Wild, Wild Releasing
by
swan-scot
October 12, 2005
---
Some people like to release books at coffee shops, shopping centres, or other city centre locations, but none of these are places I frequent. Wild releasing for me means leaving books in truly wild locations in my beloved mountains here in the Highlands of Scotland.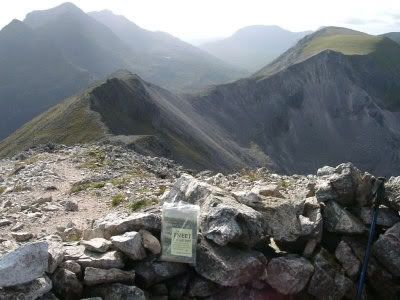 Our Scottish mountains, at around 3-4,000 feet (900-1000m) may be small by comparison with larger lumps of rocks elsewhere, but height isn't everything. The high latitude (greater than 56 degrees north) and situation on the edge of the North Atlantic leads to some extreme weather and creates conditions for Arctic and Alpine plants to survive on the summit ridges.
On this small island of ours, climbing these mountains usually involves starting walking from sea level, therefore creating up to 4000 feet (1000m) of ascent. Over the past three years I've left books on the summits of 18 of these mountains. About half of these releases have been journalled and some re-released on other mountains by the finders/keen walkers.
I have one or two particular favourite 'release and catch' stories.
One of my earlier releases was on a local mountain called Ben Wyvis near to home. We were rather late starting out that day and all the way up the hill we met other walkers coming down. I admit I muttered and grumbled away to my long-suffering walking partner, complaining there would be no one left on the hill to pick up my poor book and rescue it. When we reached the summit plateau at 4 p.m., we were alone and only saw two other people on the hill as we made our descent. I laughed out loud when, one week later I got a journal entry for that book. It had been picked up by three crazy guys who'd climbed the mountain at midnight, because they "felt like doing something a bit mad". You can read their account of the adventure
here
.
Two of my books have been picked up by keen hikers, journalled and re-released on other mountains.
High on a Cliff
hopped around a couple of mountains in Scotland, but my favourite catch is for the copy of Nick Hornby's
High Fidelity
. I left this on a wee hill and the finder promised to leave it "on a much bigger hill....." They certainly kept their promise as the book was released on the summit of Mount Kilimanjaro (19,335ft/5,895m), the highest mountain in Africa. Two years after the release note for Uhuru Peak, Kili, I was delighted to hear from the book again, as it was journalled by a German doctor doing voluntary work in Tanzania.
Quite apart from these outstanding wild catches, I've had a much higher rate of journalled catches for the books left on mountain summits and in mountain huts, with over half of them being reported. As a fellow BookCrossing hiker (or is that hiking BookCrosser?) said to me, "hikers are such lovely, trusting people… they are willing to pick up stray books". It's true. Give it a go. Who knows? You may become as addicted to it as I am. Just because it's there.