seldombites's Bookshelf
Recent Book Activity | Statistics | Extended Profile
Extended Profile
---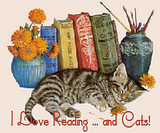 If you have found one of my books, enjoy! Please be sure to journal it to let me know where it is. If you read it, please also let me know what you thought. After that, the book is yours. You can release it, give it away or keep it till the day you die. It's up to you!

The books I release are not an indication of my taste. I release all different types of books, many of which are unread. A better idea of the types of books I like can be gleaned by checking out my wishlist or how I've rated what I've read.

Wild Releases: 859
Catches: 31
Catch Rate: 3.61%
Latest Catch: Ronno the Clown (Endeavour reading Program) by Francis Charles Johnson
Longest Stretch Between My Release And A Catch: 3 years, 11 months & 13 days

Wild Releases That Have Been Caught


Regarding my wishlist - this is a place to keep track of what I want to read (my memory is like a sieve lol). It is not a list of requests. I am, of course, grateful for any RABCK's that I receive, but I am not greedily asking for hundreds of books!

Please be advised that I post once per fortnight. I have a very tight budget, so if I have filled my postage quota, you will have to wait until the following fortnight. Due to astronomical postage costs, I am only able to post within Australia. Apologies for any inconvenience this might cause. Finally, I do not engage in trades so please don't ask.

Anyone who needs to contact me can email me at:
seldombites@hailmail.net

Have a great day and may you always have a good book to read!

Check out my blog Rafferty's Rules or peruse my

paper Rafferty's Rules Daily.



Book of the Month




10/10

This is, without a doubt, the best apocalyptic/post-apocalyptic novel I have ever read. If you are after a zombie horror, you will be seriously disappointed, because the zombies themselves are not prominent characters in this book.

Instead, Brooks presents us with a series of interviews ten years after the war has ended. Unlike many post-apocalyptic novels, World War Z presents us with a global picture of events. We see interviews with people from many countries, many age groups, many careers, many socio-economic groups - giving a total picture of what was happening everywhere to everyone.

The subtitle of this book describes it as an oral history and this description is fitting.The story does not have a traditional plot, in the sense of one story, revolving around one character, with one clear beginning, middle and end. Instead, it consists of lots of mini-stories, with each interview presenting another piece to the puzzle.

I was particularly impressed with the author's ability to present each interview in a genuine voice suitable to the purported character. Every one of these interviews is entirely believable and it is this believability that adds to the sense of tension this book creates.

I have seen some people complain about the sheer volume of characters, stating that this affected their ability to engage. I would like to humbly disagree. While it is true that I cannot remember all of the names, I do not consider this to be an essential element to compassion or empathy. I, myself, fully engaged with each and every character in this book, to the point that I found myself emotionally immersed in their stories I won't spoil the story by stating what happened, but one interview with a dog handler, actually had me in tears.

Another thing I liked about this book is the underlying political commentary. Whether you agree or disagree with the messages being presented, they will surely catch your interest.

In fact, I suspect that this is one of those onion books that needs to be read and re-read to grasp all of the underlying commentary. I will certainly be re-reading my copy. In fact, I hope to get my hands on the audio-book, which, I am told, is read by a full cast of characters. I feel that this will bring even more depth to an already brilliant story.

I do not know whether it is the writing skill of Max Brooks, the unique format of this book, or the incredible realism therein (or perhaps a combination of all three) but this was, by far, the scariest zombie novel I have ever read.

I highly recommend it to absolutely everybody!


Books I Have Rated 10/10




How Do I Rate My Books?


As of 9 March, 2008 the following rating system applies to my books:

~ 1 Star: This book should never have been written
~ 2 Stars: I hated it and would not recommend it to anyone
~ 3 Stars: Better than 2 stars but not quite good enough for 4 stars
~ 4 Stars: Not to my taste - other people might enjoy
~ 5 Stars: Better than 4 stars but not quite good enough for 6 stars
~ 6 Stars: Average - it was OK but I wouldn't read it twice
~ 7 Stars: Better than 6 stars but not quite good enough for 8 stars
~ 8 Stars: Great book - I really enjoyed it
~ 9 Stars: Better than 8 stars but not quite good enough for 10 stars
~ 10 Stars: Brilliant - Highly Recommended!


Books I Have Read in 2014


Books I Read in 2013


Books I Read in 2012


Books I Read in 2011


Books I Read in 2010


Books I Read in 2009


Books I Read in 2008


Check my BookCrossing wishlist to see my reading wishlist. For everything else, my wishlist is located at Wishlistr

Library Books Waiting to be Read


Books I Want to Read but Can't Get From the Library



I've been inspired by stormon) to attempt to read at least one book written by an author originating in every single country in the world before I die. As I do so, I will post the total number of books I have read from each country and a list of the authors I have read. If I have read a lot from any one country, I will choose three random authors for the list, to save clogging it up. *As I have not been keeping track up until now, I ask that you have patience while I sort through the books I have read to find out their author's country of origin!*

Challenge is 0% Completed


My progress: a visual representation:



read books by authors from 0 countries (0%)
Create your own visited map of The World or website vertaling duits?

I am also going to attempt to send a book to every country. Again, please have patience while I check what I have already sent.

Challenge is 0% Completed


My progress: a visual representation:



sent books to 0 countries (0%)
Create your own visited map of The World or website vertaling duits?

I obtained my list of countries from www.listofcountriesoftheworld.com and it is accurate, to the best of my knowledge. Mistakes do happen, however, so if you spot one here, please feel free to let me know!