Extended Profile
Written Jan, 2007.


General Info:
I'm a mother of 5, a photographer, animal portraits and more, and an avid book reader. I read at least 4 books a month if not more. I've actually been part of book crossing for years but lost my last account. I'm starting all over again here and plan to release about 7 books in the next week. I find this to be a fun and interesting way to see what happens with books I've read.
Ok, less formally, I'm a complete nut for books! I just had a baby last June and I breastfeed him so I take that opportunity to read my book (to him most of the time). I can't stop picking books up at resale shops, etc. I read them constantly! (I'll choose a book over television ANYDAY!) I even joined MyPoints to earn points to use at B&N. Oh, I'm bad! Sooo... If you're so addicted to reading that you read the backs of shampoo bottles and cereal boxes just to have something to read, add me as a friend and PM me. I'd like to get to know you!
Reading Communities:
I also take part in a
LiveJournal
community called '50 book challenge'. I'm trying to read 50 books in 52 weeks. I'll keep you updated here about the list as it comes along.
What I've read since 1/1/07
#1.
In Her Shoes
by Jennifer Weiner
#2.
Lovely Bones
by Alice Sebold
#3.
Little Children
by Tom Perrotta
#4.
The Bell Jar
by Sylvia Plath
#5.
The Mermaid Chair
by Sue Monk Kidd
#6.
The House on Mango Street
by Sandra Cisneros
#7.
Motherhood: The World's Second Oldest Profession
by Erma Bombeck
#8.
The Pilot's Wife
by Anita Shreve
#9.
The Bookman's Wake
by John Dunning
#10.
Bibliotherapy
by Nancy Peske
#11.
84, Charing Cross Road
by Helene Hanff
#12.
The Serpent and the Rainbow
by Wade Davis (excellent book!)
#13.
The Divine Horsemen
by Maya Deren (just started this book)
Unusual Things About Me:
I'm also a mother of 5 (one step-daughter) ranging in ages between 8 months and 18 years (my oldest was born with spina-bifida). I'm a Pagan/Discordian (sometimes Vodon), Old-School Goth, Animal Activist, GLBT Activist, Humanist, Anarchist, Radical, and have some heroes including Don Quixote, Anne Frank, Peter Gabriel, Robert Anton Wilson ~RIP Jan 2007~, Timothy Leary, Abbie Hoffman, Stephen Hawking and *grin* Weird Al Yankovich. If you'd like you can find me also at:
My Livejournal

and

My MySpace Page

and

My Blogger Page -
"Studies in Voudon"


I hope to meet MANY people here!
My Wish List: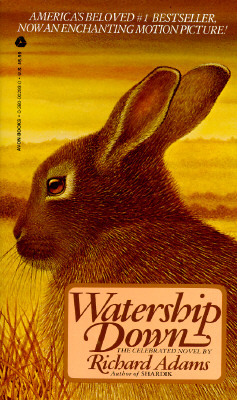 You're Watership Down!

by Richard Adams

Though many think of you as a bit young, even childish, you're
actually incredibly deep and complex. You show people the need to rethink their
assumptions, and confront them on everything from how they think to where they
build their houses. You might be one of the greatest people of all time. You'd
be recognized as such if you weren't always talking about talking rabbits.


Take the Book Quiz
at the Blue Pyramid.
Remember
"Revolution is not something fixed in ideology, nor is it something fashioned to a particular decade. It is a perpetual process embedded in the human spirit."

-Abbie Hoffman
www.rapidcounter.com/signup.php"
target="_top">
www.rapidcounter.com/"
target="_top">Hit Counter