goldlis's Bookshelf
Recent Book Activity | Statistics | Extended Profile
Extended Profile
---

As the humanitarian crisis in Sudan continues after nine years of atrocity, we hope to promote greater global awareness of this genocide. "Sign ☝ for updates to make your voice heard..."

Please help by releasing books for the READ - Respond in Earnest Action for Darfur BC Challenge.
Worldwide, there will be rallies, marches, and vigils which highlight that "time is running out" for the people of Darfur. See more information on our global BookCrossing challenge at: goldem1217
and
goldlis
. You may also, view:
READ powerpoint slideshow
(under construction), and a slideshow of several events featuring BookCrossing "READ" books:
click here
.
We challenge others to help raise awareness of the Darfur crisis by getting involved. Releasing a book with a READ label is a simple, but effective, action you can take against genocide. When you see Darfur related events in your area, please make every effort to attend, and take along at least one book to release. On your book label or in your journal entry at the BookCrossing.com website, please enclose your thoughts on this crisis, or maybe a prayer for peace. To call greater attention to steps one can take to help end the genocide, you can enclose a bookmark like this BookCrossing READ Challenge label
HERE, and these other links to cover labels and ID labels.

Cover Labels for this challenge!
More Cover Labels!
Label for the last page!
BCID label - large
BCID label - small

Please feel free to copy/paste one of these images onto your website or bookshelf.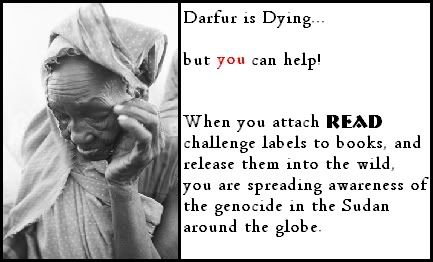 Those who want to share their ♥ of reading with those in Africa who are less fortunate, may do so through Books for Africa.



Thank you for supporting this READ challenge!

NOTE: The books on my bookshelf don't necessarily reflect my personal taste in reading, as most I've obtained and released simply for BookCrossing.

************************************************************************************




The Reading for Relief Challenge ended, December 31, 2005, with over 7,500 books donated. Thank you to everyone for the compassion you showed through your generous donations and kind support!




Help For Hurricane Victims: Reading for Relief* Project
12/21/05 Hurrah! Latest book donation count: 6,212!




Click Here to Donate Books to Hurricane Victims

Hello everyone!

We want to establish BookCrossing Zones in shelters in the San Antonio, Texas area for the many people affected by Hurricanes Katrina and Rita. Some people will be displaced for more than six months! Our goal is to set at least two thousand books into circulation through this service project. Our mission: to provide relief to these displaced people, including shelter-bound folks and children placed in orphanages, by providing them with free literature.

This challenge was begun as part of a Gold Award project for two Senior Girl Scouts, via goldlis and picky88.

Through this effort, we hope to share both our ♥ of literacy, and provide a greatly desired service to help relieve the pain of these people's suffering.

We are currently organizing collection points at local businesses. To date, the following locations have been approved to receive donations:

Reading for Relief Project
The Law Offices of Ed Goldner
1616 San Pedro Avenue
San Antonio, TX USA 78212
(MAIL or DROP-OFF)

Reading for Relief Project
St. Francis of Assisi Catholic Church
4201 DeZavala Rd.
San Antonio, TX 78249
(DROP-OFFS ONLY please.)

Reading for Relief Project
Girl Scouts of the San Antonio Area
10443 Gulfdale
San Antonio, TX 78216
(DROP-OFFS ONLY please.)

Reading for Relief Project
Dollar General
12930 Bandera Rd.
Helotes, Texas 78023
(DROP-OFFS ONLY please.)

Thank you for your generous donations. We'll make journal entries when they arrive!

Books have been pouring in from all kinds of anonymous sources, but we'd also like to mention the BCers who have revealed their identities ☺ - sanepsycho, sleepymom, scavok, chryso, dolls727, terrafreaky, DrSlump612, Leader1978, Cass01, doggirl97, vannessave, megemmom, rebeccalyr, susieq46, glosylvia, bethieb, nyisutter, Adia415, and tyvmdear. We greatly appreciate your support!

Please contact goldmeg89@aol.com if you have any questions, or would like to volunteer.

Happy BookCrossing!
goldlis & picky88

May your shelf never be empty;
May your heart always be full;
May you never lose your place,
In life or in your book.
May your friends list grow.
And may the next story always
Be more enchanting than the last

*TITLE CHANGE NOTE: To make this more politically correct, it was recommended we not refer to the evacuees as "refugees," so we changed the title to incorporate "relief." Our mission, of course, will remain the same; to provide relief to these displaced people, including shelter bound folks and children placed in orphanages, by providing them with free literature.

This book was donated with ♥ for evacuees of Hurricanes Katrina and Rita through the Reading for Relief BookCrossing Challenge.



Reading for Relief is a Girl Scout Gold Award project begun by goldlis and picky88 on September 10, 2005, in an effort to provide support for Hurricane Katrina and Rita evacuees taking refuge in San Antonio, Texas. Before the project closed December 31, 2005, over 7,500 books were generously donated toward this challenge by BookCrossers all over the world!! Thank you, BookCrossers, for your gift which will keep giving!