gingergeoff's Bookshelf
Recent Book Activity | Statistics | Extended Profile
Extended Profile
---
Hi There,

I mostly enjoy sci-fi, but as you may be able to see from my reading list, I have tried some fantasy and I am willing to give most things a go. I have read and own all of the current Terry Pratchett books. They are not on BC due to their condition (I call it loved, others call it abused!), but if you can't get hold of one, I am willing to lend out.

I am also on PostCrossing and my sign on there is Gingerboy, although BookCrossing has to be my first love!

Books read in 2014;

January;
Pratchett, Terry - Raising Steam

March;
Boulting, Ned - On the Road Bike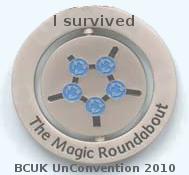 22 Books read in 2013;
Child, Lee - 61 hours, Bad Luck And Trouble, The Hard Way
Chiles, Patrick - Perigee (On Kindle)
Christie, Agatha - Passenger to Frankfurt
D'Lacey, Joseph - The Kill Crew
Fforde, Jasper - The Eyre Affair
Fleming, Ian - The Spy Who Loved Me, You Only Live Twice
Hadfield, Chris - An Astronaut's Guide to Living on Earth
Horowitz, Anthony - Sherlock Holmes & The House of Silk (On Kindle)
Liggett, Phil - The Fastest Man on Two Wheels (In Pursuit of Chris Boardman)
Mayo, Simon - Itch
Moore, Tim - French Revolutions
Obree, Graeme - The Obree Way (On Kindle)
Pratchett, Terry - A Blink of the Screen, A Hat Full of Sky, I Shall Wear Midnight (On Kindle), The Wee Free Men, Wintersmith
Ramsay, Rebecca - Cycling Turbo Training for Beginners (On Kindle)
Wiggins, Bradley - Wiggo
29 Books Read in 2012;
Berger, Jonah - He Walks Like A Cowboy
Bova, Ben - Colony
Bradbury, Ray - Fahrenheit 451
Buchan, John - The Thirty-Nine Steps
Carroll, John H. - Test Pilot (On Kindle)
Child, Lee - Gone Tomorrow, Worth Dying For
Conan Doyle, Arthur - The Final Problem
Elton, Ben - This Other Eden
Fforde, Jasper - The Song of the Quarkbeast, The Woman Who Died a Lot
Fleming, Ian - For Your Eyes Only
Gillard, Linda - The Glass Guardian (On Knidle)
Helgason, Hallrimur - The Hitman's Guide to Housecleaning (On Kindle)
Hoy, Chris - The Autobiography
Hutchinson, Michael - The Hour (On Kindle)
Jones, Andrew & George, Clive - Stickmaking Handbook
O'Brien, Robert C - Z for Zachcriah
Pratchett, Terry - Dodger, Maurice and His Educated Rodents, The World of Poo
Pratchett, Terry & Baxter, Stephen - The Long Earth
Rosoff, Meg - How I Live Now - WBN Book
Simpson, Joe - Touching the Void - WBN Book
Stroud, Jonathan - Buried Fire
Verne, Jules - 5 Weeks in a Balloon, A Journey to the Centre of the Earth (On Kindle) & Around the World in Eighty Days
Westall, Robert - Fathom Five
26 Books read in 2011;
Bent, Danny - You've Gone Too Far This Time, Sir! (on Kindle)
Boulting, Ned - How I Won the Yellow Jumper (On Kindle)
Bova, Ben - Millennium
Cain, James M. - The Postman Always Rings Twice
Child, Lee, Persuader
Clarke, Arthur C - The Deep Range
De Maurier, Daphne - Rebecca
Ellory, Roger Jon - Ghostheart
Fforde, Jasper - One of Our Thursdays is Missing
Fforde, Jasper - The Last Dragonslayer
Gillard, Linda - House of Silence (on Kindle)
Gillard, Linda - Untying The Knot (On Kindle)
Hornby, Nick - Juliet, Naked
Martel, Yann - Life of Pi
Millar, David - Racing Through the Dark (On Kindle)
Phillips, Marie - Gods Behaving Badly
Pratchett, Terry - Snuff
Pratchett, Terry - Thud
Pritchard, Paul - The Longest Climb
Rendell, Matt - Significant Other
Rowling, J.K. - Tales of Beedle the Bard (on Kindle)
Snicket, Lemony - The Reptile Room (on Kindle)
Snicket, Lemony A. - The Bad Beginning (on Kindle)
Sugar, Alan - What You See is What You Get (on Kindle)
Wagar, Drew - Schism (On Kindle)
Wyatt, Jon - Three Bent Links (on Kindle)
18 Books read in 2010;
Bova, Ben - Cyberbooks
Carwardine, Mark & Adams, Douglas - Last Chance To See
Chesterton, G.K. - The Man Who Knew Too Much (On Kindle)
Conan Doyle, Adrian - The Exploits Of Sherlock Holmes
D'Lacey, Joseph - Meat
Ellory, R.J. - Candlemoth
Fforde, Jasper - Shades of Grey (Twice)
Fleming, Ian - Diamonds Are Forever / Thunderball
Fry, Mrs Stephen - Mrs Frys Diary (On Kindle)
Fry, Stephen - The Fry Chronicles (On Kindle)
James, Peter - Dead Man's Footsteps
Kingsolver, Barbara - The Poisonwood Bible
Laurie, Hugh - The Gun Seller
Myron, Vicki - Dewey
Pratchett, Terry - I Shall Wear Midnight (On Kindle) / Unseen Academicals
43 Books read in 2009;
Ahmad, Imran - Unimagined
Asimov, Isaac - Murder at the ABA
Bova, Ben - Powersat
Boyne, John - The Boy In The Striped Pyjamas
Brown, Dan - The Lost Symbol
Cassult, Michael - Red Moon
Child, Lee - One Shot
Conan Doyle, Arthur - The Lost World
Dahl, Roald - Going Solo, More Tales of the Unexpected, Over To You
Delaney, Joseph - The Spook's Battle, The Spook's Secret
Faulks, Sebastian - Devil May Care
Fleming, Ian - Dr No, From Russia With Love, Goldfinger, Moonraker, Octopussy, The Living Daylights
Gaiman, Neil - Fragile Things
Hamid, Mohsin - The Reluctant Fundamentalist
Hickam, Homer H. - October Sky
Jerome, Jerome K - Three Men in a Boat
Krabbe, Tim - The Rider
MacDonald Fraser, George - Flashman
Maclean, Norman - Young Men and Fire
Moore, Richard - Heroes, Villains and Velodromes: Chris Hoy and Britain's Track Cycling Revolution
Niffenegger, Audrey - The Time Traveller's Wife
Phillip, Gillian - Bad Faith
Pratchett, Terry - Nation
Rhys Jones, Griff - Mountain
Schlink, Bernhard - The Reader
Seaton, Matt - The Escape Artist
Somervell, T.Howard - After Everest
Stevenson, Robert Louis - Strange Case of Dr Jekyll and Mr Hyde
Styles, George (Lt Col) - Bombs Have No Pity
Verne, Jules - Twenty Thousand Leagues Under The Seas.
Wallace, Danny - Yes Man (DNF)
Weihenmayer, Erik - Touch The Top Of The World
Wilde, Oscar - The Picture of Dorian Gray
Wilson, Andrew J. - The Terminal Zone
Zusak, Marcus - The book Thief (DNF)
65 Books read in 2008;
Albom, Mitch - The Five People You Meet In Heaven
Bass, Bill - Death's Acre - The Story of the Body Farm
Beeton, M.C. - Agatha Rasin And The Day The Floods Came
Blyton, Enid - Five go to Smuggler's Top
Bounds, Sydney - The Robot Brains
Brown, Dan - Deception Point
Bryson, Bill - Notes from a Small Island
Burrows, Tess - Cry From The Highest Mountain (DNF)
Churchill, David - The Silbury Triangle
Clarke, Arthur C - Tales From Planet Earth
Clofer, Eoin - Artemis Fowl
Collins, Max Allan - CSI:Binding Ties
Conan Doyle, Arthur - The Valley of Fear
Crichton, Michael - The Terminal Man
Dahl, Roald - Boy, Tales of Childhood / My Uncle Oswald / Switch Bitch
Delaney, Joseph - The Spook's Apprentice / The Spook's Curse
Doyle, Arthur Conan, Sir - The Adventure of Wisteria Lodge (e-book Via Project Gutenberg)
Elton, Ben - The First Casualty
Fforde, Jasper - First Amoung Sequels / Lost In A Good Book / Something Rotten / The Big Over Easy / The Fourth Bear / The Well Of Lost Plots
Fry, Stephen - Paperweight
Gaiman, Neil - Stardust (DNF)
Gardner, Martin - The Ambidextrous Universe
Gillard, Linda - Star Gazing
Gorman, Dave - Are You Dave Gorman?
Guillermo, Martinez - The Oxford Murders
Haddon, Mark - A Spot Of Bother
Hosseini, Khaled - The Kite Runner / A Thousand Splendid Suns
Junger, Sebastian - The Perfect Storm
Lee, Harper - To Kill A Mockingbird
Lewycka, Marina - A Short History of Tractors in Ukrainian (DNF)
Lodge, David - The Picturegoers
MacDonald, Kyle - One Red Paperclip
Maloney, Dan - Sunrise on Kusatsu Harbor
Mann, George - The Solaris Book of New Science Fiction
McDermid, Val - Beneath the Bleeding
McEwan, Ian - On Chesil Beach / Saturday
Monger, Christopher - The Enlishman Who Went up A Hill And Came Down A Mountain
Newton-Chance, John - Jason Goes West
Nicholls, Benjamin - Trial By Fire
Obree, Graeme - The Flying Scotsman
Pratchett, Terry - Making Money / The Wee Free Men
Pratchett, Terry & Gaiman, Neil - Good Omens
Pryce, Malcolm - Aberystwth Mon Amour
Pullman, Phillip - Lyra's Oxford
Ravenscroft, Terry - Air Mail
Rendell, Matt - The Death of Marco Pantani
Rogers, Lesley - Sexing the Brain - DNF
Ryman, Geoff - Air (DNF)
Scott Card, Orson - Empire - DNF
Simpson, Joe - Touching The Void
Stienbeck, John - The Winter Of Our Discontent
Stroud, Jonathan - The Amulet of Samarkand / The Golem's Eye / Ptolemy's Gate
Terran, Will' - Short Stories : Volume One
Truss, Lynne - Eats, Shoots & Leaves
Walters, Rob - Haunted Oxford
Wells, H.G. - The Dream (DNF)
Wiggins, Bradley - In Pursuit of Glory
Wodehouse, P.G. - Thank you, Jeeves
Wood, Patricia - Lottery
Wyndham, John - Web (DNF)
47 Books read in 2007;
Armstrong, Lance - Every Second Counts
Auster, Paul - Moon Palace
Bradbury, Ray - The Martian Chronicles
Brown, Dan - The Da Vinci Code
Clarke, Arthur C. - The Trigger
Conan Doyle, Arthur - The Memoirs of Sherlock Holmes
Crichton, Michael - Timeline, State of Fear
Darlington, Terry - Narrow Dog To Carcassonne
Dick, Phillip K. - Dr. Bloodmoney
Elton, Ben - This Other Eden
Fforde, Jasper - The Eyre Affair
Fry, Stephen - Hippopotamus, Moab Is My Washpot
Gaiman, Neil - Neverwhere, Anansi Boys
Gillard, Linda - Emotional Geology, A Lifetime Burning
Gordon-Cumming, Jane - A Proper Family Christmas
Haddon, Mark - The Curious Incident of the Dog in the Nightime
Herzog, Maurice - Annapurna
Holt, Tom - Expecting Someone Taller, Earth, Air, Fire and Custard
Kube-McDowell, Michael - The Trigger
Kyle, Stephen - After Shock
Lodge, David - Ginger You're Barmy
Moore, Tim - Cycling The Tour De France
O'Brian, Robert - Z For Zachariah
Pratchett, Terry - Hatful Of Sky
Pullman, Phillip - Northern Lights, The Subtle Knife, The Amber Spyglass
Rowling, J.K. - Harry Potter & The Deathly Hallows
Russell, Willy - The Wrong Boy
Stanley-Robinson, Kim - Ice Henge
Steinbeck, John - Of Mice And Men
Warner, Alan - Morvern Callar
Wells, H.G. - The Time Machine, The Country of the Blind
Wyndham, John - Chrysalids, The Day Of The Triffids