elizardbreath's Bookshelf
Recent Book Activity | Statistics | Extended Profile
Extended Profile
---
***I have moved to Arkansas and my address on RABCK.com is current. If you have an Oregon address, please disregard it as it's OLD! :) I have forwarded my mail so if you've sent something to Oregon, they have forwarded it. Thanks!

**VISIT MY BLOG!!! LEAVE A COMMENT!!! THEN, SUBSCRIBE SO YOU DON'T MISS ONE TANTALIZING POST!!! Hope In Every Season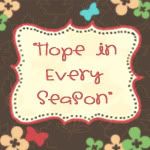 **The books on my shelf do not necessarily reflect my reading tastes or interests...I find and release books of most genres. If you are interested in a book on my shelf, I would be glad to trade with you for something from my book wish list. If you do not have a book to trade then please offer to pay shipping or offer something to trade from my non-book wishlist below.
I'm Sarah Coller, aka Elizardbreath. I received that lovely moniker from my mom when I was about 7, as a play on my middle name, Elizabeth. I'm the mother of 9 little sweeties aged 13 down to newborn--5 girls, 4 boys. My husband and I homeschool our children---a responsibility that is mainly mine since he works full time. I love to write and have a successful blog that I maintain. If anyone is interested in checking it out, the link is above. I love Jesus and try to live my life according to the teachings of the Bible. I learned about BookCrossing from my cousin,

gomboggit

. She has proven to be a great friend and superb BookCrossing buddy! For the past 6 years that I've been a member, I have formed wonderful friendships, experienced literature that I never would have picked up before, and learned a lot about the world outside of Eastern Oregon.
************************************************************************************
My Wish List for Swaps and Sweeps (address on RABCK.com):
***Please, I beg of you, don't fill my envelope with CONFETTI! There is nothing worse than getting doused with itsy bitsy bits of... Some people love that. I'm not one of those people.***
Anything from
my Etsy favorites
"Hidden Mother" photos
Anything PINK, Victorian, or cottage themed
Stationery & pretty papers for writing and crafting--especially LISA FRANK!!
cute hats, head coverings, head scarves
Anything Jane Austen or Bronte
Doctor Who "stuff" (#10 is my favorite!)
Anything handmade…I really treasure other peoples' creativity!
Trinkets for crafting: pieces of jewelry, buttons, ribbon, found items
stickers
Return address labels (please use Mrs. Sarah Coller)
Travel memoirs (like the ones by Susan Allen Toth, England especially)
Used postage stamps for collecting/trading (doubles are fine!)
New US postage stamps for use
Doilies, ladies handkerchiefs, vintage linens (stains or minor tears, holes are fine!)
Wishlist books
Book-releasing supplies (REALLY need these!)
Anything vintage, antique
Wings!
Chocolate (not dark, no fruit added, please)
Lindt White Chocolate Truffles!!!!
a quilt
Where's George dollars
surprises are great, too!
Things I collect:
stamps; postcards; buttons; sea glass; old canning jars; old books; miniature salt & pepper shakers; Limoges pottery; old photos; toile; tea-related items; French-themed items; birds; doilies; handmade potholders, especially the doll dress design; Blue Ridge pieces in "Pinkie" design, glass bottle stoppers, strawberries, kitchen kitsch; Johnson Brothers pottery in the following designs: Strawberry Fields, The Friendly Village, Harvest Time
************************************************************************************
Books Read in 2013:
January 2013:
1. Little Women by Louisa May Alcott
February 2013:
2. The Dressmaker by Kate Alcott (best new book this year!)
3. Sarah, Plain and Tall by Patricia MacLachlan
3. America 1908 by Jim Rasenberger
March 2013:
4. A Penny Urned by Tamar Myers
5. Poison Ivory by Tamar Myers
6. In the Still of the Night by Jill Churchill
7. Anything Goes by Jill Churchill
April 2013:
8. Someone to Watch Over Me by Jill Churchill
9. Who's Sorry Now? by Jill Churchill
10. The Guardian by Beverly Lewis
May 2013:
11. The Tale of Hawthorn House by Susan Wittig Albert
12. Love for Sale by Jill Churchill
13. The Riddle of the Rosetta Stone by James Cross Giblin
14. The Tale of Briar Bank by Susan Wittig Albert
June 2013:
15. The Tale of Applebeck Orchard by Susan Wittig Albert
16. The Tale of Oat Cake Crag by Susan Wittig Albert
July 2013:
17. The Tale of Castle Cottage by Susan Wittig Albert
18. Widow of Gettysburg by Jocelyn Green
19. Duchess of Death: The Unauthorized Biography of Agatha Christie by Richard Hack
August 2013:
20. The Missing Manuscript of Jane Austen by Syrie James
21. Jane Austen: A Life by Carol Shields
September 2013:
22. Persuasion by Jane Austen
23. Finders Keepers: A Tale of Archaeological Plunder and Obsession by Craig Childs
24. Costume by Cally Blackman
25. The Hidden Staircase by Carolyn Keene
26. Fashion in the Time of Jane Austen by Sarah Jane Downing
27. Misericords of Winchester Cathedral by Michael J. Callé
28. William Walker: The Diver Who Saved Winchester Cathedral by Frederick Bussby
October 2013:
29. Winchester Cathedral Guide Book by Pitkin
30. The Book of Hours by T. Davis Bunn
31. Sweet Danger by Ella Wheeler Wilcox
32. I'm a Stranger Here Myself by Bill Bryson
2013 RABCK Thank you's:
doodleali: Flower Fairies postcard
chremajora: welcome baby postcard for Brenna
ness08: perfume, organza bag, ceramic covered dish, vintage doily, bookmarks
whiskeyjane: 2 books, postcards, labels in honor of oppem's birthday
J4shaw: wishlist book for Acts of Kindness Sweepstakes
prettypoodle: Valentine card and stickers for AofK Sweepstakes
flossie771: wishlist book for Bday RABCK
pippis: piggy postcard, cake napkins, stickers, candy, dishtowel for AofK Sweepstakes
judygreeneyes: wishlist book, Dove chocolate hearts, drawstring bag, scarf, luggage tag for Valentine's Day Swap
redfox5: book for AofK Sweepstakes
raluk68: book, labels, stickers, postcard for AofK Sweepstakes
Releanna: card set, corner bookmarks, envelopes, paper embellishments for AofK Sweepstakes
herchelle: dishcloth, book, seeds, bookmark, tea, pen pal letter for AofK Sweepstakes
lauraloo29: soap, mineral bath, chocolate for AofK Sweepstakes, package of stamps, card, post-its and stickers.
Anne-Elliott: Jane Austen mug, postcards, postage stamps, and sticky notepads
abbyaguas: stamp bag, Anne of GG stationery for AofK Sweepstakes
bookstogive: box of cozy mysteries
book-a-neer: stationery, stickers, beads, stamps for AofK Sweepstakes
gullinaarr: book for AofK Sweepstakes
Tubereader: book, cat tea towel for AofK Sweepstakes
kirjakko: book for AofK Sweepstakes
kally93: postcard, magnet, napkins, planner, labels, book for AofK Sweepstakes
bestfriends: 4 books, cards, tea, bookmarks, sticky notes, and postcards
prachitulshan: magnetic doll set, BC stickers, stamps, pink buttons, beads and ribbons for AofK
HI77: rubber ducky, napkins, stamp, candy, wishlist book, books to release--all for Easter swap
thegoaliegirl: coupons
nmugirl: coupons, stickers, Where's George Dollar
tomato68: stationery
rodespringbal: towel, chocolate coins, BC stickers
dove-i-libri: coupons
southernfryed: labels, organza bag
love2cook: wishlist book
bookstogive: wishlist book, card
pinkoeria: pink and white crocheted hat, birthday card
amynita: vintage handkerchiefs & buttons
pikku-kissa: postage stamps
minesayn: 2 books, labels, seeds, bookmark, postcard, birthday card
flossie771: month of wings, popcorn/treats tin
lamilla: postcard, postage stamps
ghir: birthday card, labels
jmsmom: wishlist book, card
hyphen8: wishlist book, card, labels, stickers, postcard, bookmark
nmugirl: book, fun "party package" with PINK party supplies, stickers, bookmarks, a recipe, card
Colombina: wishlist book, labels, postcards, stickers
hammu: postcard, pink heart earrings
thegoaliegirl: travel fiction book and vintage copy of Wuthering Heights
LadyIndigo: PINK card, Jane Austen quote postcards, postcard from Australia, "tea infuser" clipping, lovely tea, handwritten letter
HI77: wishlist book
abbyaguas: Paris postcard
southernfryed: card, bag, ribbon, recipe, cookie cutter, clown nose
kirjakko: stamps, labels
sarahmangan: postcard
melydia: Lisa Frank stationery, postage stamps, postcard
eponine38: wishlist book
yogie: crafting book


Here are some books I've found in my favorite genre: the old house/family secret genre! Please PM me if you know of others like these that I could add to my list:

A Sound Among the Trees by Susan Meissner
The Forgotten Garden by Kate Morton
Rebecca by Daphne du Maurier
Summer In the South by Cathy Holton
The Lost Hours by Karen White
The Distant Hours by Kate Morton
The Thirteenth Tale by Diane Setterfield
Mistress of Mellyn by Victoria Holt

Bookcrossers I've met in person!

--MissMarkey (England)--met in Winchester, England
--lytteltonwitch (New Zealand)--met in Winchester, England
~~bookguide (Netherlands)--met in Pendleton, OR, USA
~~fullofbeans (South Africa)--met in Hermiston, OR, USA
~~gomboggit (OR, USA)--my cousin
~~IonaofKells (OR, USA)--my daughter
~~GIJoe1 (OR, USA)--my son
--IronMan2 (OR, USA)--my son