ealasaidmae

From New Orleans, Louisiana USA

Age 42

Joined Monday, September 25, 2006

Home page not provided
Extended Profile



What I'm Reading 2017
1. Escape from Freedom by Erich Fromm
2. We by Yevgeny Zamyatin
3. The Curious Incident of the Dog in the Night-time by Mark Haddon
4. The Origins of Totalitarianism by Hannah Arendt
5. Palace of Desire by Naguib Mahfouz
6. Sugar Street by Naguib Mahfouz
7. Eichmann in Jerusalem by Hannah Arendt
8. Treachery by SJ Parris
9. Conspiracy by SJ Parris
10. Blue Talk & Love by Mecca Jamilah Sullivan
11. The Mass Psychology of Fascism by Wilhelm Reich
12. Life Mask by Emma Donoghue
13. Touchy Subjects by Emma Donoghue
14. The Drowned and the Saved by Primo Levi
15. Trail of Feathers by Tahir Shah
16. In Search of King Solomon's Mines by Tahir Shah
17. Dinosaurs Without Bones by Anthony J Martin
18. The Sealed Letter by Emma Donoghue
19. Memoirs of Hadrian by Marguerite Yourcenar
20. Room by Emma Donoghue
21. Mediterranean Winter by Robert D Kaplan
22. The Revenge of Geography by Robert D Kaplan
23. Eastward to Tartary by Robert D Kaplan
24. The Serpent of Venice by Christopher Moore
25. Asia's Cauldron by Robert D Kaplan
26. A Poisonous Plot by Susanna Gregory
27. A Grave Concern by Susanna Gregory
28. Midnight in Europe by Alan Furst
29. Rather Be the Devil by Ian Rankin
30. Difficult Women by Roxane Gay
31. The Handmaid's Tale by Margaret Atwood
32. Sacré Bleu by Christopher Moore
33. The Story of Yiddish by Neal Karlen
34. The Salt Point by Paul Russell
35. Unnatural Creatures, edited by Neil Gaiman and Maria Dahvana Headley
36. Trigger Warning by Neil Gaiman
37. Modernism by Peter Gay
38. Here Comes the Sun by Nicole Dennis-Benn
39. The Blood of Flowers by Anita Amirrezvani
40. Mary Boleyn by Alison Weir
41. The Lady in the Tower by Alison Weir
42. The Tudor Age by Jasper Ridley
43. The Lost Tudor Princess by Alison Weir
44. This Is Paradise! by Hyok Kang
45. Human Acts by Han Kang
46. The Islamic Jesus by Mustafa Akyol
47. Thin Ice by Nick Wilkshire
48. Elizabeth of York by Alison Weir
49. Chasing the Devil's Tail by David Fulmer
50. Jass by David Fulmer
51. On the Road to Babadag by Andrzej Stasiuk
52. The Roar of Morning by Tip Marugg
53. Zoo Station by David Downing
54. Silesian Station by David Downing
55. Stettin Station by David Downing
56. All I Love and Know by Judith Frank
57. Potsdam Station by David Downing
58. Lehrter Station by David Downing
59. Masaryk Station by David Downing
60. Broken Verses by Kamila Shamsie



Old bookrays




I'm embarking on vicarious travel through books again! I completed my first "round the world" trip - by reading a book from every country in the world - several years ago. Now I've decided it's time to do it again. Here's to new authors, new books, and even brand-new countries!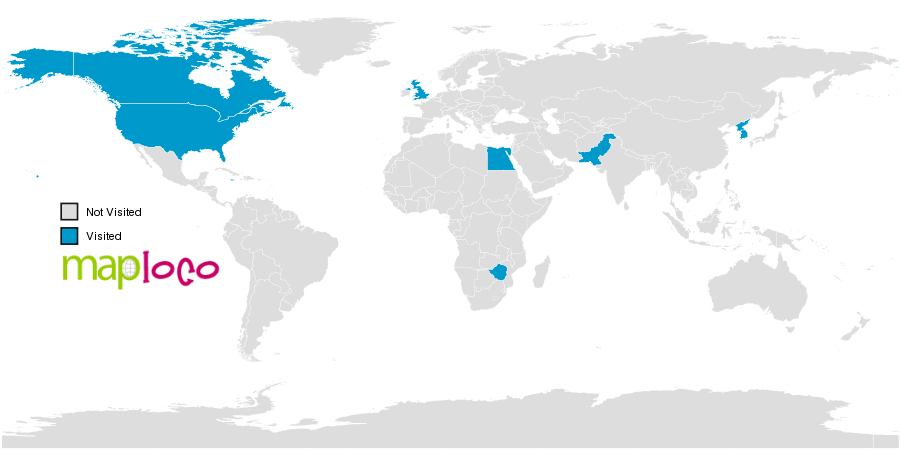 Create Your Own Visited Countries Map