Extended Profile
"Heroes didn't leap tall buildings or stop bullets with an outstretched hand; they didn't wear boots and capes. They bled, and they bruised, and their superpowers were as simple as listening, or loving. Heroes were ordinary people who knew that even if their own lives were impossibly knotted, they could untangle someone else's. And maybe that one act could lead someone to rescue you right back."
(Second Glance – Jodi Picoult)


Conventions I've been/going to: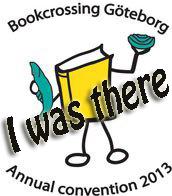 About Me

Hey there! I came across bookcrossing when Sherlockfan released this book at the bus stop down the road from my old house. I found it walking home from uni and brought it home. I chose my username that evening and signed up and haven't looked back since! I have always loved reading, as seen in my pic above! One of my earliest memories is being read Winnie the Pooh by my Dad, whose copies of those books were extremely old, and we weren't allowed to touch! The background of this page is the print from my famous bookcrossing pajamas!


I've met (both in person and online) some wonderful people through bookcrossing, but especially on the f&g forum, at conventions, and at local meetups. I hope to meet many more through my life!

My hobbies include reading (duh), travelling, the outdoors, letter writing, and walking. I also attend our monthly meetups :)

My favourite authors are Margaret Atwood, Neil Gaiman and Michael Morpurgo with my absolute favourites of theirs being the Oryx and Crake series, Neverwhere and Private Peaceful respectively. See below for some more of my fave books of all time. My favourite genres are any compelling fiction, children and teenage books! I'm currently reading a lot of LGBT* teen stuff in preparation for doing my research project for my Masters in Library Studies.

My address in Rabck.com is no longer current and I can't seem to log in to change it – please don't send stuff to me there!




Would you like to meet Wellington BookCrossers? We meet on the first Thursday of every month at One Red Dog at 5:30pm (or upon request at other times) and would love to meet you!




My Interests

Things I like: conventions, Amanda Palmer, travel, markeroni, chocolate (with a preference for dark, and a particular dislike for the nestle brand), tea (not earl grey or anything with bergamot in it!), knitting, good movies, and Doctor Who!

I'm also a proud patron of the arts through Patreon, where I support the singer Amanda Palmer, Jeph Jacques (creater of the webcomic Questionable Content), Ngozi (creator of the webcomic Check, Please), Gavin Aung Than, creator of the webcomic Zen Pencils, and the singer Brendan Maclean.




As I´m sure you can tell, I also LOVE bright colours!! Thanks to yvi-1 for the excellent article on html formatting to enable me to be able to change the colour of the text!!!!





BOOKRINGS:

These are all currently inactive!





The Arty Writing Thread Book
(restricted to F&Gers)
is going to:
Carrie1 (US)
Cafekat (US)
CreativeMGE (US)
Scoobs-buddy (US)
WingedMan (US)
Scoobs-buddy
Non BC friend of WMan (okayed by me)
Scoobs-buddy (US)

OK the book got back to CreativeMGE and then I stole it and have it in my possession currently. It also managed to get to Phoenix-Flight and I need to get it on it's way again to SerenityBlue.

SerenityBlue (CA)
Folde (US)
JoolsW (UK)
Misterteapot (EU)
Sujie (AU)
back to me (NZ)




COMPLETED



The Tenth Circle by Jodi Picoult
went to:
Bearyfriend (Singapore)
Hshah (India)
PussInBooks (UK)
Hippolein (Finland)
Bookwormess (Finland)






The Guernsey Literary and Potato Peel Pie Society by Mary Ann Shaffer and Annie Barrows (CLOSED) (Stalled and continued here
went to:
Ruby11 (AKL, NZ)
Rarsberry (Chch, NZ)
MarcieNZ (Chch, NZ)
FutureCat (Chch, NZ)
TheLetterB (Dunedin, NZ)
Wombles (Australia)
Seethroughfaith (Finland, EU)
Qantaqa (Germany, EU)
Risa29 (Luxembourg, EU)
Nell-Lu (Edinburgh, Scotland)
JoolsW (West Yorkshire, England)
CITIBELLE (Hereford, England)
MissMarkey (Oxfordshire, England)
AnglersRest (Devon, England)
Vekiki (London, England)
Jozebedee (Cheshire, England)
KiwiinEngland (Dublin, Ireland)
CynthiaA (Ontario, Canada)
Pooker3 (Winnipeg, Canada)
NMReader (New Mexico, USA)
Sarradee (Texas, USA)
Purrabella (Florida, USA)
Hopi100 (Virginia, USA)
Carenhf (New Jersey, USA)
Krl112 (New Jersey, USA)
ComradeCamper (slowish reader; close to end, Wisconsin, USA)
Lobodyke (Kentucky, USA)
WingedMan (last, Kentucky, USA)



Some books I've enjoyed*:

The Fault in Our Stars - John Green
Bridge To Terabithia - Katherine Paterson
Peeling The Onion - Wendy Orr
The Little Prince - Antoine De Saint-Exupery
Boy in the Striped Pajamas - John Boyne
Divine Secrets of the Ya-Ya Sisterhood - Rebecca Wells
Private Peaceful - Michael Morpurgo
The Guernsey Literary and Potato Peel Pie Society - Mary Ann Shaffer and Annie Barrows
The Secret Life of Bees - Sue Monk Kidd
Elsewhere - Gabrielle Zevin
Pedro and Me - Judd Winnick
The Graveyard Book by Neil Gaiman
The Night Circus by Erin Morgenstern

*I've read it at least twice and laughed/cried/all of the above both/all times I've read it.



Here's my list of books released in 2017, along with their release location
(a * indicates it has been journalled after releasing, ~ indicates I have read it)












2016:










2015:










2014:










2013:










2012:










2011:










2010:











2009:










2008:











YAY YOU HAVE FINALLY REACHED THE END OF DISCOVERYLOVERS BOOKSHELF SO YOU GET A HUG!!!! *HUG*
Last updated 29 October 2017 (New Zealand time)