Extended Profile


BONJOUR AND WELCOME TO MY BOOKSHELF.
ABOUT ME!
Name:
Saladoor
A.K.A:
Scratchy Acorn Short of An Oaktree
Sex:
Male
Age:
27
Birthday:
7th October
Star Sign:
Libra
Live:
Hulme,
Manchester
,England
From:
Macclesfield
Family:
Partner: donnie-darkest
Family:
4 Cats: Psycho, Marnie,Spike and Pickle
Family:
2 Nans, 1 Grandad, Mum, Dad, 2 Brothers & 1
Sister
Work:
Receptionist/Administrator
Spare Time:
In my spare time, I read,
(obviously!)
watch tv, I enjoy going to the cinema, the
theatre
I enjoy going out, staying in,
eating out
, cooking,
walking
, shopping, surfing the net and playing games.
Other Places I Have Lived:
Preston
and
Edinburgh


LIKES
Books: I enjoy a good horror book I must admit, but I have been known to dip in to other genres! I love the Harry Potter books, and my favourite book of all time (at the moment) is a book called
" The Lovely Bones"
Authors:
Steven King,
Simon Clark,
Alice Sebold and I quite like some
Jonathan Carroll
Food:
Chinese, Indian, Pizza, All time favourite plain old Steak and Chips
Music:
I like all kinds of music from country to classical, Who I listen to the most would probably be Helen Reddy,
Dolly Parton
, Barbra Streisand and I quite like a Disco/Poptastic group called
Alcazar
Film:
I love film thanks to my partner Donnie-darkest, he's such an avid film fan and he made me one too
(it would be hard not to be with 870 vhs tapes and 590 dvd's)
once again my taste in film is diverse and wide, to get a sample of what films I like click down to the bottom of the page and check out my top twenty in Websites I like to visit:
Television:
My favourite shows and there is no doubt about this are Buffy The Vampire Slayer,
Queer As Folk (USA),
Angel, Farscape,
Prisoner Cell Block H,
and Twin Peaks
Favourite Actors:
The hottest young actor I think at the moment is
Ethan Erickson.
He may not be the world's best and busiest actor, but who cares, I mean have you see him….! Oh I also like Brad Pitt, David Boreanaz, Ewan McGregor, Clive Owen and many many more
Actresses:
I like a lot of actresses from Bette Davis to
Kathy Bates,
I also really enjoy watching Julian Moore, Nicole Kidman and I love
Dolly Parton
and Barbra Striesand films. Bliss Sheer bliss!
City:
New York
Me and donnie-darkest went there two years ago and just had a fantastic time. The people are great, the buildings are magnificent, Central Park is something else completely!. We are hoping to go there again next year, I will keep you posted! This year we are going to
Prague
I LOVE BOOKCROSSING
The whole idea thrills me, I have spoke to a lot of nice people in the chit/chat room, and hopefully I will continue to do so. To date I have had two books found, although one was
(I must admit)
a controlled release. I will be releasing a lot more books in the future I can assure you. In the meantime if you would like anything that is available on my shelf
(please see list below)
then please pm me, and I will quite happily send you something in the post
(somebody already pm'd me for something and I must apologise now, I deleted the email by accident. If you would like to pm me again, I will see what I can do!)
after all that is what they are there for.
*** WARNING ***
Some books may smell slightly of, smoke, cat, partner, polish, flowers, cooking, carpet, rug and in certain cases paper!
POSTCARDS!
I have really got in to sending and receiving postcards. Especially postcards that show where people live i.e. famous landmarks, local landmarks… If you would like to receive a postcard of Manchester or if you would like to send me a postcard of your city, then please do so. My address is listed below, or if you would like me to send you one, pm me your address.
Saladoor, 38 Grenham Avenue, Manchester, M15 4HD, United Kingdom
I think that is all that is to be said for the moment. Thankyou for taking the time to read my bookshelf. Take Care and Happy Reading!
My little Blob is called "Blurt" What's yours?
Websites I like to visit:
(More to be added as and when)
Click Here
To View My Top Twenty Films Of All Time!
Click Here
To Visit The Internet Movie Data Base!
Click Here
To Learn Some Englsih Slang Words!
Click Here
To Play Word Assocaition!
Click Here
To See What DVD I Am Saving Up For!
Click Here To See Lyrics For I Lost My Heart To A
Click Here Starship Trooper!
Click Here
To See Lyrics For I've Never Been To Me
Things That I Have learned About Myself Since Joining Bookcrossing!
www.allaboutfrogs.org/---/result13.jpg" width=215 height=100 alt="I'm a Pixie Frog!" border="0" >

The African bullfrog, or Pixie frog as it is often called (because of it's latin name, not because it's as cute as a
fairy
!), is one of the largest frogs in South Africa. Usually, they hang out in open grassland, and if there are any to be found, they'll sit around in puddles. When startled, these frogs will blow up like balloons to scare away the intruder! In the dry season, they will burrow into the ground. These guys eat lots and lots of really big bugs, fish, mice, lizards, and even other frogs.
What kind of Frog are you?
www.abednarz.net/---/dryellow.jpg" border=1 alt="My inner dragon color is YELLOW. Click here to try the Quiz!">

My Inner Dragon is the most interesting of all. Yellows are the fourth rarest dragon of all (after Gold, Platinum and Chromatic dragons). We spend the vast majority of our time soaring high above the ground, often for no particular reason. We love to be in the air, and are thus typified as the Air Elemental dragon. My Inner Dragon spends most of his time on the Plains or steppe highlands when not mingled with the air currents. All of the Elemental dragons are technically aligned "Chaotic Evil" but a Yellow is about as close as they come to being either Neutral or "Lawful Evil." So when I feel like a bit of a do-gooder sometimes, it's perfectly normal. I like to spend time in silent, aerial meditation and would only really attack someone if provoked. My favourable attributes are the sunrise, Spring, incense, clouds, and any kind of helpful air mass or current. When it's needed, my breath weapon is pure bolts of Lightning. How's that for a neat piece of carry-on luggage? See you amongst the clouds!.
Your Icecream Flavour is...Chocolate!
images.go-quiz.com/icecream-chocolate.gif" align=right>You are the all time favorite, chocolate! Turning kids in to sticky little mites since the 1800s. Staining carpets, car seats, and bed sheets for centuries. One thing is for sure, you will never go out of style. You can't go wrong with chocolate!



What is your Icecream Flavour?

Find out at Go Quiz
| | |
| --- | --- |
| S | Scary |
| A | Altruistic |
| L | Luscious |
| A | Appealing |
| D | Delightful |
| O | Old |
| O | Old |
| R | Radiant |
freelogs.com/---/" target="_top">
mom.freelogs.com/---/index.php?... ALIGN="middle" HSPACE="4" VSPACE="2">

www.freelogs.com/create.php" target="_top">Free Hit Counter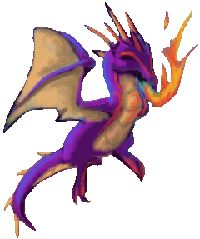 Thanks to "Shadie" I now have Dragon calle Styx (hatched 03/09/2004)
My Wish List: