Ossiefry's Bookshelf
Recent Book Activity | Statistics | Extended Profile
Ossiefry




38

Thursday, August 17, 2006
Extended Profile
---
****not very active at the moment, still here, but reading mount TBR

Anything coming from our house is guarantied to have animal fur of one sort or another, if you suffer from allergies please remember to beware!



Hi, I'm Ossie.
I was born in England, but my parents moved to Ferragudo in Portugal when I was 6 years old.
Now I live in a place called Relvinha, 10 km away from the nearest town. I have a dog hotel, and am also a volunteer for ADAP (associação de defesa dos animais de Portimão). At the moment I've got 16 dogs and 2 cats living with me, most of them looking for homes!
I love reading, but lately haven't had much time. At the moment I prefer
paranormal romance or erotica
, but my tastes seem to change all the time!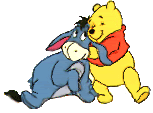 My kids both love books, so I am always trying to find new storeys for them :)
The books on my shelf don't always reflect my tastes as I often pick up books from my local charity shop to later release.
My AVLs and TBRs are on a shelf were lots of other people have access, so I don't always know where the books are. If I can find a book it's available for lending or swapping, if you are interested send me a PM and I will see what I can do...
I have no particular order in which I read my TBRs, I just pick up whatever book caches my eye, so If you have sent me a book and feel it has been sitting on my shelf for to long, send me a PM and I will either read it or RABCK it on to someone else.
I am a very forgetful person, so if I was supposed to send you a book and didn't, or if a book gets lost whilst i am supposed to have it, don't hesitate, just Pm me and ask! I am used to being reminded about things all the time! ;)
If anyone wants to send me something my address is on rabck.com










As of May 2011 I will start rating books according to the following:
1 - only read a few pages
2 - read more than a few pages but didn't finish
3 - finished book, but more a chore than pleasure
4 - finished book , but wouldn't choose to read another by this author
5 - average, but wouldn't put me off another book by same author
6 - slightly better than average , would try author again
7 - better than average, would definitely read this author again
8 - Very good and enjoyable would look out for author again
9 – Very, very enjoyable, would recommend to others.
10 - Excellent, actively recommend to others
What kind of bookcrosser are you

Your Result: ring in bundles

They come and come. Ringbooks come in herds, that's what you say! You made a basket on your mail box, otherwise the frontdoor woldn't open when you return from work. You know your postman by christian name.

Playfull RBACKer
Thematic dropper
Obsessive releaser
Talk of the toy
Love to meet
lucky lurker
strange looking bystander
What kind of bookcrosser are you
Quiz Created on GoToQuiz