Extended Profile
I have become an author!
My first book,
The Lives Around Us: Daily Meditations for Nature Connection
came out on 24th June 2016. You can find me on
Facebook
and
Twitter
. Click on the title above to go to the publisher's website.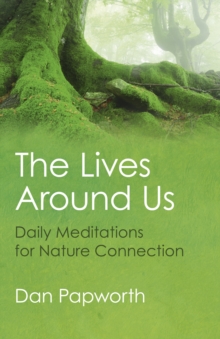 I first heard about BookCrossing on Radio 4. I have also lost books in public places (so if you picked up
The Hunt for Red October
in Italy, it's mine) and found them (so if you left
Catch 22
under a bench at Harrow on the Hill and want it back, let me know!) but the idea of doing it deliberately really appeals. Who knows where these old, well-thumbed friends may turn up? And wouldn't it be great if one day, perhaps when you are old and grey, you picked up your own book, decades after "releasing" it....
At the moment I am reading:
and I have 'on hold':
Wish list
My wishlist has become very long. Here are the top books I'm after:
Cameron, Julia,
The Artist's Way : A Course in Discovering and Recovering Your Creative Self
Klein, Naomi (2014)
This Changes Everything: Capitalism vs. the Climate
Marshall, George (2014)
Don't Even Think About It: Why Our Brains Are Wired to Ignore Climate Change
I'm also looking out for these books:
Wild catches
To date I have caught these books:
03 Feb 2007
Dirk Gently's Holistic Detective Agency
25 Jul 2007
Ark Angel
An Introduction to Aikido
Encounters with Qi
06 Aug 2007
Being Peace
31 Dec 2008
The End of Mr. Y
10 Nov 2009
With One Lousy Free Packet of Seed
The Honourable Schoolboy
11 Dec 2009
Harm Done
29 Oct 2010
Belgravia
Saddlebottom
12 Feb 2011
The wheels on the Bus
Look out for the Big Bad Fish
27 Oct 2013
An Instance of the Fingerpost
Damia
30 Jul 2016
Dead Famous
06 Jan 2017
A Tale of Two Cities
Chicken - 100 Everyday Recipes
Chocolat
Lady Chatterley's Lover
Life of Pi
Mudbound
Organising from the Inside Out
Sons and Lovers
The Adventures of Huckleberry Finn
The Great Gatsby
The Trial
Three Men in a Boat
Time Management from the Inside Out
Why Are Orangutans Orange?
19 Jan 2017
Woman in the Mists
The Lords of the North
Jonathan Livingstone Seagull
The sudden explosion of catches in 2017 is mostly due to the excellent BookCrossing Zone at
The Railway
in my home town of Cheltenham. All my other "catches" are books that have been given to me, that were released by someone I know in my presence, or that I have picked up at an UnConvention.
Wild releases
Here are all my Wild Releases in the order in which I released them:
2005
2006
2007
2008
2009
2010
2011
2012
2013
2014
2015
Greenbelt Festival, 28-31 August 2015:
2015 continued
2016
Greenbelt Festival, 26-29 August 2016:
2016 continued
2017
Greenbelt Festival, 25-28 August 2017:
2017 continued
One thing I have learned since doing this is that I really want my books to travel. It's great to see some that I have released turning up in different countries. So far, of all my wild releases, the following have been caught:
2006
The Valkyries
Private Eye's Colemanballs
(triple jumper: Leeds, Birmingham, South Shields, Norway)
At The Mountains of Madness
Dressed to Kill
(double jumper)
Touching the Void
Snoopy Stars As The World Famous Literary Ace
Odo's Hanging
Death In The City
The Moonstone
2007
I, Claudius
French Revolutions
The Restaurant at the End of the Universe
(double jumper)
Ultimate Pub Quiz Book
Five Are Together Again
Farmer Giles of Ham & The Adventures of Tom Bombadil
The Acid House
The Golden Keel
Utilitarianism
The Famous Five and the Blue Bear Mystery
Antrax
Master and Commander
Full Tilt: Ireland to India with a Bicycle
The Valley of Adventure
The Eye of the World
Love for Lydia
2008
Private Eye's Colemanballs No.7
Doctor in the House and at Sea
The Wench is Dead
Heart of Darkness
The Island of Adventure
(gone to BC Graveyard)
Five on Kirrin Island Again
(gone to BC Graveyard)
The Deceiver
Good Old Secret Seven
The Curious Incident of the Dog in the Night-Time
Seven Years in Tibet
Circus of Adventure
In Siberia
2009
A Falcon Flies
The Black Arrow
Sharpe's Tiger
The Sunday Philosophy Club
Sahara
Generation X
The Forgotten Beasts of Eld
Zen and the Art of Motorcycle Maintenance
(caught and then released from the Fourth Plinth in Trafalgar Square as part of Antony Gormley's One and Other project)
The Riddle of the Sands
(caught and then released from the Fourth Plinth in Trafalgar Square as part of Antony Gormley's One and Other project)
New Testament and Psalms
Stonehenge and Neighbouring Monuments
Master and Commander (1st in Series)
The No.1 Ladies' Detective Agency
2010
Enemy in Sight
Cup of Gold
Undertow
2011
Gallows Thief
The Sun Over Breda
The Moonstone
Pole to Pole
It's not what you think
Lake Woebegone Days
De Silmarillion (Dutch)
2012
Cannery Row
Fear of Flying
Catch-22
2013
Mountain
Under Milk Wood
Joyce Grenfell Requests the Pleasure
Dont's for husbands
Dont's for wives
Ramage and the Rebels
Walkabout
African Cookery
The Invisible Dog
English Dictionary
Night Without Stars
The Tinner's Corpse
Lime Street at Two
Oxford Study Bible
(probably caught in 2013)
2014
A Plague on Both Your Houses
How Horatius Held The Bridge
The Resurrection: Fact or Fiction?
2015
The Shoes of the Fisherman
The Man Who Wore All His Clothes
Easy Healthy
(picked up by someone at YHA Oxford and released at the 2015 BC Convention)
Maya
The Lays of Beleriand (History of Middle-Earth)
It's Not What You Think
(also in 2011)
A Tale of Two Cities
A Galaxy of Saints
The Reformed Pastor
Picnic Sites in Britain and Ireland
The Testament
2016
RSPB Handbook of British Birds
(double jumper)
The Nations Favourite Poems
Ready Steady Cook: Fast Meals for Two
Thailand
2017
A Prayer for the Dying
The Worm Ouroboros
Baedeker's Greece
Lonely Planet Krakow Encounter
And these have travelled to other countries:
Australia
The Glass-Blowers
Austria
Pole to Pole
,
The Lays of Beleriand
Canada
Stonehenge and Neighbouring Monuments
Denmark
Foundation
,
Foundation and Empire
and
Second Foundation
(all three sent by me on request)
France
Dr Zhivago
,
African Cookery
(now back in the UK)
Germany
Maya
A Tale of Two Cities
Hungary
In Siberia
Malaysia
Now Here's A Funny Thing
and
Holy Bible (Authorised Version)
Norway
Colemanballs
,
Under Milk Wood
Portugal, Spain and Belgium
Heart of Darkness
Spain (Canary Islands)
Gallows Thief
USA
A Moveable Feast
Book Crossing Challenge
Picnic Sites in Britain and Ireland
has started its long journey to every one of the places listed in its pages.
19 Sep 2015 An anonymous finder took it to site 21 (Coughton Ford)...
Controlled Releases
New Joiners
I've been really pleased to see that people have joined BookCrossing as a result of finding books I have left. These include
Killer-Kate
KatStep
atrihospithikos
Cymroydwi
blutac600
rococo
Brittle-Bones
shepus
am-mayers
Jnan
ElkeVR
individualist
coastwalker1
MikeMJ
Nariluggald
grijrholmes
fisky
Sue-Innes
MadMcKs
robcottee
Peterworldwide
timcorby
CQ2S
richmondlady
MiddlesexEm
AnnickH
Gaddipoolu
sailor3000
ghost54321
Tobytoos
KnittingNan7
malabarwellness
ThomUdall
seanthurgood
greeme
jaffa121
Ullamouse
jonglew
and
Unjustdesserts
and the following are people who have joined BookCrossing through finding one of my books left by someone else:
supacurt
(
book
wild released by me and passed on by
Killer-Kate
)
Falcon100
(
book
wild released by me; found and released by
KatStep
)
possumpal
(
book
released by me at the 2008 UnConvention and released into the wild by
daemonwolf
)
Perikleous
(
book
passed by me to
Mytilus
and left at
Polmary
's restaurant in Cornwall)
helenbyrne
(
book
released by me at the 2007 UnConvention, taken on a release walk by
candy-is-dandy
and left outside helenbyrne's shop)
Furzy
(
book
passed to
Mytilus
at a meeting in Plymouth, who wild released it in Polperro)
janette-w/
(
African Cookery
left in France by
Tobytoos
)
The following are people who joined BookCrossing because I told them about it:
ponapon
CrazyRunner
pageturner2006
Theatre
I am now aiming to see all of Shakespeare's plays (just under 40 known works). These are:
Comedy of Errors (1589)
Henry VI, Part II (1590)
Henry VI, Part III (1590)
Henry VI, Part I (1591)
Richard III (1592)
Taming of the Shrew (1593)
Titus Andronicus (1593)
Romeo and Juliet (1594)
Two Gentlemen of Verona (1594)
Love's Labour's Lost (1594)
The Rape of Lucrece (1594)
- narrative poem
Richard II (1595 )
Midsummer Night's Dream (1595)
King John (1596)
Merchant of Venice (1596)
Henry IV, Part I (1597)
Henry IV, Part II (1597)
Henry V (1598)
Much Ado about Nothing (1598)
Twelfth Night (1599)
As You Like It (1599)
Julius Caesar (1599)
Hamlet (1600)
Merry Wives of Windsor (1600)
Troilus and Cressida (1601)
All's Well That Ends Well (1602)
Othello (1604)
Measure for Measure (1604)
King Lear (1605)
Macbeth (1605)
Antony and Cleopatra (1606)
Coriolanus (1607)
Timon of Athens (1607)
Pericles (1608)
Cymbeline (1609)
Winter's Tale (1610)
Tempest (1611)
Henry VIII (1612)
Cardenio (1613)
(attributed to Shakespeare and John Fletcher)
The Two Noble Kinsmen (1614)
(with John Fletcher)
Other plays:
2007 UnConvention
I brought 42 books to release:
Of these 21 have been journalled so far:
A Moveable Feast
Athabasca
Bible (Authorised Version)
Comic Speeches for the Legal Profession
Dictionary of Maori Place Names
Florence Nightingale
Harm Done; Going Wrong
Jonathan Livingstone Seagull
Killing A Mouse On Sunday
Narnia: Susan's Journey
Now Here's a Funny Thing
Rebecca
Running Blind
Santorini
Strip Jack
The Glass Blowers
(Exeter - Brighton - Leeds - Bradford - Gosford, NSW, Australia)
The King Must Die
The following were taken on a release walk the next day:
Dr Zhivago
(caught by
helenbyrne
and taken to France)
I Capture the Castle
The Singer Not The Song
The Spoilers
My catches:
Books Read in 2008
Books Read in 2009
Books Read in 2010
Books Read in 2011
Books Read in 2012
Books Read in 2013
Books Read in 2014
Books Finished in 2015
Books Finished in 2016
Books Finished in 2017
Thanks to
Katybean
for letting me know how to do these cool boxes.