January 14, 2010
[This monthly newsletter is sent to members of BookCrossing.com. See the
bottom
of this newsletter for simple removal instructions.]
---
BookCrossing 2.010

It may be hard for an egg to turn into a bird: it would be a jolly sight harder for it to learn to fly while remaining an egg. We are like eggs at present. And you cannot go on indefinitely being just an ordinary, decent egg. We must be hatched or go bad.
- C.S. Lewis

C.S. Lewis and all the words of homespun wisdom were right. An egg must hatch before the bird can fly. A baby must crawl before it can walk, let alone run. And BookCrossing? As tempting as it might be to compare us to a hatchling or a toddler, I'll resist. But the analogy is sound. We've had over 8 solid years since BookCrossing's inception and the site has grown beyond imagination since those early days. As we've grown, the internet has evolved too, at a rapid pace. It's become clear that, for us to move successfully forward, the website needed a vast upgrade. Bandaids, string, and duct tape wouldn't work any more. For us to be like C.S. Lewis's bird, to hatch and to fly, something major was required.

Now I can hear the cries of "If it ain't broke, don't fix it." While I can appreciate that sentiment, I don't want BookCrossing to be left behind, a monument to archaic technology. We're eager to go forward. We want, and from your comments and communications, you want the site to be able to do more things than it can do now. Your comments and feedback continue to help shape our rebuilding efforts. Thank you and, at the risk of being flooded with emails and forum comments, keep them coming.

A simple example of all this is the ability to read the site in languages other than English. (Our support and mirror sites are wonderful and have our thanks. But they can't support the full functions of BookCrossing. They know it and we know it.) We want you to be able to BookCross in your preferred language. It's been promised before, but not delivered. The website rebuild that Matt and Mike and the rest of the team are working on, will support the technology for translation. But the technology is just one part. Our current programs translate into what I can only call "BabelFish-Speak": the words are in the right language, but strung together in some utterly weird way. So we need professional translators, preferably BookCrossers, who know the language and culture of the site, to translate, proof and correct the text.

This is an example of our decision-making about website redesign. Right now, we are very text-heavy on our BookCrossing pages. Hey, I get it. We're readers, and we like words. But if we can pare down the words on our main pages, we can make the translation process easier by reducing volume of text and by reducing risk of mis-translation. This minimal approach dovetails nicely with the website upgrade (aka BookCrossing 2.0), which should allow better interaction, communication and a lot of other good stuff. A better website can convert casual visitors to the website into members. With more members come more resources to build the tools and other elements that BookCrossers have asked for.

I want to give you a timeline and say "This is it." Unfortunately, I am all too aware of promises that have not been delivered. What I will say is that we are actively working on all this right now . We'll be asking for help with translations, and for testers and reviewers on the forums and by email. We want to please you, our members, and we want to reach more people with the magic of BookCrossing.

The wait is almost over. BookCrossing 2.010 is near.

Bruce Pedersen
BookCrossing Co-founder/CEO


---
BC Auction: Reading is for the Young And Old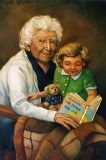 Reading is for the young and old, and so is this eBay auction! Last month, we held our Fourth Bookplate Artwork eBay Auction. It was so much fun, we're at it again. You may recall Aime Sacrez's painting titled Reading is For the Young and Old, featured on our 27th Bookplate. This touching piece received praise from BookCrossers around the globe and turned out to be a hot item in the Supply Store. We love this painting (created with acrylic paint and gold leaf flakes on paper) for the message it sends and because of the impressive talent of this young artist — Aime was only 21 when he painted this work. The passing of literature and knowledge from generation to generation is a beautiful concept, make this image your own!
---
Available Now in the Supply Store: Coffee Shop Bookplate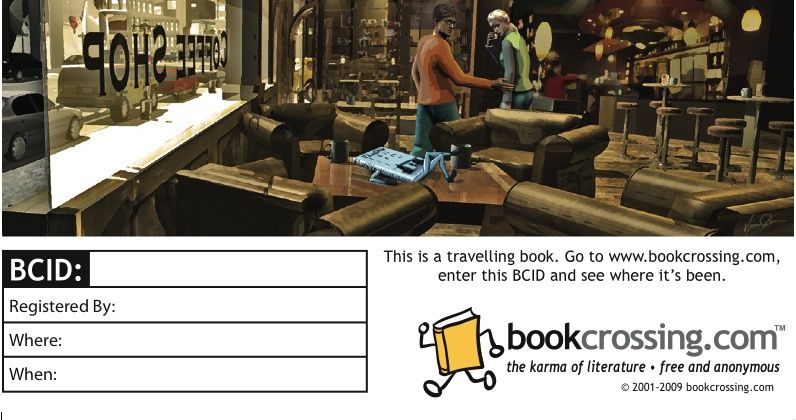 Our newest label comes from the talented brush of artist Vince Cusomato (who also brought us the popular Africa label). It portrays an image familiar to any BookCrosser who has left a book in a coffee shop to find its next reader. It's up to you to decide if the figures in the background are BookCrossers casting a last goodbye to their wild release or confused onlookers, trying to figure out why someone would leave a book unattended. These horizontally-oriented labels are available exclusively in our Supply Store, where every purchase helps support www.bookcrossing.com.
---
Revamping The Three Rs: Remember the Rs

Back in the early days of BookCrossing, the phrase "The Three Rs" was coined to help folks remember to Read, Register and Release. People loved the simplicity of the phrase — right up until the time newbies caught registered books and re-registered them on their own shelves with a different BCID because, after all, that's what the site said to do. After much thought, many fixes of re-registered books, and even more explanations to new members, we're updating the 3 Rs to, hopefully, a more helpful version. All we ask in return is that you Remember the Rs: Read. Ready your book. Release. Repeat:
Read a book. (Well, okay, you don't actually have to read it; just grab a book, any book.)

Get it Ready to go: If unregistered, register it. If registered, journal it.

Release it.

Repeat with enthusiasm!
Remember the Rs and recycle your books through reading and releasing. Sustainable literature — what a concept!
Pictured above is our Bookplate 13, Taglines, by Amy Francisconi, which first heralded a new way of looking at the R's back in 2004.
---
Ballycumber on Tour: Destination Harwell Village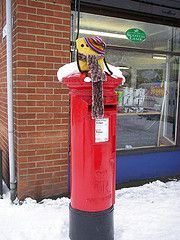 Villagers in the Harwell Village surrounds in England may have done a double-take when a special visitor came to the area. No doubt inspired by the travelling adventures of lytteltonwitch, Ballycumber seems to have gone globe-trotting, too. He was spotted by MissMarkey frolicking in the snow, which has made the UK resemble Antarctica this month. We don't have any word on how long he'll stay, who is travelling with him or where he's headed next, but we've no doubt that we'll hear from him again. Check out the forum here for some chit-chat on the sighting and links to some more snow day pictures.
---
Destination -- Wherever You Want! January's Classroom Corner Winner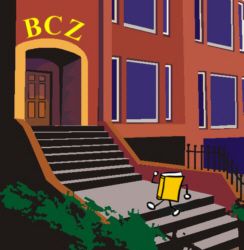 January's Classroom Corner winner is Nick Perry for his essay, Destination: Wherever You Want. Nick attends Thomas A. Edison High School in Alexandria, Virginia. His take on literature is definitely refreshing, sharing the joys of all types of literature. It's not too late to submit your own entry for the contest; we've extended the deadline because of the great response. Get busy. Get creative. Get writing! Submit your winning entry today.
If you're not in the classroom, but still have been bitten by the writing bug, we encourage you to submit an article for review through the usual channels. Classroom Corner submissions should be related to BookCrossing, reading, or the book/publishing industry. Click here for complete guidelines and information. Don't forget, we give Members Plus for all articles which are accepted for publication. Thank you to Wyando for this wonderful Ballycumber image.
---
BOOKCROSSING'S EARLY CHRISTMAS SURPRISE TO ME
My Latest Release Caught After a Day in the Wild
by Cordelia Sykes (Modmouse)
My latest release was a copy of Arthur Miller's The Crucible which I bought at a local used bookstore, read, and eventually released at a nearby park. More often than not, after I release a book, I never find out whatever happens to it after the release. ...
[read it all at http://www.bookcrossing.com/articles/3281]
---
ZWERFBOEK
Het verhaal van een boek dat zwerfboek werd
by Phaidrina
Hoera! Vandaag ben ik bevorderd tot zwerfboek!...
[read it all at http://www.bookcrossing.com/articles/3282]
---
DESTINATION: WHEREVER YOU WANT
Classroom Corner Winner January 2010
by Nick Perry (BCNewsletter)
Reading a book is unlike any experience on Earth. With a book you can go into any setting, become any character, and imagine a plot taking place right in front of you. A vast set of genres allows the reader to pick what world they want to explore that day and immediately become intertwined in it. As a broad reader, I let myself dive many genres. This provides me with an appreciation of all styles. You, as the reader, can independently form the story in your mind the way no movie, conversation or play can. Technology may have changed the world of reading, but reading changes the world....
[read it all at http://www.bookcrossing.com/articles/3285]
---
ENCONTRE SU LIVRO. PERCA-SE NA SU IMAGINAÇÃO
Students at a Brazilian University promote BookCrossing with Imagination and Flair
by Ballycumber
The talented and creative students at the Brazilian University ESAMC have found a fabulous way to tie in BookCrossing with a social communication course which focuses on design, public relations and publicity. ...
[read it all at http://www.bookcrossing.com/articles/3286]
---
UP, UP AND AWAY
January Photo of the Month
by BCNewsletter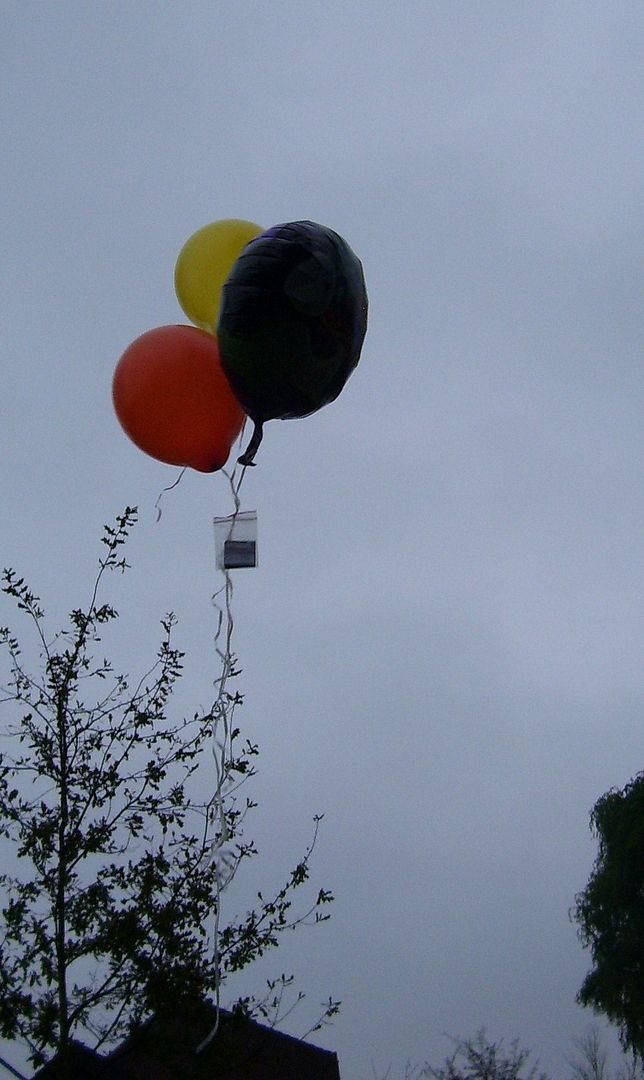 Talk about a wild release: Boekenspookje 's copy of Ridder Roderick by Steven Smet literally floated off to a destination unknown, as seen in her photo titled Flying Free. She says, "I am just a common, middle-aged woman, mother and secretary who likes to do some crazy things sometimes (like practicing archery in a medieval costume or releasing books, dressed up as a ghost)." ...
[read it all at http://www.bookcrossing.com/articles/3287]
---
5TH GREEK BOOKCROSSING CONVENTION 2010
Announcing this year's Convention, taking place in Thessaloniki
by Salonica2010
This is an open invitation to all the members of the BookCrossing community: Thessaloniki, Greece, is organising the 5th Greek BookCrossing Convention, from 21-24th of May 2010 (Convention website: http://www.bookcrossers.gr)...
[read it all at http://www.bookcrossing.com/articles/3288]
---
CALL FOR WRITERS

Want to write for BookCrossing? If your article is accepted, you could see it featured here in the next newsletter. What topics do we need? Anything about books, reading, or BookCrossing — tutorials, release and catch stories, well-traveled book stories, funny BookCrossing experience stories — you get the idea. Write it up, then submit it here:

http://www.bookcrossing.com/articles/submit




---
Top 10 Countries All-Time
| | |
| --- | --- |
| USA | 323,178 (39%) |
| UNITED KINGDOM | 90,066 (11%) |
| GERMANY | 57,461 (7%) |
| CANADA | 47,942 (6%) |
| SPAIN | 39,507 (5%) |
| AUSTRALIA | 35,328 (4%) |
| ITALY | 24,921 (3%) |
| NETHERLANDS | 17,735 (2%) |
| FRANCE | 17,452 (2%) |
| PORTUGAL | 11,814 (1%) |
---
Wild books released by our members are being caught all over the world, every day! Our site watch forum is where members post news of great wild book catches. Here are some of the best from the last few days...

Quick catch and re-release planned already by new member who "gets it"
http://bookcrossing.com/---/7723549
by solittletime
This was fast!!
I noticed the release in the sidebar a couple of hours ago. Just now, noticed it had dropped to the catches!
http://www.bookcrossing.com/---/7721155

by jessibud
I just got an amazing catch for Le Petit Prince
It was the only book in French I had handy to release on our trip to Quebec last week. I'm glad I took it along, because it seems to have made someone's day: http://bookcrossing.com/---/5928068
by ResQgeek
Great serendipitous catch from labmomnm's OBCZ!
http://bookcrossing.com/---/7698628

by Jare
In hiding for nearly 8 years
I wonder if this is a record to date- a book turning up after nearly 8 years, out of touch since May 2002.
http://www.bookcrossing.com/---/100321

by bluenoser
"I really wanted a book to read during my trekking-travelling..."
(From the sidebar) "but I did not bring any with me because of the weight of the backpack...and I could not easily find some good novel in english in these islands. But I found this amazing novel laying on a sunny wood table with bench (a picnic area) in Reinefjord.."
A welcome find for an Italian traveller in Norway: http://www.bookcrossing.com/---/6828309
by swan-scot
"I'm sure my life will be the richer for it"
Only released this book a few hours ago & not only a catch. but a lovely journal too!
http://www.bookcrossing.com/---/J_12785658
by Anne-Elliott
perhaps one of the loveliest releases i've ever seen
http://www.bookcrossing.com/---/7700612 this one by cordelia-anne at the airport in atlanta (a handoff so nobody panic!)
by tempestsans
A very cool release plan....that worked!
As a BCer who has never had a wild released book journaled, I saw this and think it is sooooo cool.
http://www.bookcrossing.com/---/6608576
I hope this makes the next newsletter..it's a great achievement

by J4shaw
"I felt so special to be chosen" - great catch for SPaterson:
http://www.bookcrossing.com/---/7613483
I noticed that one in the sidebar; as I'd enjoyed the book myself( http://www.bookcrossing.com/---/870834) I clicked to see its JEs, and was delighted with the finder's enthusiasm about BookCrossing!
by GoryDetails
4 Anonymous Finders for the one book!
Is that a record?
http://www.bookcrossing.com/---/4416415
I do hope it keeps moving.
by lakelady2282
"I loved you, smart green book!"
http://www.bookcrossing.com/---/7577857
And it seems it's travelling around Asia as well!
by yogie
---
All of our newsletters, including this one, are archived on the web at http://www.bookcrossing.com/newsletterarchive.
---
This newsletter is sent only to members of BookCrossing.com. If you would prefer to not receive this newsletter in the future, you can change your newsletter preference anytime by visiting: http://www.bookcrossing.com/newsletterpref/.