February 13, 2008
[This occasional newsletter is sent to members of BookCrossing.com. See the
bottom
of this newsletter for simple removal instructions.]
---
CEO's Corner: Introducing AuthorCrossing: A Whole New Page in BookCrossing


We are VERY excited to announce AuthorCrossing, a new service created by BookCrossing and its partner AuthorHouse, the largest self-publisher in the world. Together, our companies are offering authors of all talent levels with the most easy to use, comprehensive, self publishing solution for BookCrossing members and authors around the world.

AuthorCrossing was developed to achieve 4 major goals for authors: Ease of use to get started and complete your self published work, enabling global distribution through all traditional sales channels, large commissions to authors and direct feedback from BookCrossing members and non members from around the world. Whether its poetry, haiku, or the next best seller, give AuthorCrossing a try and you'll never look back!

Scott
"Redsoxbookguy"

---
Launching our New Look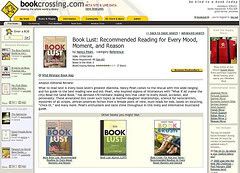 No need to rub your eyes, it's really us! Our new look is now on our main site, not just in Beta. We've spruced things up to make the site easier to navigate. You'll find all the regular features you know and love, plus a fresh new look and some great additions to help you travel the world of BookCrossing better. Beta users were great about checking everything out and telling us what they liked and didn't like about the site's new look and new features. Many thanks to all of you who helped out. You're the best! Continue to look for additional upgrades and changes in the coming months. We are constantly improving site workflow and performance. Anyone with Members Plus* can access the Beta site.
* If you're yearning to see it all but getting wings is a true hardship, contact support and we'll see if we can help you get a set of temporary wings so you can have a quick glimpse of the new site.
---
A BookCrossing and Borders Partnership Along the Pacific Northwest Trial

We are expanding our business partnerships and adding Borders to the mix! For those of you living along the Pacific Northwest Trail in the USA, this means a great opportunity. On the third Thursday of every month (which means the next one is February 21) at 7:00 pm, you can stop in participating Borders stores and conduct your BookCrossing gatherings. Enjoy special events such as author book signings and other great offers from Borders. Bring as many friends and fellow BookCrossing members as you'd like and enjoy!
---
Attention Meetup, Gathering, Get-Together Coordinators: We're Looking for You!

We're gathering some information (aren't we always?). We're wondering how many BookCrossing groups are out there, who runs them and where they are located. In one simple place, we need a list of as many people as we can find who coordinate regular ongoing BookCrossing get-togethers, meetups, gatherings, etc. (In case you're wondering, this is for an upcoming feature on the site. Can't tell you more now, but we will when we can, promise!)
Please click over to our Conventions and Meetings forum and respond with the location of your group (city/town, state/province/ country or region/country). Let us know who else coordinates the meetings, if there is more than one person helping out, etc. (This is one case where we ask you not to send the information in to Support, but instead post in the forum.) Thank you very much.
---
BookCrossing Members Plus Program: We're Spreading New Wings!

No doubt about it — BookCrossing has spread its wings and grown in the last seven years. In the beginning, we started with stars but then changed so that a Supply Store purchase got you nice fluttery wings around your screen name. Then we added the ability to make a donation or to make a gift purchase for someone else to get wings. Next, we added more packages for getting good deals when buying wings and then we gave you more bang for your bucks by giving winged members extra special ways to enhance their BookCrossing experience. We even added custom wings, so the thingies around your screen name could be bats or bows, or even Ballycumber, and have nothing to do with feathered flight. Lots of members were getting confused by what the term "wings" actually meant. (Heck! Even we're getting confused.) With the prospect of adding even more feature enhancements for our members who help keep BookCrossing flying (sorry, it's hard to break the habit of referring to flight), we have decided to rename our Wings program. This may ruffle some feathers (heh!), but we honestly feel it will make things a bit easier in the long run.
BookCrossing is very happy to introduce our Members Plus Program, which includes every aspect of our Wings program and will soon offer even more features for those members who support the site financially. The same $5 a month (or a Supply Store purchase of equal or greater value) that once only gave you wings will now get you all sorts of fabulous features as the program continues to expand. Rest assured, the core of BookCrossing will always remain free, that we will continue to upgrade the free portion of the site as well, and that we are undeniably certain all our members are fabulous — whether they participate in the Members Plus Program or not. But our Members Plus Program can offer those who are able to make a donation some extra ways to navigate and organize the site. So don't have a fear of flying! (Ugh. It really is hard to abandon the flight metaphors! And if you're like us and having trouble weaning from "Wings", don't worry. If you call the program Wings, we'll know what you're talking about, even if others don't. Just be aware that we'll be calling the program by its new name from here on out.) Click on over to the Supply Store today to join in the Members Plus Program!
*A gift Members Plus Membership will still be given for member articles accepted for publication by the BookCrossing Newsletter or as RABCKs from our staff and Support Team.
P.S. We're still changing over all the places on the site that refer to the Wings program, so please be patient during our updating. If you think we've missed a spot, send the url in via the contact us link. Thanks!
---
Nero's Bookcase: Our 24th Edition Bookplate now available


Nero may have fiddled while Rome burned, but this Nero is a bookish type. We're pleased to offer our 24th edition bookplate labels, Nero's Bookcase by Elisa Ristuccia. This reproduction of an etching with watercolor is a portrait of the tyrannical but endearing little black cat that once shared the artist's house in Cairns, Australia. While he was primarily a gregarious character, he was often found deep in thought on a bookshelf in the study. This bookplate shows the books Nero might have wanted to read. Be sure to stop by the Supply Store to pick up these delightful labels for the books you'll be sending travelling to Rome and beyond through BookCrossing.
---
A place for Everything and Everything in its Place: Site Clean-Up Forum

Found a duplicate city in your country? Is your favorite release zone listed 4 times, or (gulp) does it have a typo in it? Do you know of a zone that is mis-mapped, has moved or is no longer in existence? Post it in our Site Clean-Up Forum and one of our volunteer Region Managers or Support Team will work on getting it fixed. Please be sure to include as much information as you can (Country, State, City, Zone name if applicable, as it is listed and as it should be or maybe even a link to a book released there). Winged members are welcome to dive in and help with remapping any locations that need fixing. (A more detailed article will be coming out in the February newletter.) Here's to making a clean sweep at BookCrossing!
---
Be Write in Style: BookCrossing Pencils and Mousepads Now in Supply Store

Pencil us in with a BookCrossing pencil, now available exclusively in our Supply Store. We listened to your requests and found the highest quality pencil to stock in our store. They're #2 pencils with bright white, rounded barrels, copper end pieces and coordinating white erasers — easy to sharpen and the erasers don't gum up.
They really erase! Perfect for teachers to use as student incentives and also a handy way to remind you to check our website and see how your books are travelling the world. These sleek pencils come in bunches of 5, 10, 25 or 100. Grab a bundle for your desk, your classroom or the office. Order some for other BookCrossers and spread the fun.
Not to worry if you prefer your writing technology more in the 21st century — we can help you out there, too. Let our colorful Ballycumber mousepad brighten your day and bring a smile to your face while you're at your computer. Our round-cornered mousepads have non-slip, rubber backing and a cloth top for faster tracking. Mousepads are also available exclusively through our Supply Store.
---
READING CHALLENGES
How to use BookCrossing to get and to give
by Judith Lautner (jlautner)
I just finished the New York Times Notable Books challenge. Each of the blog participants chose a number of books from the 2006 NYT 100 Most Notable Books list. We challenged ourselves to read them during this last year. I came across the blog in the middle of the year so just chose 12 books, divided roughly between nonfiction and fiction....
[read it all at http://www.bookcrossing.com/articles/2905]
---
FOR MY "BOOKIE" FRIENDS
... from a Lifelong Reader
by zz-neena
I grew up in a house that had only three non-children's books in it. The thickest one was used to add some light height to a pole lamp in the living room. My parents read newspapers, and both swore that they had adored reading books when they were younger but had no time anymore. They did work hard, but then so do I, and books will always be a big part of any home of mine. I seem to have been hard-wired to love reading. I remember listening and watching carefully as my mother read my Golden Books to me. I *got it* that the little black squiggles on the page were the words she was saying. I burned to be able to do that. I don't know how old I was, but it was much younger than four, which was when the magical power began to grow in me and finally blossomed into the ability to read on my own. ...
[read it all at http://www.bookcrossing.com/articles/2912]
---
HAMBURG 2008
Big Annual BookCrossers Meeting in Germany
by Geegal (Geegal)
Germans call their second largest city "The Gate to the World" and this year a lot of Ballycumbers are going to run through it. The local meeting planners have sought out the last weekend of June, 27
[read it all at http://www.bookcrossing.com/articles/2914]
---
BOOKCROSSING PIXIES VISITED MY OBCZ
It's another kind of feedback and we love it just as much
by Moem
I co-manage an OBCZ in a nearby city, which is why I don't often go there. It's not far, but I hardly ever have anything else to
[read it all at http://www.bookcrossing.com/articles/2918]
---
MY MIDNIGHT BOOK AFFAIR
A secret affair with the books of my life...
by needywriter
I steal away each night, sneaking around in the darkness with a low-lit book light clutched tightly onto the book cover of the latest nighttime book I'm reading (I read a different book during the day
[read it all at http://www.bookcrossing.com/articles/2923]
---
PASSING ON BOOKCROSSING KARMA
send a bit of happiness across the world in the shape of a book!
by anathema-device
The new BookCrossing year started with a lovely surprise for me. In a Random Act of BookCrossing Kindness (commonly known as RABCK), BookCrosser KrazyKatLaydee from Rolla, Missouri, USA, sent me a book from my Wish List – A Hat Full of Sky by Terry Pratchett – even though I warned her that, due to my "Pratchett addiction", it might not travel much further than my own bookshelf for now. ...
[read it all at http://www.bookcrossing.com/articles/2920]
---
BACK IN THE BOOKCROSSING GROOVE
I once was lost and now I'm found ...
by Lynn Nicholas (hotflash)
I thought I had lost it. Didn't know where, didn't know why, just knew it was gone. I sat in front of my computer screen, clicked on the BC icon on my desktop and waited for my fingers to take action, and then, nothing. I pushed back my chair and poked at the short stack of books waiting to be registered, nothing felt right. I stared at my 'available' books waiting to be released, my great-looking BC labels, my cute BallyCumber stickers and, nothing again. I lackadaisically made note of a few good release sites but could not get motivated to follow-up. A vast, vacant nothingness had settled in and had wiped out all my BookCrossing zeal. How could this have happened? Where was the passion? Where was the fire? Where was that magnetism? Was the honeymoon truly over? Was it… gulp… time for a divorce??...
[read it all at http://www.bookcrossing.com/articles/2930]
---
RELEASE ZONE MANIA
Some quick explanations on Release Zones, Clean Up and Region Manager Team
by BCRegionMgrTeam
Last month, BookCrossing introduced a new forum called Site Clean Up. The purpose of this forum is to try to get the list of release zones for books into clearer and cleaner shape. (And yes, we know our member list is in equally mixed-up shape, but this project is concentrating on release zones, not member locations. We will get to those eventually, but the process is different.) Right now, just about every Country, State/Province or City is populated with duplicate release zones, misspelled release zones or zones that are in the wrong location. It not only drives a lot of folks nuts, but makes releasing a book quite confusing. Toss in the release zones that have moved or were at businesses that have closed, and it gets even worse....
[read it all at http://www.bookcrossing.com/articles/2929]
---
CALL FOR WRITERS

Want to write for BookCrossing? If your article is accepted, you could see it featured here in the next newsletter. What topics do we need? Anything about books, reading, or BookCrossing — tutorials, release and catch stories, well-traveled book stories, funny BookCrossing experience stories — you get the idea. Write it up, then submit it here:

http://www.bookcrossing.com/articles/submit




---
Top 10 Countries All-Time
| | |
| --- | --- |
| USA | 269,898 (42%) |
| UNITED KINGDOM | 67,362 (11%) |
| GERMANY | 42,717 (7%) |
| CANADA | 40,623 (6%) |
| SPAIN | 32,896 (5%) |
| AUSTRALIA | 28,600 (4%) |
| ITALY | 19,869 (3%) |
| FRANCE | 13,851 (2%) |
| NETHERLANDS | 12,213 (2%) |
| PORTUGAL | 9,375 (1%) |
Top 10 Countries Last Week
| | |
| --- | --- |
| USA | 939 (37%) |
| UNITED KINGDOM | 248 (10%) |
| GERMANY | 139 (6%) |
| CANADA | 118 (5%) |
| AUSTRALIA | 86 (3%) |
| SPAIN | 81 (3%) |
| ITALY | 70 (3%) |
| NETHERLANDS | 67 (3%) |
| PORTUGAL | 45 (2%) |
| INDIA | 42 (2%) |
---
Wild books released by our members are being caught all over the world, every day! Our site watch forum is where members post news of great wild book catches. Here are some of the best from the last few days...

Another catch writes back from 2004
http://bookcrossing.com/---/1357685
Although it was a controlled release way back then, I have to wonder where it's been for so long!
by siriradha
I had long given up on catches - but not only a catch, a new member!
http://bookcrossing.com/---/2749371

by hotflash
A book I released while strolling Charleston during Convention checks in!
finally a wild release from this lovely weekend is caught and journaled!!
http://www.bookcrossing.com/---/4771996
by tempestsans
Over 5 years, Mother Earth, Father Sky checks in!
Great catch for cosetteg!
http://bookcrossing.com/---/400918
by Jare
Prize bin on claw grab game a success!
My girls are always checking to see if there is a toy left behind in those claw grab games... so I figured it would be a good place to release a children's book.. and sure enough: http://bookcrossing.com/---/5753498
by Jare
"heart rate was high enough to forgo any further exercise tonight "
I love this! 4 year BXer gets enough exercise going after recently released books...then replaces them with one of his own. And he is an accounting tutor picking up an accounting book...the karma of literature in action!!!
http://www.bookcrossing.com/---/5771855
by elle311
Book released in Antarctica somehow made it's way back to USA in a laundry room in Chicago
http://bookcrossing.com/---/3933193

by valentina1209
Dutch book making its way across the world...
http://bookcrossing.com/---/4244758
by fotomiep
Oscar finds a new friend and goes on another adventure!
http://www.bookcrossing.com/---/5774449
AF finds my Oscar and identifies with the loss of a parent over a dodgy glass of wine. She then takes my Oscar on holiday with her for yet another adventure. All this and the joy of listening to Doris Lessing read from her new (as yet unreleased) book too! What a night for me and for Oscar.
by inkognitoh
Just when I despaired of ever getting another catch ...... 2!
And both of them were from existing bookcrossers who joined in 2002 and 2004- how strange! But great!
http://bookcrossing.com/---/5769611
http://bookcrossing.com/---/5763539
by house-elfdobby
3 1/2 years later, book travels from S. Korea to Virginia
Nice catch for wgirl82
http://www.bookcrossing.com/---/1811153
by Jare
Great JE! And almost 4 years later.
From the sidebar:
http://www.bookcrossing.com/---/1437509
by Tuttasb
Creative release comes home to roost after 4 years...and finder joins!
I am very happy about this one!
http://bookcrossing.com/---/851097
by siriradha
---
All of our newsletters, including this one, are archived on the web at http://www.bookcrossing.com/newsletterarchive.
---
This newsletter is sent only to members of BookCrossing.com. If you would prefer to not receive this newsletter in the future, you can change your newsletter preference anytime by visiting: http://www.bookcrossing.com/newsletterpref/.