December 06, 2007
[This occasional newsletter is sent to members of BookCrossing.com. See the
bottom
of this newsletter for simple removal instructions.]
---
CEO's Corner: Happy Holidays


I wanted to take a minute and wish everyone a very happy holiday season! It's impossible in these few paragraphs to highlight all the accomplishments you've all helped us to achieve as part of the BookCrossing community, but my heartfelt thanks goes out to each and every one of you. 2008 is going to be a blockbuster year for BookCrossing. We are planning to release many of the feature requests you've submitted to us, a much improved version of the website(including multi-language!), a very unique offering for authors, new on-line store products based on your feedback of top-requested items, and global business partnerships that will enable your in-person BookCrossing get-togethers even more exciting! I only missed a few of the regional BookCrossing conventions this year, but I am committed to increasing my travel in 2008 so I can meet as many of you as possible and hear first-hand how we can make BookCrossing even better in the future. Thanks so much for being part of BookCrossing and helping to support this global movement.

Happy Holidays and my very best wishes,

Scott
"Redsoxbookguy"

---
BookCrossing Goes To School -- Announcing a New Program for Teachers


Hands up if you're a teacher or educator! It's never been easier to bring the call of BookCrossing to the classroom. With our new BookCrossing Goes To School initiative, we'll help you set up a spectacular SchoolCrossing zone (SCZ) in your classroom. Your students will be able to participate directly in BookCrossing, experience the thrill of sharing books at their school, in their local community, and with other students from around the world. They can join in the fun of liberating literature. It's as easy as ABC. Very soon, we'll be opening up a new section of the BookCrossing site specifically for teachers and educators. Here, you'll be able to sign up as an inagural member of the BookCrossing Goes To School program,and receive special goodies* to help you set up an SCZ to help encourage your student readers. And we'll be stocking the store soon, as well, with BookCrossing items geared towards many of the student reading incentive programs used in classrooms worldwide. Keep watching the site for details!

*Some restrictions apply. See program for details.
---
FREE Shipping from the Supply Store Through December 15

Whatever you're celebrating this month, don't forget to head on over to the BookCrossing Supply Store. Take advantage of the remaining days of FREE Shipping on orders over $10 (USD) offered by our Supply Store Manager. Make your list, check it twice and get some BookCrossing supplies, that are really nice! (Sorry for the rhyme — Ballycumber is hitting the eggnog early this year.) Be sure to check out some of our new items, including our newest limited edition book plate Butterfly Books, and some of the package deals our manager is offering. Send your packages off in the mail sporting our exclusive mailing labels. They dress up every mailed package and help pread the word about BookCrossing at the same time, whether you're sending a holiday treat or a bookring off to the next reader. And our new International T-Shirts are now shipping, as well. We'll be adding new products this month as well, so keep your eyes open and stock up now for the New Year, Valentines Day, birthdays or the occasion of nothing at all! Remember, our store is open round the clock for BookCrossers and folks not yet members as well. Happy shopping!
---
BookCrossing Convention April 2008 -- Be an Early Bird!

What better way to ring out the old year and bring in the new than to make a resolution to be in London for the 7th BookCrossing Anniversary Convention in Aril 2008? Plus, if you make your reservation before February, you'll get the special Early Bird rate of £50.00 per person. Convention planners have been busy with the arrangements for a fantastic weekend of BookCrossing activities and adventures. The Convention website and registration page is now up and running at www.bcconvention2008. It's chock full of information about events, how to register, where to stay, folks planning to be there and more. Be sure to check it out and mark the dates, April 18-20, on your calendar. See you there!
---
Strawberries With Sugar -- BookCrossing Portuguese Style

Take a look at the number of Portuguese BookCrossers who have joined recently. The dramatic rise may be due in part to some recent television publicity we received, courtsey of Morangos com Acar (Strawberries With Sugar). We're told that the Portuguese teen soap opera decided to show some of its cast finding a BookCrossing book and discovering the joy of BookCrossing. Viewers liked what they saw — there's been a 20-fold rise in membership in the days immediately following the broadcast. The episode aired on November 30 and BookCrossing even got a mention in the plot write up online for that day! Welcome to all our new members, whether they like their strawberries with sugar or plain!
---
Introducing our 22nd Edition Bookplate: Butterfly Books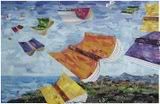 "I knew I wanted to do a BookCrossing Book Label, and was thinking about what BookCrossing meant, the freedom, the whimsy of it all — suddenly an image of books flying across the seas, flapping like butterflies, came to me. And that was it, really... it just felt right." "Butterfly Books" is the result, a colorful collage made just for BookCrossing by Denise Sutherland of Canberra, Australia. Our 22nd edition bookplate features a reproduction print of the collage with released books taking flight on their journey. We think it captures the serendipitous nature of BookCrossing just perfectly and it comes at a great time as we head ever stronger into our seventh year of existence.
You can find these bookplates in packs of 25, 200 and 250 as well as in various release kits at the Supply Store. Stock up today! And remember, if you order before December 15, 2007, shipping is free.
---
Bookmark Us and Help Spread the Word

Keen-eyed BookCrossers may have noted a new addition to our home page — a nifty bookmark button (or AddThis feature) which gives you quick and easy access to different social bookmarking sites (like FaceBook, Del.icio.us, StumbleUpon, Digg, and Reddit) so you can bookmark BookCrossing and help promote the site. These bookmarking sites gather people's opinions about web pages and provide a great way to both share and find interesting content on the web. If a page receives a lot of bookmarks from users, the page is considered popular and is then shared with others who are most likely not aware of the site's existence. Cool, huh? And easy, too. Here's a quick primer on how to bookmark: You can add bookmarks to as many of the bookmarking sites as you wish (the more the better). If you're not already a member, most of these sites require you to join their community (joining is always free) by choosing a username and password. Once you've joined and logged in, you can bookmark any site you wish and check out what other people have bookmarked. Some of these sites, like StumbleUpon, allow you to write a short review of the site and give the site a rating (thumbs up or thumbs down). It would be great if BookCrossers could help us spread the word and increase our presence on these bookmarking sites. More bookmarks = more potential members = more books to find!
---
International T-Shirts Available for Pre-Order Now!

We've added two new Tees to our Supply Store — designs you've created and selected. We call them fabulous, but if you need more specifics, click on over and check out our International T which proudly proclaims "Make the World a Library" and has taglines in many languages or our other new internationally flavored T which our store manager has nicknamed "FlagBally". Even better news, both these items are available as part of our free shipping offer which runs from November 12 through December 15. There is an expected arrival date for the shirts to the Store of around November 19, and they'd ship to you after that. Please note that if you have other items in your order, all items will ship together with your shirt(s). Thank you for your patience and support. Now get out there and do like the shirt says: Make the world a library!!!
---
BOOK SWAP PARTY TURNS INTO A GIVING EVENT

by Karen Simmons (SmashGal)
I got the bright idea to host a book swap brunch. I invited several of my girlfriends, told them to bring 5-10 books to swap and a breakfast item. Two days before the party I realized that I didn't exactly know what we were going to "do" during this party. Suddenly I had visions of bridezillas fighting each other for the perfect dress and immediately envisioned my mild mannered friends fighting over the perfect book. ...
[read it all at http://www.bookcrossing.com/articles/2830]
---
FINNISH BOOKCROSSERS' CHALLENGE: SEND BOOKS TO INDIA
Supporting local Finnish language schools
by Airam67
Many families have experienced the "expat-life" - including mine. Staying abroad is both a wonderful and a challenging experience. The Ministry of Education in Finland has a special function to support the Finnish expat families abroad, called the Finnish Language Schools. The purpose of the schools is to support the development and keeping of the Finnish language of the children of the expat families. Many children attend the local schools and their language skills in the local language get stronger day by day. It is important to keep their Finnish mother tongue up-to-date so that the return to Finland after the expat period is smooth. In addition to the language skills, the school plays an important role in maintaining the Finnish cultural traditions in the new environment. The schools are usually organized for a couple of hours, twice a month on a weekend. ...
[read it all at http://www.bookcrossing.com/articles/2833]
---
A BOOKCROSSING TREAT, NO TRICK!
My adventure a few days before Halloween
by Jeanine Birckbichler (Jayebirck)
I was driving my sons to church on October 28 when I drove by a driveway with what appeared to be scraps of wood stacked up near the entrance. How odd, I thought, but was in a hurry to get to church on time. I put it out of my mind to focus on the service and ten excited first graders as we celebrated All Saints with a small party....
[read it all at http://www.bookcrossing.com/articles/2837]
---
BOOKCROSSING WITH STUDENTS
Creating a love of reading in 5th grade students
by Teresa Basaldua (elateacher)
I love searching online for new and exciting things to bring into my 5th grade English/Language Arts classroom. I truly believe that I have found one such wonderful online resource through BookCrossing as it is a very imaginative way to encourage my students to read. Currently, my 5th grade class is in the midst of collecting 180 books, one for each 5th grader in my school. We are also collecting books for our teachers and staff to join the fun. Everyone, from the principal to the smallest fifth grader is thrilled to be a part of this project. Once the books are collected, I have a variety of activities for our young readers. Here are a few of my ideas. I would love to hear even more from other BookCrossers....
[read it all at http://www.bookcrossing.com/articles/2842]
---
WHAT DO YOU GET...
When You Combine 4 Avid BookCrossers, 700 Books, and a Book Fair?
by Mary Zimmerman (MaryZee)
Lots of fun!
On Saturday, November 10, 2007, the 11th Annual Carroll County Book Fair was held at Carroll Community College in Westminster, Maryland.http://www.bookcrossing.com/articles/2843]
---
YOU MIGHT BE A BOOKCROSSER IF...
Ten ways to tell if you are addicted to BookCrossing
by ResQgeek
So you've registered a few books, and maybe even released some. You've browsed the Forum, reading people's posts, and sometimes replying. But how can you tell when the BookCrossing bug has really bitten? Here are some signs that you might be addicted to BookCrossing:...
[read it all at http://www.bookcrossing.com/articles/2845]
---
THE INTERNATIONAL WAYS OF BC
Or, meeting the world in a few weeks
by fotomiep
While internationalization of the site is being worked on, internationalization of meetings with fellow BookCrossers is already in full swing. I'd already gotten into the habit of trying to meet local BookCrossers when visiting a foreign city, leading to wonderful evenings or afternoons in Dublin, Berlin and Paris. Also, I'd been to two meetings 'just' across the border in Leer & Bremen (Germany). ...
[read it all at http://www.bookcrossing.com/articles/2855]
---
CALL FOR WRITERS

Want to write for BookCrossing? If your article is accepted, you could see it featured here in the next newsletter. What topics do we need? Anything about books, reading, or BookCrossing — tutorials, release and catch stories, well-traveled book stories, funny BookCrossing experience stories — you get the idea. Write it up, then submit it here:

http://www.bookcrossing.com/articles/submit




---
Top 10 Countries All-Time
| | |
| --- | --- |
| USA | 259,724 (42%) |
| UNITED KINGDOM | 65,355 (11%) |
| GERMANY | 41,378 (7%) |
| CANADA | 39,680 (6%) |
| SPAIN | 31,946 (5%) |
| AUSTRALIA | 27,568 (4%) |
| ITALY | 19,322 (3%) |
| FRANCE | 13,536 (2%) |
| NETHERLANDS | 11,651 (2%) |
| PORTUGAL | 8,601 (1%) |
Top 10 Countries Last Week
| | |
| --- | --- |
| USA | 826 (31%) |
| PORTUGAL | 348 (13%) |
| UNITED KINGDOM | 180 (7%) |
| JAPAN (日本) | 122 (5%) |
| GERMANY | 121 (5%) |
| CANADA | 91 (3%) |
| SPAIN | 76 (3%) |
| AUSTRALIA | 68 (3%) |
| NETHERLANDS | 52 (2%) |
| FRANCE | 49 (2%) |
---
Wild books released by our members are being caught all over the world, every day! Our site watch forum is where members post news of great wild book catches. Here are some of the best from the last few days...

Book found after 5 years!
http://bookcrossing.com/---/355060
This coffee shop has even changed names since I released the book--I wonder how long they've had it? :-)
by luthien1121
AF finds, reads, REPAIRS and re-releases

http://www.bookcrossing.com/---/5472737
Great catch for Shan08!
by inkognitoh
"Every summit should have one!" (a book)
"...I did get to the top. I took some fantastic photos, turned around and spotted this book. Fantastic idea. Every summit should have one!"
I almost didn't walk up this hill to leave this book. 1) I had a bit of back pain and was feeling bit queasy all day; and 2) the path was very boggy and I kept sinking down into the mud. But I'm a stubborn thing and once I'd started I refused to be defeated by this pokey wee hill! I didn't think anyone else would be daft enough to think about walking up there in the bog and I was convinced my book would sit there for weeks. I was pleasantly surprised to find a journal entry for this in my inbox when I got home- even before I had released the book. See: http://bookcrossing.com/---/5669880
by swan-scot
It's been 3 years--If I could travel with the book I'd be visiting Colorado now!
http://bookcrossing.com/---/2231618
Animal Dreams traveled 1704.35 miles in 3 years. If I could have traveled with it, I'd be about 20 miles from one of my favorite BookCrossers now! (*waves to antof9)

by bookczuk
Sometimes you're in the right place, at the right time..
http://www.bookcrossing.com/---/4193834
This is one of my favorites.
by Trekwoman
I left a book on a bank machine in August 2003. I was just journalled.
The journal entry says it was found on a bank machine, four years later!! Makes me wonder what it's been doing for the last four years.
by Cabby
I'm pretty sure that my Good Omens release has a 2nd-generation wild catch...
...which is rare enough for me that I wanted to post it:
http://www.bookcrossing.com/---/5233767
[Most of my wild catches that have had more than one hop have included a few controlled-releases of the "gave to my mother-in-law"/"passed along to my friend" variety, so true multiple wild-release catches are unusual. Of course, when both catches are AFs, the journaler-count doesn't change, but I'm still pleased that the original finder re-released it and both finders seem to have enjoyed it!]
by GoryDetails
5 years, 4 months, 8 days later...
derb's only release finally gets caught!
http://www.bookcrossing.com/---/172401
by jblueafterglow
Entry after two years!
I'm so pleased! A book I released back in July 2005 has gotten a journal entry!
http://bookcrossing.com/---/2984639
Hooray!
by alrescate
4 years and a half before this book was caught in Aix-en-Provence
http://www.bookcrossing.com/---/616568
Hopefully it will bring Kerr to cross books again...
by e-marmotte
From France to Brazil 3 years later
I was looking at a new member's bookshelf, thinking it was a catch from the new OBCZ in São Paulo, but it turned that the book has had a long journey (and apparently a rather wet adventure in Paris if I'm deciphering the automatic translation correctly):
http://www.bookcrossing.com/---/1963735
by Spiegel
beautiful release photo (caught & journalled)
http://www.bookcrossing.com/---/5302733
by Potok-fan
Books do travel, even if we don't hear about it
A nice one for members who fear that their books are being thrown away.
This one has just been journalled after five months.
http://bookcrossing.com/---/5205983
Here's what the newest journal entry says:
Mary, who cleans our house for us, had gotten the book from her daughter Rianne, who obviously had found the book and taken it. Because Mary thought we might like it too, she left it with us. So, a kind of clandestine bookcrossing! But when I finish it, I'll certainly leave it on a train for the next finder. And something else I'm certainly going to do is to find out more about this lovely initiative.

by Moem
I had to share this catch, I am so excited!!
The book when I got it was falling apart, I decided to repair it and
release it instead of throwing it away, I am glad I took the effort.
Left inside Shop, Australia
Taken to Bali and Left,
Then picked up again and taken to Switzerland.
This is the first of my books to have a double pick up by an anon.
AND they both joined AND they both took the effort to do release notes
as well.
How good is that!!
(This is the reason bookcrossing is so addictive)
http://bookcrossing.com/---/5357792
Luckydipper

by luckydipper
---
All of our newsletters, including this one, are archived on the web at http://www.bookcrossing.com/newsletterarchive.
---
This newsletter is sent only to members of BookCrossing.com. If you would prefer to not receive this newsletter in the future, you can change your newsletter preference anytime by visiting: http://www.bookcrossing.com/newsletterpref/.