August 9, 2007
[This occasional newsletter is sent to members of BookCrossing.com. See the
bottom
of this newsletter for simple removal instructions.]
---
It's Better In Bundles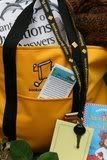 Now there are even more ways for you to save at the Supply Store. Not only have we reworked our shipping costs, but our Store Manager has introduced new Gift ideas and Package Deals for just about every occasion. There are specially priced packages all sorts of occasions — even one for that special teacher in your life. (And with school starting just around the corner in some parts of the world, what a wonderful way to say "Welcome Back!") Don't miss the savings on our Limited Edition Bookplates, now available in bundles of 250 or 100 as well as our standard pack of 25. We'll be adding some more new products soon, so keep checking. And now that wings "stack" you don't have to wait til your wings fade to visit the store. Your wing expiration date will be extended to reflect your new purchase. So, don't wait! Shop now and shop often!
---
Yokoso bookcrossing.jp!


Our globe-trotting CEO, redsoxbookguy, was recently in the Land of the Rising Sun to help celebrate the launch of the new (totally Japanese) site bookcrossing.jp and a new partnership with the media based company Eset Co. Ltd of Hiroshima, Japan. On August 1, thousands of books were released across Japan to begin the serendipitous changing of hands and encourage a love of books. Japan has a fabulous nationwide literacy rate of 99% and there are currently over 1,100 BookCrossing members there. Welcome to all our new members everywhere, but a special "yokoso" to our new Japanese members. (P.S. We love the Read and Release diagram on the bookcrossing.jp website!)
---
The time between July 11 and July 27? Five years and 16 days, of course!

On July 26, Gettin' It On: A Down Home Treasury by Lewis Grizzard reported back home to member mccool who released it on July 11 into the wild at Great Falls National Park in Virgina. It's only when you look at the years that it becomes obvious this book has been in the wild a L-O-N-G time. Mccool released the book July 11, 2002 and it resurfaced five years and sixteen days later, 18 miles away. We believe this now becomes the record holder for the longest time between release and catch, but if you know of one longer, be sure to let us know! Congratulations to mccool and we hope the book continues to travel safely — but hope it checks in a little more regularly. Maybe a Fairfax County, Virginia BookCrosser will go hunting for it, find it and give it a little TLC and encouragement to write home. Join in the conversation about this catch over in the Site Watch forum.
---
A Whole Lotta Flying Going On

Our recent promotion which gave wings for referring new members to BookCrossing has drawn to a close. We've looked at the figures from the campaign, and also captured referrals generated by folks finding a book and citing someone specifically as the referring member. The results are quite nice: from May to July, 3,049 new members found BookCrossing either from a friend's referral or from finding a book and identifying a current member when signing up. There were 56 current members who had enough referrals to qualify for 3 months or more of free wings (or had their current wings extended.) The top referring BookCrossers were Wyando and webvira. Congratulations to all!
---
P.S. Be on the lookout for some very cool new wings features coming to BookCrossing!
---
Giveline + BookCrossing = Savings and Wings (NEW! Coupon Extended to August 31!)

BookCrossing members now have a fabulous opportunity to participate in a really exciting program with Giveline.com. Why add one more book seller to our bag of tricks? Well, we think the prices of Giveline's books and other products and services are incredibly competitive — at or below comparable online services. Plus it's all together on one site, which adds up to savings and convenience for you.
But it gets better. Through Giveline you can actually make a financial contribution to BookCrossing every time you shop. The amount to be donated varies by product, but you'll be able to see the exact amount your purchase can generate back to BC on every product page as well as throughout the checkout process. Though Giveline is currently only available in the US, expansion plans are in the works and as they grow, we'll grow with them!
And it gets even cooler. We're working with Giveline to be able to provide our members wings for every purchase over $25. Giveline and BookCrossing want to provide BookCrossers with the best possible online shopping experience. Giveline's prices are definitely competitive with other online book sellers, plus they have the additional non-bookstore products and they have the give-back program. We'd like to ask you to give them a try and earn yourself some wings or extension of your wings.
So if you haven't picked up Harry Potter yet, or you can't wait to get your hands on that new thriller, or you have something you have a hankering to read, why not slip over to Giveline and give it a whirl? To sweeten the request a bit more, Giveline has offered a discount coupon to anyone with a purchase of $25 or more who chooses BookCrossing as their cause. At checkout, enter the code "BCTEN" which takes an extra 10% off ALL products on Giveline (which ends up being about 35% off most books totals). Hurry though — this offer expires August 31, 2007. The direct link is www.giveline.com/bookcrossing. Thank you!
---
(Note: May take 24 hours to activate the wings on your order, 48 hours if it is a weekend, and you MUST use the same email address for both sites in order to get your BC wings for Giveline purchases.)
---
Make Your Mark in Melbourne--Register for the Australian BC Convention Now


It'll be magic in Melbourne, October 5-7 when BookCrossers from Down Under and all over gather at the Mary Kehoe Community Centre for Australia's annual BookCrossing Convention. There's loads of information up at the ABC website, including everything you need to register for the event. Please note, to be eligible for the early fee, you MUST register and pay by the 5th of August (exceptions for overseas BookCrossers), so get in quick!
---
WEIGHT LOSS, BOOK LOSS!
Lose weight, lose a book
by bookwormkt
A few weeks back I decided to join Weight Watchers and lose some weight, as my wobbly bits now have extra wobble. This is a real pain, as I lost about 3 stone (42lbs) a couple of years ago, and 2 stone (28lbs) have crept on again since. I know it will be a long hard slog. I was really anxious about attending meetings, as I have never been to Weight Watchers before. 2 years ago my husband went to meetings and I followed the Points plan with him. This time we have swapped roles! I felt I needed something to motivate me. My husband had stacked a 2lb bag of sugar in his office for every 2lbs weight he lost, to remind himself how much weight he had lost. I have no office at work, but I DO have a LOT of books, and I had joined BookCrossing a week or so before... So I decided to release a book in to the wild for every pound I lose! ...
[read it all at http://www.bookcrossing.com/articles/2697]
---
IT'S ALL ABOUT FREEDOM
BookCrossing project at a worldwide hackers' convention (German and Dutch versions below)
by Moem
In Fairy Dust We Trust! That's the unlikely sounding slogan for the hackers' convention CCC2007, which is to be held near Berlin, Germany from August 8 to 12 this summer. And BookCrossing will be there....
[read it all at http://www.bookcrossing.com/articles/2704]
---
END OF TERM BOOK RELEASE

by bookwormkt
I have one book challenge under way, but the pile of books is still HUGE! At the end of term at the Special School where I teach I decided on a mass release of books to the children in my class. They are aged 11-13 years and have a wide range of abilities, disabilities and interests. I did wonder if they would be interested in the books I brought in to the classroom the last day of school, since the books were chosen in a hurry. Some had already been read a few times and were a bit creased....
[read it all at http://www.bookcrossing.com/articles/2710]
---
THE SECOND ANNUAL BOOKCROSSING MEETING IN SWEDEN
A summertime tradition is established!
by mariabokmal, aggeelin, Alvhyttan, elis-fromSweden (mariabokmal)
Last year a tradition was started – BookCrossers meeting up in the middle of the summer, in the town of Örebro (some 200 km west of the capital Stockholm). This year the tradition was continued, but on a larger scale. Both the number of attendants (increased by 50%!) and the extent of the meet up (from a couple of hours to a two-day excursion) had grown. What will happen in 2008?!?!...
[read it all at http://www.bookcrossing.com/articles/2716]
---
RESCUING A RELEASE
A rough beginning for "Rough Waters"
by ResQgeek
On Saturday morning, I had to take my younger daughter to a regional shopping mall to attend a friend's birthday party at Build-A-Bear Workshop. I figured that I would have an hour or more to kill at the mall, so naturally I took some books along to release. After dropping my daughter off at the birthday party, I strolled through the mall, releasing my books....
[read it all at http://www.bookcrossing.com/articles/2721]
---
ABC BOOK REPORTS
Journal a book ABC-style
by lemondrop622
Sometimes after I finish a book I get stuck on what to journal about it. I usually just end up stating whether I liked it or not, then some other thoughts about it. I might say what my favorite part was or who I related to the most. But if I'm feeling extra creative I will do an ABC book report on it....
[read it all at http://www.bookcrossing.com/articles/2664]
---
S.F. BOOK CLIMB TO EUROPEAN ROOF

by maxcip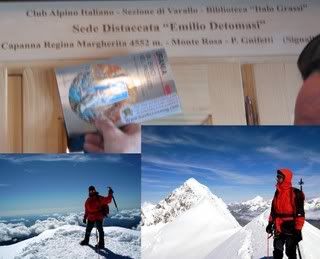 Ok, ok, it isn't Mount Elbrus, but it is the highest closed place in Europe: 4,554 m (or 4459) above sea level, Capanna Margherita, the hut in the summit of punta Gnifetti or Signalkuppe for Swiss people. The place is near the top of Monte Rosa, a mountainous massif across Piedmont, Aosta Valley and Canton of Valais (Wallis). Two words only, (I'm Italian and my English is terrible). Why This book, particularly? Simple, the lighter book in my hands! In weight, obviously, but also in reading (in my language, light book means easy book). We walked with food and equipment in backpack for one week, around and in the top of mountains upper 4K meters, and in the evening we need to relax. Ah, first the link: Un bivio nel passato. Now three photos: the book, at capanna Margherita in the hand of my friend Roby, Omar, another my friend in the top of peak Ludwigshöhe (4,341 m), near the hut at right, and me at the top of Piramide Vincent, in the lower left of photo. Perhaps, in future, a book release in White Mountain (Monte Bianco 4,810 m), in an aluminium can....
[read it all at http://www.bookcrossing.com/articles/2708]
---
STEPHEN KING 60TH BIRTHDAY RELEASE CHALLENGE.
Release as many Stephen King books as possible on 21 September 2007
by Wyando
(deutsche Version weiter unten | nederlandstalige versie verder beneden | leggete più avanti per la versione in lingua italiana) | en français aussi
...
[read it all at http://www.bookcrossing.com/articles/2726]
---
CALL FOR WRITERS

Want to write for BookCrossing? If your article is accepted, you could see it featured here in the next newsletter. What topics do we need? Anything about books, reading, or BookCrossing — tutorials, release and catch stories, well-traveled book stories, funny BookCrossing experience stories — you get the idea. Write it up, then submit it here:

http://www.bookcrossing.com/articles/submit




---
Top 10 Countries All-Time
| | |
| --- | --- |
| USA | 246,631 (43%) |
| UNITED KINGDOM | 61,273 (11%) |
| GERMANY | 38,737 (7%) |
| CANADA | 38,069 (7%) |
| SPAIN | 30,670 (5%) |
| AUSTRALIA | 26,177 (5%) |
| ITALY | 18,416 (3%) |
| FRANCE | 12,826 (2%) |
| NETHERLANDS | 10,552 (2%) |
| PORTUGAL | 7,602 (1%) |
Top 10 Countries Last Week
| | |
| --- | --- |
| USA | 605 (34%) |
| UNITED KINGDOM | 224 (12%) |
| GERMANY | 164 (9%) |
| N/A | 127 (7%) |
| NETHERLANDS | 72 (4%) |
| CANADA | 72 (4%) |
| FRANCE | 56 (3%) |
| FINLAND | 53 (3%) |
| AUSTRALIA | 53 (3%) |
| SPAIN | 52 (3%) |
---
Wild books released by our members are being caught all over the world, every day! Our site watch forum is where members post news of great wild book catches. Here are some of the best from the last few days...

not quite 5 yrs, but close
Found "a couple of years ago" and rediscovered when unpacking boxes after moving (we've heard *that* story before; )). Finder says, "I like this book crossing thing. It's kinda fun."
http://www.bookcrossing.com/---/247234
by Potok-fan
Caught book reunites mother, daughter, and grandchildren
Lovely catch for Catonkeyboard-
http://bookcrossing.com/---/5350503
by MaryZee
Yet another book checks in after almost five years!!
http://www.bookcrossing.com/---/214734
by Firegirl
"I think this idea of releasing books is beautiful, simple, and powerful. "
http://www.bookcrossing.com/---/3714141
by solittletime
Caught 3 1/2 years later and a new member..
This is the longest time span for a book to check in for me. I was thrilled when I found this on my bookshelf. And a new member to boot!
http://www.bookcrossing.com/---/940831
ETA: I sent him/her a pm welcoming them to BC and thanking them for journaling the book, along with an offer to browse my shelf.

by Dusties
An Alexandria, VA release catches a new member in Germany!
http://bookcrossing.com/---/4048890
by ResQgeek
release Feb 2, 2005, caught July 31, 2007
wonder what mysterious trip it took to get there
http://bookcrossing.com/---/2387209
by solittletime
A catch and a new member at "Shakespeare in the Park " in Boston Common!
http://bookcrossing.com/---/5321461
by tobysrus
5 years + 16 days later!
http://www.bookcrossing.com/---/150237
by jblueafterglow
Birth Announcement in Release Notes.
Congrats to NJ local BC lovely, Lit-Fandango, on welcoming a new family member!*
http://bookcrossing.com/---/2396082
*Wasn't sure if IF it was polite to call her a "grandmother" in public. ;-)
by Greyflank
Great catch at the dog park for crrcookie!
http://www.bookcrossing.com/---/5074360
by ResQgeek
Caught in the Rye :)
I just caught this in the sidebar.
http://www.bookcrossing.com/---/5125175
Congrats on the themed release and catch, genielady! And thank you for the smile. :)
by aress
---
All of our newsletters, including this one, are archived on the web at http://www.bookcrossing.com/newsletterarchive.
---
This newsletter is sent only to members of BookCrossing.com. If you would prefer to not receive this newsletter in the future, you can change your newsletter preference anytime by visiting: http://www.bookcrossing.com/newsletterpref/.