July 16, 2007
[This occasional newsletter is sent to members of BookCrossing.com. See the
bottom
of this newsletter for simple removal instructions.]
---
CEO's Corner: The Road to 4,000,000

BookCrossing members have now registered over 4,000,000 books since the site began just over 6 years ago. Think about that for a second. That's over 55,000 books per month over a 6-year period that have been registered in over 130 countries worldwide…and I do mean worldwide. Some notable releases: the Statue of Liberty, the Great Wall of China, Buckingham Palace, Stonehenge, the Pyramids, the Arctic Circle and even Mt. Everest's base camp. I pass along many heartfelt thanks from the entire BookCrossing staff and the Support Team for your unyielding passion, dedication and love of BookCrossing.
Scott
redsoxbookguy
---
The 4,000,000th book registered was The Judas Judge by Michael McGarrity, registered June 21, 2007 at 14:13:16 BookCrossing time by denny08. Wings on us for denny08 in celebration of the event! And congrats, too, to GoryDetails, who closed out the road to 4,000,000 books registered with her own special style: What's Your Poo Telling You?, by Josh Richman, Anish Sheth M.D.. It was the 3,999,999th book registered on the site.
---
Announcing the World's First BookCrossing Country: Singapore


If all the world's a stage, then all the country's a BookCrossing Zone. That's true if you're in Singapore! On July 3, 2007, BookCrossing and The National Library Board of Singapore announced the public launch of community based initiative to encourage reading and sharing books. We weren't kidding when we said the entire country is now an Official BookCrossing Zone! As part of the initial launch, thousands of books were released in over 2,000 SMRT Taxis, all Café Galilee and Café Cartel outlets and other various public locations in Singapore. The initial group of books released were English language books and included mostly fiction titles, some story-based non-fiction books, motivational and inspirational biographies and memoirs. BookCross@SG (BCSG), a joint initiative to promote literacy that also makes Singapore the first country to support a country-wide, the second wave of books to be released will include other world languages. The general public can also donate books to be shared in the project by dropping them at any of the 23 NLB public libraries. "Through the partnership with BookCrossing and the book sharing program...we are striving to provide an ongoing conduit for the people of Singapore to share their passion for books with others locally and on a global basis," said Dr. N Varaprasad, Chief Executive of NLB. "There are already over 1,500 BookCrossers in Singapore today and we hope to dramatically increase that number as a direct result of this joint initiative." Scott Sorochak, BookCrossing's CEO was on hand at the The Plaza of the National Library building for the program launch. There also is a new BookCrossing Singapore mirror site up and running. Today, Singapore. Tomorrow, the world!
---
Thanks to ramblinglibrarian for the pictures from the big event.
---
All Eyes on England - Literally UnConventional

It's that time of year again, when the fun and festivities break loose at the annual BookCrossing UnConvention, this year in beautiful Brighton. We're looking forward to a full report from attendees. There'll be talks by Christine Coleman, Sue Moorcroft and Linda Gillard, three top authors from publisher Transita, a writers' workshop, release walks, and events to raise money for three charities — Depression Alliance Scotland, British Heart Foundation, the Birmingham BookCrossers' Library for India fund, and more.

And if that's not enough, BookCrossers in London who can't make it to Brighton can participate in the first-ever London Literature Festival. Penguin Books has donated 1,000 London-inspired themed books, to be released on Saturday, June 30. If you live in London, come along to the Southbank Centre to catch one of their books or bring along your own to release. There's more information on BookCrossing and the Festival here. Rule, Britannia!
---
Aloha! Our Newest Bookplate Has Arrived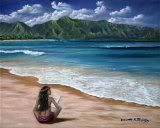 Let our newest bookplate, Aloha!, help you say goodbye to your books as you send them off into the wild to say hello to the next reader. Aloha! is BookCrossing's 19th edition bookplate and was created specifically for BookCrossing by artist Kathy McCartney of Maui, Hawaii. She writes, "Hawaii is a unique paradise in the middle of the Pacific Ocean and the Hawaiian island of Oahu is known as the Gathering Place. BookCrossing is also the Gathering Place for book lovers across the globe. 'Aloha' in Hawaiian means hello, goodbye, with affection and love. Aloha! an image of a young Hawaiian woman who welcomes with love a new book, reading through the creative thoughts of another, and then aloha and goodbye, releasing this gift back to the Universe to share freely with others is the 'Aloha Spirit' in motion." This beautiful bookplate is available exclusively in the BookCrossing Supply Store.
---
The Fact of the Matter is Our FAQs Are Better, Thanks to TexasWren

Old timers to BookCrossing remember how TexasWren helped to round out our early version of our Frequent Questions by providing some of her BookCrossing wisdom and words to answer routine questions. Though we have been updating our list of frequently asked questions (and some not so frequently asked, but still important) slowly and steadily as new features and information emerges, the true fact of the matter is that Texas Wren has a wonderful list of FAQs on her site. She graciously worked with us to comb through both lists and made sure that what you find when you click the link for FAQs at the bottom of each of the BookCrossing site pages is the best of the best! Thank you TexasWren! P.S. If you haven't visited Wren's Crossing lately, be sure to stop by. She's got a fabulous collection of BookCrossing information to put a smile on just about everyone's face.
---
It All Adds Up!

Did you know that 1 + 1 + 1 + 1 + 1 equals more than 64,500? No, we don't need to go back to school; our arithmetic is just peachy. The above equation is unquestionably true when you put in the names pjlareau, siriradha, AngelChild, hootnoodle and solittletime. These five BookCrossers have each released more than 10,000 books into the wild and that whopping figure we quoted before is their total number of books released to date. (And looks like 4libros is close on their heels to that 10,000 released mark!) Congratulations to all from our "high rollers" to the newbie releasing their first book. May all your books be 'Crossed!
---
Presto Chango: New Shipping Prices in the Supply Store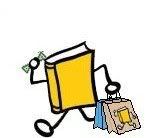 About our shipping costs: we heard you loud and clear. Honest. We knew exactly what you were thinking because you told us in no uncertain terms. But we love it when you contact us so please continue! It was thanks to several precisely composed emails (for example: "How can you seriously charge $5 for shipping on an order that's only $10?", "Do you have a screw loose? Where'd you come up with your shipping costs?", "Please let me know when to be home for my personal delivery of store supplies, because at those shipping prices, I imagine they're being sent by private courier") that we decided to banish our old pricing structure. It took some doing and wizardry from our resident IT hero, Matt, to tinker with the store program so that we could get the new structure in place, but it was worth it. We think you'll find our new shipping rate tiers to be more fair than the old, flat-rate system. Supply Store prices are now based not just on destination but on the total cost of the order. This will be incredibly beneficial to those of you ordering mini kits or a lanyard or two and fair to those placing larger orders which were previously "subsidized" by other BookCrossers. The rates have increased the most on orders over $60 but we hope that our group orders will still be popular. Splitting $10-$13 by 5 or 10 or 15 people makes it a deal! Plus, if you take advantage of our new package deals and quantity discounts, you can save even more. Our new prices are effective immediately. And as always, thank you for your support of BookCrossing.
---
RECRUITING AN AUTHOR
A BookCrossing Introduction
by ResQgeek
About a year after I joined BookCrossing, I realized that the reviews I was writing in the journals for the books I was reading might also be useful on Amazon.com. What I didn't expect was that these reviews would allow me to recruit a newly published author to BookCrossing....
[read it all at http://www.bookcrossing.com/articles/2680]
THE BOOKS IN OUR LIVES
When we lose our books.
by sleekmomma
We love books and they become a very big part of our lives. They are there when we are lonely, when we need to fill time and just to have some enjoyment. Sometimes you are struck with how much they mean to you....
[read it all at http://www.bookcrossing.com/articles/2681]
---
WHAT A BC COINCIDENCE!
fun themed release pays off with 2 journal entrires
by Jennifer Collins (guinaveve)
My daughter and her class had an interesting and fun filled field trip at the zoo. I attended as a chaperone. I knew just the book to take with me to wild release there. It was called Supermom: Inspirational Words on Motherhood by Sian Keogh. It is a small picture book with color photos of wild baby animals with their mothers. I love themed releases. I left the book on a statue of a little girl reading a book (another theme tie-in) and took a picture to include in my journal entry. After a few days with no journal entry, I assumed maybe the zoo staff picked it up and put it in the lost and found or perhaps someone had taken it home to enjoy without journaling. So the journal entry I received on this book was a fun surprise.
This was so fun! My 7 year old daughter found this in front of the polar bears, sitting on a statue of a little girl reading a book. We looked at it, read it at home and loved the idea of continuing the cycle! We are planning to release it at King's Island to see how far the book can travel.
...

[read it all at http://www.bookcrossing.com/articles/2683]
---
YES VIRGINIA, THERE IS A BALLYCUMBER…
About the Spirit of Christmas and the Spirit of BookCrossing
by gwenwifar
I suppose this is one of those connections that aren't immediately obvious to everyone. In fact, if I were a betting woman I would say most of you are wondering why anyone is writing about Christmas so early in the year. Well, this is why: there has been some debate recently about what constitutes BookCrossing basics, and it got me thinking that Christmas and BookCrossing have a lot more in common than you know. Don't believe me? Read on. ...
[read it all at http://www.bookcrossing.com/articles/2685]
---
ROMANZ 2007 - ITALIAN NATIONAL MEETING IN ROME
ROMANZ 2007 - Raduno nazionale italiano a Roma
by RodolfoII / introoder (translator) (liberliber)
Editor's note: An English version of this story appears below the original version....
[read it all at http://www.bookcrossing.com/articles/2688]
---
THE AMAZING TECHNICOLOUR BC BLANKET
An interview with ozone-nut, a.k.a. "the Blanket Lady"
by ozone-nut
Sometime last December on a cold and rainy afternoon I came up with the idea of creating a blanket made of knitted squares to raffle at the 2007 UK Unconvention. I knew I wouldn't have the time, spare wool and staying power to knit enough squares myself so I threw the idea open to BookCrossers around the world, who adopted it with alarming enthusiasm....
[read it all at http://www.bookcrossing.com/articles/2698]
---
CALL FOR WRITERS

Want to write for BookCrossing? If your article is accepted, you could see it featured here in the next newsletter. What topics do we need? Anything about books, reading, or BookCrossing — tutorials, release and catch stories, well-traveled book stories, funny BookCrossing experience stories — you get the idea. Write it up, then submit it here:

http://www.bookcrossing.com/articles/submit




---
Top 10 Countries All-Time
| | |
| --- | --- |
| USA | 244,126 (43%) |
| UNITED KINGDOM | 60,545 (11%) |
| GERMANY | 38,242 (7%) |
| CANADA | 37,794 (7%) |
| SPAIN | 30,120 (5%) |
| AUSTRALIA | 25,956 (5%) |
| ITALY | 18,268 (3%) |
| FRANCE | 12,674 (2%) |
| NETHERLANDS | 10,368 (2%) |
| PORTUGAL | 7,527 (1%) |
Top 10 Countries Last Week
| | |
| --- | --- |
| USA | 605 (33%) |
| UNITED KINGDOM | 208 (11%) |
| GERMANY | 129 (7%) |
| AUSTRALIA | 115 (6%) |
| CANADA | 80 (4%) |
| NETHERLANDS | 57 (3%) |
| SINGAPORE | 51 (3%) |
| SPAIN | 42 (2%) |
| ITALY | 31 (2%) |
| FRANCE | 27 (1%) |
---
Wild books released by our members are being caught all over the world, every day! Our site watch forum is where members post news of great wild book catches. Here are some of the best from the last few days...

Book surfaces after 2 years:)
I released this one 2 years ago in a coffee shop in Little Rock Arkansas.
It was just released in Taos, New Mexico with no journal entries between the two releases.

http://bookcrossing.com/---/2583527
by etherea
I've been really lucky with some old releases recently.
For instance, I released this one into the wild 4 years ago and it has just surfaced again:
http://bookcrossing.com/---/796905
by bluenoser
This catch has just totally made my day
http://bookcrossing.com/---/
Shame the finder didn't enjoy the book so much.
by shnedwards
AF finds three books in three days!
http://bookcrossing.com/---/4027271
by ResQgeek
3 wild catches and a new bookcrosser!
This is just one of three bvooks that were caught today by a new member! WOO HOO!: http://bookcrossing.com/---/3693850
by PrettyPoodle
Over 2 years and book is returning to original release spot!
Great catch for Bestkdgtchr
http://www.bookcrossing.com/---/2696989
by Jare
4 years, 2 months, and hope
I don't usually like to mention my own catches, but this one seemed special to me in spite of few words or details.
http://bookcrossing.com/---/650835
by 4libros
Probably my best travelled book...
http://www.bookcrossing.com/---/2761131
I bought it here in La Grande, Oregon. It went to Mexico, then returned to Cove, Oregon, then went to Mexico again with another friend. It was found in the hotel there, and it travelled to the Netherlands before being released on a train in Cambridge, U.K.
by LarkOnapost
WOW Supercatch!!
http://bookcrossing.com/---/5144058
by Aaltsje
"Why yes, I DO need a break from Proust"
http://bookcrossing.com/---/4223660
Another turtle walk catch and a very funny AF note.
by bookczuk
I released book, walked 2 blocks to office and......
http://stage.bookcrossing.com/---/?...
by watchcat
Fateful Catch!
This book catch was apparently meant to be:)
http://bookcrossing.com/---/5167237
by DeeOhTea
Nice catch and a new member for labmomnm!
http://www.bookcrossing.com/---/5157488
by Jare
Book finally caught after over 4 1/2 years!
This may have been Broomstick's first release. It went from Florida to Mississippi, and was caught by someone from Baltimore, Maryland, but no idea how it travelled or where it was caught.
http://bookcrossing.com/---/264580
by MaryZee
"This book reconnected me to the value of literature"
Lovely catch for Readnrelease-
http://bookcrossing.com/---/5209603
by MaryZee
---
All of our newsletters, including this one, are archived on the web at http://www.bookcrossing.com/newsletterarchive.
---
This newsletter is sent only to members of BookCrossing.com. If you would prefer to not receive this newsletter in the future, you can change your newsletter preference anytime by visiting: http://www.bookcrossing.com/newsletterpref/.