June 13, 2007
[This occasional newsletter is sent to members of BookCrossing.com. See the
bottom
of this newsletter for simple removal instructions.]
---
Describing the Indescribable--Just Back From Germany

I just got back from the Frankfurt, Germany BookCrossing convention and it was simply indescribable (ok, I'll give it a shot; when am I at a loss for words?)
Wyando and Team Frankfurt did an incredible job of coordinating this 96-hour extravaganza that was jam-packed with activities ranging from book exchanges, treasure hunts throughout the city of Frankfurt, and of course a healthy dose of German beer!
BookCrossers came out in full force not only from Germany, but we had a massive contingent from several other countries including: Austria, Ireland, The Netherlands, Belgium, Sweden, England and Switzerland. It was so great to finally put faces next to the screen names you see so frequently and some of the pictures can be located here for your viewing pleasure.
There were hundreds (if not close to a thousand) of books released, caught and journaled over the four-day event in places that are just amazing. Personally, I picked up Ken Follett's Whiteout, Mickey Spillane's The Flier, Anita Diamant's The Red Tent (which I may create a BookRing for) and Frank McCourt's Angela's Ashes. I also picked up a Fondue cookbook written in German but that was after a 7-hour dinner and drink with fellow BookCrossers: ) I also released about 25 books around the city and this one was my favorite.
On Sunday, we all got together for a fantastic book exchange brunch and we had a special guest star, Cliff1976, of Cliff's Wish List. He was met with a standing ovation and the BCers treated him like the rock star he is … I'm sure he got his fill of "feature requests" but I'm more than in touch with that emotion! This is not a shy, reserved, or quiet group.
I want to thank all the BookCrossers at the Frankfurt convention for an incredible time. Their hospitality, warmth, friendship and dedication to BookCrossing has my deepest appreciation and I'm bringing back with me all their requests in helping to make BookCrossing an even better community of book lovers worldwide.
Best to all,
Scott
redsoxbookguy
---
Announcing Hornbaker 2.0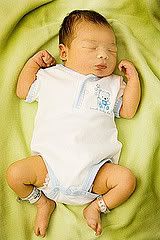 Colson Garrett Hornbaker joined the BookCrossing family at 12:53 p.m. on June 9, 2007. He weighed in at 8 pounds 2 ounces (3.68 kg), 20 inches (50.8 cm) long, has lots of dark hair, and is very healthy and handsome (so we're told). He was welcomed to the world by his mother Kaori, father Ron (aka Reno, our BookCrossing Founder) and big sister Lydia.
We thought the perfect way to welcome our next generation in the BookCrossing Family would be to suggest a release challenge. So, we challenge BookCrossers around the world to release a book in Colson's honor to let him know he's got extended family and fans just about everywhere! There is a thread over in Release Challenges to keep track of your releases. Let your imagination and creativity go wild. Welcome Colson and CONGRATULATIONS to Ron, Kaori and Lydia!


---
Second Annual Midwest BC Family Camp-Out: Will You Be There?

Mark your calendars for some outdoor fun! The 2nd annual Midwest BC Family Camp-Out will be held July 20 — 22, at the Circle B Camp Ground in Eminence, Mo. Primitive campers (i.e., those who are sleeping in tents or directly under the stars rather than sleeping in RVs, cabins or motels) need to R.S.V.P. before June 25 so that everyone can be in the same area. There are no registration fees being collected for the event. Last year the folks attending had a blast. Don't believe us? Check out this article by eireannaigh and see for yourself. For more information click here or contact eireannaigh or alrescate. And, save a S'more for Ballycumber!
---
The Coffee Bean and Tea Leaf Goes Bookish


The Coffee Bean and Tea Leaf has always been passionate about serving their customers the best coffees and teas from around the world. Now they are big on books, too. BookCrossing is pleased to announce a new partnership with the
Coffee Bean. Starting this month, locations in California and Arizona will be piloting Official BookCrossing Zones and welcoming BookCrossers with open arms and a cup of some of the world's finest coffees and teas. If you do not live in one of our pilot locations, be sure to check out the Coffee Bean website and store for convenient online ordering or to find one of the other hundreds of locations around the world. If you'd like to have a store near you be considered for part of the trial, please email us at cbtl AT bookcrossing DOT com. The Coffee Bean is also a certified Green restaurant so recycling books through BookCrossing is a great fit!
---
Track Releases and Catches Via BookCrossing Widget

Ever been "Wow"ed by a widget? Be prepared to be when you see the new BookCrossing widget available through widgetbox. We think it's great, but we might be a little biased as it was created by our very own Matt. The widget (available for free, though a membership to widgetbox is required) shows either recently released or recently caught books from our BookCrossing site — you can toggle between the two and keep up with the latest site happenings. It works on TypePad, WordPress, Blogger, MySpace as well as most other blogs, sidebars or websites — anything that allows JavaScript. Like we said: Wow!


---
Traduzca, Por Favor: Our International Label Translated And A Bit More Supply Store News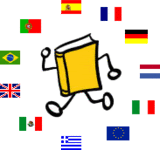 Okay, okay — Here's what our International Label says! "I'm a very special book, traveling the world. See where I've been at www.bookcrossing.com, then read and release me!" The languages represented are (in order of appearance on the label): Spanish, Greek, German, Italian, Finnish, French, Portuguese, Dutch and Swedish. And we'll let you in on a little secret. We'll soon have a new T-shirt in the Supply Store chock full of international tag lines! Woo Hoo!
The other news is that the ever-increasing U.S. postage rates have forced us to no longer routinely offer free shipping. The good news is that less than 5% of our orders qualified for this deal. Unfortunately, those orders were mostly group orders which were large, heavy and bulky, thus also the most expensive for us to ship (which only compounded our dilemma.) We will continue to search for the absolute best shipping rate for getting our merchandise quickly and efficiently to you. We are in the process of evaluating several carriers to see which can provide the best domestic and international rates. There are also plans to offer free shipping in the future as a periodic Manager's Special. We still encourage you to make group orders as the cost per individual is reduced when more people are sharing it. Stock up on supplies to get true value for your money; order less frequently but in larger quantities. It will help to stretch your dollar, euro, pound, yen or whichever currency calls your wallet home. While we regret having to alter our rates, we depend on supply store sales to maintain an always-and-forever-free site. We hope you understand and once again, thank you for your continued support!
---
Books Headed Skyward at the Albuquerque International Balloon Fiesta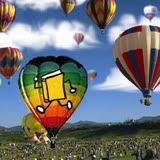 Big things are coming to Albuquerque, New Mexico this fall. Hot Air Balloons — hundreds of them! The 2007 Albuquerque International Balloon Fiesta will be held from October 6 — 14, filling the sky with of hundreds of beautiful, bright, hot air balloons. The ground will be full of over 800,000 visitors! Local BookCrossers are working on ways to get some BookCrossing exposure at this event and are in the early stages of planning some events and meets during this time. Why not come and see one of the most beautiful sights to behold, enjoy great food and entertainment, and meet up with other BookCrossers at the same time? You can visit www.balloonfiesta.com for more information on the event and travel/lodging information. Wouldn't it be fun to have books released in a throng of hundreds of thousands of people from around the world? Or even better, for some books to fly in hot air balloons, and get certified, signed stickers saying they flew and were released upon landing? The more the merrier, so start making your plans to be in Albuquerque in October. Can't make the trip, but would like to have some of your books involved? The Albuquerque BCers are now collecting books for the event, and will gladly add yours to the pile if you are interested in sending some. Contact Jare, bexlind, labmomnm, or TuffyNuff71 for shipping info or general information on the planned BookCrossing gathering during the Fiesta.
---
A Proliferation of Premium Products in the Supply Store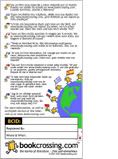 New products are pouring into the Supply Store of late. If you haven't been to visit lately, be sure to check it out now. We've got two new Bookplates that you, our members, have been clamoring for: International Multi-Language Plates and Plates for Children. Our new International Bookplate carries our BookCrossing message in nine languages (Spanish, Greek, German, Italian, Finnish, French, Portuguese, Dutch and Swedish), translated by BookCrossers who speak those languages. Now your books can travel the world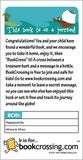 through BookCrossing and send the BookCrossing message clearly to finders who do not read English. And for our younger set, our new Children's Bookplate gives information about the site in a child-friendly manner, promoting BookCrossing as a cross between a treasure hunt and a message in a bottle. Both labels are our usual high quality product. It only goes to show that BookCrossing is ageless and borderless!


Our newest Tees are designed for that special baby or toddler in your world. Get your little one started on the right page in life with our "B is for BookCrossing" T-shirt, found only at our Supply Store. Shirts currently available in blue, pink and white (Infant sizes 6 months,12 months and 18 months. Toddler sizes in 2T, 3T and 4T.) All shirts are 100% combed cotton, Precious Cargo t-shirts with professional screen printing for vivid, long-lasting graphics and with a large rib neck for easy on and off.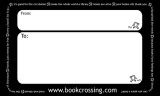 Mailing a book off on a Book Ring? Headed to the post office to mail out that RABCK to someone special? What better way to spiff up your plain parcel than with our exclusive BookCrossing Mailing Labels. These labels are white on distressed black, with Ballycumber and some of our favorite tag lines encircling the outer edge. Plenty of room for the mailing address and your return address as well. Packs of 20 self-adhering labels. Give your parcels and packages a proper BookCrossing sendoff! Click on the image to the left for a bigger view. (P.S. That's Ballycumber running to and fro, going and coming in the corner of the "To" and "From" spots!)
---
RADIO FREE BOOKCROSSING
Promoting the convention on Charleston radio
by ResQgeek
Arriving in Charleston the day before the official start of the convention, I immediately proceeded to the broadcast studios for The Bridge (105.5 FM), where a group of BookCrossers had been invited for an on-air interview to promote BookCrossing and the Convention. I was driving down with Skyring and we were running a bit late (no doubt because we took the scenic route and were releasing books along the way), but when we pulled up to the station we were met by a group of BookCrossers patiently waited for our arrival. We headed inside and were greeted by our host and the station staff and then were directed upstairs to the broadcast booth....
[read it all at http://www.bookcrossing.com/articles/2648]
---
I'M MAD AT BOOKCROSSING
No, really. Trust me on this.
by bookczuk
I was a very happy person before I found BookCrossing. Honest. Really. (well, discount the fact that just immediately before finding BC I got a life-threatening illness and almost checked out of this life from it several times. That does put a damper on things.) But despite having to totally revamp how I lived my life, I was quite happy. I have a wonderful family, filled with love and laughter and grace. I had a fabulous career and a stellar reputation in my field, despite the fact that I was suddenly yanked from practicing because of that fricking occupationally acquired illness. (Wait-- that sounds like there was some bitterness creeping in there.) Okay, I'll admit it. Latex allergy and the subsequent pulmonary problems I've had bite it big time, but still, my life then was, and is now, blessed. Good. Happy. And all that stuff....
[read it all at http://www.bookcrossing.com/articles/2678]
---
INTO THE LAND OF BALD PEANUTS
The Charleston Convention
by miketrollstigen
First I want to talk about Charleston. BookCrossing Conventions are wonderful, but you don't take a 9,000 mile round trip from the UK for a weekend break! So the Trolls stayed at the Riverview hotel several days before and after the BC bash to see the city....
[read it all at http://www.bookcrossing.com/articles/2651]
---
THE FUN OF A GROUP ORDER
(English and Dutch versions below)
by Elefteria
IN DUTCH: Veel Plezier Bij de Groepsbestelling....
[read it all at http://www.bookcrossing.com/articles/2663]
---
WHAT A LOAD OF TROLLOPE!
New Anthony Trollope website launches
by AnthonyTrollope
This year marks the 150th anniversary of the publication of one of Britain's best loved and entertaining novels, Barchester Towers [1857], written as part of the Barset Series by Britain's most prolific Victorian author, Anthony Trollope. To celebrate, The Trollope Society today launched what some believe to be the most detailed website ever dedicated to a writer www.anthonytrollope.com. The site brings Trollope's talent for characterisation, drama and humour to 21st Century life. Ready for a new generation of readers, the site comes complete with stunning new illustrations, interactive challenges, 1500 cross-referenced characters, plot and place profiles, currency converters and quotes of the day. ...
[read it all at http://www.bookcrossing.com/articles/2672]
---
BOOKCROSSERS FROM AROUND THE WORLD IN GERMANY
4th Annual German-Speaking BC Convention in Frankfurt, Germany
by elhamisabel
From May 17 to 20, 2007, the annual German-speaking BookCrossing convention took place in Frankfurt am Main, Germany. ...
[read it all at http://www.bookcrossing.com/articles/2673]
---
(German)


FRANKFURT HEIß BEGEHRT!
4. deutschsprachiges BookCrossing Treffen 2007 in Frankfurt am Main
by elhamisabel

An English version of this article is available in this newsletter as well.
---
Vom 17. bis zum 20. Mai fand das 4. deutschsprachige BookCrossing Treffen statt. Diesmal in der Mainmetropole Frankfurt....

[read it all at http://www.bookcrossing.com/articles/2675]
---
CALL FOR WRITERS

Want to write for BookCrossing? If your article is accepted, you could see it featured here in the next newsletter. What topics do we need? Anything about books, reading, or BookCrossing — tutorials, release and catch stories, well-traveled book stories, funny BookCrossing experience stories — you get the idea. Write it up, then submit it here:

http://www.bookcrossing.com/articles/submit




---
Top 10 Countries All-Time
| | |
| --- | --- |
| USA | 240,780 (43%) |
| UNITED KINGDOM | 59,451 (11%) |
| GERMANY | 37,634 (7%) |
| CANADA | 37,370 (7%) |
| SPAIN | 29,859 (5%) |
| AUSTRALIA | 25,578 (5%) |
| ITALY | 18,070 (3%) |
| FRANCE | 12,505 (2%) |
| NETHERLANDS | 10,105 (2%) |
| PORTUGAL | 7,446 (1%) |
Top 10 Countries Last Week
| | |
| --- | --- |
| USA | 584 (34%) |
| UNITED KINGDOM | 254 (15%) |
| N/A | 142 (8%) |
| GERMANY | 138 (8%) |
| CANADA | 85 (5%) |
| AUSTRALIA | 74 (4%) |
| SPAIN | 54 (3%) |
| NETHERLANDS | 48 (3%) |
| ITALY | 40 (2%) |
| FRANCE | 32 (2%) |
---
Wild books released by our members are being caught all over the world, every day! Our site watch forum is where members post news of great wild book catches. Here are some of the best from the last few days...

"Best idea since the public library"
http://www.bookcrossing.com/---/4764607
by ResQgeek
New member caught my book and has already had a bunch of friends join
Wow, this person caught one of my books at Panera, journaled and joined just 5 days ago, and already has 20+ new member referrals!
http://bookcrossing.com/---/publicfrog

by ILuvToRead2
MIA for nearly four years
Somehow it made its way from northern NJ to down the shore and has now resurfaced. Welcome to the new BXer, too!
http://bookcrossing.com/---/877363
by watchcat
"I was hesitant about buying her book. And suddenly, it appeared in front of me"
A nice catch at Michigan State:
http://www.bookcrossing.com/---/5121907
by ResQgeek
The very first book I ever wild released!
Two entries, three years later....
http://bookcrossing.com/---/1510934
woohoo!
by kelwood
A quick catch from the local TV studios!
This was a good j/e to receive =)
http://bookcrossing.com/---/5146400
*happy dance*
by Littlemave
It's a long way from Adelaide to Indianapolis!
Some time ago I did a draw for some RABCKs in celebration of registering 500 books. Although awaywithfairies didn't win her chosen book, I remembered and passed it to her at the Adelaide convention. Here's what happened next. ..
http://bookcrossing.com/---/3112920
by meganh
Took almost THREE years.....WOW
http://bookcrossing.com/---/1078452
Journal entry 5 by AnonymousFinder from n/a, n/a n/a on Sunday, May 27, 2007

Book was given to my mother-in-law who lent it to me.
Wow. Almost three years since the last entry.
Don.

CAUGHT IN KANTA ONTARIO CANADA

by princess1984
Stunning catch for ME! LOL
After a lot of whinging and longing stares at the 'Recently Caught' sidebar, I've finally hit the payload.
http://www.bookcrossing.com/---/5128555
My new member says: "Finding the book was one of the most amazing things that has ever happened to me!"
Well I never. What a fine cap off for a lovely weekend away.
by inkognitoh
A 2nd generation catch!
Released a copy of 1984 at the Pour House a few months ago, and got this catch (via an AF) today. I get enough catches at the Pour House that I don't get as excited about them anymore (unless they're especially meaningful), but it seems as though very few of my books move on to the 2nd generation. So I was very pleased about this one when I realized the AF had in fact, passed it on. (Don't know who Adele is though, or where StJohn is.)
http://bookcrossing.com/---/4453411
by MaryZee
This one got a second wild hop after 3 years
http://bookcrossing.com/---/1679720
by nyisutter
From Panera Bread in IA to Trinidad in just over 2 years
http://www.bookcrossing.com/---/2458532
What's nice is that the journaler (and new member) has described how it got to her.
by Foucault
Bleak House caught on bridge.
http://bookcrossing.com/---/4944826
by Sobergirl
Armageddon postponed for 3 years! UPDATE.....
http://www.bookcrossing.com/---/1286816
I think it must have entered another dimension for a while 'cos I hadn't noticed it there since I left it!

Update.....My thanks to Naylander for adding the wonderful JE! (see the post further down thread or click on link).
Without doubt the most literate and amusing JE I've had. Do you write much? If not,you really should,you know!
by dagon
Two wild releases, a year and hundreds of miles apart, caught by the same person!
I just had to share this amazing co-incidence
I released this book over a year ago at Falmouth Maritime Museum in Cornwall:
http://www.bookcrossing.com/---/3687550
Two days ago I released this book at London Bridge train station in London:
http://www.bookcrossing.com/---/4608888
They were found by the same finder! And I no, I don't know this person at all, have never met her- although we did exchange a PM or two after the first book was found about bookcrossing generally and she has sent me a lovely PM after finding the second book just to remark on the co-incidence.
Isn't bookcrossing so wonderful?
by Rivercassini
---
All of our newsletters, including this one, are archived on the web at http://www.bookcrossing.com/newsletterarchive.
---
This newsletter is sent only to members of BookCrossing.com. If you would prefer to not receive this newsletter in the future, you can change your newsletter preference anytime by visiting: http://www.bookcrossing.com/newsletterpref/.