May 9, 2007
[This occasional newsletter is sent to members of BookCrossing.com. See the
bottom
of this newsletter for simple removal instructions.]
---
Still Recovering...

...from the 6th Annual BookCrossing Convention in South Carolina. I kid you not. It was quite an experience. The Charleston BookCrossers turned on true Southern Hospitality for all the attendees and guests. It was a 3-day epic adventure of book lovers from around the world. For those of you not able to attend, imagine close to 1000 books wild released in a town chock full of literary history. Another 1000 or so books got new journal entries there in Charleston, as controlled releases, trades and gifts from far flung BookCrossers for the Book Buffet. And lest you think it was all high brow talk in hushed library tones, I can tell you personally that BookCrossers know how to have fun. Laughter was a main ingredient of the weekend. If you're in doubt as to the accuracy of my words, check out the blogs, journal entries and pictures created by members to commemorate the time. Smiles are the main ingredient. South Carolina was my first stop in many travels planned throughout the year. I really want to hear from you first hand how we can make BookCrossing a better worldwide book community. I'm looking forward to attending the Frankfurt, Germany BookCrossing event(17 — 20 May) in a couple of weeks and it's sure to be an event to remember. Hopefully I'll be at the MegaBookCrossing 2007 in Nice on June 23. Then on to the UK UnConvention at the end of June, which also promises to draw a big crowd. The Australian convention is in early October and all signs point to an equally strong showing bringing BookCrossing Blokes and Sheilas from near and far.
I'm not going to dive into business detail in this initial piece. I want to simply say "thanks" to everyone I've met in person and through email and reiterate my commitment to helping BookCrossing maintain its position as the largest free book club on the planet. No one else even comes close to what we have. Your loyalty and dedication to the site is appreciated by everyone associated with bookcrossing.com and we will work harder than ever to keep you coming back!
Best to all,
Scott
redsoxbookguy
---
Spring Cleaning Time for BookCrossing

Perhaps you heard a huge cheer last month when BookCrossing's new servers went to work? Just in case you think that's all that is new, here's a little list of some of the new site improvements. A big thank you to Matt, who heads the best tech team in the world, for all the hard work to help us keep on 'Crossing. He was the genius behind our new Catch and Release Mapping feature (and listened when we sent up a plea to keep the side bar recently released/caught feature). Matt is the Support Team's "Go-To" guy when there's a problem, and he's yet to be stumped. Site wide, there's an ongoing effort to make sure that all features work on all operating systems, both PC and Mac. Our sign-up page has been streamlined to make it easier for folks checking out the site to stick around and join the fun. There is an improved book look up and support for 13 digit ISBNs when registering a book. Our database has gone through initial tuning to increase query speeds. Some of the important links, such as FAQs, Contact Us, and our Privacy Policy can now be found at the bottom of every site page. (And have you noticed that our FAQs are easier to read and navigate now?) There's a message from our CEO now listed, and there will be regular updates from Scott in the newsletters. All in all, the site is going through a BIG spring cleaning. Much of this was presented at the Charleston Convention in April. Be sure to check out the videos and video transcripts (thank you TexasWren!) for more information. Keep your eyes open for all sorts of new and exciting features, improvements and upgrades.
---
Pictured: Matt Brass and Scott Sorochak working out details at the Charleston BookCrossing Convention, April 2007. Many thanks to azuki for the picture.
---
Panera Bread Catches BookCrossing Fever

Here's some yummy news: Panera Bread® bakery-cafes in select areas will become Official BookCrossing Zones this month! Not only will each Panera location in San Diego, CA, Chicago, IL and Jacksonville, FL feature OBCZs, some locations will also host BookCrossing Gatherings in May and June. Many BookCrossers meet at Panera Breads across the US already
and love the warm, welcoming environment, fabulous food and free wi-fi. It's a winning combination for sure! Check the Meetings and Conventions Forum for dates and details. And if you don't live in one of those cities, but have a Panera near you, why not stop in, say hello, share a meal and release a book? (Our marvelous image of Ballycumber with a baguette was created by Moem. It would make a tasty addition to your Panera Bread releases!)
---
Convention Greetings from the Greek Symposium and North American Convention

One thing is certain: when BookCrossers gather together, good cheer, great conversation, and lots of laughter abound. Rumor has it there is even occasional talk of books! If you couldn't make either of these events, be sure to do a little armchair traveling via an article written by aris1 for our Newsletter.
The group that gathered in Charleston also had a grand time, and promise to get an article or two in over the next little bit. In the meantime, they tell us you can catch a glimpse of a lot of the festivities over at the BookCrossing 2007 Anniversary/North American Convention photo pool. There sure are a lot of smiling faces and beautiful places seen at both conventions. Many thanks to all the organizers for their hard work. And yes, the cake at the Charleston convention tasted as good as it looked! Next up is Germany — See you there!
---
BookCrossing Support (a.k.a. Team Oh Bother) Just Got Even Better

A message from Heather Pedersen

As many of you know, it takes a tremendous amount of time and tact to manage the support emails and keep this site successful and running for free. We couldn't do it with out our fabulous, behind-the-scenes Volunteer Support Team! This bunch of committed, zealous BookCrossers are extremely generous to donate their time and talent to maintain the literally hundreds of questions, problems, issues and queries that come through the contact link and in the forum every month. They expertly help
Scott and me manage the volumes of press requests, email, and general business-related inquiries that get fielded on a daily basis. We sincerely couldn't do it without them (ok, ok, but it would cost us our first-borns and an arm and a leg — none of which Scott and I are able to give). Having said that, it is our honor to "officially" welcome long-time, passionate and VERY active, UK BookCrosser, Netstation, to the Volunteer Support Team. Steve has been an active "unofficial" behind-the-scenes contributor acting as a UK ambassador, giving the Europeans a good show on the radio and does a fantastic job of interviewing and fielding the UK press on our behalf. In addition, Steve is the contact person for the 2008 BookCrossing Anniversary Convention held in London. We are ticklishly excited to have him join the ranks of the Volunteer Team. Welcome Sir Steve!!
---
Pictured above: BC Support Team present at the Trivia Night during the Charleston Convention. Playing as Team "Oh Bother" (complete with the t-shirts sporting our error message screen page), they managed to take second place in the contest.
---
Limited Edition Book Plate #18 and New OBCZ Products Now in the Supply Store

Now you can dress up your Official BookCrossing Zone by putting one of our brand new Official BookCrossing Zone Clingies in the window. The clingie is the same 4 x 6 inches (10 x 15 cm) size as our regular window clingie and easily adheres to most surfaces. It is the perfect way to help identify your favorite OBCZ to other BookCrossers and BookCrossers-to-be. Thanks to all in the forum over the years who have asked for this item to be offered, and many thanks to saine who is the creative talent behind the graphics. Clingies are available exclusively in our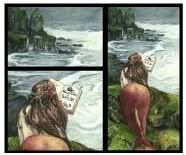 Supply Store. Click on over and pick one up. You'll have the double satisfaction of supporting your OBCZ and supporting the site. And while you're there, be sure to check out the new OBCZ kits of all kinds, for both starting an OBCZ or maintaining an already established one. You'll find all these products in our brand new OBCZ Supplies section. And our latest Limited Edition Book Plate, How To Catch A Sailor, by artist Kami Blood, will ensnare you with visions of the sea and tales of mermaids bewitching sailors. Who knew that sirens have a manual?
---
SYMPOSIUM IS GREEK FOR PARTY!
Cast a glance at the 2nd Greek BookCrossing Convention in Athens
by * (aris1)
The Athens Symposium was quite a blast! About 70 BookCrossers from all over Greece and even the UK joined the party and had a great time. We really enjoyed strolling in sunny Athens, making new friends, meeting old ones, drinking wine, eating souvlaki, philosophizing, and releasing loads of books! ...
[read it all at http://www.bookcrossing.com/articles/2645]
---
RELEASE YOUR BOOKS IN SUNNY NICE!
MBC on Saturday, 23 June in Nice, France - Big release event
by KanaPoutz
French BookCrossers are happy to announce that the 11th MBC will take place in Nice, on Saturday, 23 June! BookCrossers will meet and release their books in the great setting of the castle hill, overlooking the Mediterranean and the old town....
[read it all at http://www.bookcrossing.com/articles/2629]
---
ARCTIC RELEASE
BookCrossing at the top of the world.
by Eero Rinne (erinne)
I believe I'm about to commit the northernmost book release so far. I'm participating in a sea ice field measurement campaign at arctic schooner Tara, now situated at 87 degrees northern latitude (see http://www.taraexpeditions.com/). Tara is a French ship that was deliberately frozen in sea ice in the Fall of 2006 off the coast of Siberia. Tara will drift with sea ice and hopefully arrive in Fram Strait between Greenland and Spitsbergen in 2009. My trip to Tara is a part of a European DAMOCLES research (http://www.damocles-eu.org/) which aims to better understanding of the climate change to the arctic....
[read it all at http://www.bookcrossing.com/articles/2634]
---
UNLOCKING REALITY ON BOOKCROSSING
Manuscript Takes a BookCrossing Journey Round the World
by ISDT
In July of 2005, our London based Trust were working on the preparation of a manuscript for publication entitled Unlock Reality. Some of our proofreaders took a shine to the work, and wanted to see it released early. There seemed no way to do this until one of them suggested, why not release a few copies via BookCrossing. The thinking was that at the very least this might provide us with some feedback and comments which might be helpful in its presentation to publishers....
[read it all at http://www.bookcrossing.com/articles/2637]
---
BC USED AS A TEACHER'S AID IN UTAH
BookCrossing can inspire, teach and help kids imagine!
by chubsiewhubsie
BookCrossing is more than a book tracking site. It can inspire, teach and help kids imagine. ...
[read it all at http://www.bookcrossing.com/articles/2639]
---
(Dutch)


EEN BEETJE VREEMD MAAR WEL LEKKER
or in English: A BIT STRANGE, BUT FUN ANYWAY
by Aaltsje

Heel vreemd hoe de dingen soms lopen. ...

[read it all at http://www.bookcrossing.com/articles/2646]
---
CALL FOR WRITERS

Want to write for BookCrossing? If your article is accepted, you could see it featured here in the next newsletter. What topics do we need? Anything about books, reading, or BookCrossing — tutorials, release and catch stories, well-traveled book stories, funny BookCrossing experience stories — you get the idea. Write it up, then submit it here:

http://www.bookcrossing.com/articles/submit




---
Top 10 Countries All-Time
| | |
| --- | --- |
| USA | 237,581 (43%) |
| UNITED KINGDOM | 58,286 (11%) |
| GERMANY | 37,000 (7%) |
| CANADA | 36,959 (7%) |
| SPAIN | 28,315 (5%) |
| AUSTRALIA | 25,197 (5%) |
| ITALY | 17,811 (3%) |
| FRANCE | 12,186 (2%) |
| NETHERLANDS | 9,773 (2%) |
| PORTUGAL | 7,368 (1%) |
Top 10 Countries Last Week
| | |
| --- | --- |
| USA | 476 (29%) |
| UNITED KINGDOM | 238 (15%) |
| GERMANY | 116 (7%) |
| N/A | 111 (7%) |
| SPAIN | 85 (5%) |
| CANADA | 83 (5%) |
| NETHERLANDS | 75 (5%) |
| AUSTRALIA | 68 (4%) |
| ITALY | 63 (4%) |
| FRANCE | 41 (3%) |
---
Wild books released by our members are being caught all over the world, every day! Our site watch forum is where members post news of great wild book catches. Here are some of the best from the last few days...

Caught in Kabul several years later
This was among a couple of boxes of books I dropped off at a Canadian Forces base several years ago for inclusion in care packages to troops overseas. It has just turned up at an American base and the finder has joined.
http://www.bookcrossing.com/---/1661488
by Miss-Efficiency
Bookish connections on the train.
http://www.bookcrossing.com/---/3576809
I am left wanting more (a romance perhaps?) from this journal entry from AF LOL.
by inkognitoh
there i was now reading a book for the first time in 5 years
A fun catch!
http://bookcrossing.com/---/4937145
by ResQgeek
10 July 2003 to 30 April 2007
How did it get from the neighbourhood bench to Moncton?
Just another reminder to never give up on our books! They do resurface.
I am so pleased by this.
http://www.bookcrossing.com/---/789284
by Grorser
"this website is a fantastic idea!" - I got a catch, an enthusiastic new member...
...and a great journal entry:
http://bookcrossing.com/---/4776011

by GoryDetails
Taking the Book out for Dinner and Drinks
I enjoyed this journal entry for one of my recent releases http://bookcrossing.com/---/4899426 I hope they have a wonderful time together and that the finder falls in love with the book and with BookCrossing.
by BigKat
brought by one BCer to convention, released by another and found by a speaker!
http://www.bookcrossing.com/---/5018996
by bookczuk
Book found at bus stop about to go on a round-the-world trip?
http://www.bookcrossing.com/---/4797637
Sounds like someone really gets the idea of a traveling book, and I'm glad that someone let the 4 year old pick up the book at the bus stop, rather than telling them to leave it alone! Let's hope mummafour, AUSSIE73 and her son hear from the book on its travels.
by Foucault
From the UK to South Africa in less than a week!
http://www.bookcrossing.com/---/5042268
I released this yesterday, I think this is the best catch I've ever had!
by Miss-R
"Sometimes the synchronicity of life, when I am paying attention, astounds me."
What a great catch for alrescate's BC anniversary!

by Agrace
After thinking about it, finder goes back and picks up the book!
http://www.bookcrossing.com/---/4163049
by pinklady60
" 'yes, I did it on purpose' and smile knowingly"
In my recent checking through the go hunting pages, at local releases (or those near friends and relatives), I found this interesting release. Only the 2nd one for a new member- what an experience!
http://bookcrossing.com/---/5020571
by MaryZee
---
All of our newsletters, including this one, are archived on the web at http://www.bookcrossing.com/newsletterarchive.
---
This newsletter is sent only to members of BookCrossing.com. If you would prefer to not receive this newsletter in the future, you can change your newsletter preference anytime by visiting: http://www.bookcrossing.com/newsletterpref/.