April 3, 2007
[This occasional newsletter is sent to members of BookCrossing.com. See the
bottom
of this newsletter for simple removal instructions.]
---
A Message from Ron Hornbaker

It's hard to believe we're already approaching the end of the 6th year of BookCrossing. I'm sure you've heard that changes are afoot behind the scenes, so I wanted to write you this brief note and share my perspectives on what should prove to be a big 7th year.
Heather, Bruce and I looked long and hard at where BookCrossing has been and where we'd like to see it go. Some great things have happened and BookCrossing has grown way beyond our early dreams. Who would have believed that there would be a BookCrossing book released on Mt. Everest, that one book would travel through the hands of over two hundred BookCrossers, or that thousands of BookCrossers would be meeting regularly, worldwide, to share their passion for the site? Thanks to you, our membership now stands at over 540,000 members in over 120+ countries, making BookCrossing by far the World's Largest Free Book Club. While vision and direction have helped us to achieve these goals in the early years, we are now embarking on a new "chapter" in 2007 that will position the company and the membership for significant near and long term growth. While we have incredible members, fabulous internal staff and an unbelievable volunteer support team, what we all agreed was needed was someone at the senior leadership level to help us define, prioritize and execute against our near- and long-term goals and objectives. Bruce and Heather and I have been looking for the right person to guide BookCrossing through this pivotal time in BookCrossing's history. We're excited to have finally found that perfect blend of entrepreneurial vision, deep managerial experience, and BookCrossing passion in Scott Sorochak.
Scott has over 20 years of proven leadership and individual contribution experience at many of Silicon Valley's most successful companies. He is extremely passionate about BookCrossing and really understands the community, the membership loyalty and the global nature of BookCrossing. You'll be hearing a lot more from Scott as he plans on traveling extensively to the regional and international BookCrossing conventions, as well as staying active on the forums and in email.
Scott hails from the San Francisco Bay area, and since I recently moved there myself, we've become fast friends. I'm absolutely convinced he is "The One" for this job, and as BookCrossing's new President and CEO, Scott will be raising private capital for operations and expanding our great team. Bruce and Heather and I will remain on in varying capacities; for myself, I plan to meet with Scott at least biweekly and advise on technical matters, and maintain a seat on the Board to help shape the future direction of BookCrossing.
Scott's full of the kind of energy and enthusiasm I had back in 2002; the difference is that he actually knows a thing or two about growing a business like this after it's started. Please help welcome him into the BC family, and work your magic to make him welcome. You can meet him for yourself at the Charleston BookCrossing Convention later this month. He'll be the fellow who answers to the screen name of redsoxbookguy. And lest you think I am exaggerating about Scott's abilities, he's the one who rounded up what we needed for our new servers — helping improve our site performance by roughly 50%!
Based on the first quarter of 2007's revenue and membership numbers, 2007 is already shaping up to be a very, very good year for BookCrossing and its members worldwide.
---
A BookCrossing Gathering by Any Other Name

We all know that a rose by any other name would still smell as sweet, so a gathering of BookCrossers by any other name would still be as fabulous. But — if we want to avoid using a term coined elsewhere that has different associations for different people, what should we call our regular get-togethers? We gathered a list from suggestions you sent in and received quite an education as well. We learned that Klönschnack means to get together and talk in a slow manner for hours and that gathering has a double meaning. There's the obvious one of "meeting", but in bookbinding it refers both to a set of folded sheets forming one section (or signature) of a book, and to the process of arranging these sections in proper order for binding. An international focus group narrowed the list down to just a few manageable suggestions. Now we'd like you all to choose your favorite from the list. Here's how you can help. Pick your favorite from the list below, put it in the subject line of an email to namegame AT bookcrossing dot com. In the body of the email, give us your screen name. Only emails to the namegame address will be eligible. (You must be a BookCrossing member to vote and only one vote per person, please) The winning name will be presented at the BookCrossing Convention in Charleston.
BookCrossing Gathering or BookCrossing Group/BCGroup (shortens to BCG)
Klönschnack
ABC or Assembly of BookCrossers
BookCrossing Exchange/Exchanges
Our mission is to find a name that we can use in our press releases and on the site. Obviously, many of you have terms near and dear to your hearts, but we're in search of a simple term that can be understood here on the site, not step on anyone else's toes, and be the perfect "title" for a bevy of BookCrossers!
---
I Brake for the Supply Store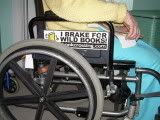 Drive your mouse on over to the Supply Store and fill 'er up with exclusive BookCrossing Supplies and Goodies. We've got lots of items to choose from, including apparel, release supplies, and much more. Our wonderful bumper sticker, which tells the world that you brake for wild books, is now on sale for $1.95 (while supply lasts.) Place one on your car, truck, bicycle, or Vespa. Don't drive? No worries! You can be like bumma who found a great use for her sticker even if she lacks a car!
---
Now Serving YOU! Important Site Update and Server Maintenance April 4

We keep saying big things are happening here at BookCrossing and so they are. There's been a lot of hard work going on behind the scenes, all to improve the site. On Wednesday, April 4 at 11:59 PM, Pacific Daylight Time (GMT -7), we will be migrating over to our new web and database servers. (Pause for all the enthusiastic cheers.) In order to do this we have to change our DNS address, which will cause some people to lose connection with the site for a limited amount of time until their DNS server updates to our new address. (Bottom line for the non-geeks is that you may have an interruption in your access to the site, which is beyond our control, after midnight on Wednesday.) We are sorry for the inconvenience but it is nothing that can be helped on our side. We will use the downtime to finalize our data transfer and test the site to ensure that it is ready to go. We think you'll be pleased with the speed enhancement and stability these new servers provide to the site. We wanted to let you know so that you can get all your urgent BookCrossing needs done early in case your server takes a bit of time to update to the new BookCrossing address.
---
Making Internet Tracks from PostSecret.blogspot.com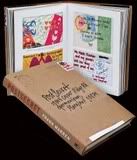 On Sunday March 5, our Internet doorbell began to ring off the wall. There had been a lovely mention of BookCrossing over at postsecret.blogspot.com which brought bunches of new visitors to the site. (For the stats freaks among us our Sunday numbers boiled down to 1127 new members on Sunday, 34,075 visitors stopping by to just check us out, and 221,118 page views. 58% of our traffic was sent from PostSecret. Our March average prior to the blog post had been 14332 visitors, 167563 page views and 210 new members a day.) PostSecret invites you to anonymously send in your secrets for possible inclusion in a Sunday Secrets review. "Each secret can be a regret, hope, funny experience, unseen kindness, fantasy, belief, fear, betrayal, erotic desire, feeling, confession, or childhood humiliation. Reveal anything — as long as it is true and you have never shared it with anyone before." The BookCrossing reference can be seen here. Thanks PostSecret and a BIG welcome to all our new members who found out about our not-so-secret favorite place to be!
---
The Chain Gang: Cross-Country and Continent in Britain and North American

Leave it to our British BookCrossers to get another great project going. If you've been in the forum lately you'll see that some BookCrossers over there are participating in a cross-country chain to pass a book from one end of the country to the other. The basic idea is that pairs of BookCrossers meet up, exchange small gifts and make an entry in a Journal which is passed by hand (no mailing involved) from one BookCrosser to another around the country. Inspired by the British cross-country chain (posted about here by Jalna), FancyHorse has offered the opportunity to participate in a chain on this side of the pond. Her forum post explains her vision for a chain to start at the Convention in Charleston, South Carolina and go across the country, BookCrosser to BookCrosser, to the West Coast, and maybe even Alaska and/or Hawaii. It's hard to think of a chain more "binding" than one made of BookCrossers! Keep it going round the world and maybe the two chains can meet!
---
When Bad Things Happen to Good Books

Sometimes, some not so good things happen to our books out in the world. It may be an anonymous finder writing a nasty note about the book they found or it may be that the evil spammers of the world got the link to a book's full BCID and are happily sending journal entries telling us what to buy, how to improve various body parts or what "extracurricular activities" to try. In the past, our Support Team has handled these on an "as occurs" basis. However, it's become necessary to implement some different measures to stop the spamming in journal entries in particular. To do this, we will be trying out various methods to make anonymous finders prove they're human. You will not see these verification requests if you are already a member, and a legitimate AnonymousFinder should not be put off by them, either, as they are standard practice throughout the Internet. And once an AF joins, they will no longer have to complete the are-you-sure-you're-not-a-script procedures to post. Please be patient and understanding. We want to find the best method to stop the bad guys from accessing your book journals. And remember, while spammers might get hold of some journal-entry links by random attempts, many full BCIDs are found online — where someone, perhaps a well-meaning BookCrosser posted the complete BCID (rather than the digits to the right of the hyphen) or even the actual "make-new-journal-entry" link. So please, keep the full BCID secret: it should ONLY be written inside the book; do not post it in journal entries, forums or anywhere else on line. For more information on how to post a link to your book without feeding the spammers, see our "frequent questions" item about BCIDs.
---
WHY IT'S ALMOST LIKE BEING A BOOKCROSSER
Apologies to Lerner and Lowe
by bookczuk
"So, I'll just leave it here for someone to find. Please don't throw it away or stick it in the lost and found," I said to the woman who was clearing tables. "It's on an adventure."...
[read it all at http://www.bookcrossing.com/articles/2611]
---
BOOKCROSSING, GOOD GIFTS AND PENGUINS
What is the connection between all three of the above?
by Anne.V. Taylor (Veran)
What is the connection between www.bookcrossing.com, www.goodgifts.org and penguins?
Answer: a library in an Indian village costing £1200.00.
Now by what circuitous route do we come to that co
[read it all at http://www.bookcrossing.com/articles/2613]
---
A PERSONAL MESSAGE
A message that I sent to a new releaser
by Libre-Muncher
I'd like to share a message that I just sent to a new BookCrosser. I got a notice that a book had been released in a nearby cafe and the releaser was apparently excited about their first release. In the message, they wished the finder lots of enjoyment with the book. It reminded me of my first release and how excited I was, only to be disappointed later. Here is what I wrote this morning:...
[read it all at http://www.bookcrossing.com/articles/2616]
---
READ & RELEASE
An Article from Las Cruces, NM
by Damien Willis (damienwillis)
Sunday morning started with nothing out of the ordinary -— a cup of joe, a shower and a shave. My dad was in town for the WAC Tournament, and we decided to grab some breakfast before he left. As we walked into a popular Sunday morning brunch spot on Lohman, there, under the menu board, something caught my eye. It was a book by Sharon Weinberger called Imaginary Weapons, and stuck to the dust jacket was a note that read, "I'm free! I'm not lost! Please pick me up, read me, and help me with my journey!"...
[read it all at http://www.bookcrossing.com/articles/2621]
---
WRITERS BLOG ABOUT THE BOOK BUZZ!
Writers love to create buzz about their books, and BookCrossing is the perfect tool to do so!
by Julie M. Prince (jmprince)
I blogged recently about a hot topic in the children's writing community. Here's my post: The Book Buzz So, where do writers get their books? This has been a big subject lately. It's been discussed on blogging polls, message boards, email lists, and at http://www.brotherhood2.com/. Some writers think that other writers should only purchase new books, to help along sales for other writers. Some writers think it's perfectly fine to buy books used and to check them out of the library. I'm in the latter camp. I'm a library and yard sale queen....
[read it all at http://www.bookcrossing.com/articles/2623]
---
CALL FOR WRITERS

Want to write for BookCrossing? If your article is accepted, you could see it featured here in the next newsletter. What topics do we need? Anything about books, reading, or BookCrossing — tutorials, release and catch stories, well-traveled book stories, funny BookCrossing experience stories — you get the idea. Write it up, then submit it here:

http://www.bookcrossing.com/articles/submit




---
Top 10 Countries All-Time
| | |
| --- | --- |
| USA | 234,439 (43%) |
| UNITED KINGDOM | 57,024 (10%) |
| CANADA | 36,558 (7%) |
| GERMANY | 36,387 (7%) |
| SPAIN | 27,520 (5%) |
| AUSTRALIA | 24,825 (5%) |
| ITALY | 17,559 (3%) |
| FRANCE | 11,984 (2%) |
| NETHERLANDS | 9,470 (2%) |
| PORTUGAL | 7,250 (1%) |
Top 10 Countries Last Week
| | |
| --- | --- |
| USA | 1,171 (53%) |
| UNITED KINGDOM | 274 (12%) |
| CANADA | 143 (6%) |
| AUSTRALIA | 91 (4%) |
| GERMANY | 80 (4%) |
| NETHERLANDS | 61 (3%) |
| ITALY | 43 (2%) |
| FRANCE | 39 (2%) |
| NEW ZEALAND | 33 (1%) |
| SPAIN | 32 (1%) |
---
Wild books released by our members are being caught all over the world, every day! Our site watch forum is where members post news of great wild book catches. Here are some of the best from the last few days...

Great catch, travels and newbie for awaywithfairies...
...on one of my pre-num books!!
wtg awf. =)
http://bookcrossing.com/---/4586266
by Littlemave
book is being shared between schools!!
I'm really excited about this- its' a book which I left at the Cherry Tree OBCZ in Steventon, Harwell. It was then journalled by a class of children in a primary school in Didcot which is nearby- and now it's been posted to a primary school in Wales!!
http://bookcrossing.com/---/4598935
by Molyneux
third generation release
http://www.bookcrossing.com/---/4662429
we had a very nice pm exchange
by uppity
Fort Mason to Montreal - book released at Waikiki washes up in Canada!
One of my water releases- into the surf at Waikiki- was found a while back and the AF promised to release it in Montreal. Yeah, right I though, I've heard that before. But he did, and it was found, by an excited new BookCrosser. http://bookcrossing.com/---/3975894
Pete, wondering where it will head next
by Skyring
4 years and 4 months from release to journal
I saw this catch pop up on the side panel for a book released in Nov 2002:
http://www.bookcrossing.com/---/374512
by swan-scot
Another 3+ year one!
Multiple wild hops, the latest over three years later!
http://bookcrossing.com/---/1201465
by melydia
"el libro parecía esperarme a mí"
(The book seemed to be waiting for me)
A nice catch for BC4lex: http://www.bookcrossing.com/---/4914679
by Potok-fan
BC Easter Eggs
I'm in the mood for spring, and was checking Bookczuk's shelf, looking for her lovely pysanky. Lo and behold, I found BC Easter eggs!
http://bookcrossing.com/---/bookczuk
by MaryZee
Nice catch for dianemdo!! 3 years 3 months
http://www.bookcrossing.com/---/1176391
by tobysrus
One for the 'pro external labelling camp'. Advertising works.
http://www.bookcrossing.com/---/3472103
" I must admit the sticker on the back attracted me to this book!!"
I wish I were on holiday in Thailand again, with or without a Bookcrossing book LOL.
by inkognitoh
Proof that BookCrossing does cheer people up
What a nice entry: http://bookcrossing.com/---/4934205
by Buffheart
This book introduced me to this wonderful concept of sharing books...LOVE it!
http://www.bookcrossing.com/---/4670170
An enthusiastic catch for minerswifebb who I haven't seen around the forums for a very long time. I wonder if this will flush her out: )
by inkognitoh
Catch after 5 years
http://bookcrossing.com/---/191615
by nyisutter
A milestone for me -- 100 catches
This catch is #100 of the 492 wild releases I have made since joining BookCrossing in March of 2005:
http://bookcrossing.com/---/2640425
And I'm really pleased that it was this book because it was one I read in the one-room schoolhouse that I attended from grades I to III. When the school was closed up former students got the opportunity to take books from the very small library and this was one of the ones I chose. Now some new reader gets to enjoy it!
by gypsysmom
NZ to the UK - and on its way to Spain: nice catch for jolenem:
http://www.bookcrossing.com/---/4567977
by GoryDetails
---
All of our newsletters, including this one, are archived on the web at http://www.bookcrossing.com/newsletterarchive.
---
This newsletter is sent only to members of BookCrossing.com. If you would prefer to not receive this newsletter in the future, you can change your newsletter preference anytime by visiting: http://www.bookcrossing.com/newsletterpref/.