January 20, 2007
[This occasional newsletter is sent to members of BookCrossing.com. See the
bottom
of this newsletter for simple removal instructions.]
---
BookCrossing's Got Wheels!

Need a car when traveling next or when attending one of the BookCrossing Conventions? BookCrossers receive a corporate discount of 10% (airport rentals) or 5% (off-airport rentals) worldwide with Enterprise Rent-A-Car. Click through from this link or via the link on our Convention Info page to make your reservation and save!
---
A Little Twist on A Little Twist of Texas

Huge thanks to BookCrosser and author Linda Raven Moore (aka WhiteRaven13). You may remember that she she did a solo ride by motorcycle from the West Coast of the U.S. to the BookCrossing Convention in Forth Worth, Texas in 2004 and documented the journey in a memoir called A Little Twist of Texas. When the book came out, she said she'd donate a portion each book cost back to BookCrossing. Not too long ago, Linda made a most generous donation to the site and requested that the wings from the donation, if possible, be split so that a number of nonwinged active members can fly. The Support Team will be dispensing these wings over the next month. If you find yourself flying and don't know why, don't ask, because we'll never tell. But it's possible that your benefactor just might be a certain bookreading motorcyclist. P.S. Linda is planning on being at the BookCrossing Convention in Charleston this April, where she'll speak a little on her other passion, Markeroni. She's promised to bring copies of her books as well.
---
Pedersen Sighting in South Africa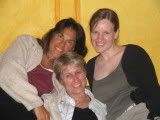 For those of you wondering, the Pedersens did make it to South Africa, where they had a marvelous, marvelous meetup with BookCrossers in Cape Town, January 6. A nice group was able to get together at the the Coffee Bean OBCZ, in Rondebosch. Heather, Bruce and the three Pedersen kids stayed with Readingtrix, who they have declared a most wonderful hostess. Pictured here are Heather, Readingtrix and snufkin81 who organized the meetup. For a glimpse of the whole gang who gathered in, click here. (Pictured in the group shot are, from left to right The Pedersens, snufkin81, joelus, mentia, hastaforis and readingtrix in front. We are told the girl with the hat was a visitor.)
---
Old News is Still Good News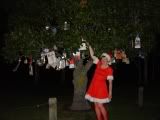 Here's a bit of fun from the end of 2006 in New Zealand. Seems there's a Christmas Eve tradition among BookCrossers there to gather in and decorate the Christmas tree. According to FutureCat, "This was the second time we've made a Christmas booktree, so we were all well organised with plenty of Christmas-themed books (everything from biblical stories to barbecue recipes to romances with "Christmas" in the title — about 80 books in total, I think)" The group headed over to Jelly Park, where books were hung (suitably protected from the rain in plastic bags, and decorated with red ribbons) from every accessible branch of the selected tree (and a few inaccessible ones, which the kids climbed the tree to get to). Again, per FutureCat, "The tree looked fantastic when we were finished, with lights from passing cars reflected off the plastic bags as they fluttered in the wind. Just like last year, cars were tooting and waving (well, the people inside were waving, anyway!) at us as they passed — though that might have been because of lytteltonwitch's short skirt and the fact she kept bending down to take books out of the box!" For a bigger picture of the tree, click here. Also in on the fun were MrPloppy, awhina, meerkitten, gwilk, TheLetterB and assorted spouses, children and fiances.
---
Make Your Reservations Now: New Zealand and North American Conventions Coming Up Soon

South is the word for our first two Conventions this year — Southern Hemisphere and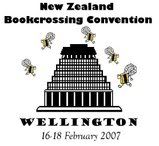 Southern USA, that is! First up in this new year is the New Zealand Convention in Wellington, February 16-18. All the info you need is found at the convention website. The North American Convention (and conveniently, the 6th Anniversary Convention) is in Charleston, South Carolina. (That's the Charleston BookCrossing Group's logo to the left.) Come get a taste of BookCrossing, southern style. Registration information and much more can be found at Charleston BookCrossing. Y'all come on now, hear? (And don't forget the Greek Symposium in Athens if you are in that part of the world! Their new logo is fabulous!)
---
IS THERE LIFE AFTER LOST & FOUND?
Good news for books released on Disney property (and elsewhere)
by ResQgeek
What happens when you release a book in a public area and an employee picks it up and delivers it to Lost & Found? This question has formed the basis for a good deal of discussion in the Forum. One thread warns that releasing on Disney property will result in the books disappearing into eternal limbo....
[read it all at http://www.bookcrossing.com/articles/2551]
---
AN EXAGGERATION FOR THE LOVE OF A DISTRACTION

by Sunnie Thornton (Sunnie-Days)
It all started many, many years ago on a dark stormy night that was so dreary and depressing, even the clouds were crying... just kidding....
[read it all at http://www.bookcrossing.com/articles/2549]
---
IT'S ALL ABOUT THE RUSH
Why else do we do what we do?
by Rendiru
Yes, I know that it's nice to share things with others, but we could do that just as easily by donating books to a local charity, school organization, or shelter. Sometimes we do that anyway, but first! Ah, first we register them on BookCrossing....
[read it all at http://www.bookcrossing.com/articles/2565]
---
EASY TRAVEL TO OTHER PLANETS

by Yorkshiresoul
I'm not often bored, usually because when there is any chance of boredom occurring, I pick up a book and I am somewhere else. When I say I'm somewhere else I mean it, just ask Mrs. YS how difficult it is to talk to me when I have my head in a book....
[read it all at http://www.bookcrossing.com/articles/2532]
---
HOW MANY CHILDREN'S BOOKS CAN WE SEND TO A SCHOOL IN GAMBIA CHALLENGE
BookCrossers help set up a school library/Een hele bibliotheek bij elkaar crossen
by steefsboekie (nomorecorsa)
Article originally written in Dutch by steefsboekie...
[read it all at http://www.bookcrossing.com/articles/2540]
---
CALL FOR WRITERS

Want to write for BookCrossing? If your article is accepted, you could see it featured here in the next newsletter. What topics do we need? Anything about books, reading, or BookCrossing — tutorials, release and catch stories, well-traveled book stories, funny BookCrossing experience stories — you get the idea. Write it up, then submit it here:

http://www.bookcrossing.com/articles/submit




---
Top 10 Countries All-Time
| | |
| --- | --- |
| USA | 226,889 (43%) |
| UNITED KINGDOM | 53,500 (10%) |
| CANADA | 35,501 (7%) |
| GERMANY | 35,323 (7%) |
| SPAIN | 26,094 (5%) |
| AUSTRALIA | 23,963 (5%) |
| ITALY | 16,965 (3%) |
| FRANCE | 11,523 (2%) |
| NETHERLANDS | 8,829 (2%) |
| PORTUGAL | 7,098 (1%) |
Top 10 Countries Last Week
| | |
| --- | --- |
| USA | 522 (31%) |
| UNITED KINGDOM | 270 (16%) |
| GERMANY | 127 (8%) |
| AUSTRALIA | 105 (6%) |
| CANADA | 81 (5%) |
| NETHERLANDS | 60 (4%) |
| SPAIN | 59 (4%) |
| FRANCE | 52 (3%) |
| ITALY | 41 (2%) |
| SWITZERLAND | 25 (1%) |
---
Wild books released by our members are being caught all over the world, every day! Our site watch forum is where members post news of great wild book catches. Here are some of the best from the last few days...

Honeymoon catch! :)
http://bookcrossing.com/---/2550653
by N8an
My First! A wild catch that was released and caught again!
http://bookcrossing.com/---/4288346
I've only had 2 catches, but 50% of them have been caught twice! Yay. I just wanted to brag, since I can't shout for joy in my office; )
by colebear
wild book caught 3 1/2 years later
I'd forgotten all about this one...
http://bookcrossing.com/---/528477
There's hope for our long-lost books after all!
by ifyouknew
AF finds the best book in the world!
Not a long JE, but a great catch for AnOtterChaos and a happy finder!
http://www.bookcrossing.com/---/4478612
by yogie
800 miles in 16 months
http://bookcrossing.com/---/3189777
Wondering where this one has been!
by etherea
Never give up!! Released 5/27/04 - caught 1/11/07
http://bookcrossing.com/---/1611867
by solittletime
A "Haunting" catch for CharK:
http://www.bookcrossing.com/---/4674559
The finder wrote a lovely journal entry and seems to appreciate the BC concept, even though the book was too scary to read!
by GoryDetails
almost 4 years later!
http://www.bookcrossing.com/---/571843
congrats nokittyno!
by Geegal
After more than four years
One of my very few airport releases was caught. It's nice to know that the book has been traveling. :-)
http://www.bookcrossing.com/---/268914
by Rendiru
Just got my 300th wild catch!
http://bookcrossing.com/---/4678136
Not the most impressive entry I've ever seen, but a nice one, and the book's apparently going to get to do more traveling soon, so it's fine by me!
So: after more than 2200 wild releases over four and a half years of BookCrossing, my wild-catch rate is hovering just over 13%. Now if only some of those early releases would check back in someday...
by GoryDetails
A marvelous catch for Jinnayah
Be careful about falling asleep in public places. You may find a bookcrossing book left for you.
http://bookcrossing.com/---/2243574
by MaryZee
It took almost a year but AF loved the book
http://www.bookcrossing.com/---/3566712
by uppity
AF found book 3 years later and "had to buy it solely to release it again."
This was left at a park in 2004 and found in a thrift store in 2007...
http://bookcrossing.com/---/1774558
by yvensong
A lovely australian catch
I spotted this on the side bar.
A lovely journal entry.
http://www.bookcrossing.com/---/3663381
by jesmondgirl
Milwaukee to Iraq to Washington DC
I don't remember now which box this book was in, I sent several over to Iraq. In either case, it's made its way back stateside and found another reader. It's always a bonus when a book matches something that the reader was interested in when the book came along!!
http://bookcrossing.com/---/3030085
by aimlesst
---
All of our newsletters, including this one, are archived on the web at http://www.bookcrossing.com/newsletterarchive.
---
This newsletter is sent only to members of BookCrossing.com. If you would prefer to not receive this newsletter in the future, you can change your newsletter preference anytime by visiting: http://www.bookcrossing.com/newsletterpref/.