December 22, 2006
[This occasional newsletter is sent to members of BookCrossing.com. See the
bottom
of this newsletter for simple removal instructions.]
---
Cor Blimey! It's the Pedersens!

The British Isles were recent hosts to none other than Bruce and Heather Pedersen and their three charming children. The Pedersens were en route to South Africa on some personal business, but broke their journey long enough to chat with some BookCrossers who came to meet them at Heathrow Airport. Word has it the Pedersen clan took a quick side trip across the Channel and are now on the last leg of their journey. Bon Voyage and safe travels! (Pictured from L to R: Bruce, Heather, Netstation, BigBoss, caffcaff & Molyneux. Photo courtesy of caffcaff.)
---
Winter Fun at Wren's Crossing

Looking for the perfect way to send your thoughts to someone special? Click on over to Wren's Crossing (maintained by TexasWren) and take a look at the winter posty cards she has up on the site. You'll see artwork by many familiar BookCrossing names, such as Shh-girl, Cathepsut and SpedBug for starters. And you'll also find lots of other information to help answer some of your BookCrossing questions. Wren's Crossing is a fabulous "unofficial" support site for all your BookCrossing needs.
---
A Stitch in Time

Here's a fabulous way to get to the UnConvention in spirit if you can't physically. Ozone-nut is organizing all those needle- and hook-wielding BookCrossers to make a BookCrossing throw/blanket type afghan. Knitters and crocheting BookCrossers are invited to make a square or two, send them on to ozone-nut who will sew them all together. The plan is then to offer the resulting throw as a raffle prize at the UnConvention next year.
Interested? Then knit or crochet one or more 10cmx10cm squares. Whatever takes your fancy by way of stitch, colour, wool etc — the more variety the better. As ozone-nut says, "If you're actually any good at this knitting thing and can incorporate your screen name or some other motif into your square then so much the better." Mail your square(s) to ozone-nut by May 31, 2007. There are more details to be found in Chit Chat, BookCrossingUK forum and in the LiveJournal BC Community.
---
Searching For the Perfect Stocking Stuffer? Try Our New Stock Labels: The Secret Lives of Books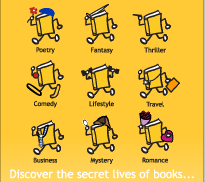 'Tis the season to spice up your books a bit! And what better way to send them traveling than with our newest BookCrossing Labels? The Secret Lives of Books is a lovely label that gives a hint at what our books may do when they're out of our sight and traveling. The Secret Lives of Books is available exclusively at our BookCrossing Supply Store. Be sure to check out all the other wonderful BookCrossing items there, from wearables to release supplies — even a bumper sticker for Santa's sleigh! Click on by today! (And as usual, thank you for your shopping with us. Your purchases and donations help support the site.)
---
Thanks To All Who Voted for BookCrossing: 2006 Weblog Awards

BookCrossing made the finals of the 2006 Weblog Awards list for best online community. Many of you cast your vote and told the world you felt our BookCrossing Community is top notch and has made a difference in your world. While we didn't come in first in the poll, we had a darn good showing, especially considering some of the blogs we were up against. Thank you all! You can view the results of the poll at 2006.weblogawards.com.
---
BookCrossers Gathering Together

Word has reached us of lots of BookCrossing Gatherings happening world wide, so we thought we'd highlight a few. Malaysian BookCrossers had a picnic in Lake Gardens. You can read about it here, here and here and see some fabulous pictures of lots of smiling faces. (thanks to all the bloggers who journaled on this great event.) Then there was the walk of the BookCrossing Town Musicians in Bremen, Germany, only this one involved a gathering of two Dutch BookCrossers and an American! And they found a BookCrossing Book on one of the town statues! The Italians have had almost too many events of late to note, but share some highlights: there were the events surrounding the launch of BookCrossing, the graphic novel by two young Italians: author Luana Vergari (aka luanavergari) and graphic artist Mauro Cao. The book was published by Tunuč and there are some marvelous photos of the event here. There's also the launch of a Kids' Book Swap in Rome, sponsored by local BookCrossers. Fantastico! And cyber gatherings count too — click here to see the blog of the South African BookCrossers. What a great way to keep in touch! (A note to bloggers: Be sure to have a link in your blog to your BookCrossing Bookshelf so we can give you wings for a month if we catch your post and use it in the Newsletter!)
---
Biblio.com and BookCrossing: A Winning Combination

Looking for a way to support literacy and education through one of your favorite activities? Be sure to click on the link to Biblio.com on our right hand side bar: Biblio.com Inc, one of the leading sources for used, rare, out-of-print, and hard-to-find books. You'll be able to find over 40 million titles from 5300 independent booksellers in 39 countries through Biblio.com's online community of websites. Best of all, a percentage of each sale on Biblio.com is used to support literacy and education through their Biblio Charitable Works. A winning combination for sure!
---
WHAT LIES WITHIN
Clues to the adventures my used books may have had
by KateKintail
Some people use books to make their homes and offices look important. Others might use them to help level a wobbly table. But I believe most people would agree that the greatest gifts books can give us lie within their pages. They teach us about humanity, they let us escape to far off places, they paint incredible pictures, and they set our emotions aflame. Since I started buying used books from my local libraries to BookCross with, however, I have been gifted in another way with what these books held....
[read it all at http://www.bookcrossing.com/articles/2439]
---
LABELING FOR LOCATION
Appropriate labeling can increase your wild catches
by Holly (kz4ufo)
It doesn't matter if you're a Newbie or a Seasoned BookCrosser – anyone can become discouraged when a high percentage of wild releases don't get caught. But with careful thought to your release location and labeling methods, you can increase your wild catches and encourage journal entries....
[read it all at http://www.bookcrossing.com/articles/2460]
---
BEEN CAUGHT BY BOOKCROSSING
A BookCrosser tells how and why
by wandera
I'll talk to anyone - and that's how IT happened. Waiting in queue is boring so you look for that friendly face that may by chance want to communicate and by presto there he was looking expectantly for someone to tell his story to - luckily that was me!...
[read it all at http://www.bookcrossing.com/articles/2475]
---
ODOR REMOVAL TIPS FOR SMELLY BOOKS
How to refresh the books on their journey.
by touch-of-earth
If you have caught a musty, smoky, or awful-smelling book in the wild, please try these tips to give it a more pleasant aroma before you release the book back into the wild or discard it as too smelly. First, wipe off any dry or loose mold, mildew or other foreign substances from the covers of the book with a soft cloth before you use any of these recommended treatments....
[read it all at http://www.bookcrossing.com/articles/2489]
---
RAVEN'S QUEST, THREE YEARS ON
on landmark-hunting in California
by Linda Raven Moore (WhiteRaven13)
BookCrossers with very long memories might recall that, almost three years ago, I published an article about Raven's Quest, an attempt to visit all 1100-plus California state historical landmarks and leave a BookCrossing book at, or in honour of, each one. (There are somewhere around 1040 separately-numbered landmarks; however, several of these are thematic, which means that more than one landmark shares the number, or they include several different structures as part of their listing. Being somewhat obsessive, and having a lot of books to pass out, I opted to try to find all the individual listings.) ...
[read it all at http://www.bookcrossing.com/articles/2503]
---
MY MOTHER'S EYES
The Loss of Them
by Paula Garcia (texaspaula)
One of my earliest memories is of my mother getting the newspaper and reading it to me. I can still remember how the paper smelled and what it sounded like as she turned the pages....
[read it all at http://www.bookcrossing.com/articles/2518]
---
READING IS GOOD MEDICINE TOO
Put off heartache reading a good book with a friend
by hagathorn
My dear friend has been going through heartache. Coming over each night to complain, worry, share thoughts and fears, she finally broke down and cried the other night. Unable to find just the right words to say to her the night before, I was astounded when she announced she was going out with one friend the next day and that I get to "baby-sit" her the next night. ...
[read it all at http://www.bookcrossing.com/articles/2521]
---
THE GREAT BOOK GIVE AWAY
Or: How it doesn't take a lot to have a BookCrossing Occasion
by bookczuk
We were tired of it. All around the world, BookCrossers were having phenomenal gatherings and doing all sorts of fantastic things. There were the Brits and their BBC shenanigans, the New Zealanders and their magnificent Flash Mobs, the Aussies having scads of fun in meetups down under, and let's not even mention all the creative things happening in Europe. Even our fellow US BookCrossers were making us green with envy with their creative Crossing events. Here we were, in one of the most gloriously beautiful places on earth, with a group of BookCrossers who actually do manage to get together monthly, but we had yet to find a date and time for a fun "extracurricular" event. Sure, we'd talked about it at our gatherings, and even managed a road trip after one to a local bookstore, and suppers when Sonora and when Skyring each came to town, but for all our talk of special events, we'd not yet been able to agree on a date and time. What would it take? ...
[read it all at http://www.bookcrossing.com/articles/2526]
---
MY FIRST CHRISTMAS AS A BC-ER
Oh, the joy that BC has given to me...
by Pebby72
In February this year I got acquainted with BookCrossing in the OBCZ De Kaketoe here in Ede in the Netherlands. At first I only took books from the OBCZ just to read them, but in July I decided to clean up my own book cupboard and I ended up with a lot of books to cross. From my co-workers at the office and my family and friends I also received some boxes with books and I had a lot of fun labelling the books and releasing them. ...
[read it all at http://www.bookcrossing.com/articles/2531]
---
CALL FOR WRITERS

Want to write for BookCrossing? If your article is accepted, you could see it featured here in the next newsletter. What topics do we need? Anything about books, reading, or BookCrossing — tutorials, release and catch stories, well-traveled book stories, funny BookCrossing experience stories — you get the idea. Write it up, then submit it here:

http://www.bookcrossing.com/articles/submit




---
Top 10 Countries All-Time
| | |
| --- | --- |
| USA | 224,843 (43%) |
| UNITED KINGDOM | 52,455 (10%) |
| CANADA | 35,155 (7%) |
| GERMANY | 34,848 (7%) |
| SPAIN | 25,919 (5%) |
| AUSTRALIA | 23,639 (5%) |
| ITALY | 16,794 (3%) |
| FRANCE | 11,362 (2%) |
| NETHERLANDS | 8,615 (2%) |
| PORTUGAL | 7,060 (1%) |
Top 10 Countries Last Week
| | |
| --- | --- |
| USA | 392 (32%) |
| UNITED KINGDOM | 132 (11%) |
| GERMANY | 113 (9%) |
| AUSTRALIA | 80 (7%) |
| CANADA | 53 (4%) |
| ITALY | 47 (4%) |
| NETHERLANDS | 35 (3%) |
| FRANCE | 29 (2%) |
| SPAIN | 27 (2%) |
| SWITZERLAND | 18 (1%) |
---
Wild books released by our members are being caught all over the world, every day! Our site watch forum is where members post news of great wild book catches. Here are some of the best from the last few days...

"Not my kind of book . . . I enjoyed it!"
I released some books whilst on holiday in Majorca in August and one of them just got journaled!
I saw it get caught and when it didn't get journaled straight away I thought it never would but thought at least its found a home. But this is great!
And the lady joined as well! Yay! :-)
http://bookcrossing.com/---/J_6791845
How cool is that! Woo Hoo! :-)
by QuantumAyla
Four years later, a catch for kawpheenut:
http://www.bookcrossing.com/---/307088
Where, oh where was it in the meantime? [And isn't it great that those long-ago releases sometimes do check in?]
by GoryDetails
Another 3-year-old wild release gets journaled!
http://www.bookcrossing.com/---/1081204
Congratulations, lovemylife!
(hmphf! The finder wasn't as enthusiastic about Belva Plain as I would've been.)
by Megi53
BBC Shropshire - Shrewsbury Release Walk - catches
Post your catches to this thread- I got two so far! :)
A new member too!
http://bookcrossing.com/---/4088035
This one was forced upon someone TheBigKnit met in the ladies toilets...;)
http://bookcrossing.com/---/4098379
by Molyneux
"I really don't know how this book ended up in my house" - another 3+ year catch!
Here's another one of those missing books, finally checking in after more than 3 1/2 years. Congrats to Ateehee!
http://www.bookcrossing.com/---/473061
by MaryZee
This Catch Is Exactly What I Love About BC!!!!!
http://bookcrossing.com/---/1748587
Its been 18 months in coming....but definitely worth the wait!!!!! :o)
by caffcaff
BC book helps people identify unkown birds at zoo!
Due to renovations, there are a number of exhibits at our zoo (particularly birds) that do not have signs up telling us what they are.... my release helped someone out in that area: )
http://bookcrossing.com/---/3994149
by Jare
Left behind when the renters moved out? (after two years)
http://bookcrossing.com/---/2135274
by k-j-h
From London to Texas in 72 hours!
http://www.bookcrossing.com/---/

by varykino
Book checks in after 14 months of waiting for kids to be old enough to enjoy it!
I really enjoyed this catch and JE. It seems the 14 month wait was brought about by waiting for the kids to be old enough to enjoy it. What a lovely thought.
http://bookcrossing.com/---/3196819
by Rivercassini
AF found book just at the right time in her/his life. A great catch!
http://www.bookcrossing.com/---/4036178
by classicfox
I released 200 books yesterday
at our local book fair, and have already gotten 1 very nice catch, with a new member.
http://bookcrossing.com/---/3939068
by MaryZee
---
All of our newsletters, including this one, are archived on the web at http://www.bookcrossing.com/newsletterarchive.
---
This newsletter is sent only to members of BookCrossing.com. If you would prefer to not receive this newsletter in the future, you can change your newsletter preference anytime by visiting: http://www.bookcrossing.com/newsletterpref/.