July 23, 2003
[This occasional newsletter is sent to members of BookCrossing.com. See the
bottom
of this newsletter for simple removal instructions.]
In this issue...
third limited-edition artist bookplates available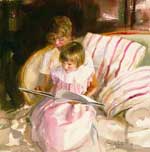 For all you Bookplate label collectors out there, this should come as welcome news - our 3rd Edition Artist Series Bookplates are available in our Supply Store immediately, but they won't last long. The 2nd edition labels featuring artist Penelope Cline that I announced just three weeks ago have already sold out, so I expect these to go just as fast. This new edition features a reproduction of an original watercolor, New Book (shown here), by renowned artist Mary Whyte. Thank you all for your continued support; our Release Kits have proven popular and are keeping BookCrossing strong and growing!

But along with that success comes a problem - WE NEED ARTISTS! At the rate of one Bookplate series every two weeks, we're having trouble keeping up with the label printing. So if you are an artist, or know an artist, whose work would be appropriate for our labels, please send us an email to artists@bookcrossing.com along with links or samples of the work. If selected, we will print the work on 25,000 bookplate labels that will be permanently traveling around the world! All we ask of the artist in return is the original copy of the artwork, which will be auctioned off back to BookCrossers to further support the movement.



bookcrossing featured in august issue of reader's digest
If you're one of the 100 million or so readers of Reader's Digest magazine, you may have already seen the nice feature on page 22 of the new August issue. We've already seen a tremendous increase in website traffic and new members from the article, so if the site seems a bit slow right now, that's why.



take bookcrossing survey for chance to win extreme release kit
Want to help shape the future of BookCrossing? Take 3 minutes and answer our online survey at http://www.surveymonkey.com/s.asp?u=70576245844. I'll warn you in advance - the questions are a bit personal, but your answers will be held in the strictest confidence, and will not be linked to you individually in any way. We're going to limit the respondents to around 800, and we'll be giving away an Extreme Release Kit (valued at $49.95) to one lucky respondent, so complete it right away if you want a chance to win.



how you can help the movement
These tips will always be included at the bottom of our newsletter. Remember - BookCrossing is growing because people like you help in so many ways.
Use the Tell-A-Friend feature at the website: http://www.bookcrossing.com/tellafriend to quickly tell one, or one hundred, friends about BookCrossing by email.


Join other members in your city at the monthly Meetups! Visit http://bookcrossing.meetup.com to register.


Buy Release Kits from the BookCrossing Supply Store! They'll help your books get noticed and journaled, you'll be supporting the artists featured on the limited-edition bookplate labels, and best of all, every purchase helps to directly support BookCrossing! http://secure.bookcrossing.com/store


Start your book-buying sessions from our Buy page which has search forms for several online booksellers: http://www.bookcrossing.com/buy We make a small commission on every purchase you make, and you pay the same low prices as always!


Forward this Newsletter to your friends, along with a personal request that they join.


Tell your local coffee shops and used bookstores about BookCrossing. The best way is to print out the new Crossing Zone signs/flyers at http://www.bookcrossing.com/promote and leave several with them.


If you know anyone in the media biz (radio, TV, newspaper, magazine, publishing, etc.), make sure to tell them about BookCrossing and encourage them to feature it. Stress to them the nobility of our cause, the grass-roots growth efforts, and the warm fuzzies it will give their audience.


If you've got a website, make sure to grab one of our eye-catching logos and link code from our Link To Us page: http://www.bookcrossing.com/linktous and put it on your site.


When you talk to your friends who love books, be sure to talk to them about BookCrossing. There is no influence more powerful than personal word-of-mouth.


Finally, the most obvious way to spread the word: release your books into the wild, or share them with friends! Each one is a little mobile billboard for BookCrossing, and will help convince others to share in kind.
Thanks for reading this far, and until next time, Happy 'Crossing!
Ron
Ron Hornbaker
Founder and Editor, BookCrossing.com
ron@bookcrossing.com



---
All of our newsletters, including this one, are archived on the web at http://www.bookcrossing.com/newsletterarchive.
---
This newsletter is sent only to members of BookCrossing.com. If you would prefer to not receive this newsletter in the future, you can change your newsletter preference anytime by visiting http://www.bookcrossing.com/newsletterpref/.


Total: 137,361
Last Week: 2,428

Total: 460,352
Last Week: 12,192