Up, Up and Away
January Photo of the Month
by BCNewsletter
January 12, 2010
---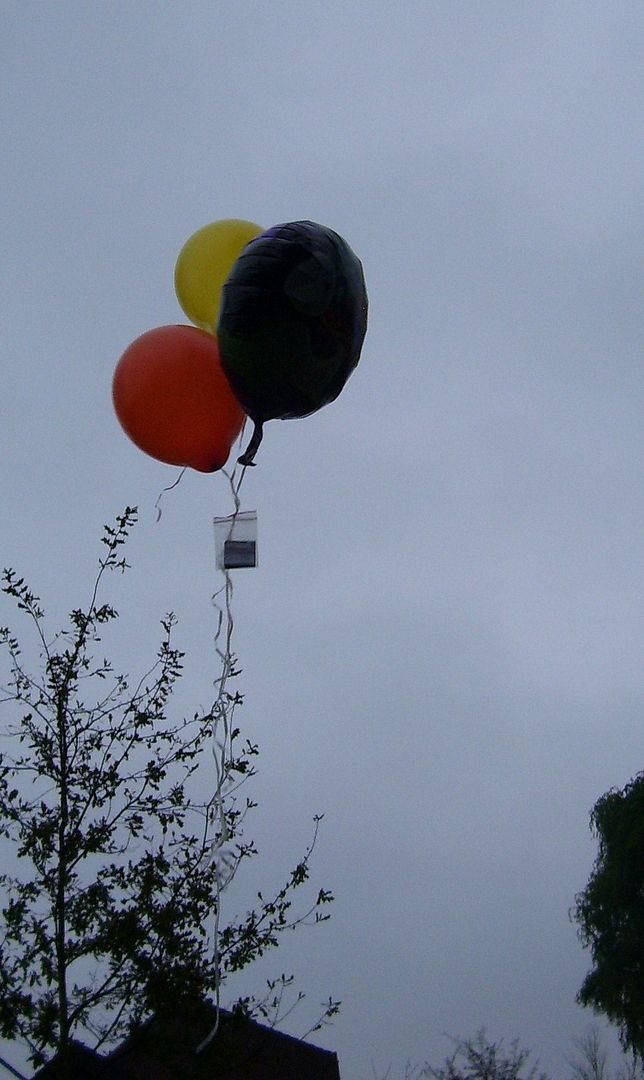 Talk about a wild release: Boekenspookje 's copy of Ridder Roderick by Steven Smet literally floated off to a destination unknown, as seen in her photo titled Flying Free. She says, "I am just a common, middle-aged woman, mother and secretary who likes to do some crazy things sometimes (like practicing archery in a medieval costume or releasing books, dressed up as a ghost)."

Judging by her wild release, she's anything but common. "As a kid I sometimes released balloons in the air with a card attached to the string. That was so exciting; seeing all those balloons rising in the air, letting loose my own balloon, watching the dangling little card while it went higher and higher, until I couldn't see it any more. Never was I so lucky to get an answer from someone who had found the balloon, but every release I fantasized about the places it would travel, hoping it would land and be found by someone far away. I find the same excitement in BookCrossing...releasing my books into the wild, not knowing who will find them and whether I'll ever hear of them again. You can imagine that a combination of the balloons and a wild book release would be doubly exciting."

As for this release? "It didn't make it outside the city where I live. Maybe the string wasn't strong enough or the balloons went down sooner than I expected, due to the cold air. However, it was found and journalled the same evening by a mother of a nine-month-old baby, even before I made the release note myself. The mother wrote that she was a bit too old for it, but her baby daughter liked the book very much."

For more information about submitting your beautiful photos and for the chance to be featured in February's Newsletter, click here. An earlier article by Boekenspookje was featured in a previous newsletter.