Out of Africa: Matsiko Release Dare
Join 25 Ugandan Orphans in spreading hope, love and BookCrossing across the U.S.
by heather
May 6, 2009
---
Out of Africa: Matsiko Release Dare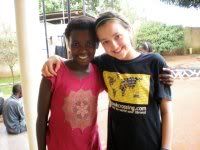 If you love a good Themed Release Challenge, you're going to love our Matsiko Release Dare! We dare you to get close to Africa: register and release your books into the hands of 25 Ugandan orphans as they travel the U.S.

The recent trip to Uganda by BookCrossing Cofounder Heather Pedersen, and her 13 year-old-daughter, Rio was an incredible experience. They journeyed to the dark continent to film the 25 Ugandan orphans who make up International Children's Network's (ICN) 2nd Matsiko Children's Choir, www.matsiko.com, as the Choir rehearsed for their U.S. Tour. "Matsiko", meaning "hope" in Swahili, is just what these kids now embody. Both Rio and Heather found it hard to imagine that only 8 months ago, most of these children were plucked from the side of the road, orphaned by AIDS, abandonment, or other atrocities. Now, they were destined for mini-stardom in the land of milk and honey.

The duo captured the moments as these children rehearsed and prepared (mentally, emotionally, spiritually and physically) for their U.S. Tour. Most of them lived in the bush, had never worn shoes and were fascinated by the concept of snow and marshmallows! As there is no postal service in the Ugandan bush, Rio and Heather helped a small team to hand deliver books, letters, toys and gifts of sugar and rice to sponsored children and their families. Often, it took 4-7 hours to get to a village to hand off the items and snap a picture. Working long hours with interpreters and the children, they helped to translate the gratitude, needs and thoughts of the children into letters to be mailed to their U.S. sponsors.

From Washington DC to Disneyland, this free performance of traditional African dance, drumming and beautiful songs sung by the absolute cutest kids in Uganda (ask Rio—she will tell you!) will delight your heart. BookCrossers now have a unique opportunity to get involved with this Choir, see the free show, and embrace the movement by participating in the "Matsiko Release Dare". Simply register your books about anything relating to the touring Choir: books about Africa, singing, travel, church, choirs, hope, Swahili, orphans, underdogs, etc. Then, check out the Matsiko Tour Schedule for a town near you to hand them to the choir kids. (Make sure you mention in your release notes that you attended a Matsiko performance and name the venue.) The choir kids already know all about BookCrossing and will find sheer joy in releasing them around the nation as they travel from Capitol to Capitol, and schools to churches to sports teams to civic groups, spreading your books and a message of hope and inspiration Finally, keep your eyes open in the Forums for the Matsiko thread where you can share your experiences with the Choir.

Of course, themed releases are fun and ideal, but any registered book will do (since the travelling quarters are cramped, please bring no more than 3 registered books per performance -- yes, you will want to see them more than once!) The kids can't wait to meet BookCrossers since so many of you generously sent books over to the Matsiko House orphanage in Uganda -- an extra special thanks!

ICN/Matsiko Founders Don and Jennie Windham believe in the long term goal of changing a nation and ending the cycle of poverty through education and are committed to supporting children as far as their abilities and dreams will take them. With a non-religious agenda (and not referred to as a "relief fund"), ICN's main mission is education beyond the primary level, seeing a child all the way through a university or a vocational school. The Choir seeks to provide the understanding that together, we all play a vital role in improving lives and solving the crisis that face our world's 600 million orphaned and at-risk children. Make sure to tell Don and Jennie you're a BookCrosser, and get your books registered and ready to travel African-style! Oh, one last note: If you live in (or near) a town scheduled for a Matsiko performance and are interested in hosting 2 choir kids for a day, or you're interested in having Matsiko perform for your church, organization, school or other venue, simply contact ICN (www.icnchildren.net)and get on the schedule--They would LOVE to get "booked"!