A real book phantom!
How a phantom has fun with BookCrossing
by Boekenspookje
January 5, 2009
---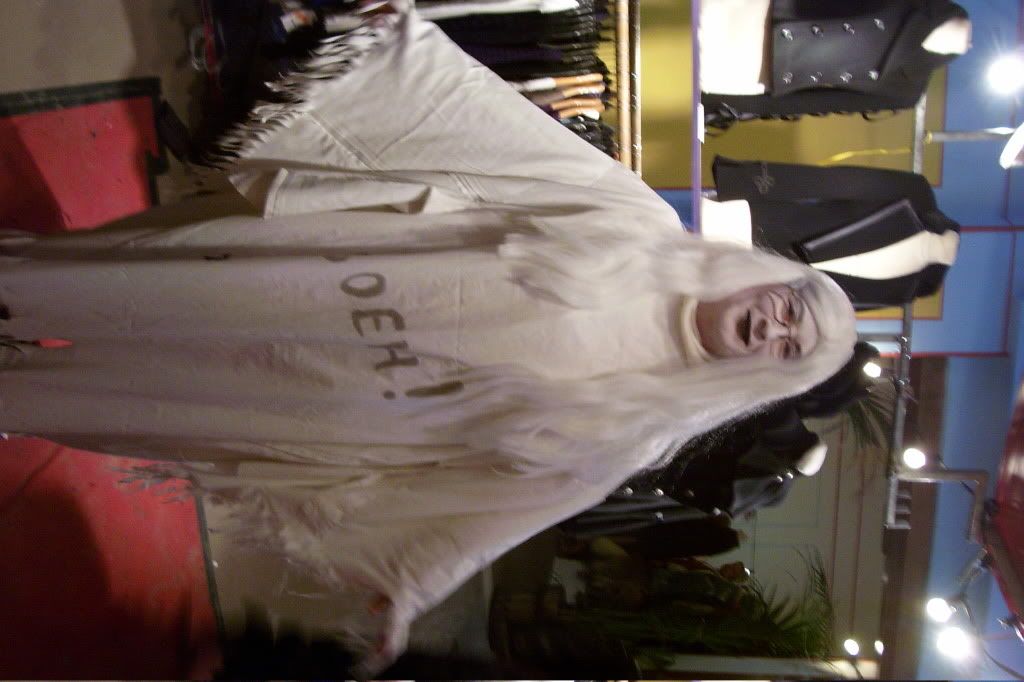 With a screen name such as Boekenspookje (Bookphantom) and a craze for fantasy, it had to come of. This year I planned to visit the Midwinterfair in the Archeon (http://www.archeon.nl) to leave here and there my books behind as a real "bookphantom". It became clear that it was not as easy as it looked to fabricate a ghostly costume from 2 sheets, which would still be large enough to go over two thick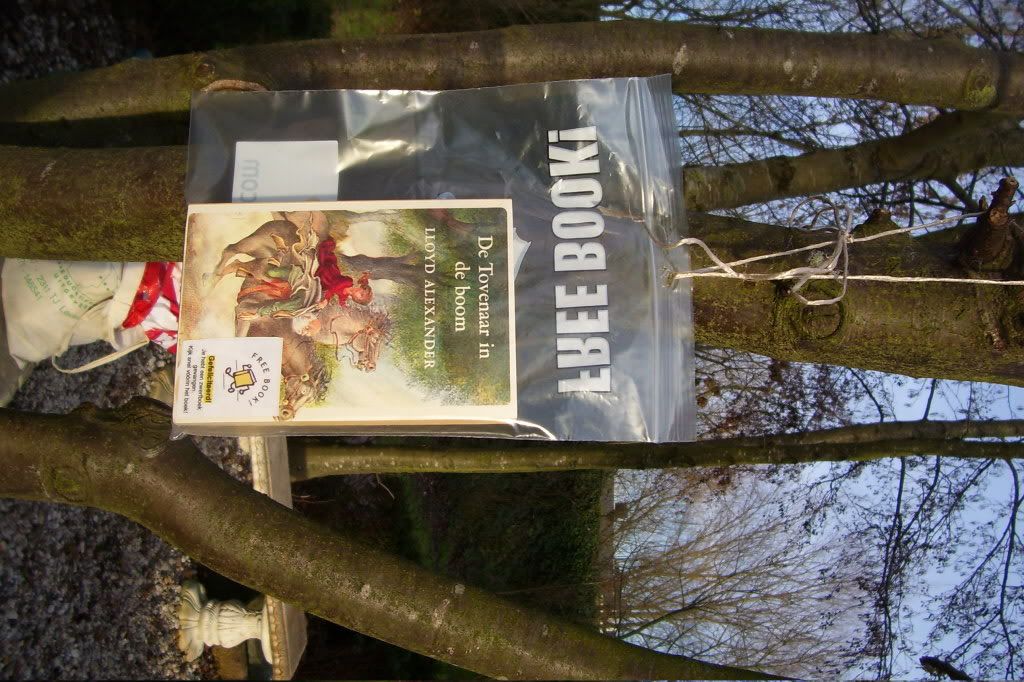 pullovers and one coat. At the party store I bought a white carnival wig, white make up and a black lipstick, and as finishing touch (so that there could be no misunderstanding concerning what I presented) the word "Boeh!" (Boo)in large characters on the front. During the Midwinterfair the Archeon is populated for two days by all kinds of fantastic characters: witches, monsters, trolls and this time therefore also by...a (book)phantom. I had to go with public transportations and waited to dress up till I was on the parking place, because I wasn't as brave as Myranya yet, who had gone as a forest nymph with the train to Zeist.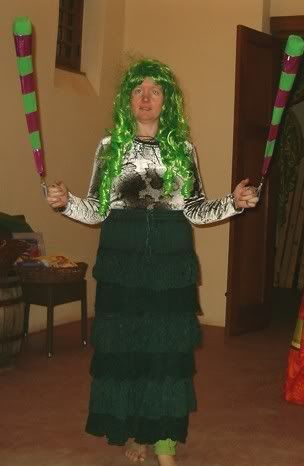 In the toilets on went the white make up and wig: the fun could start.
There were many nice spots to leave books behind and the books were taken along super-fast. When I wanted to make a photograph of a release, I had to do it immediately, because before I knew it, someone would come by and the book was gone. One of the books (The Wizard in the Tree) I had hung in a tree.

While I was resting on a bench, I saw a lady showing interest and taking the book in her hands. You could see that she wanted to take it along, but she doubted if that was allowed. I assured her that she really could take the book with her. That same day I received an enthusiastic journal for the book and she joined as a member too!


While I strolled along the park I sometimes forgot how I looked, but that never lasted very long, because the `Boeh' on my front brought about a lot of lively responses. Also there were constantly people making photographs of me, would it feel this way to be famous? Halfway the afternoon I even was apprehended by a lady, who asked me if she could ask me some questions for an article in Het Witte Weekblad (The White Magazine), some kind of local newspaper. That chance of promoting BookCrossing I couldn't let go, of course. If the article would be placed she would send me a copy of it.*)



At the end of the day I was lucky to get a chance meeting Myranya, in her beautiful nymph costume. Did I 'only' took 14 books along to release, another BookCrossing colleague, ana-b, had brought over 50 books to the Archeon. This way the total amount of books that marvellous Myranya had collected for her baskets on the Midwinterfair - also thanks to a recall on the forum – ended up at more then two hundred! Because there were still some books left in the baskets, I got the chance to leave some of them with the visitors who were still in the park. Very nice was it to walk into the convent and, as a phantom, to put a book on the tables in a very theatrical way. You should have seen the astonished faces of the people at those tables! Thus ended a lovely, crazy day!

* I did receive the article a week later indeed, but sadly enough it was a very short article and the piece about BookCrossing was only two sentences long. The website wasn't mentioned also. Oh well, you can't have it all.


---
EEN ECHT BOEKENSPOOK!
Hoe een spook zich vermaakt met Bookcrossen
Het bleek nog niet zo makkelijk om uit 2 lakens een spookachtig kostuum te fabriceren, wat ook nog groot genoeg was om over een jas en twee dikke truien heen te dragen. Bij de feestwinkel nog een witte carnavalspruik gekocht, witte schmink en zwarte lippenstift, en als finishing touch (zodat er geen misverstand kon ontstaan over wat ik voorstelde) het woord "Boeh!" in grote letters op de voorkant.
Tijdens de Midwinterfair wordt het Archeon twee dagen lang bevolkt door allerlei fantastische figuren: heksen, monsters, trollen en dit keer dus ook door….een (boeken)spook.
Ik moest met het openbaar vervoer en pas op de parkeerplaats kleedde ik me om, want ik was nog niet zo dapper als Myranya, die als bosnimf met de trein naar Zeist is gegaan.
In de toiletten pruik op en witte schmink: de pret kon beginnen.
Er waren veel leuke plekken om boekjes achter te laten en de boeken werden razendsnel meegenomen. Als ik een foto wilde maken van een release moest ik het meteen doen, want voor ik het wist was er iemand voorbij gekomen en was het boek verdwenen.
Een van de boekjes (De tovenaar in de boom) had ik in een boom opgehangen. Terwijl ik ernaast op een bankje uitrustte, zag ik een mevrouw belangstellend het boekje in haar handen nemen. Je kon zien dat ze het mee wilde nemen, maar ze twijfelde of dat wel kon. Ik vertelde haar dat ze het gerust mee mocht nemen. Dezelfde dag heeft ze het boekje nog gemeld en ze was zo enthousiast dat ze nog meteen lid is geworden ook!
Terwijl ik door het park liep vergat ik wel eens hoe ik eruit zag, maar lang duurde dat nooit, want het 'Boeh' op mijn voorkant lokte een hoop vrolijke reacties uit. Ook wilden er constant mensen een foto van me maken, zou het zó voelen om beroemd te zijn? Halverwege de middag werd ik zelfs nog aangehouden door een mevrouw, of ze me wat vragen mocht stellen voor een artikel in het Witte Weekblad, een krant van Alphen aan de Rijn. Die kans om Bookcrossen te promoten liet ik natuurlijk niet voorbij gaan. Als het geplaatst zou worden zou ze het artikel naar me toesturen.*)
Tegen het einde van de dag zag ik gelukkig ook nog kans om Myranya te ontmoeten, in haar mooie Nimfenkostuum. Had ik 'maar' 14 boeken meegenomen, een andere bookcross-collega, ana-b, had wel meer dan 50 boeken langsgebracht. Hierdoor kwam het totaal aantal boeken dat topper Myranya had verzameld voor haar manden op de Midwinterfair - vooral ook dankzij een oproep op het forum - op wel meer dan tweehonderd uit!
Omdat er nog wat boekjes in de manden over waren heb ik er nog wat van mogen verspreiden onder de bezoekers. Heel erg leuk was het om het klooster in te lopen en als spook theatraal her en der een boekje op de tafels neer te leggen. Je had de verbaasde blikken moeten zien van de mensen aan die tafels!
Zo eindigde een heerlijke, gekke dag!
* Inderdaad, een week later kreeg ik het krantenknipsel in de bus. Helaas was het maar een klein stuk en bleef het, wat bookcrossen betreft, beperkt tot 2 zinnetjes. Ook de website stond niet vermeld. Ach ja, je kan niet alles hebben.