S.F. Book climb to European Roof
by maxcip
August 3, 2007
---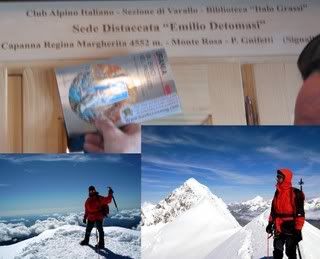 Ok, ok, it isn't Mount Elbrus, but it is the highest closed place in Europe: 4,554 m (or 4459) above sea level, Capanna Margherita, the hut in the summit of punta Gnifetti or Signalkuppe for Swiss people. The place is near the top of Monte Rosa, a mountainous massif across Piedmont, Aosta Valley and Canton of Valais (Wallis). Two words only, (I'm Italian and my English is terrible). Why This book, particularly? Simple, the lighter book in my hands! In weight, obviously, but also in reading (in my language, light book means easy book). We walked with food and equipment in backpack for one week, around and in the top of mountains upper 4K meters, and in the evening we need to relax. Ah, first the link: Un bivio nel passato. Now three photos: the book, at capanna Margherita in the hand of my friend Roby, Omar, another my friend in the top of peak Ludwigshöhe (4,341 m), near the hut at right, and me at the top of Piramide Vincent, in the lower left of photo. Perhaps, in future, a book release in White Mountain (Monte Bianco 4,810 m), in an aluminium can.


---
Un libro di fantascienza sale sul tetto d'Europa

by maxcip


---
Va bene, non è propriamente il monte Elbrus, ma é il luogo al chiuso, più alto in Europa: 4554 m (o 4459) sul livello del mare, la Capanna Margherita, il rifugio sulla cima di punta Gnifetti o Signalkuppe per gli svizzeri. Il luogo è presso la cima del Monte Rosa, un massiccio montuoso all'incrocio di Piemonte, Val d'Aosta e Cantone Vallese (Wallis). Solo due parole (nella traduzione faccio noto il mio tremendo inglese). Perché nello specifico questo libro? Semplice, il libro più leggero nelle mie mani! In peso, ovvio, ma anche nella lettura. Abbiamo camminato con cibo e materiale nello zaino intorno e sulla cima di monti oltre i 4mila metri, e la sera necessitavamo di relax. Ah, per prima cosa il collegamento
Un bivio nel passato
.
Ed adesso tre foto: Il libro nella Capanna Margherita, in mano al mio amico Roby, Omar un altro amico sulla cima del Ludwigshöhe (4341 m), vicino al rifugio, a destra, ed io sulla cima della Piramide Vincent, in basso a sinistra nella foto. Forse, in futuro, un nuovo rilascio sul Monte Bianco (a 4810m), in un contenitore di alluminio.